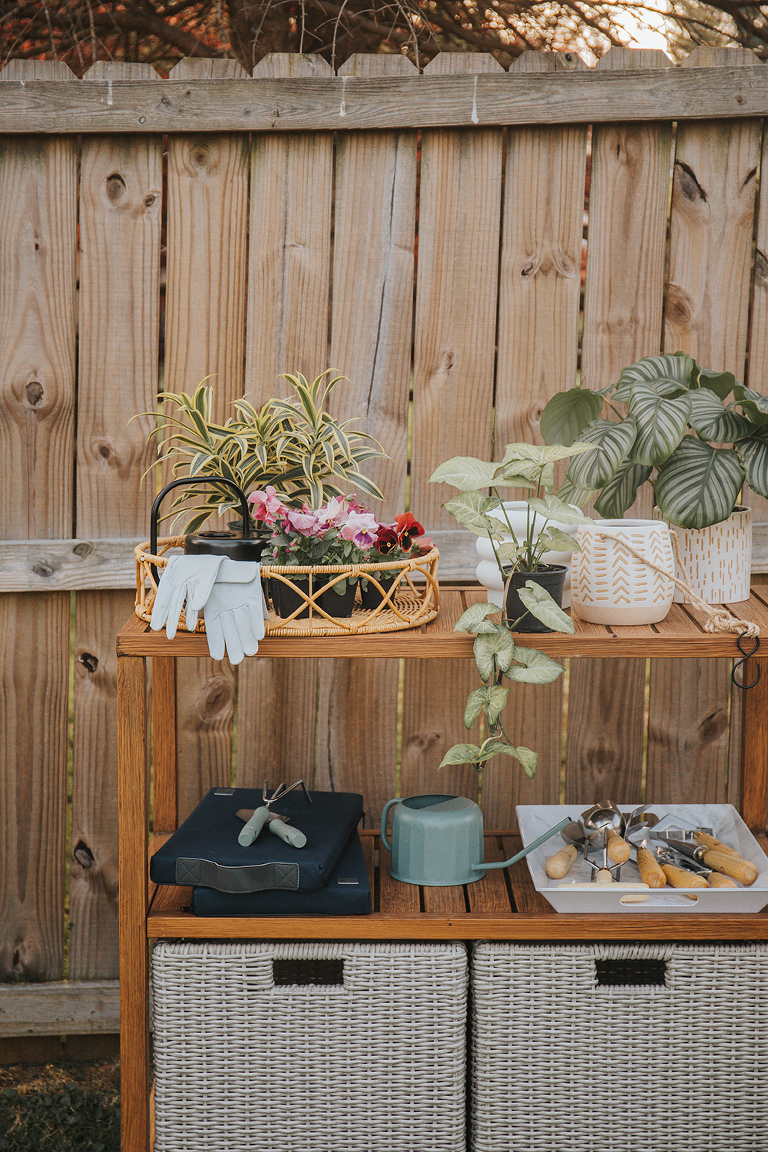 *This post was made possible by the generous support of Better Homes and Gardens, and features gifted product. All opinions are my own.
As someone who never keeps the same décor setup for very long (I love change), multi-purpose furniture is an absolute must for me. I really gravitate toward pieces that can serve different functions depending on my whims. A pint-sized dresser that can be used as a nightstand one day, or linen storage the next. A round table that's small enough to work in an open entryway as a drop zone, or could be moved to create a bonus bistro-style dining space with the addition of just a couple of chairs. You get the point!
As you may know, I've been working with Better Homes and Gardens this year on a series of home décor videos for their Instagram feed, and I was sent this metal indoor/outdoor console for a back deck entertaining video I produced for them. After that shoot wrapped, I remember thinking, "Wait. There are so many more possibilities here!" So, I pitched the idea of a video centered on "3 Ways To Style A Console Table," and it was a hit with my editor. You can watch the whole video here, but I thought I'd also show off some of the photos I snapped for each look so you can get extra inspired as you work to outfit your own home with multi-purpose furniture that goes the distance.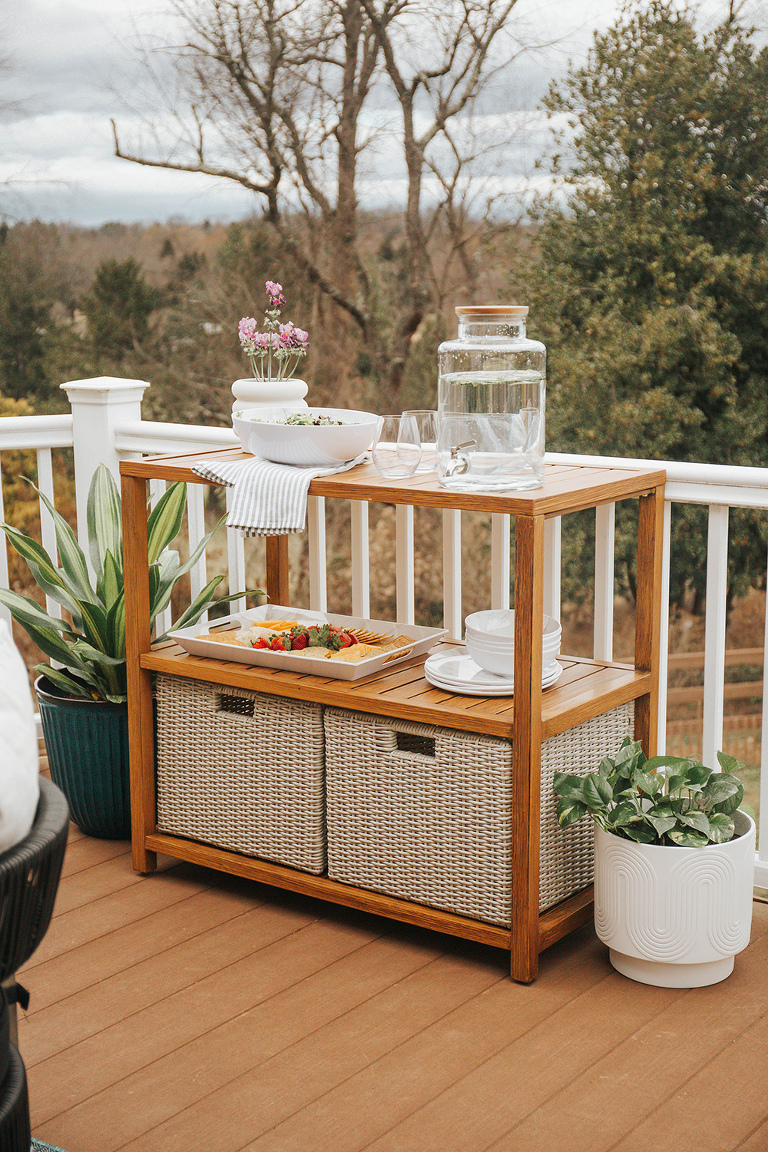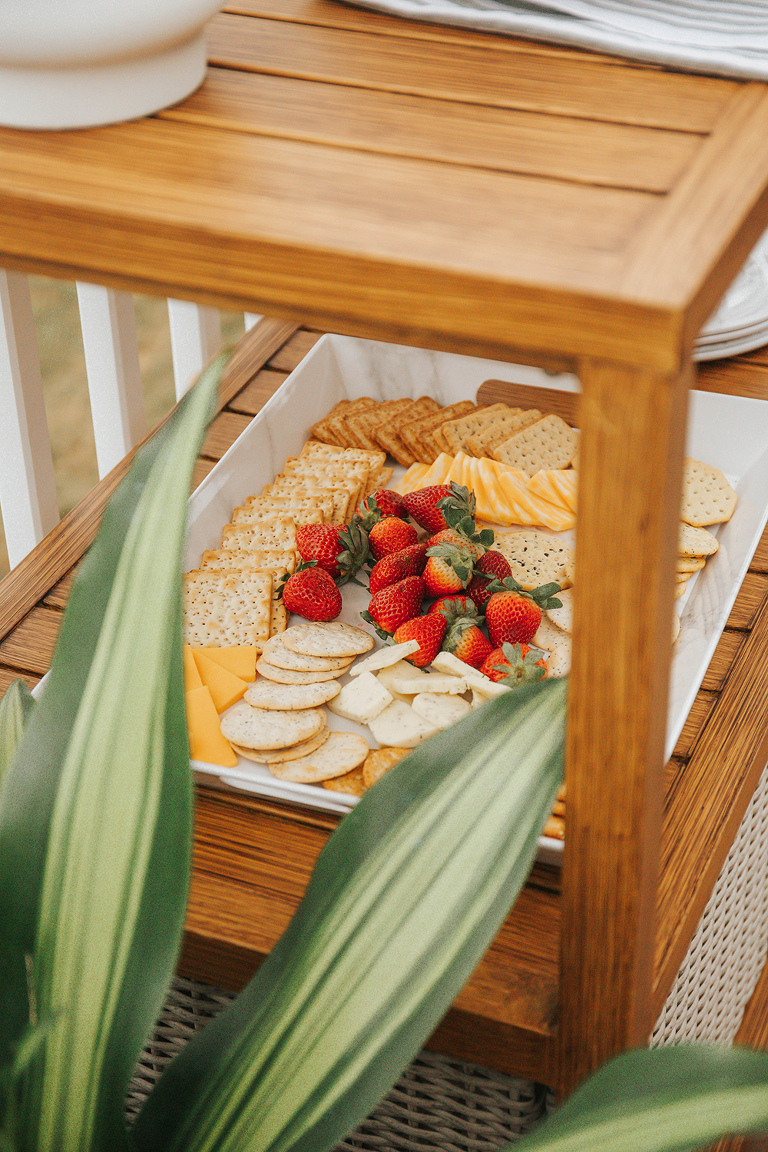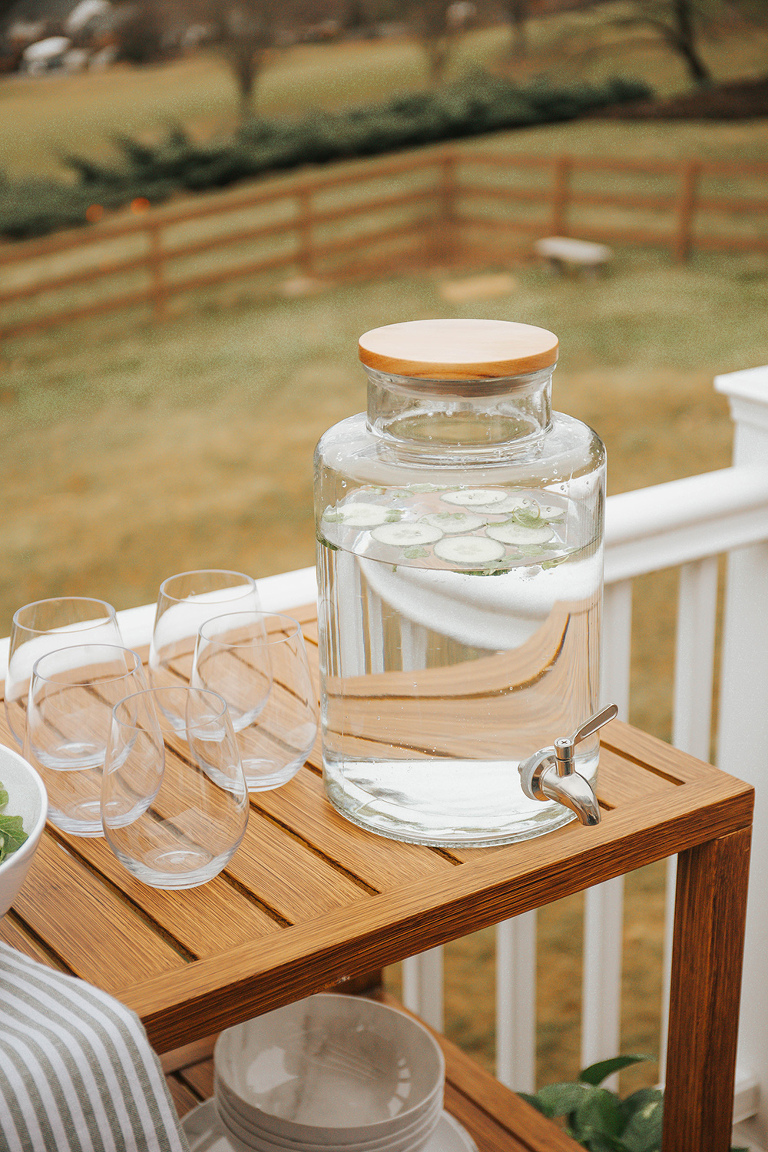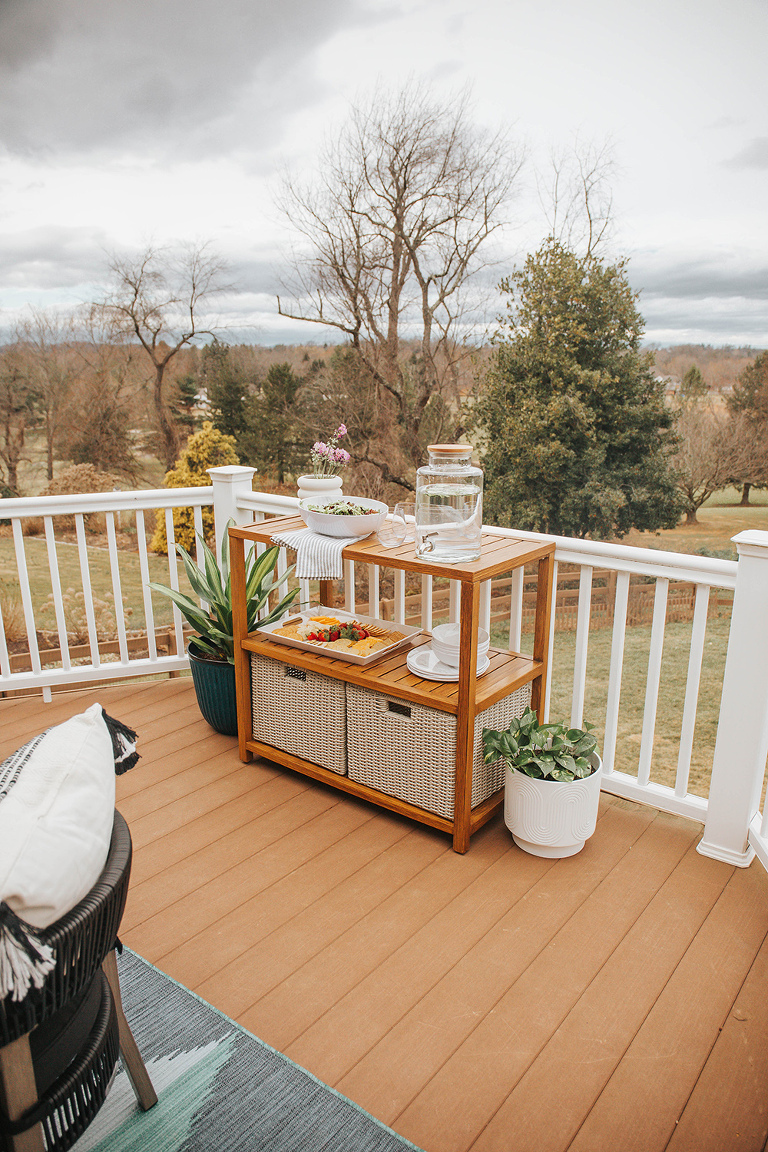 Resources: Steel Console Unit, Squiggle Floor Planter Pot, Large Blue Planter Pot, Sculptural White Planter Pot, Melamine Dinnerware, Melamine Tray, Drink Dispenser, Melamine Serving Bowl, Kitchen Towels, Stemless Shatter Resistant Cups
Outdoor Party Buffet:
I've already blogged about this setup that came about from the first video I put together for BHG, but it's definitely worth another look so we can all appreciate the details. The concept for this idea is all about styling the console as a drinks and snacks buffet table. I used my parents' back deck for this look, and my mom raves about how much she loves the console on her deck. It really fills out the space, even when it's not laden down with party accents and food. Notice how we intentionally used potted plants as opposed to fresh cut floral arrangements? This method allows you to keep all of that pretty organic greenery out season-long! By the way, I should mention that the console comes with those lower indoor/outdoor baskets, and they're great for tucking away extra party necessities when hosting (or weather-proof grilling utensils when it's just you and the fam every day).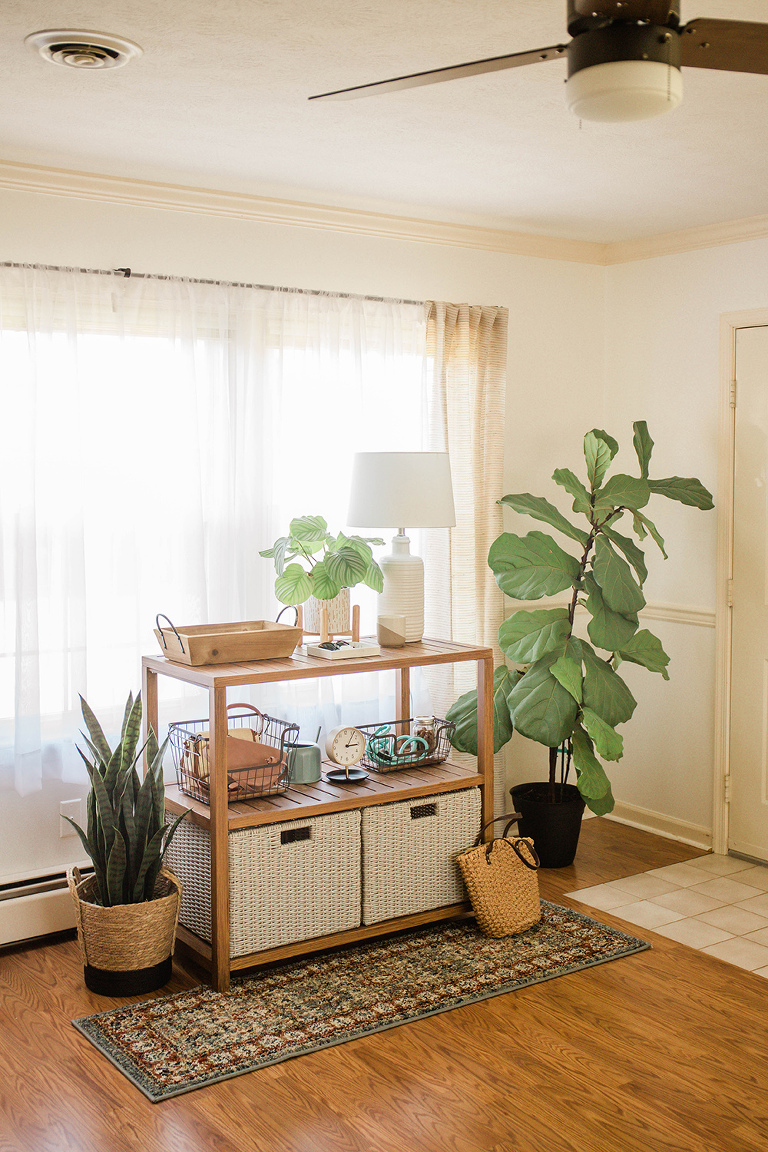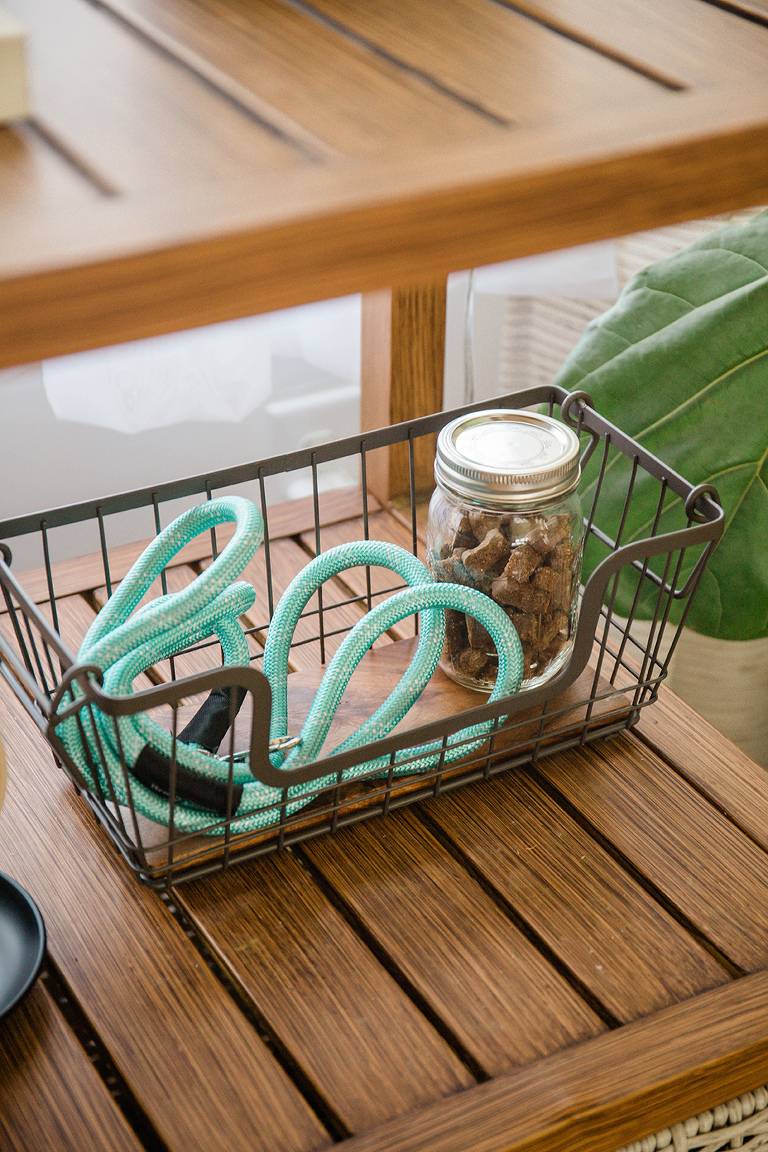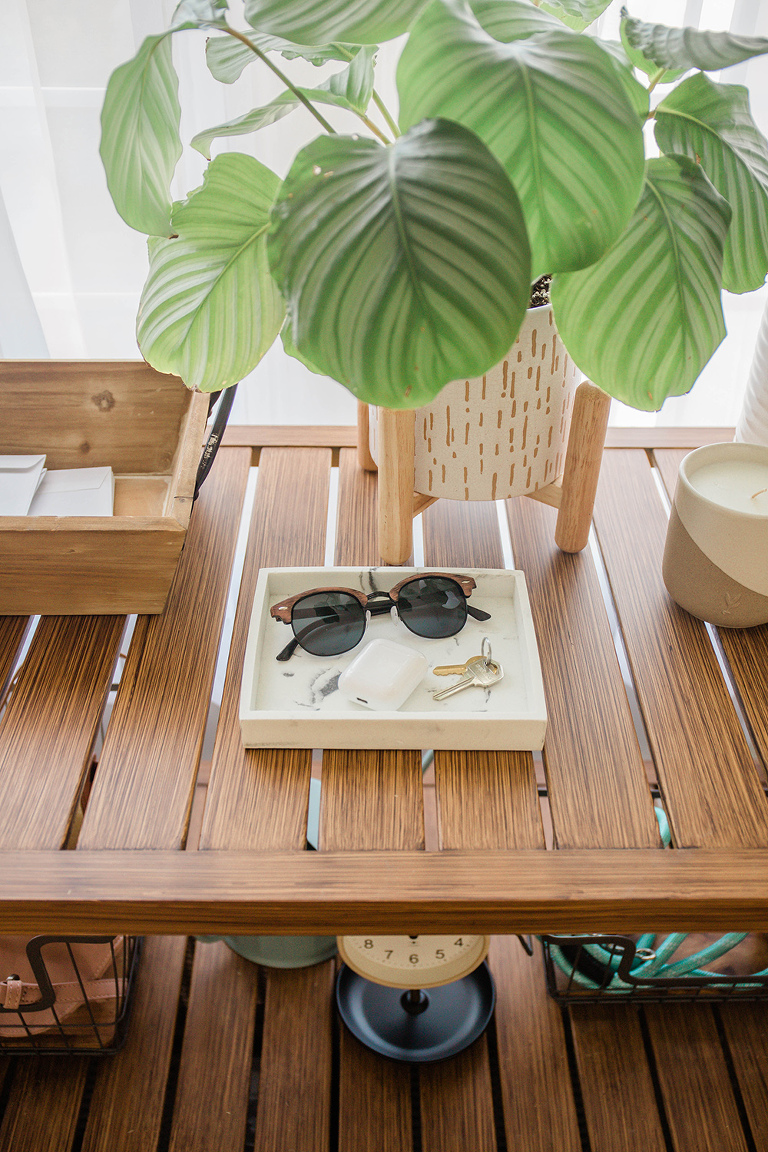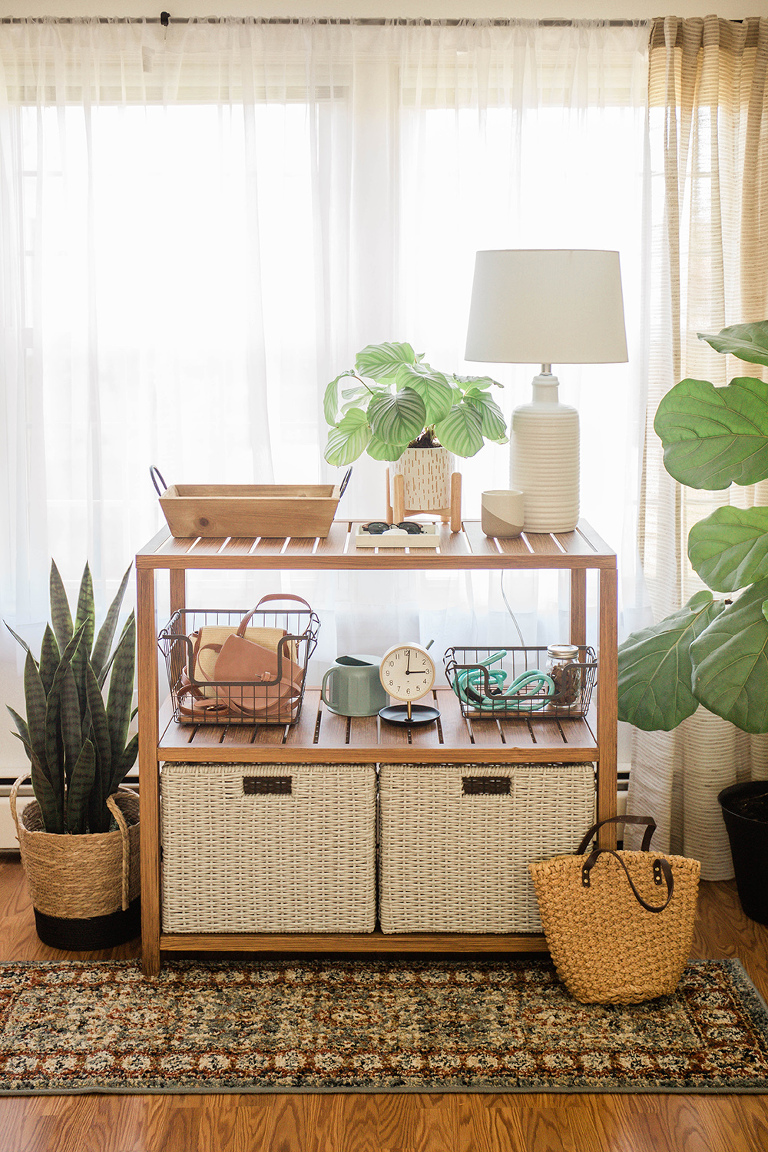 Resources: Steel Console Unit, Large Metal Basket, Small Metal Basket, Clock, Watering Can, Floor Basket, Table Lamp, Dashed Ceramic Planter With Stand, Faux Marble Tray, Two-Tone Candle, Wooden Tray, Runner Rug
Mud Room Drop Zone:
This entryway station was actually my husband's idea! It seems like John and I always come in through the front door with arms full of stuff, so we love the idea of having a console like this to use as a drop zone. I styled the piece with lots of baskets on the top and middle shelf to help maximize organization possibilities, but also made sure to include a couple of slightly more decorative accents, like a potted plant. The bonus is that a lot of these decorative items serve a function, too—think: the clock, table lamp, mint blue watering can, and two-tone candle. All are beautiful details when seen in the setup as a whole, but they also work really well for us from day to day. The faux marble tray for sunglasses, keys, and other small entryway necessities may just be my favorite part of this look. Oh, and the baskets at the very bottom are fantastic for shoe storage!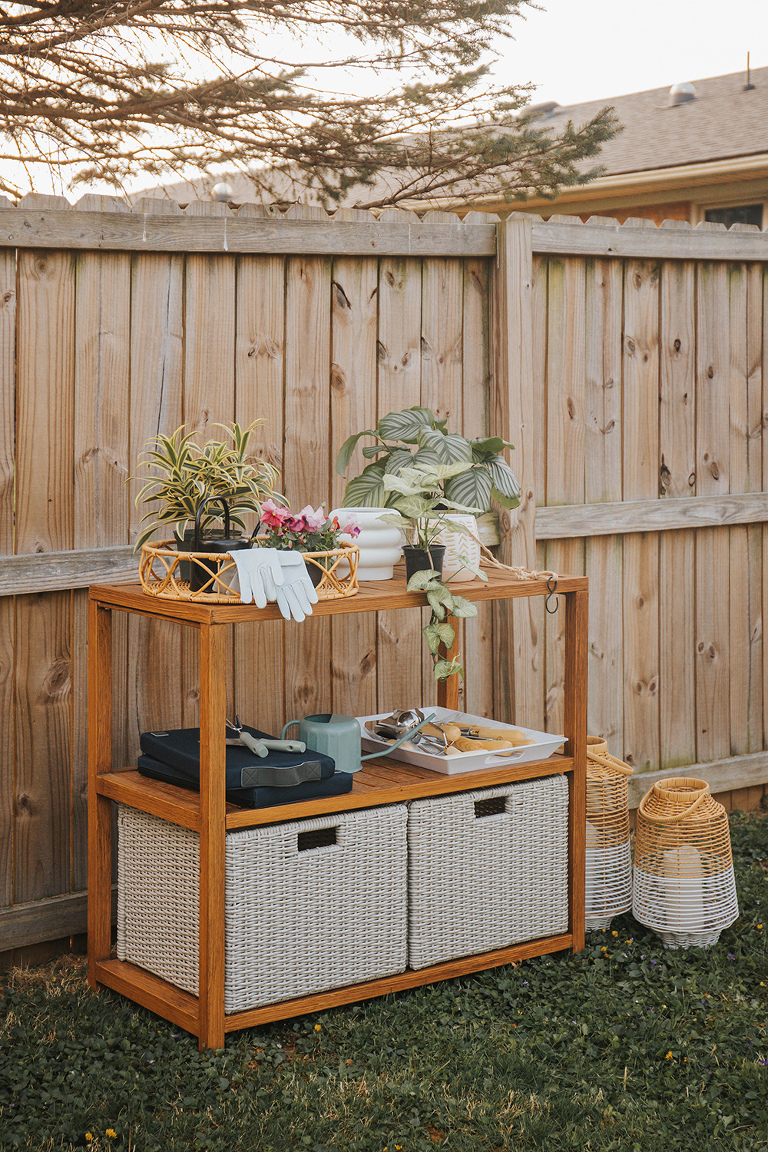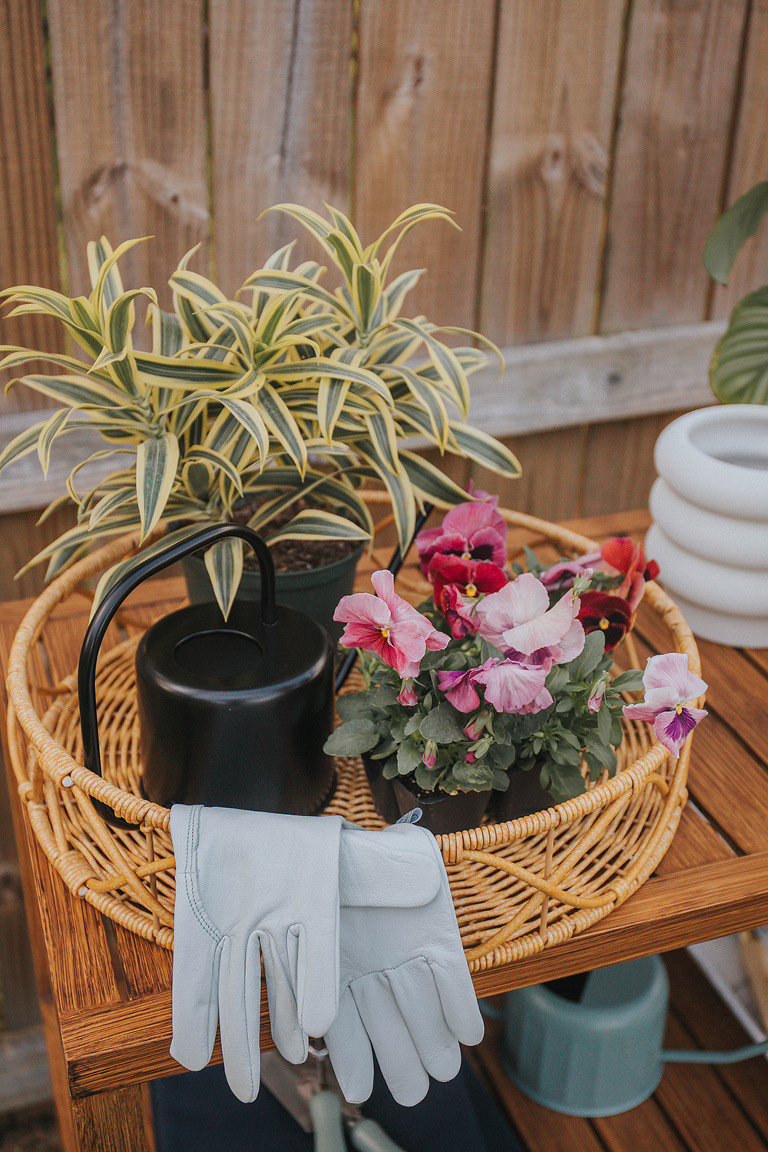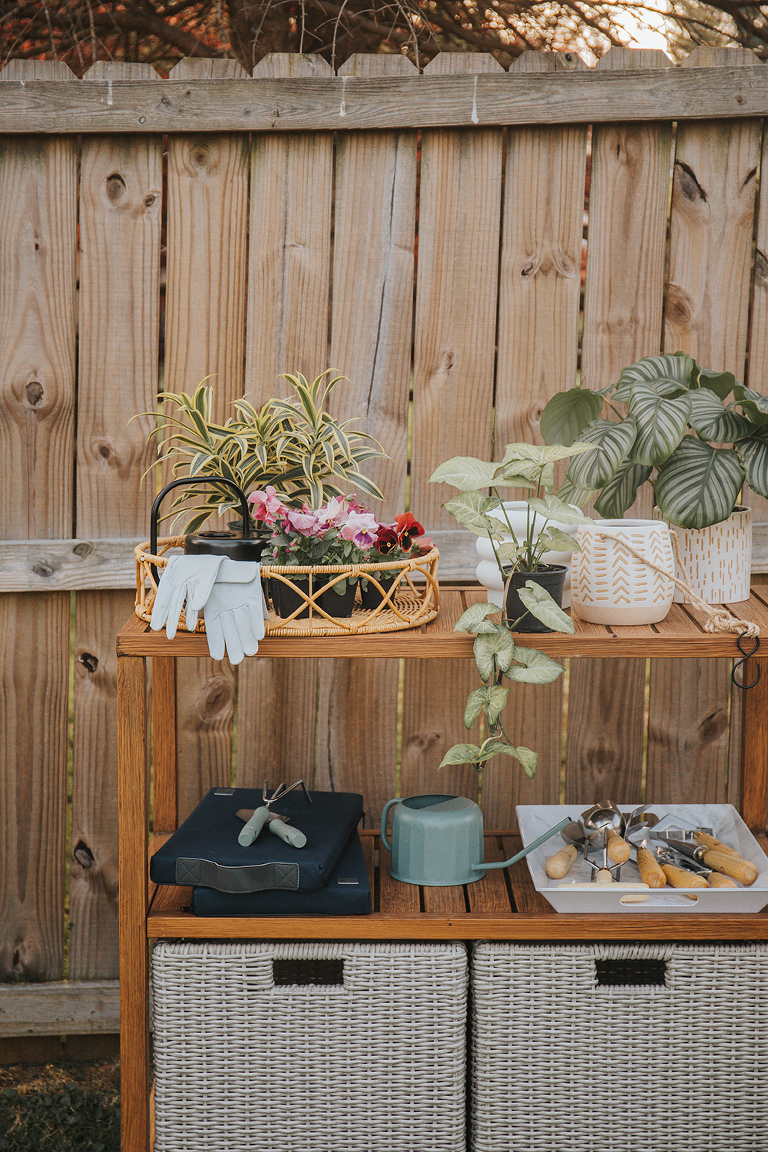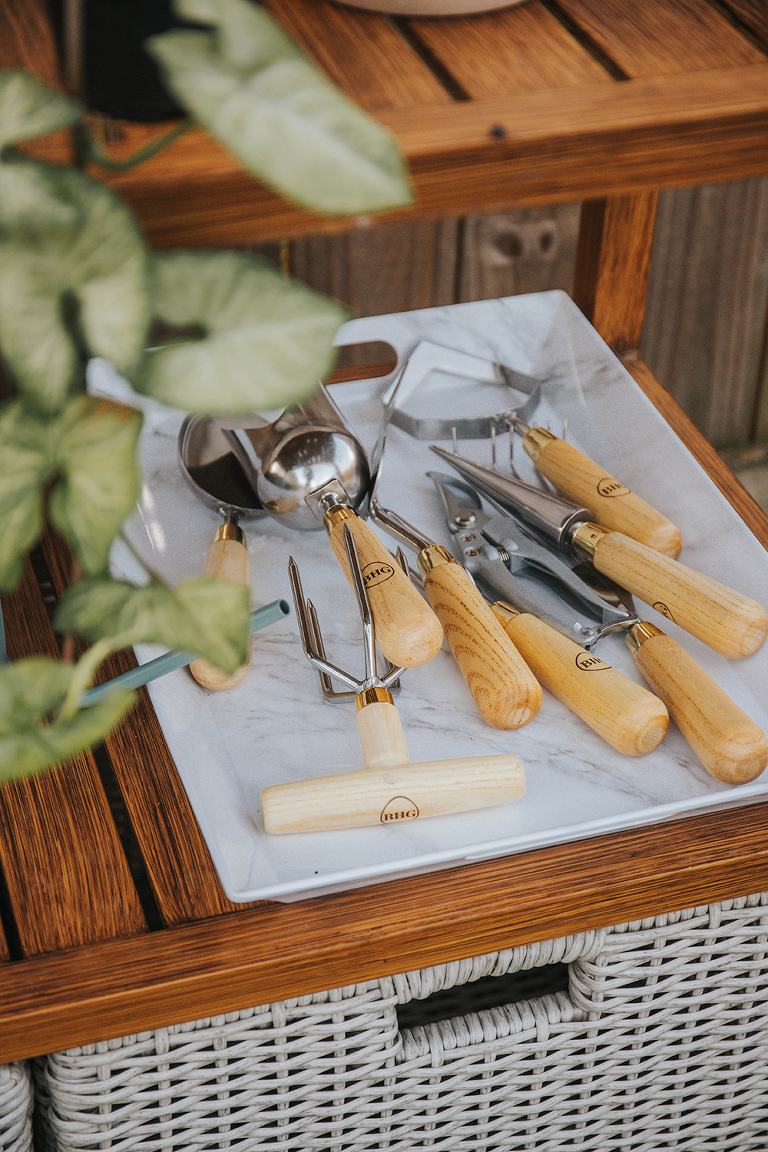 Resources: Steel Console Unit, Woven Tray, Black Watering Can, Blue Watering Can, Hanging Ceramic Pot, Dashed Ceramic Planter, Mod Sculptural Planter Pot, Wooden Handled Gardening Tools, Blue Handled Gardening Tools, Melamine Tray, Lanterns, Kneeling Mat, Gloves
Garden Potting Bench:
Speaking of "favorites," though, I think this third console styling option takes first prize in my mind. I love the way this gardening table turned out, and could definitely see myself using it during the warmer months at our new house. The woven tray looks like it could only be used indoors, but it's actually made of weather-proof materials, so you can leave it outside as long as you want. I've always been a big, big fan of Better Homes and Gardens' pot collection at Walmart, so it was really easy for me to find pretty ceramic accents to outfit my gardening bench with. Gardening tools are also a must, as is a cute watering can (I actually used two in this setup, both linked above!). You can never have too many watering cans…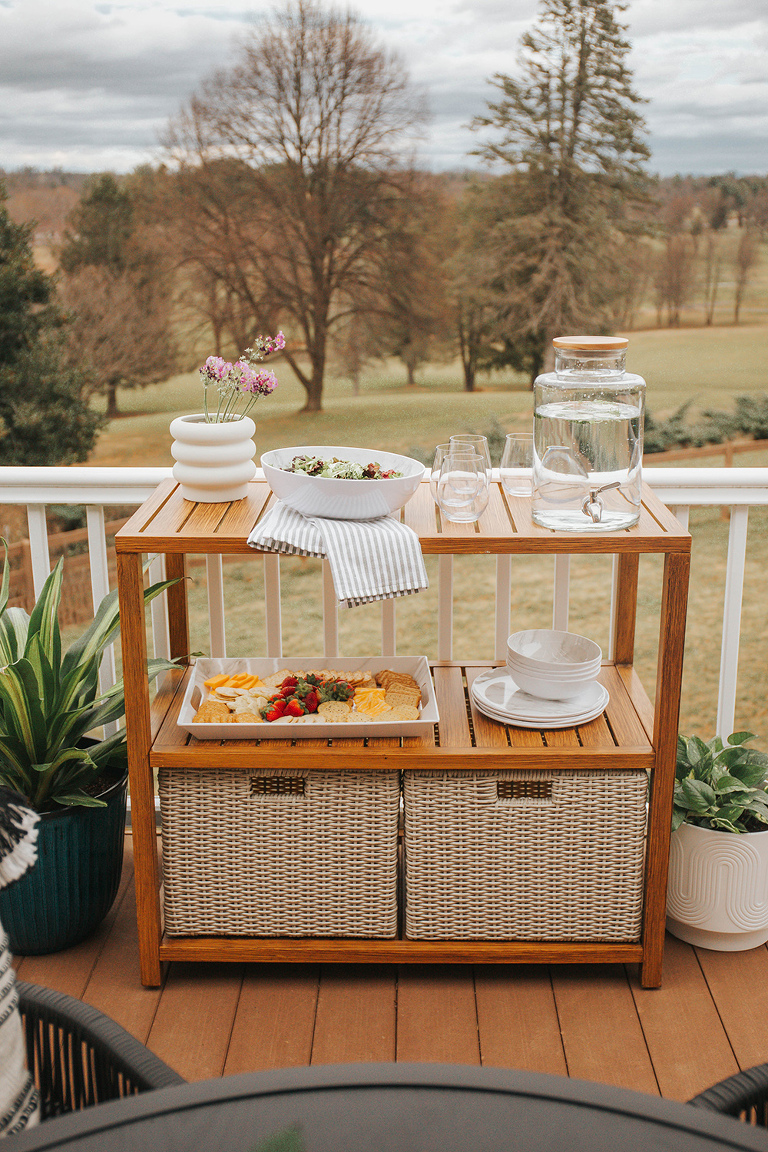 After photographing and filming all of these looks, I ended up taking the console back over to my parents' house so they could continue enjoying it on their back deck, but now I miss it. I might just have to order a second one for our house! Which of the three looks is your favorite? Comment below and let me know.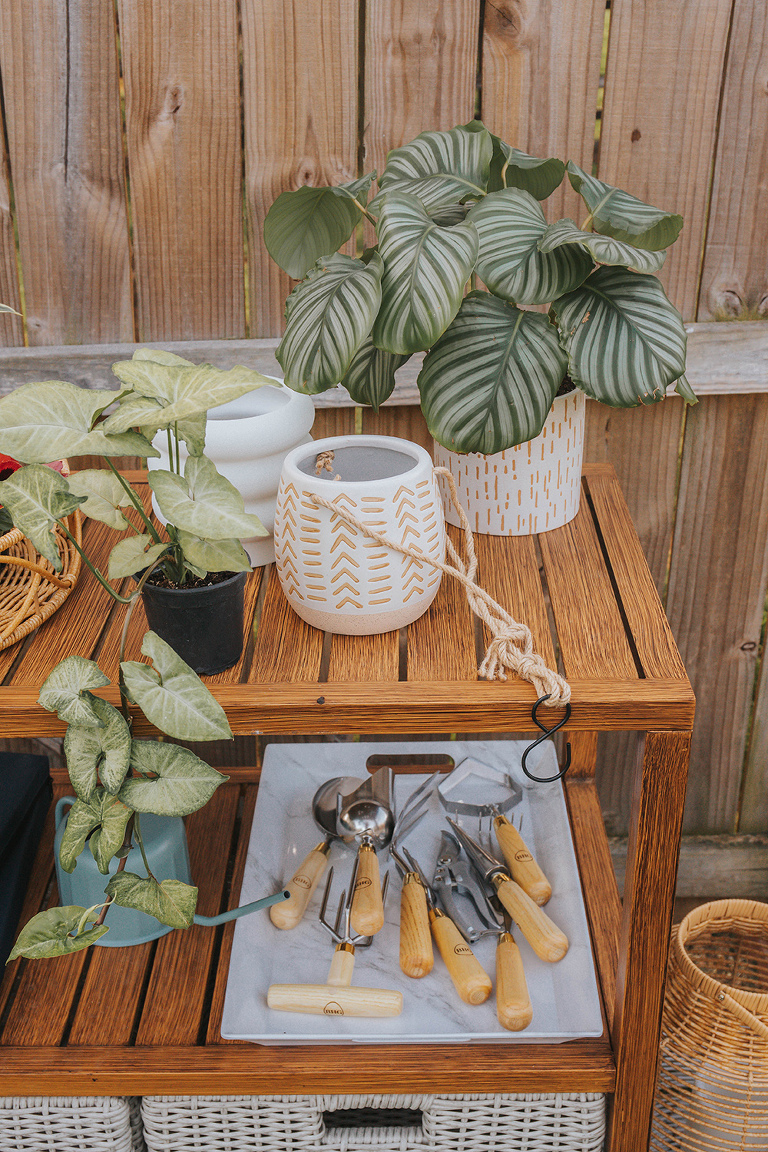 *I earn a small percentage from purchases made using the affiliate links above. Affiliate links are not sponsored. Rest assured that I never recommend products we wouldn't use or don't already love ourselves.