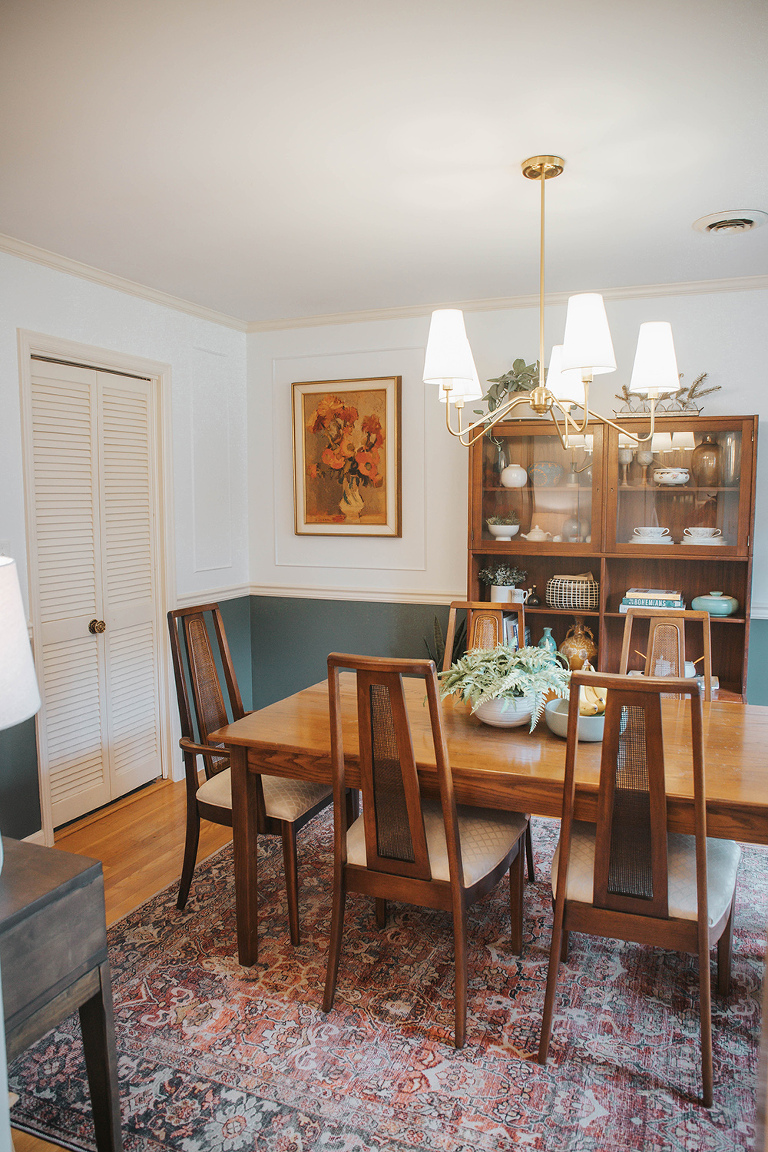 Layer by layer, we're making this new house feel like our home, and it feels so good! I love seeing our personalities shine brighter in the spaces with each update we make. Our dining room is the latest room in our house to get a fresh new look in the form of DIY picture frame moulding. You know that feeling when you walk into a space and something just doesn't feel quite right? Well, that was my reaction nearly every time I stepped into—or more accurately—through our dining room.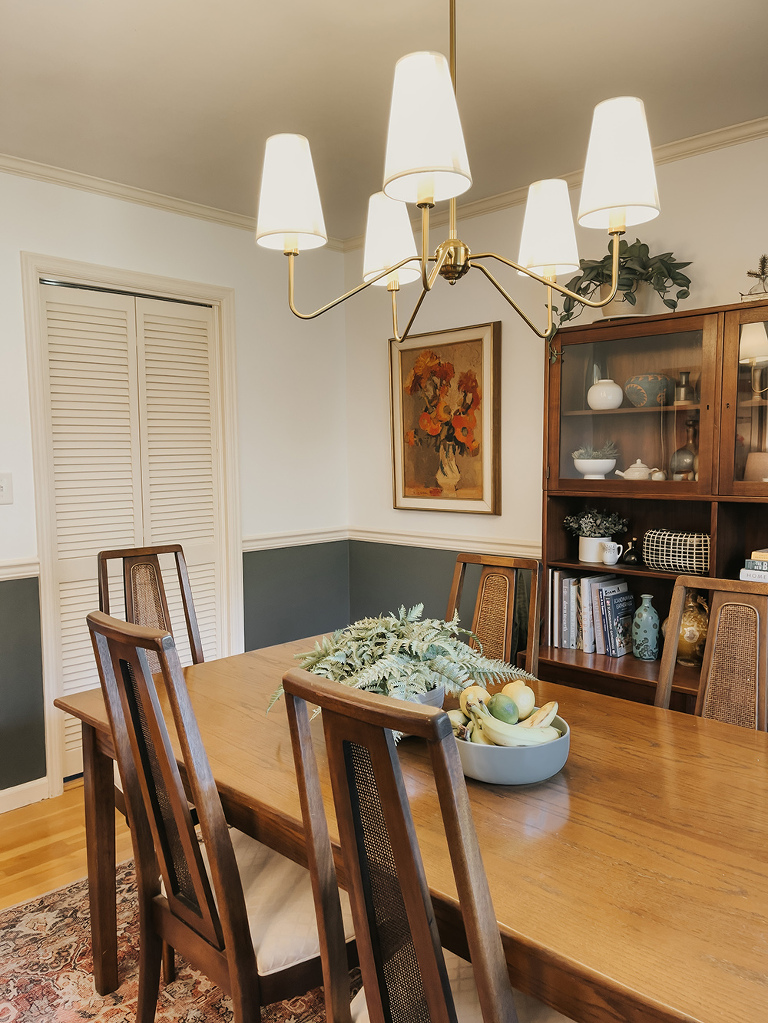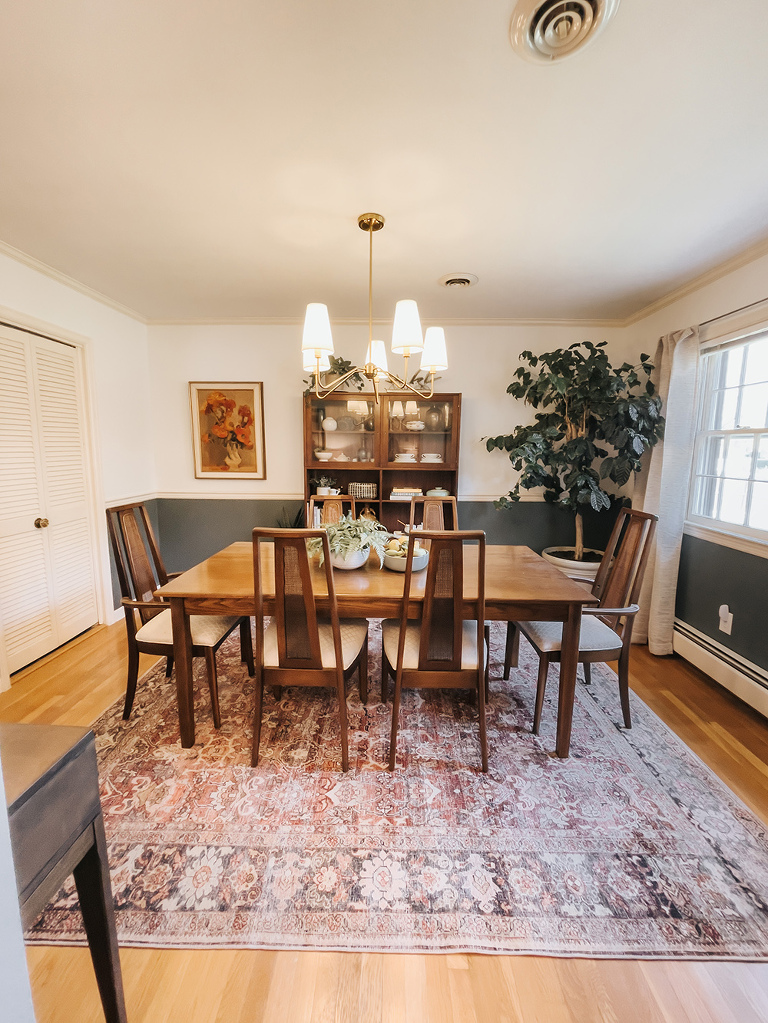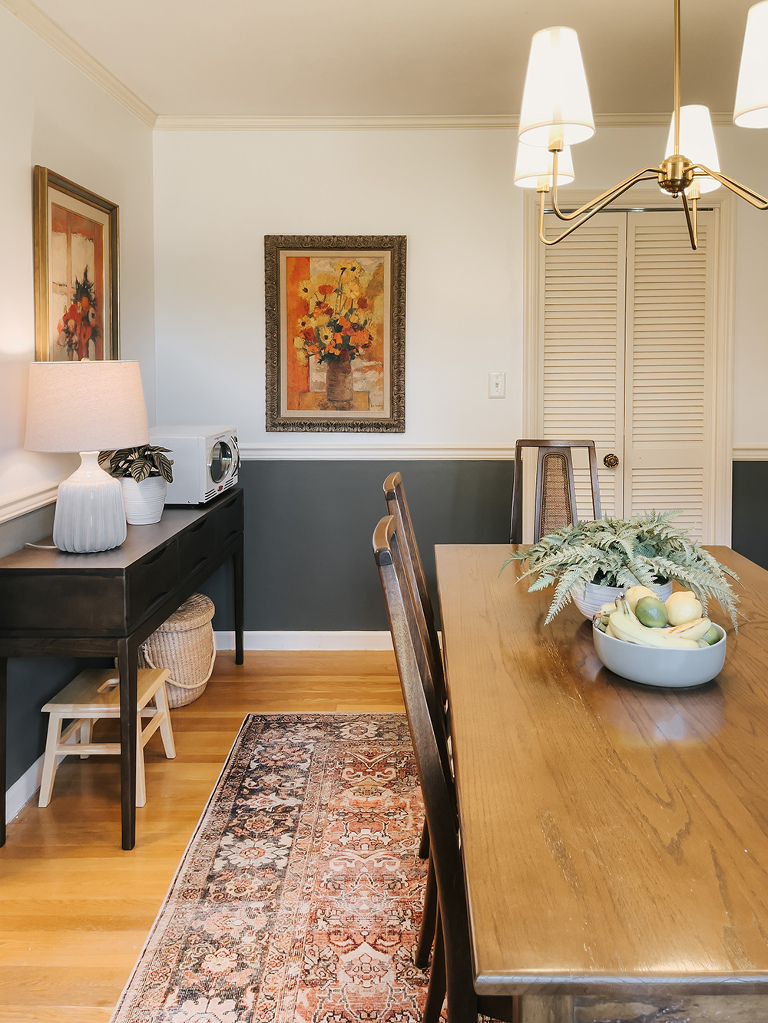 You see, we have to walk through the dining room dozens of times a day to get to the bedrooms and bathrooms, so we "experience" it a lot. And every time I did, I just felt like something was missing or needed to be changed. Those "before" photos above offer a peek into the room as it stood for much of this past spring. I had painted the lower half of the room a dark moody blue/green ("Homburg Gray" from Sherwin-Williams) and the upper half white ("Pure White," also by Sherwin-Williams). I had put down a new Loloi area rug and hung my colorful collection of vintage Bernard Cathelin prints. A set of antique wood furniture rounded out the room, along with a (budget-friendly!) light fixture as the focal point. It looked good to me, but still needed work.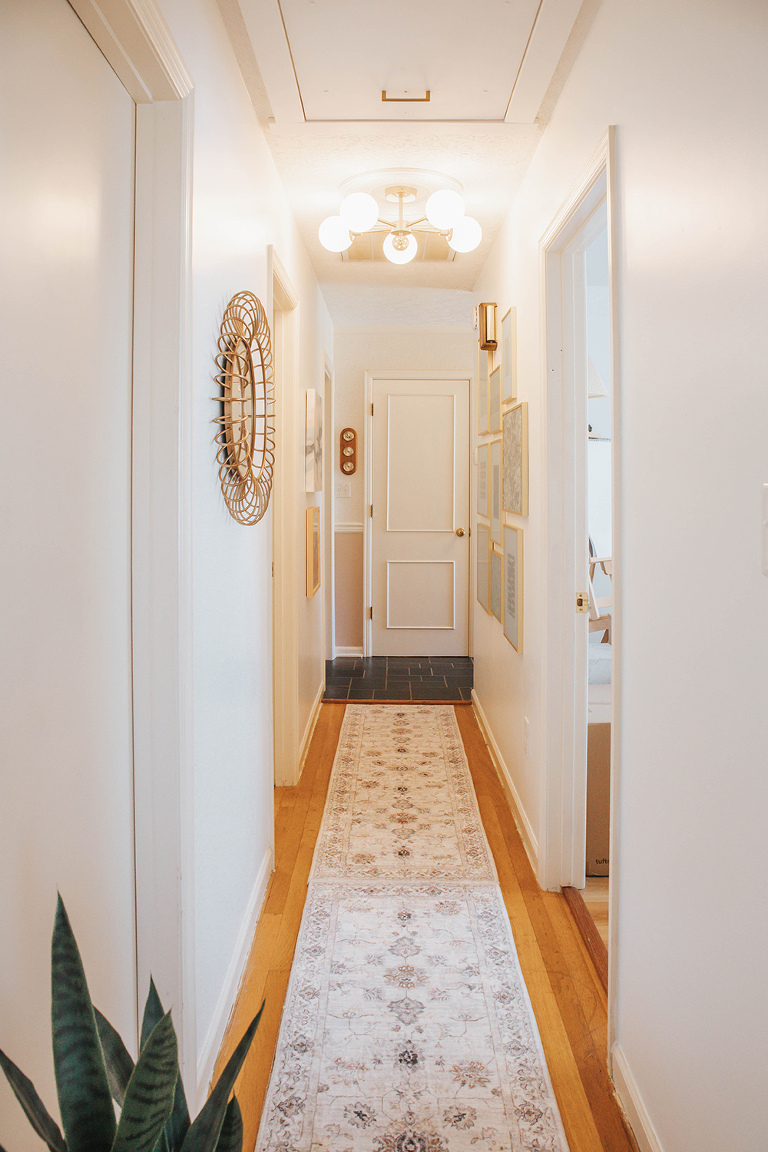 Chances are pretty good that you've picked up on the resurgence of picture frame moulding in interior design. This is a classic trim detail, but people have been going absolutely nuts for it in the home sphere online. I can't scroll through Instagram without seeing multiple DIY bloggers explaining how he or she added it to their home. That may sound belittling of me, and maybe I was a little blasé about it at first, thinking it was just such a blatant trend, but the look eventually won me over—especially when I realized we have this type of moulding already, and that it's original to our 1960s house!
That photo above taken from the end of our hallway shows the original wood trim I'm referring to. It's attached in two various sized rectangles on the two interior doors just inside our entry. This detail has been a favorite of mine ever since first touring the house, so the idea of finding more ways to incorporate it really intrigued me. That's when I realized our dining room could be the perfect spot. This room is right next to our entryway, so carrying the picture frame moulding over felt very natural, and I thought there was a good chance that this subtle architectural detail could be the missing piece I had been craving for our dining room.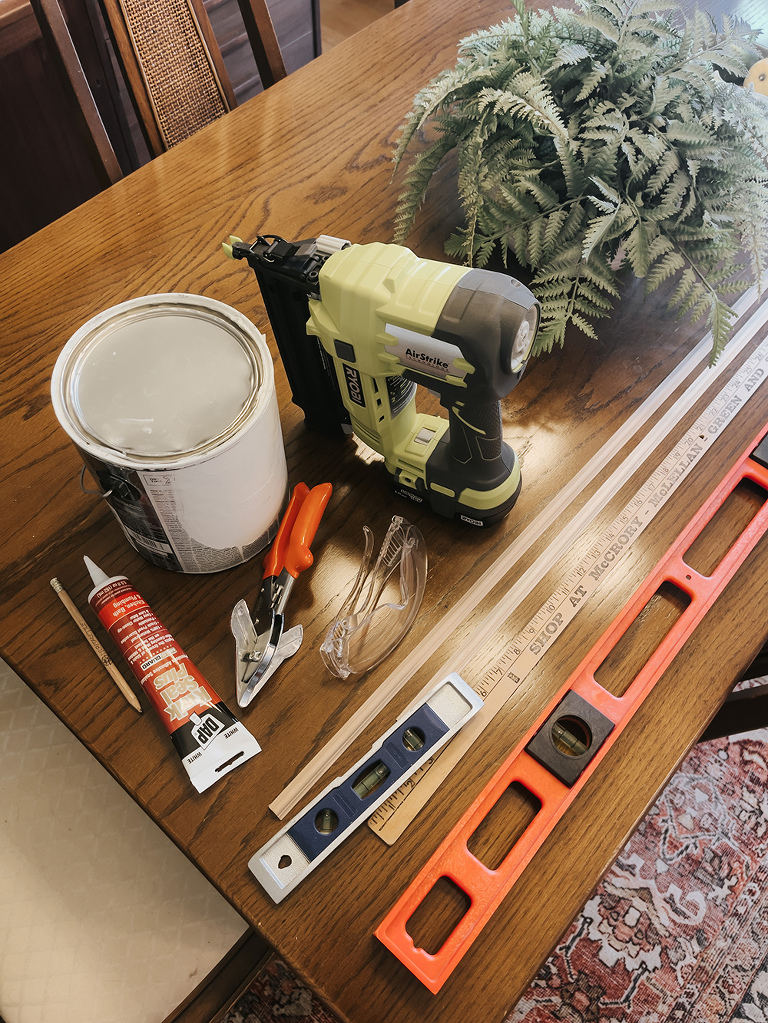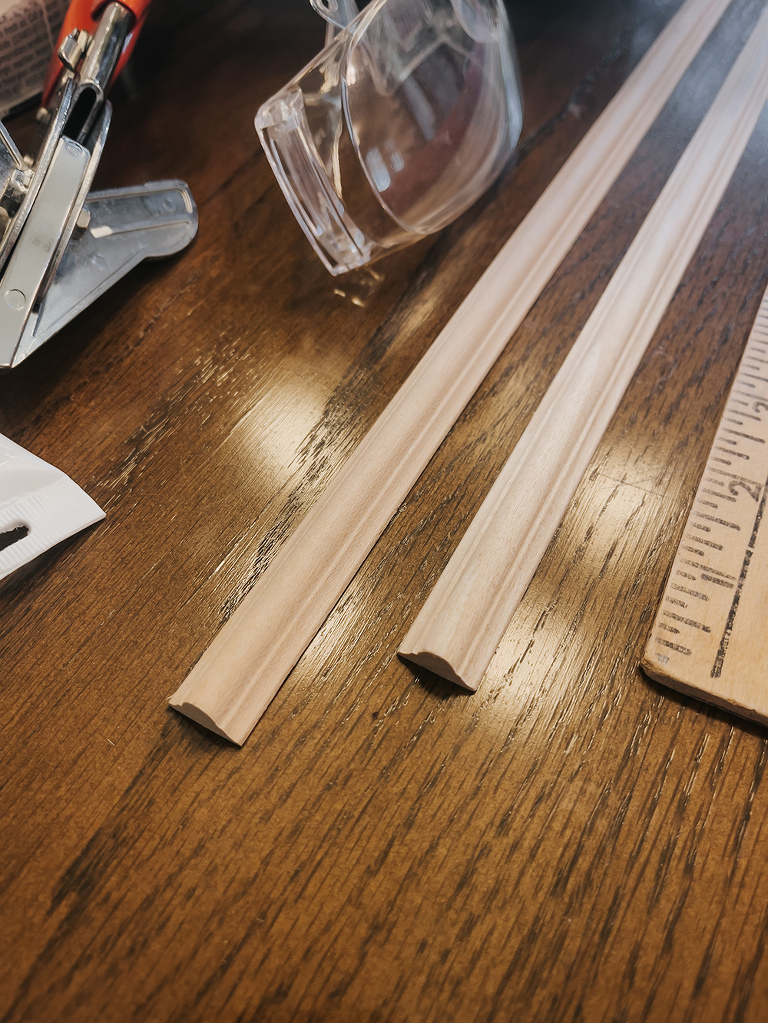 Happily, I managed to find an exact match to our existing entry trim at Home Depot, and I also picked up a pair of these snips. As I said, I've seen countless other DIY bloggers tackle this project, and every single one of them has touted the handiness of these snips. It allows you to skip the hassle (and danger) of a full size saw, and makes the project go so much quicker. I was able to measure and make cuts in seconds rather than having to traipse all the way to the basement where my saw is. If you want to recreate this look in your own home, you will absolutely need these snips or something like them. In terms of other major tools, you will also need a nailer. I used this trusty brad nailer tool, which I've put to very good use on multiple DIY projects over the years (like this). Worth every penny.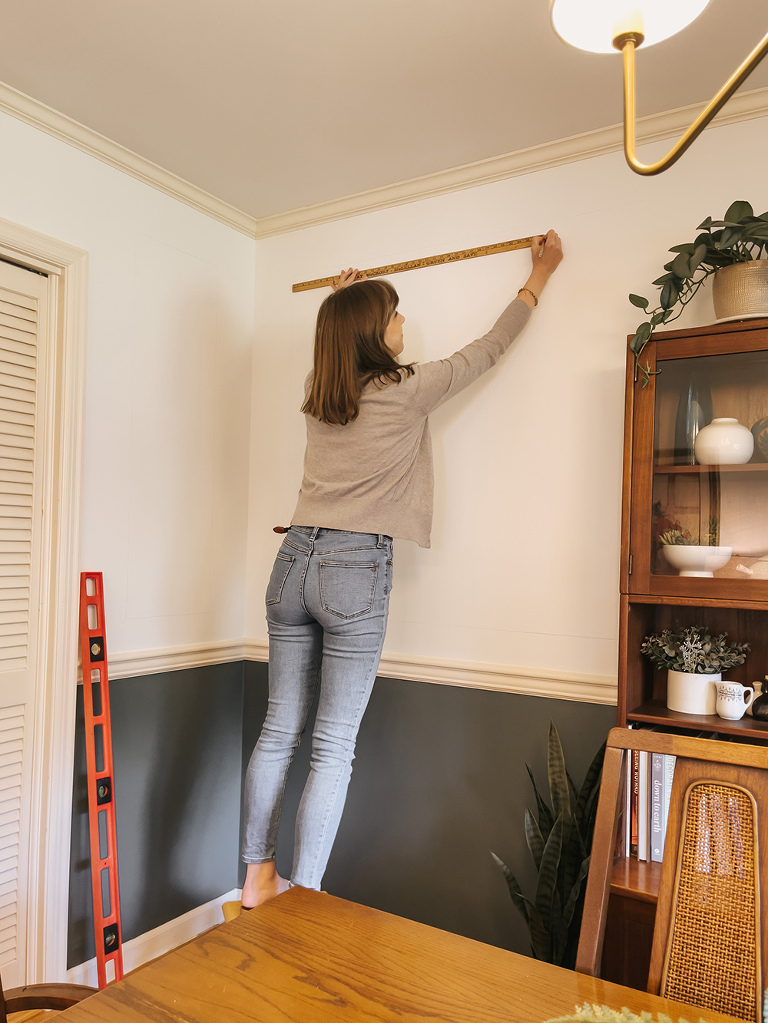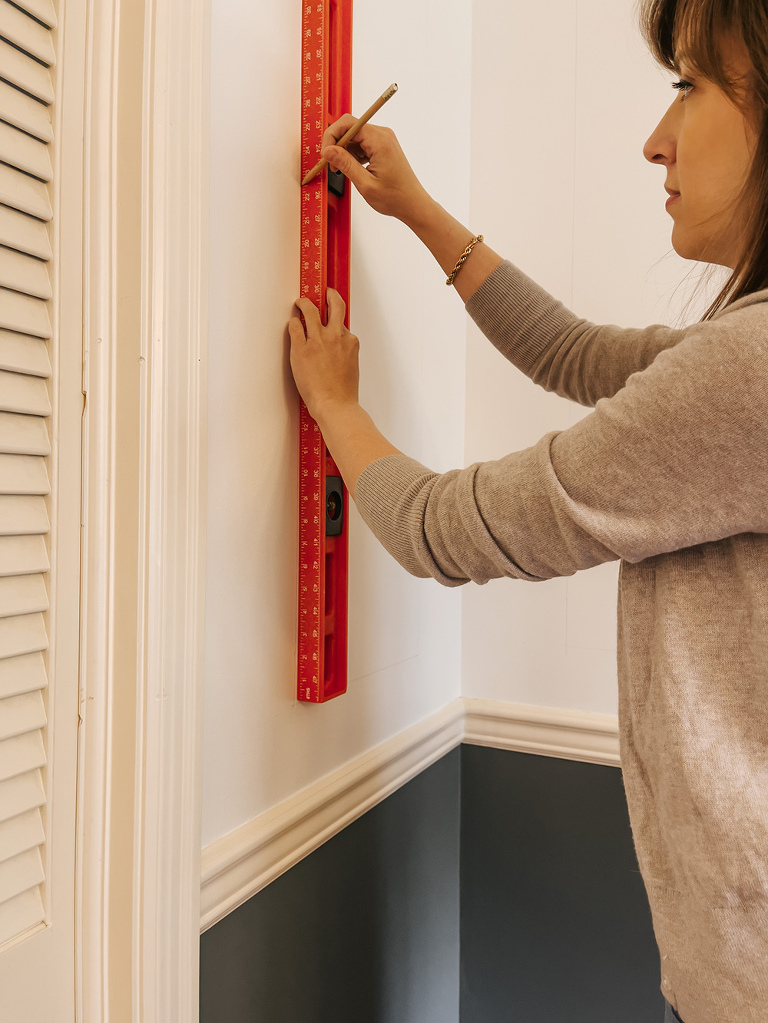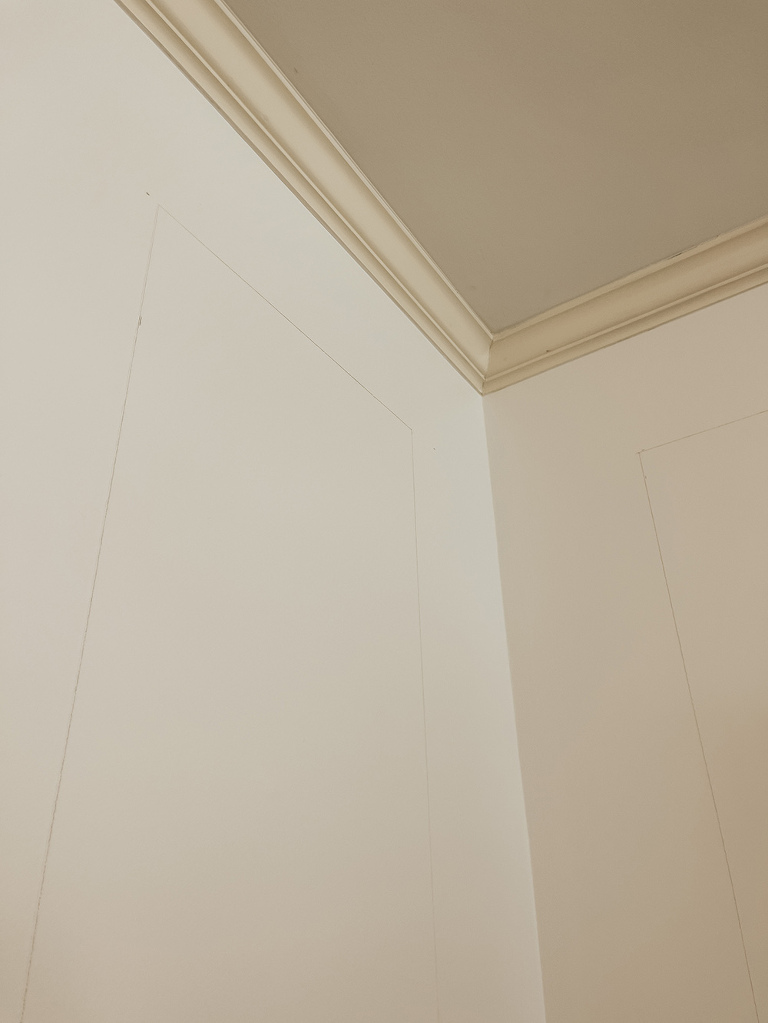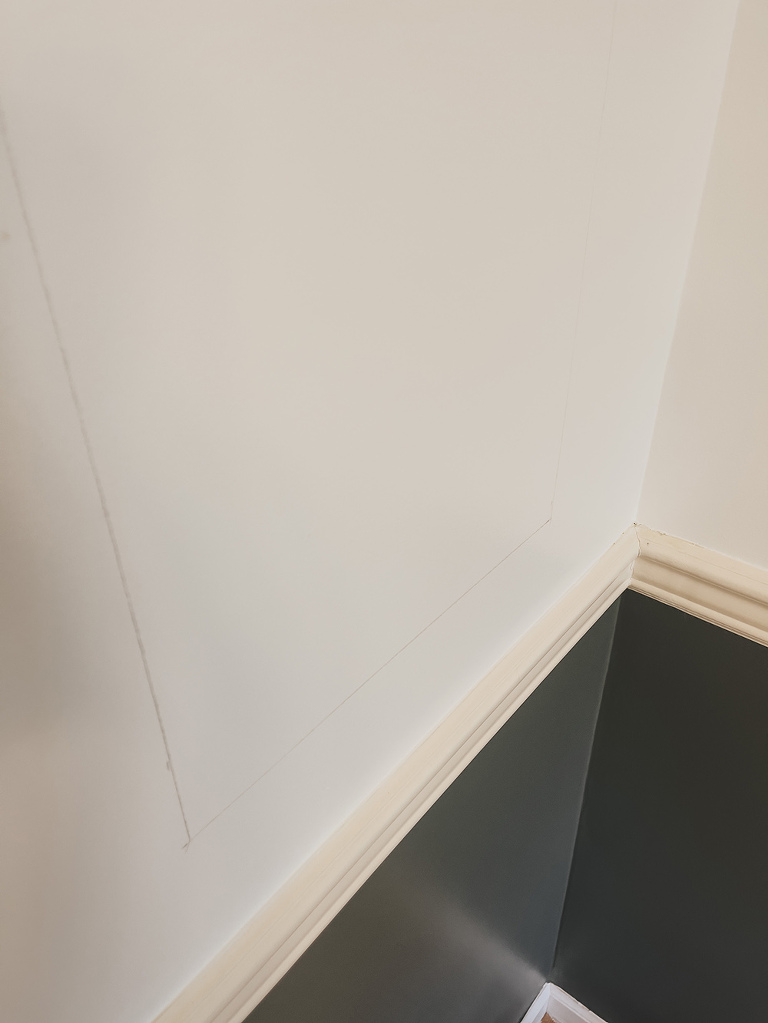 As with most DIY projects I complete, I didn't strive for perfection. I measured, but I didn't fuss too much over the accuracy of my boxes. Our home was built in 1967, so the walls aren't straight or level. Making my picture frame boxes exactly plumb would have just drawn more attention to those inaccuracies in the walls themselves, so I didn't go wild with measuring or leveling.
To start, I chose my measurements for the boxes based on some of the other projects I had seen published online. I liked when others' boxes weren't all completely uniform in terms of how far they were from the top or bottom of the wall, so I landed on a variety of measurements for my own boxes. I measured up from the top of the chair rail by four inches to make the bottom line of my boxes, six inches down from the bottom of the crown moulding up along the ceiling, and seven inches in on either side. I measured and marked a couple of times for each line, then used a level to connect the dashes with my pencil, thereby creating as level and sharp a linear box as I could.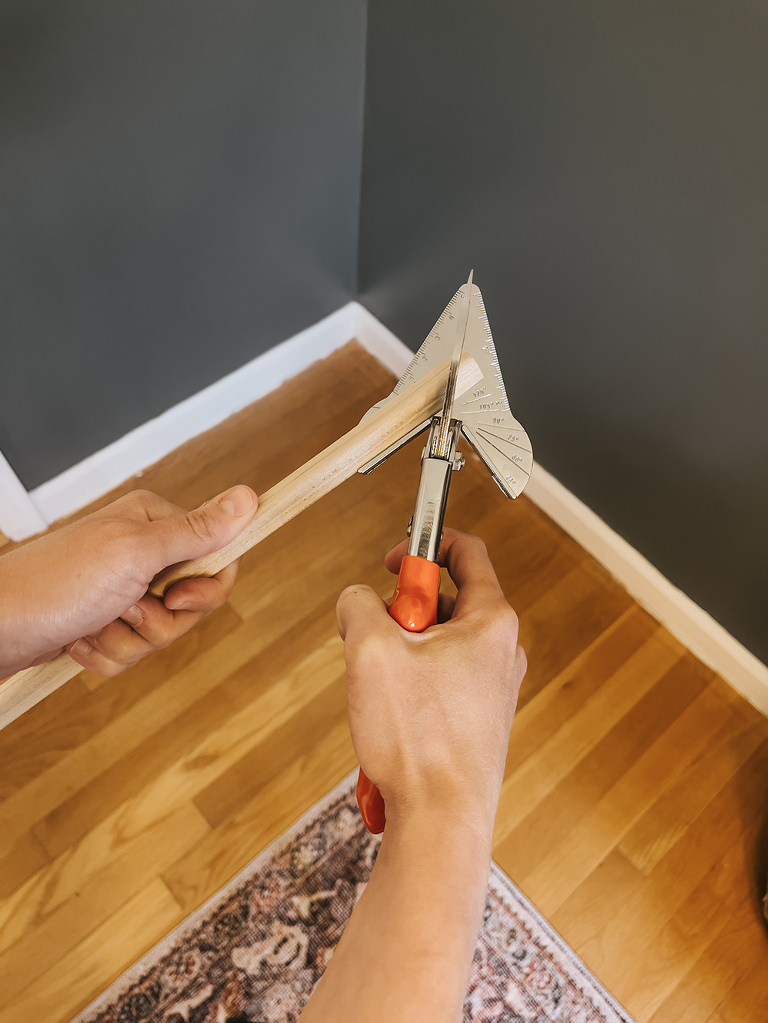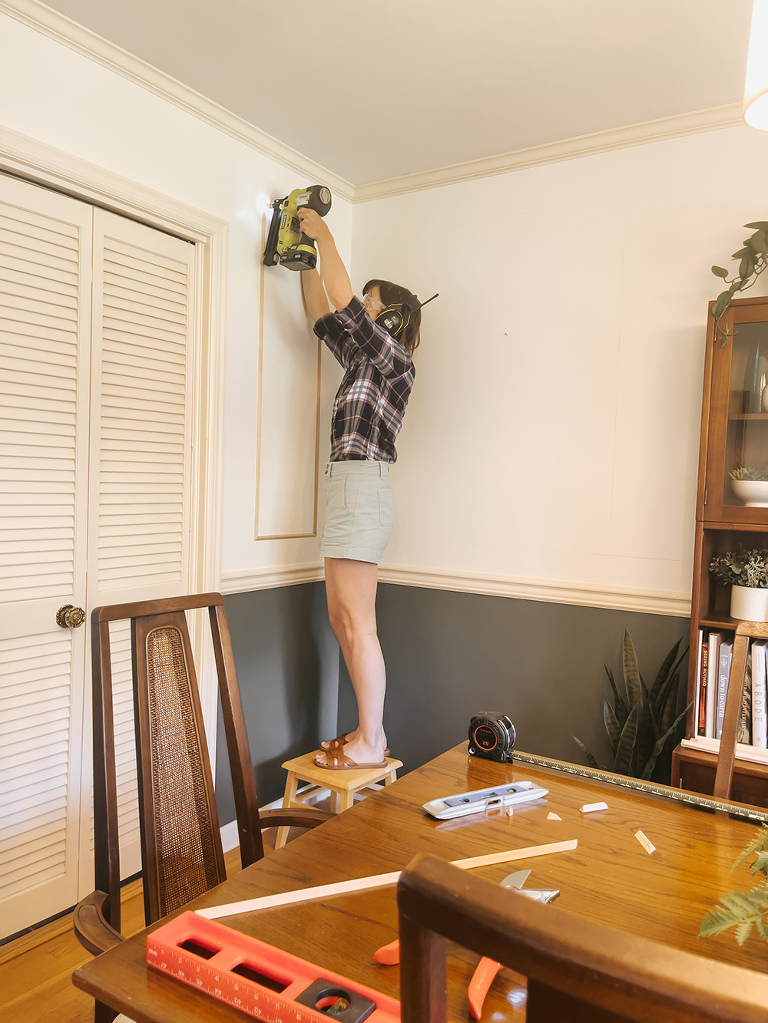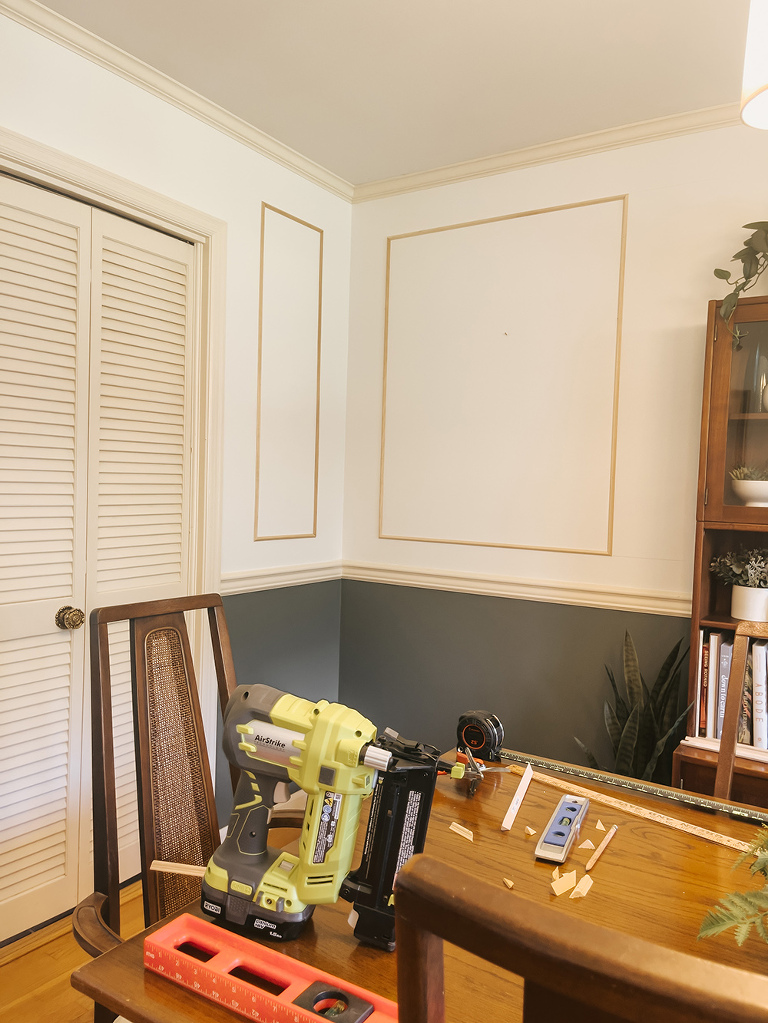 After I had the entire room laid out with pencil boxes, I went back around and installed my trim right over the lines. The snips have a handy angle guide built right into them, so I was able to get the perfect 45-degree cut each time. To make the cuts, I laid the piece of trim under the blade, making sure to press it up flush against the angle guide, then I quickly made the cut by squeezing the handles of the snips. Most trim of this kind is made of very soft wood, so you don't need to exert much pressure at all to make the cut. This was honestly the easiest step of the entire process.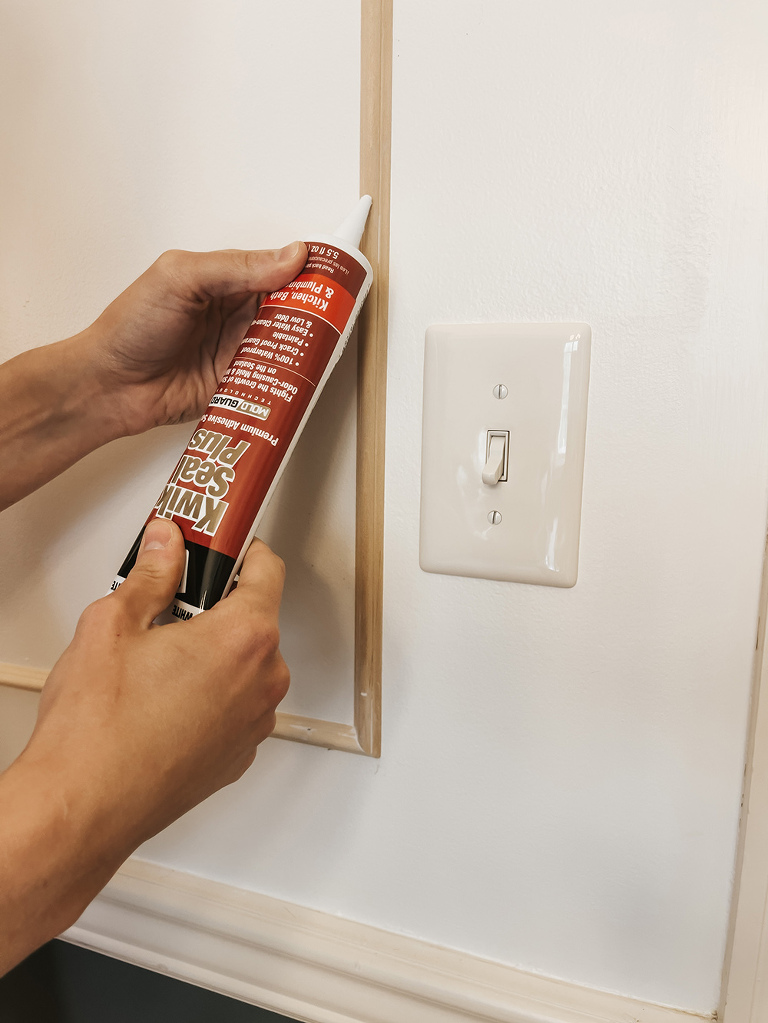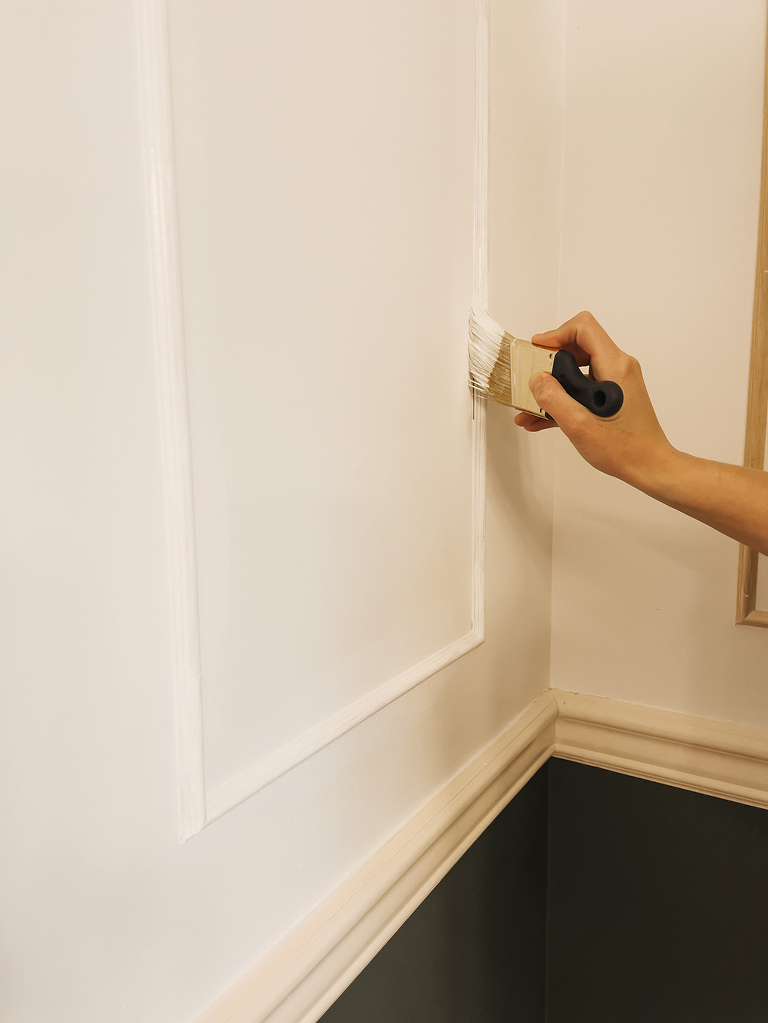 I used my brad nailer to go all the way around the room installing the cut pieces of trim (measured and cut to match the pencil lines), and then I filled the nail holes with caulk. Paint was the last step. I used the same white paint used on the rest of the upper half of the room to make the new trim sort of fade into the background a little. I loved the look of the shadows created by the three-dimensional profile of the trim, but I didn't want it to stick out too much visually. The finished tone-on-tone white paint effect was the perfect solution for making the trim blend more seamlessly into the space.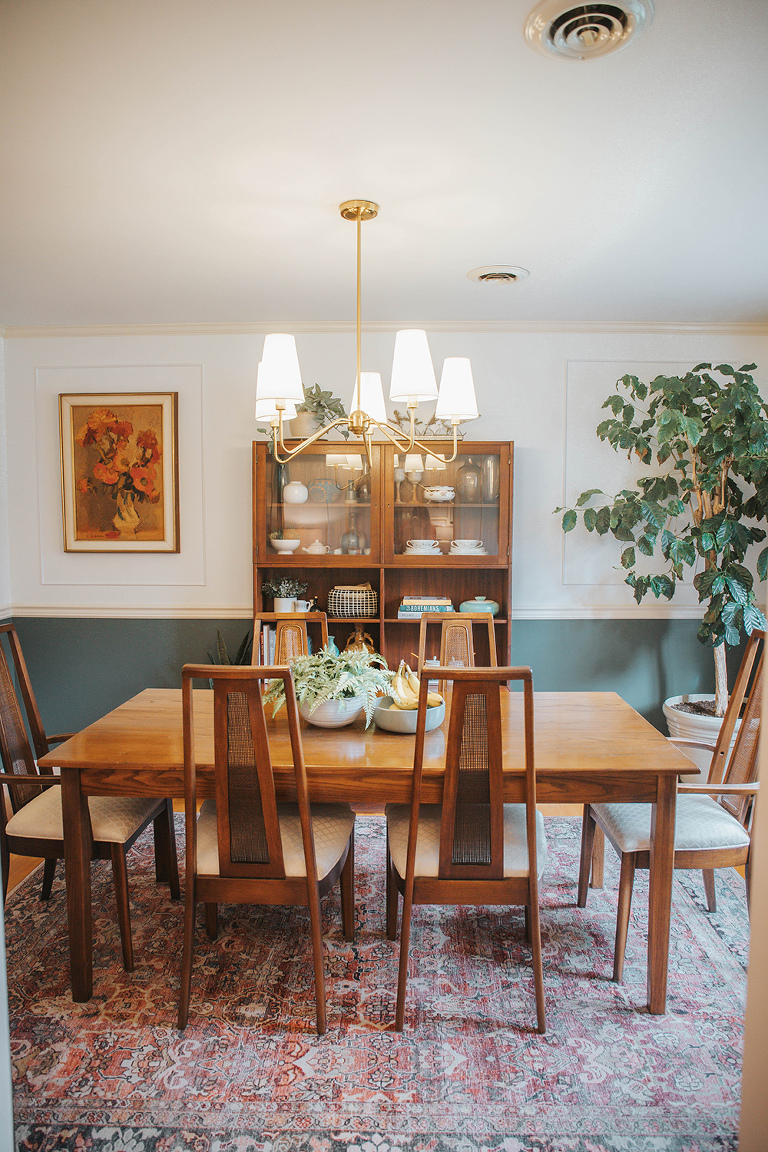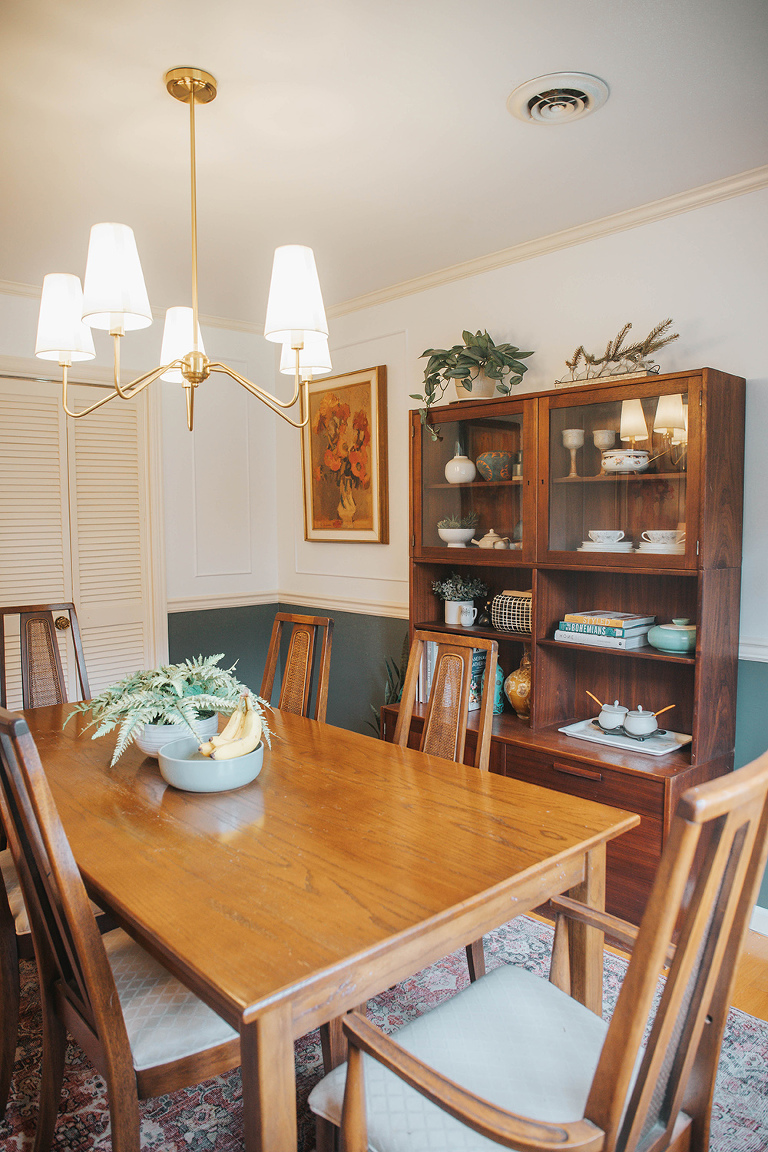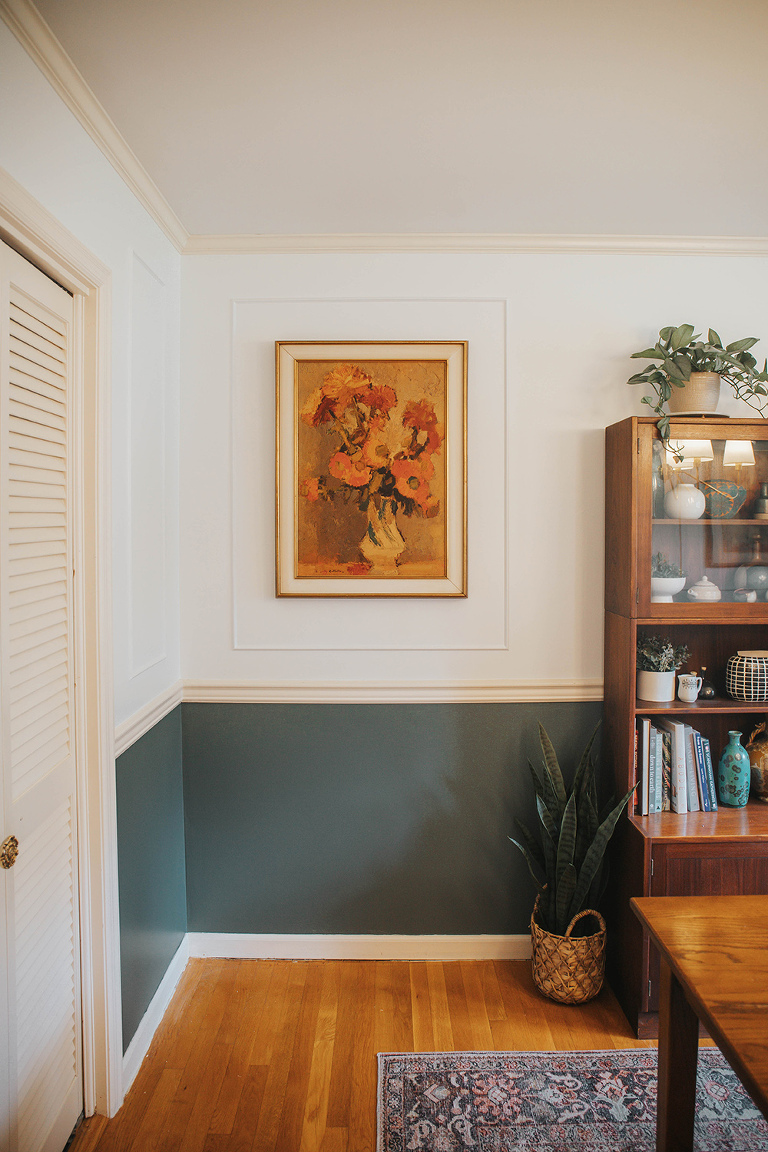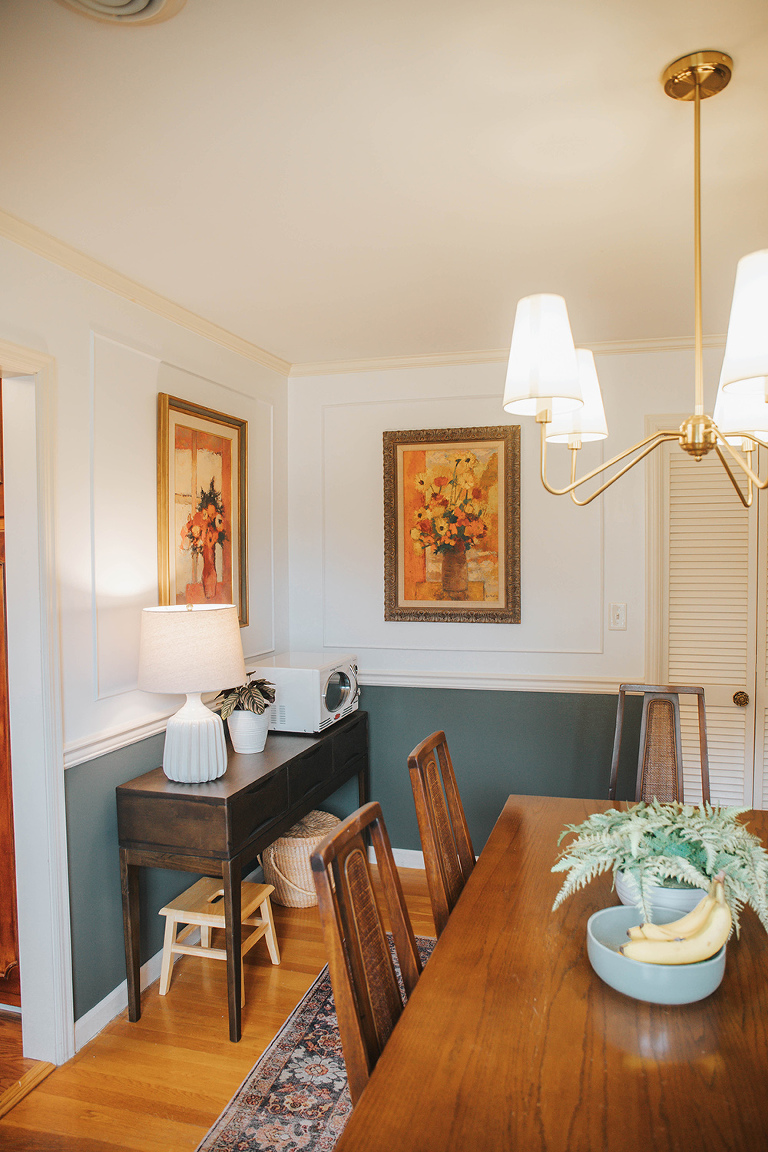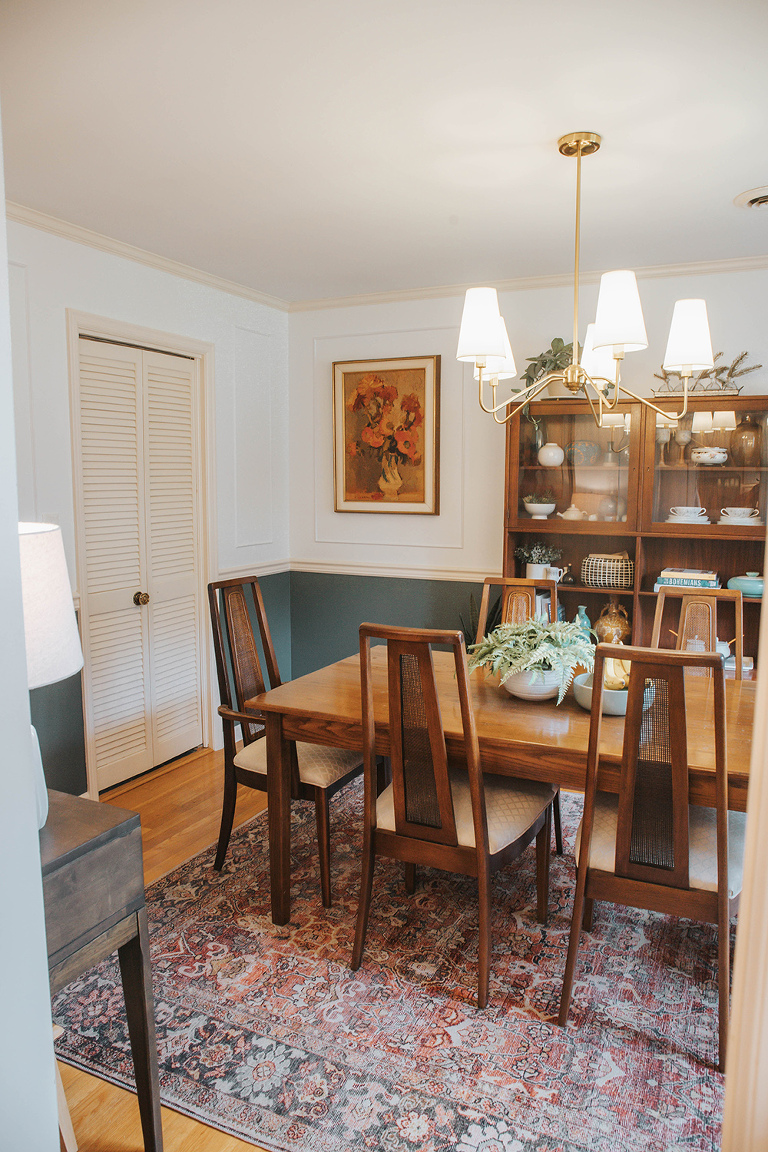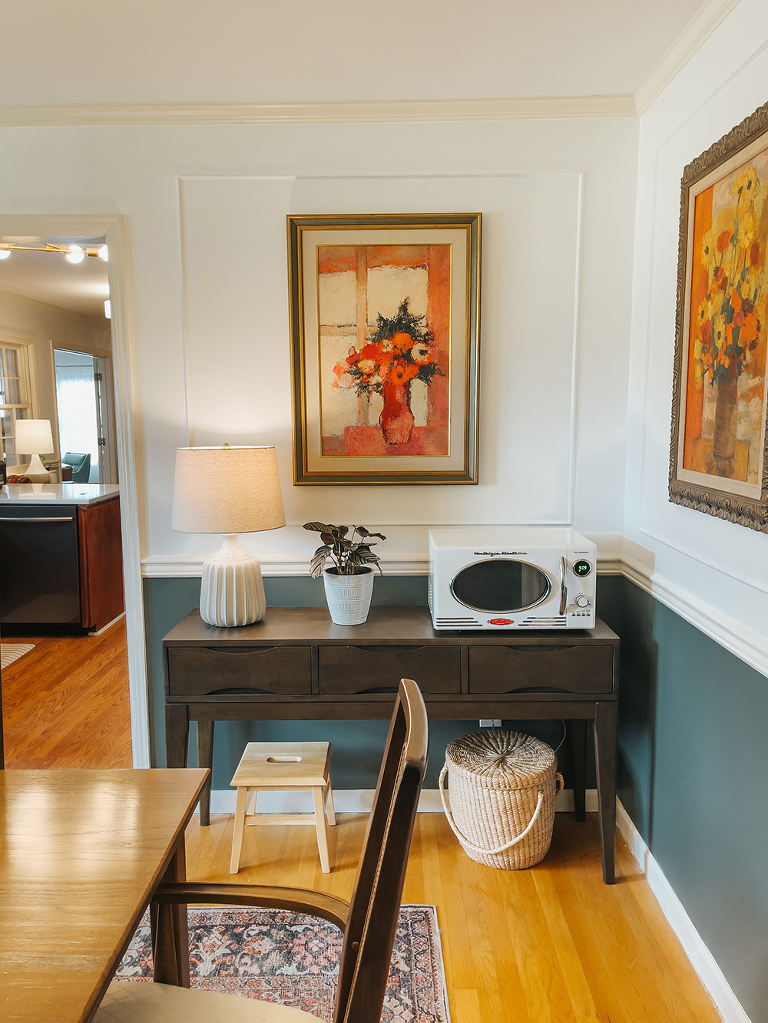 After the paint had dried, I hung my artwork back in place then stepped back to take it all in. I think this trim looks like it has always been here, especially when you take into account the fact that the identical trim is hanging just a few feet away in the front entry. It feels classic, but a little modern, too, thanks to the bolder colors used in the room. Now, when I walk through the dining room, I don't feel like there's anything missing anymore, and I think we've done our traditional house proud. I actually plan to keep working my way through the house adding more of this trim because I love it so much, starting with the rest of the interior doors. Stay tuned!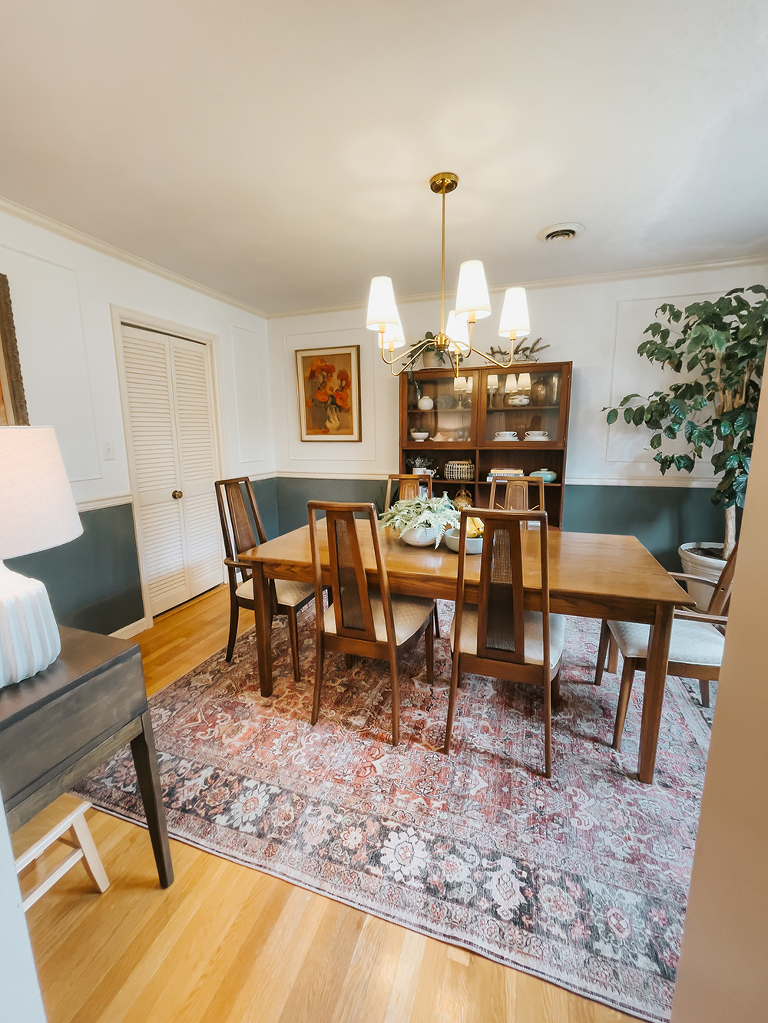 *I earn a small percentage from purchases made using the affiliate links above. Affiliate links are not sponsored. Rest assured that I never recommend products we wouldn't use or don't already love ourselves.