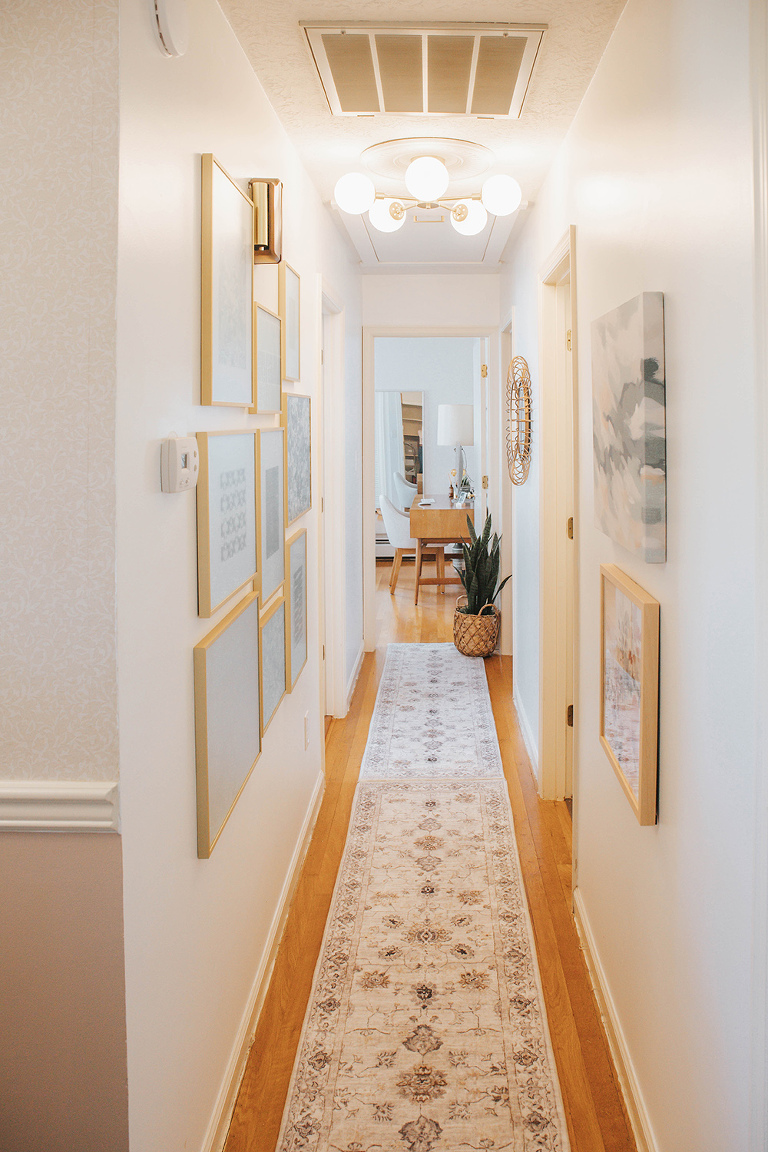 *This post was made possible by the generous support of Better Homes and Gardens, and features gifted product. All opinions are my own.
Long, narrow, window-less hallways are common in mid-century homes, and our own ranch is no exception. The hallway leading down to the bedroom/bathroom wing of our house is tight, and there are no windows to speak of—unless you count the light spilling into the space when the bedroom doors are all open (which helps!). Despite these facts, I still felt like we could add some décor to breathe character into what would, otherwise, be a pretty lifeless space.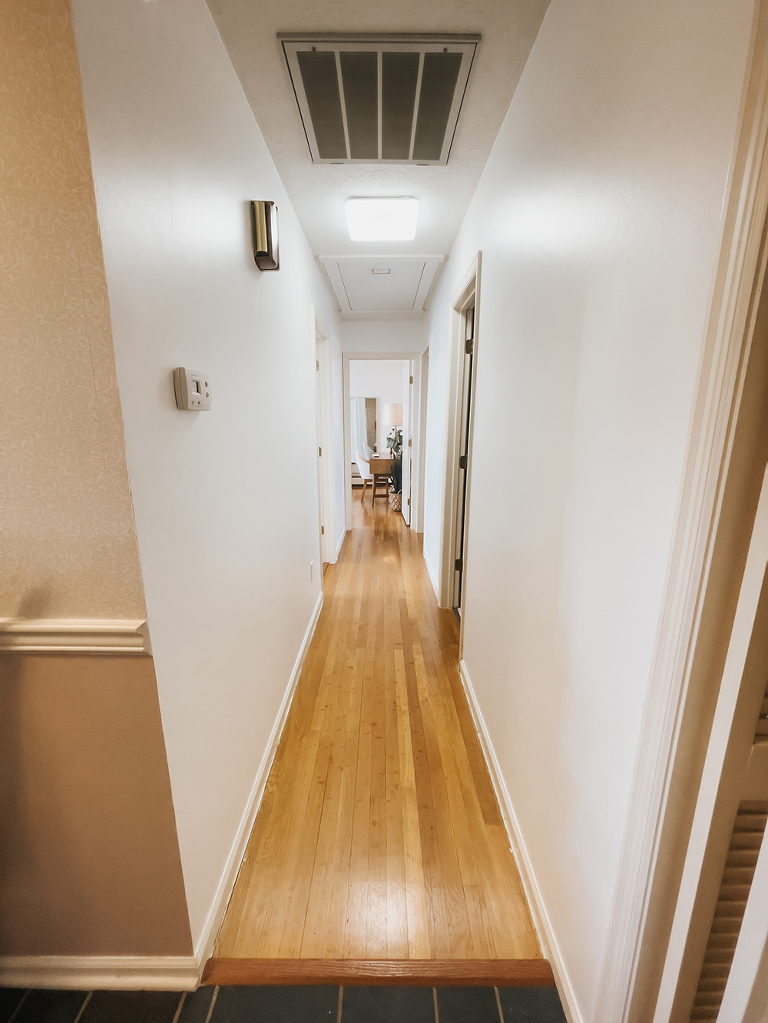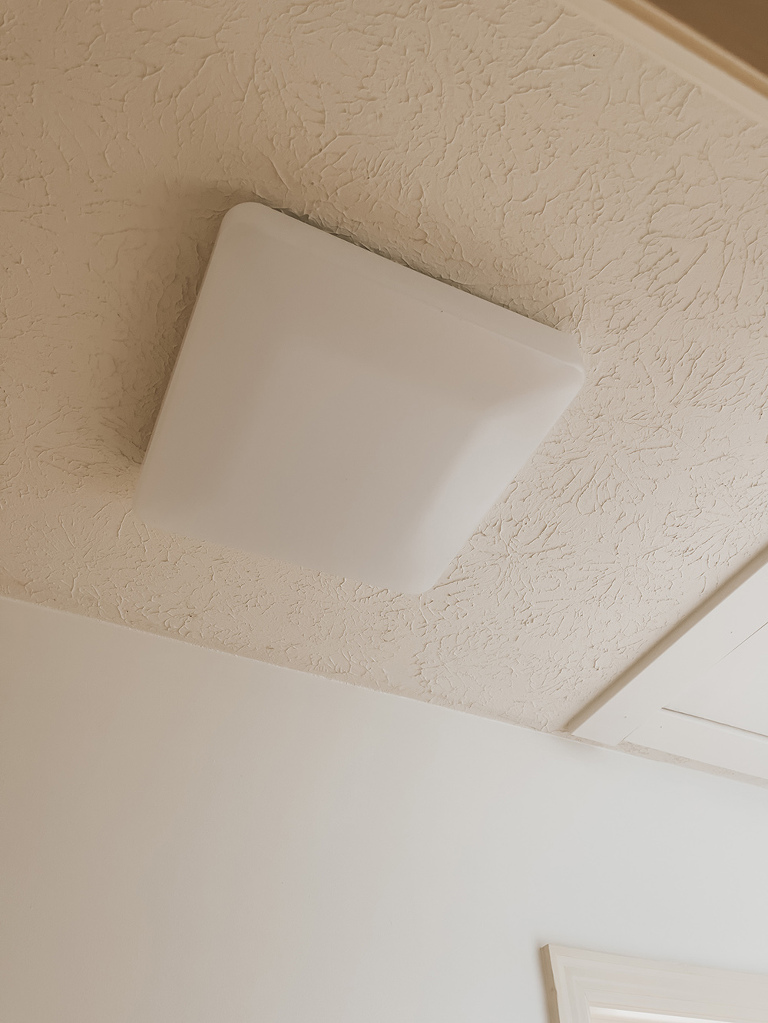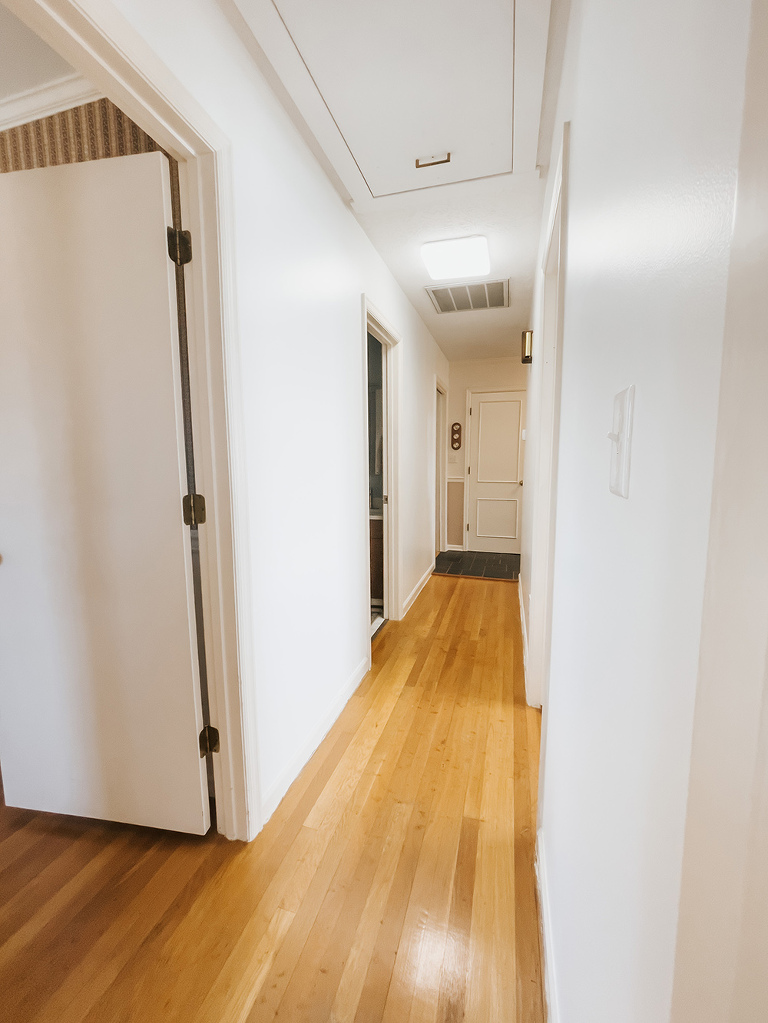 We walk up and down this hallway dozens of times throughout the average day. The ultra bright, bluish overhead LED light fixture has never been a particularly welcoming sight, and even though we painted a nice crisp white over the lime green walls a while ago, it still felt like we could take things further. As I was working on this project, I realized that a lot of the ideas I was going to share would work well for renters! Apartments and rented homes often come with plain white-painted walls, and old trim, which is exactly what we were dealing with. Let's work on punching things up, shall we?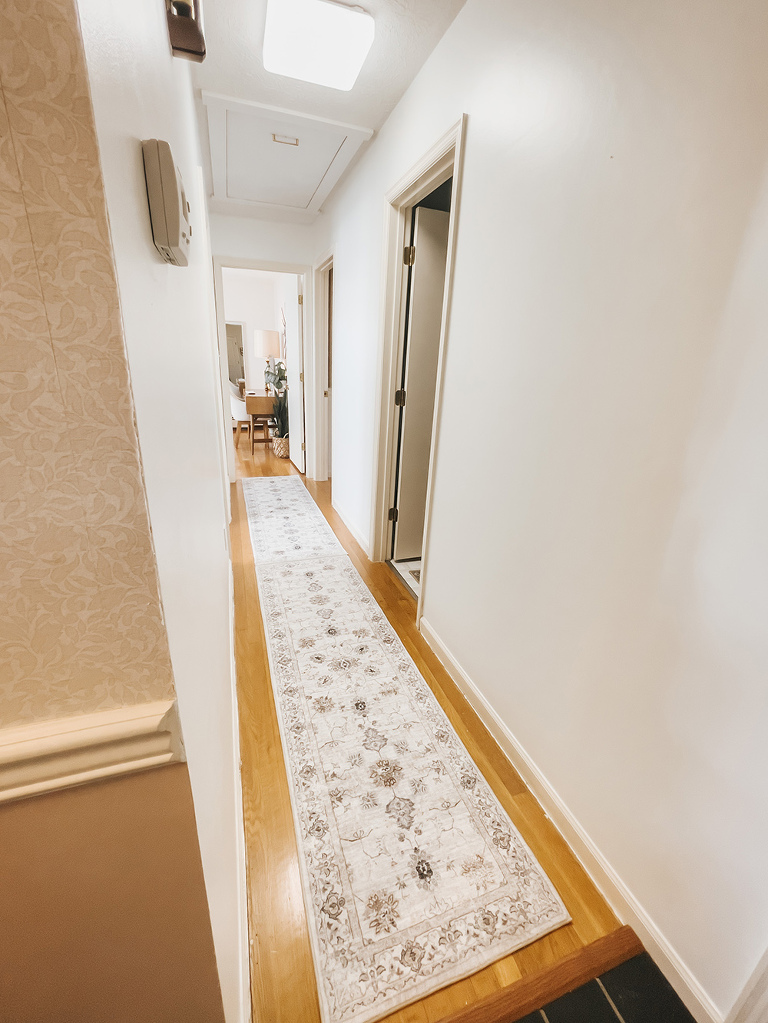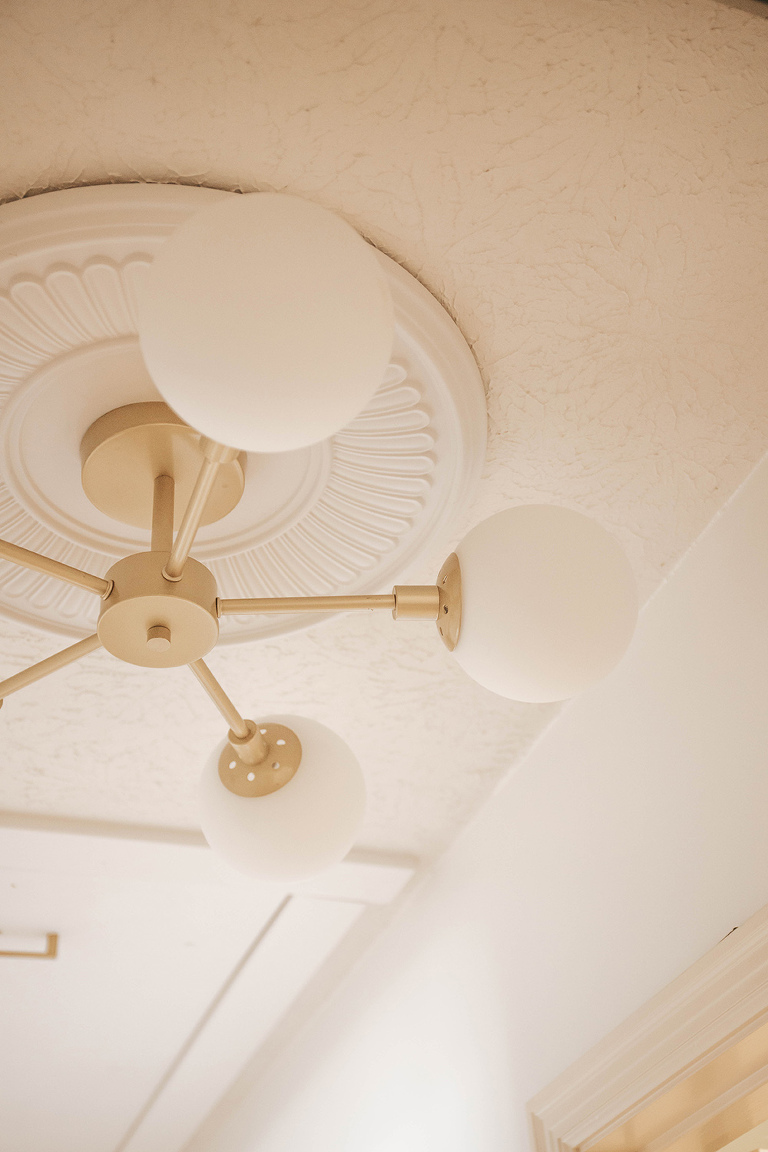 The first two things I did was update the light fixture and lay down a rug (or two). The thing about this hallway is that it's on the extra long side. So, it needed an extra long rug to go with it. To make that happen on a budget (why are long runners so expensive?!), I decided to put two short runners down, laying them end to end. This $50 rug was definitely within budget, even when doubled, and allowed me to get the perfect size for our hallway. The runner style we used is currently out of stock, but I'm hopeful it comes back in for you guys soon. It is the softest rug we have ever had.
I'll admit that this multi-arm light fixture wasn't the easiest one we've ever assembled, but it really does add so much warmth and style to the hallway. I love the mid-century shape, and the $99 price tag doesn't hurt, either. It also comes in matte black or silver, if those colors are more your style. We opted for brass since that matches the hardware on all of our interior doors, as well as the plumbing fixtures in the nearby bathroom. Consistency will always be a win in my book!
Here's a link to the ceiling medallion we used with the light fixture, in case that caught your eye. We had to use it because the electrical box cavity for the ceiling light is huge (like nine inches square). The medallion was an easy, stylish way to close up the giant hole in the ceiling without drywall patching, and also makes the light fixture more of a focal point.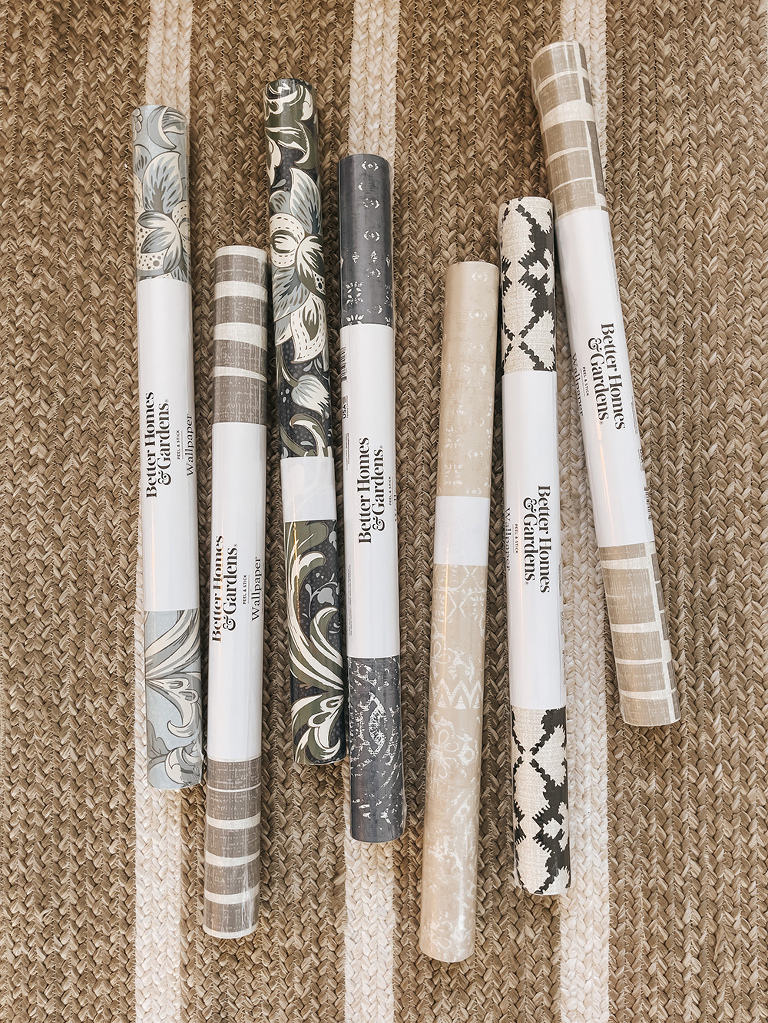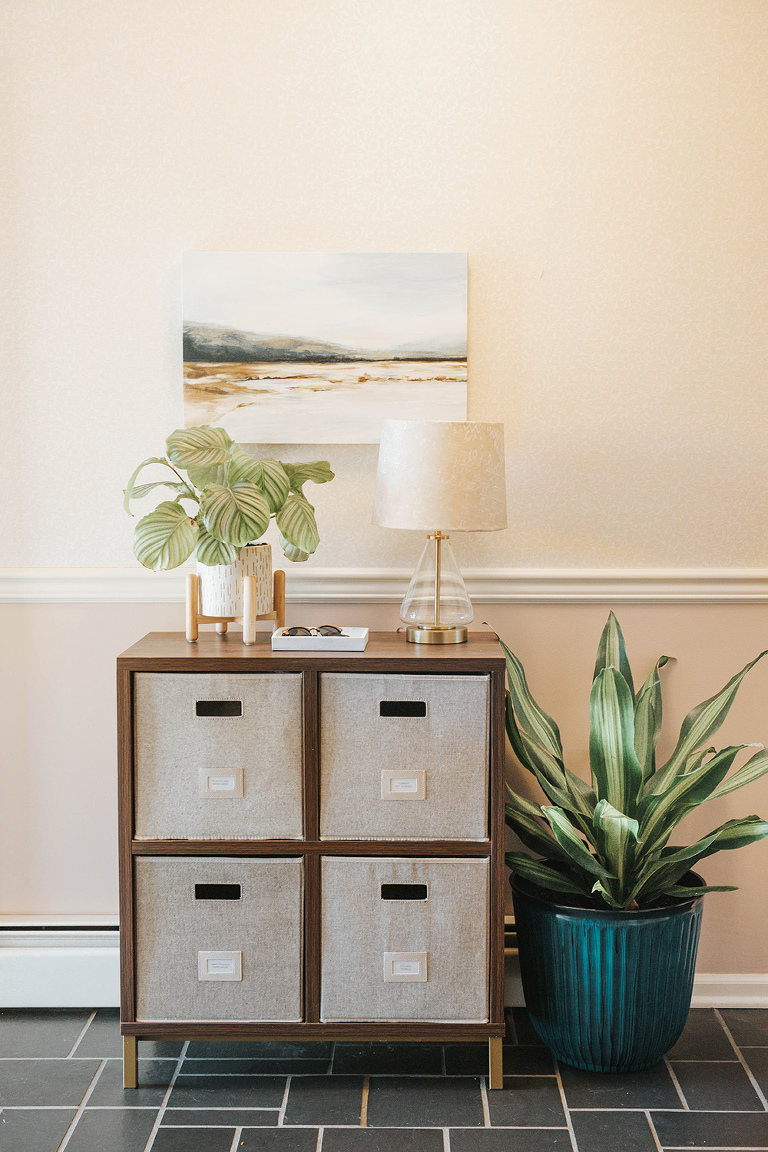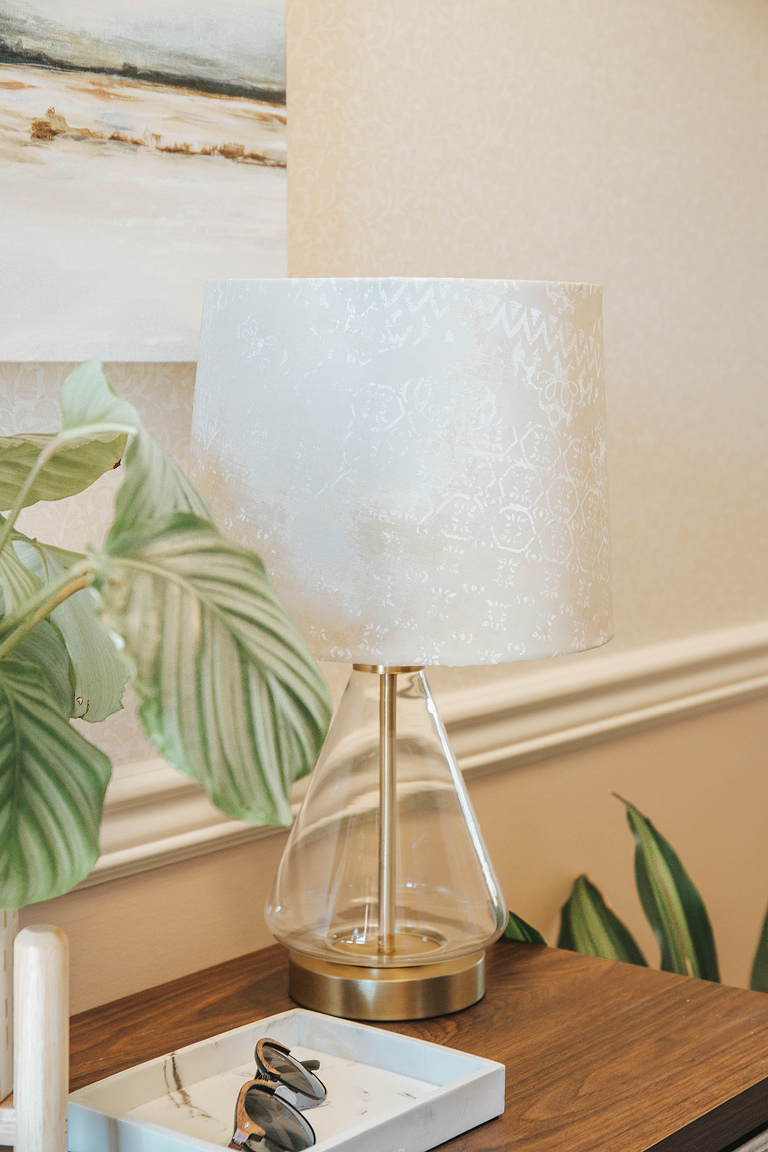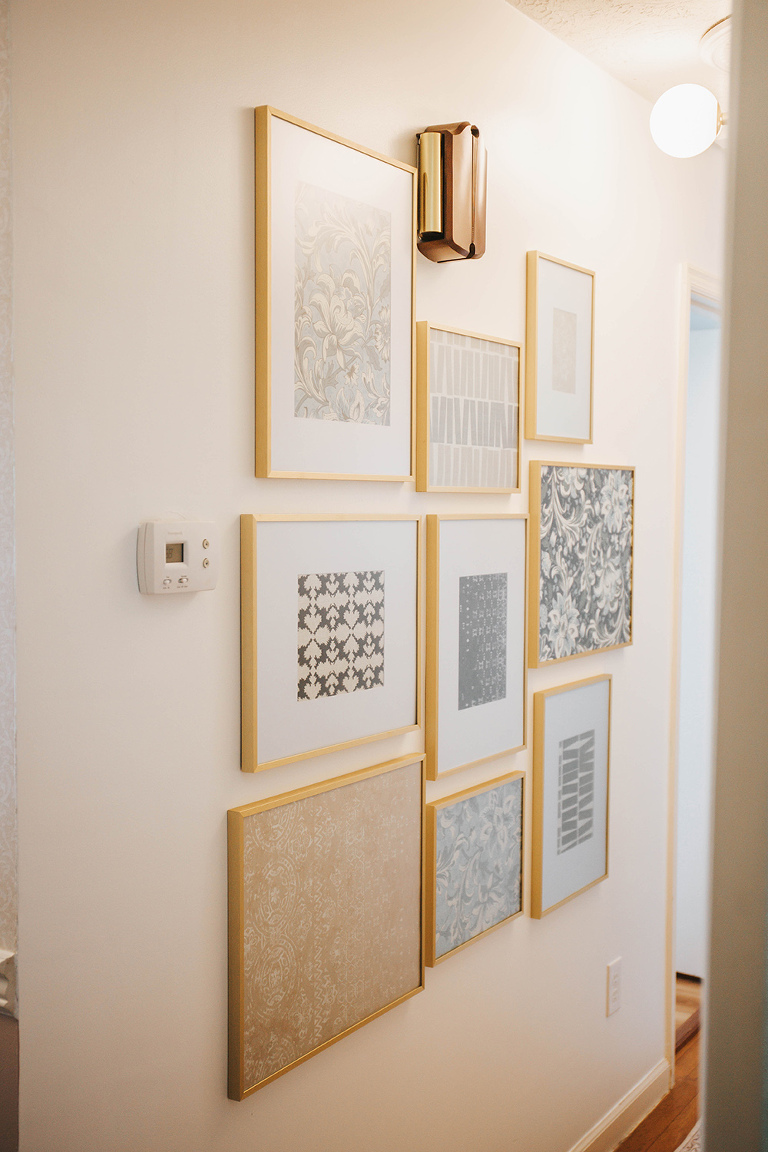 The last part of this hallway update involved an arm load of inexpensive wallpaper rolls. I used coordinating wallpaper from the Better Homes and Gardens collection at Walmart to create a DIY color-filled framed gallery wall, and I was able to put some extra wallpaper to good use by covering up a dent on a lamp shade for a light we use in our entry way. To do that, I cut the wallpaper to fit the surface area of the damaged lamp shade, and then stuck it right on top to create a DIY patterned lamp shade. I could go on and on about all the different ways you can use peel-and-stick wallpaper to add interest to your home, but that feels like it needs to be its own special blog post. Adding that to my editorial calendar now…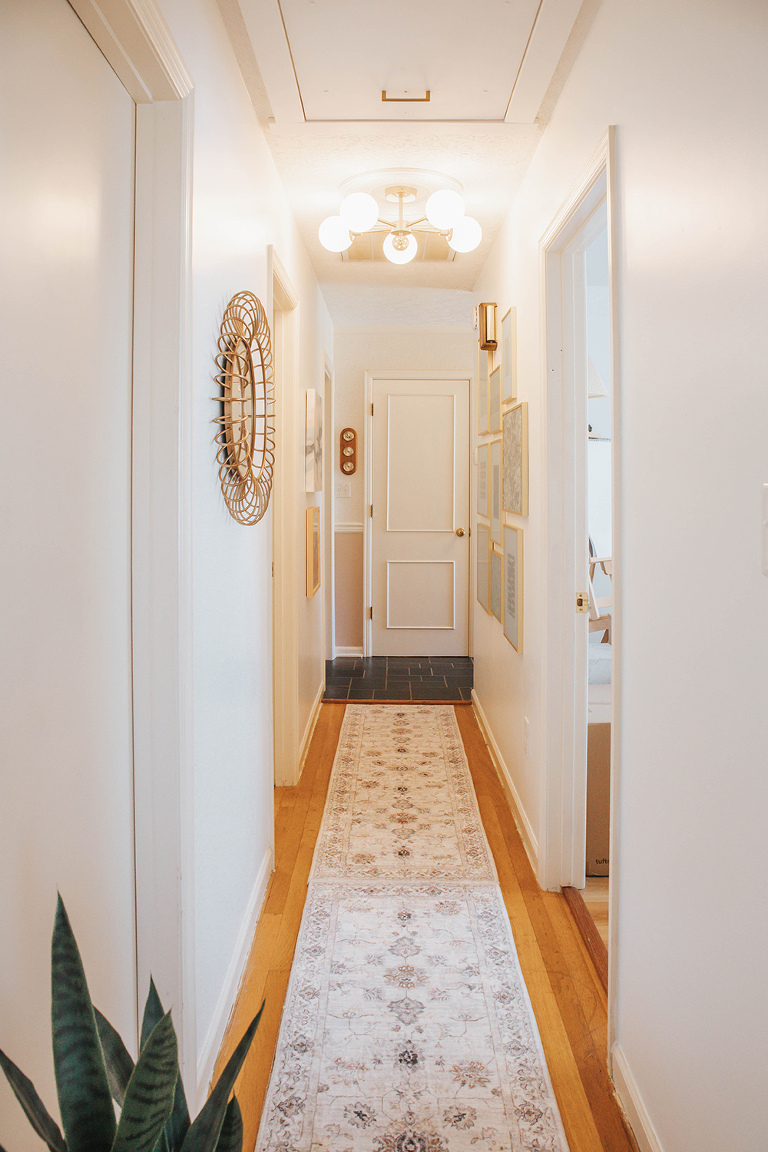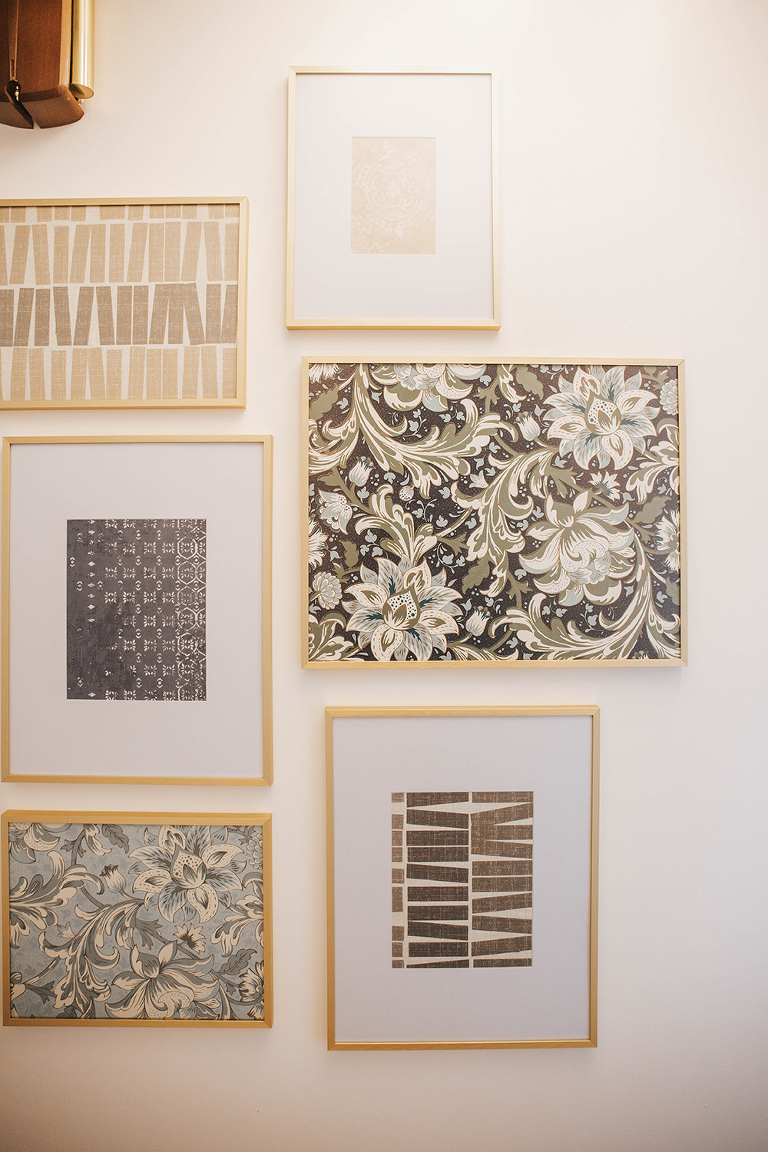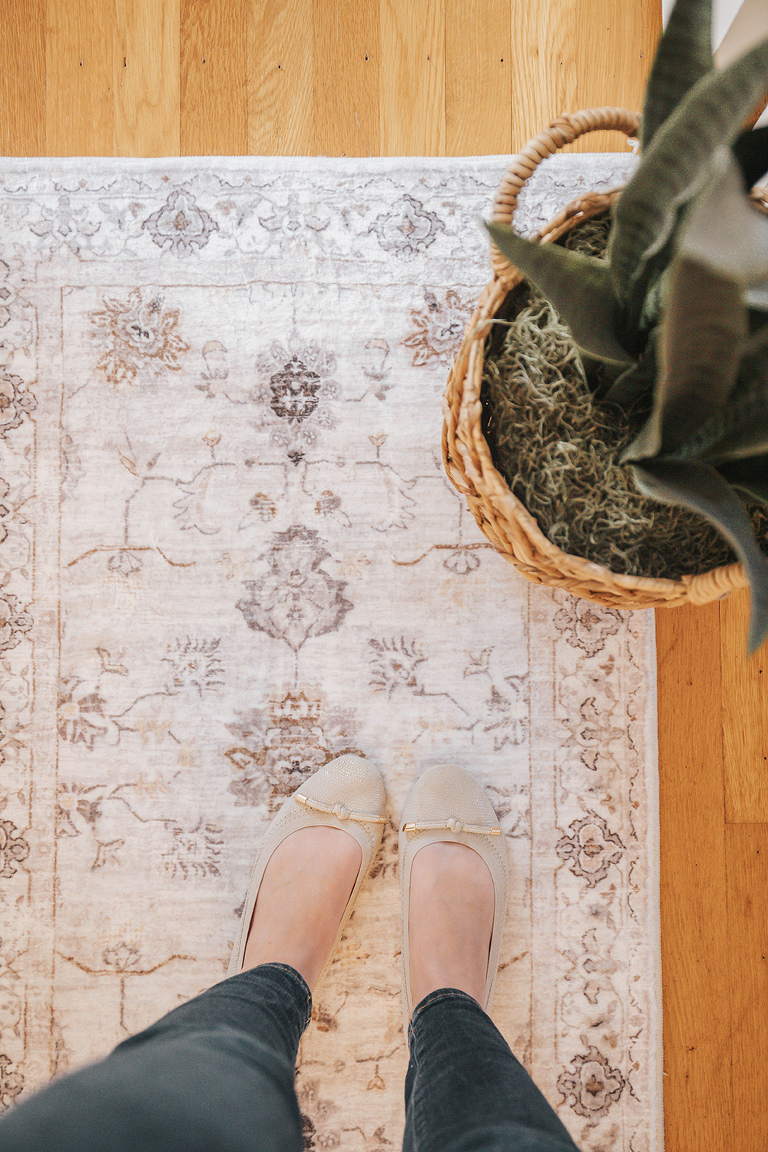 As for a few final touches? I hung a canvas art piece and framed print on the wall to pull even more color in, and also a mirror to bounce light around from the front bedroom in the center of the hallway. In a windowless space like an interior hallway, it's always important to make the most of any little bit of secondhand natural light you can find. Now, our hallway looks so much more inviting, and it's not something I hurry through on my daily passes. I can sink my toes into the rug, linger over the colorful patterns in my wallpaper gallery, and pause for a moment in the sunshine bouncing off the mirror. It's the little things that matter, am I right?!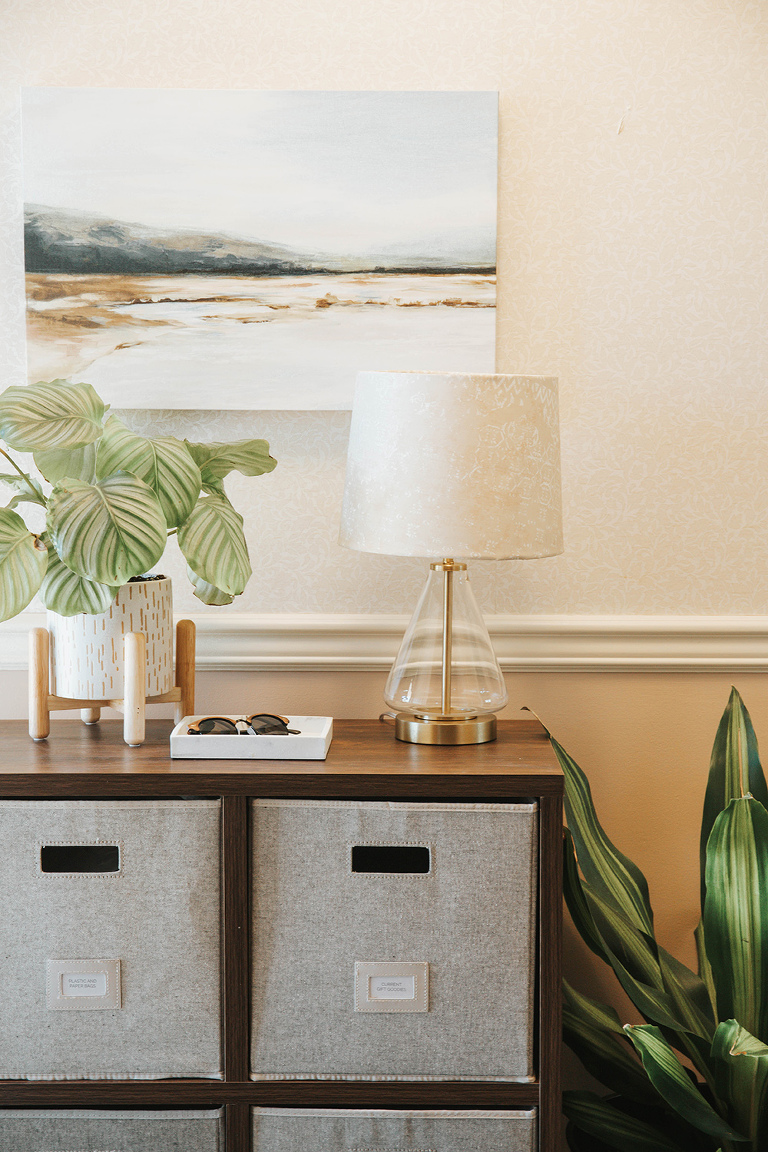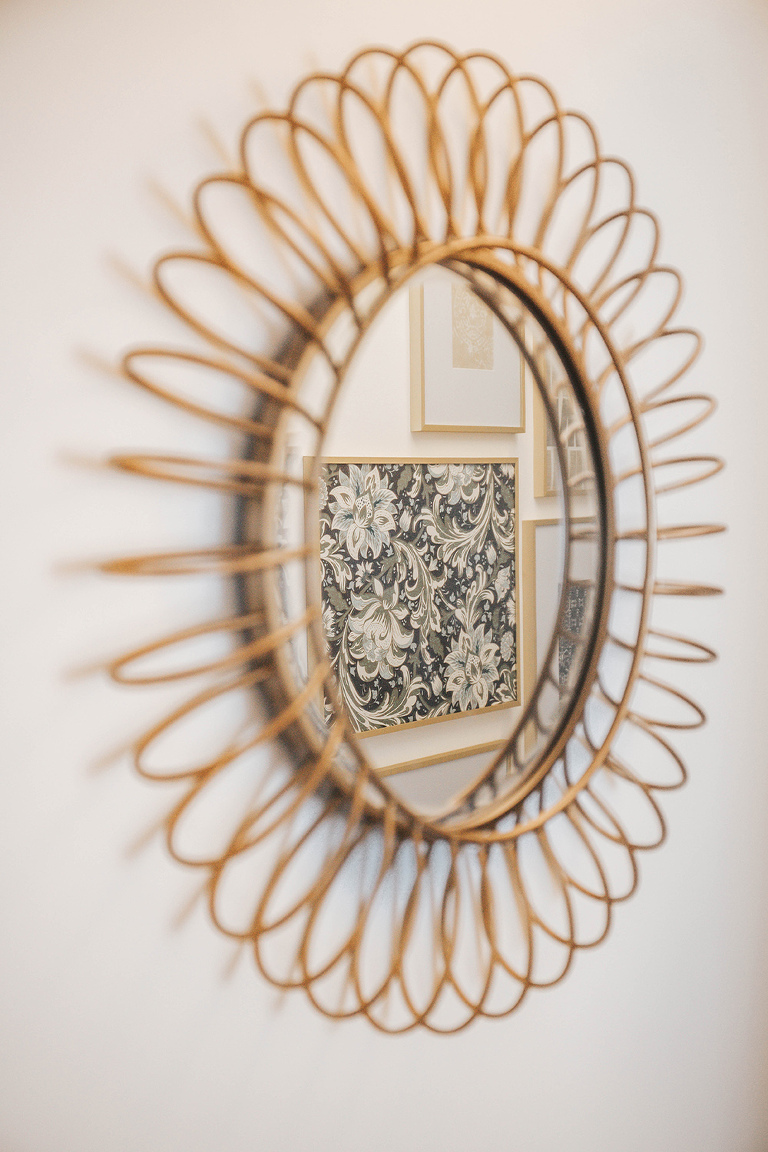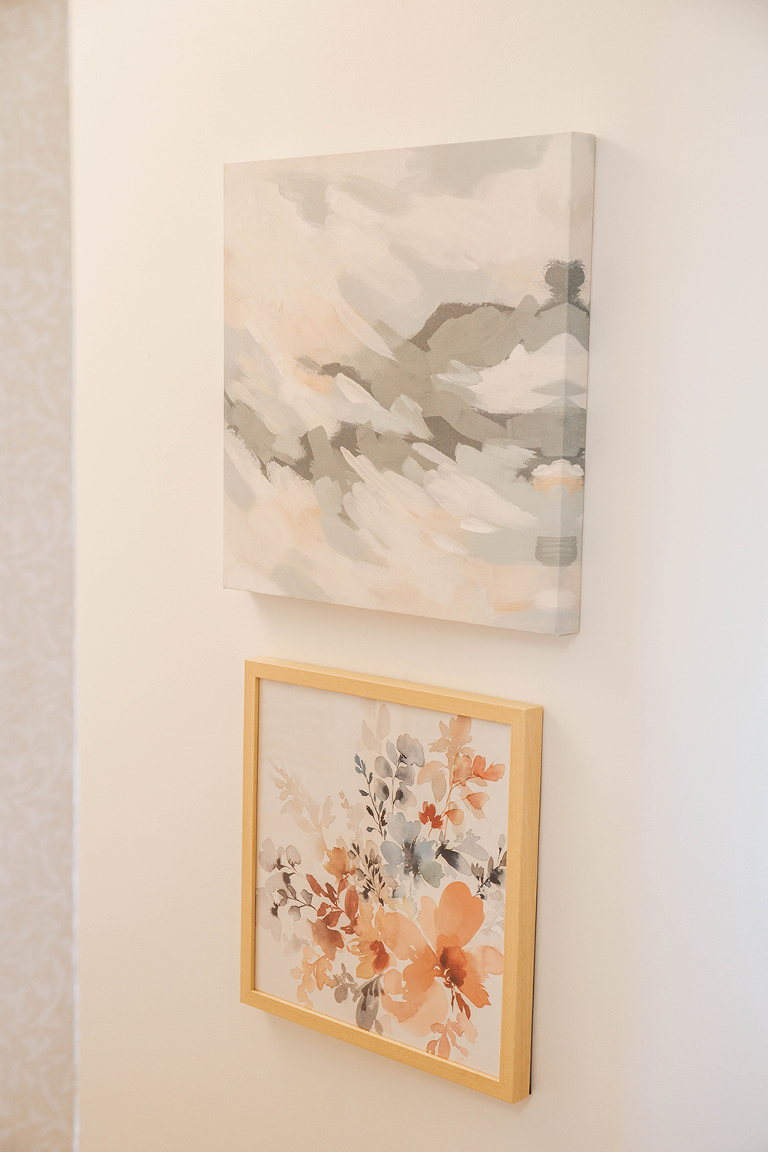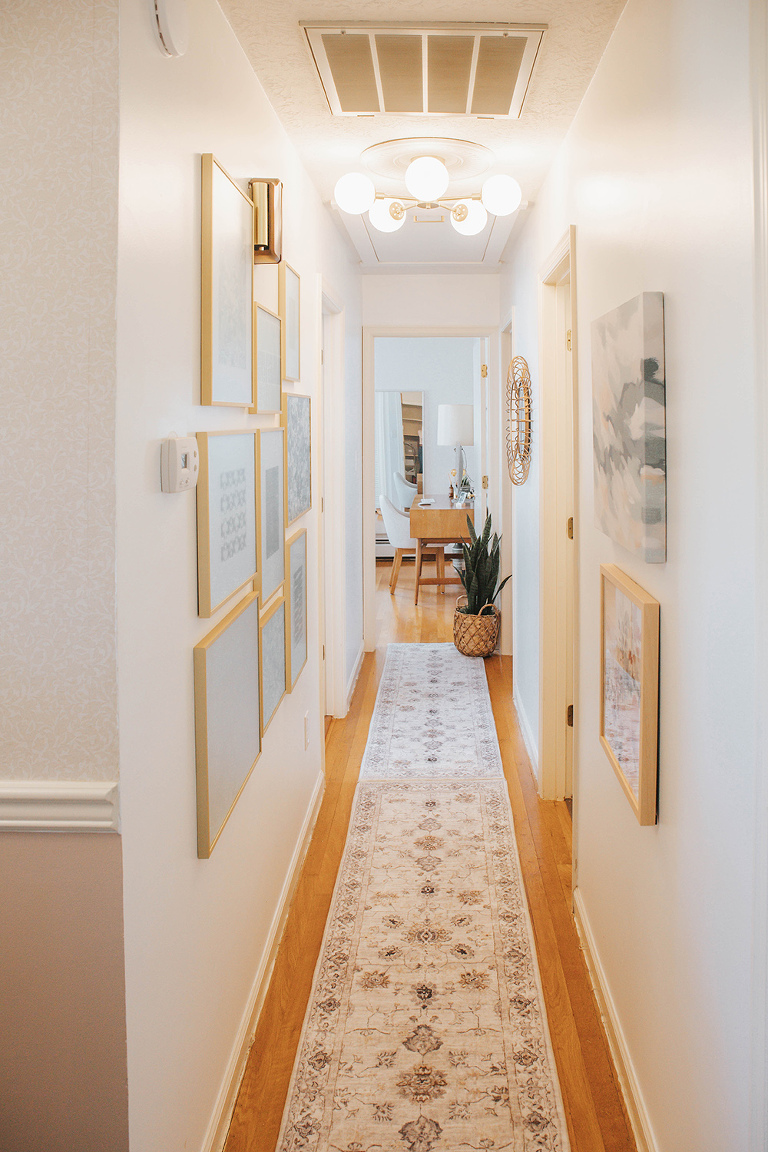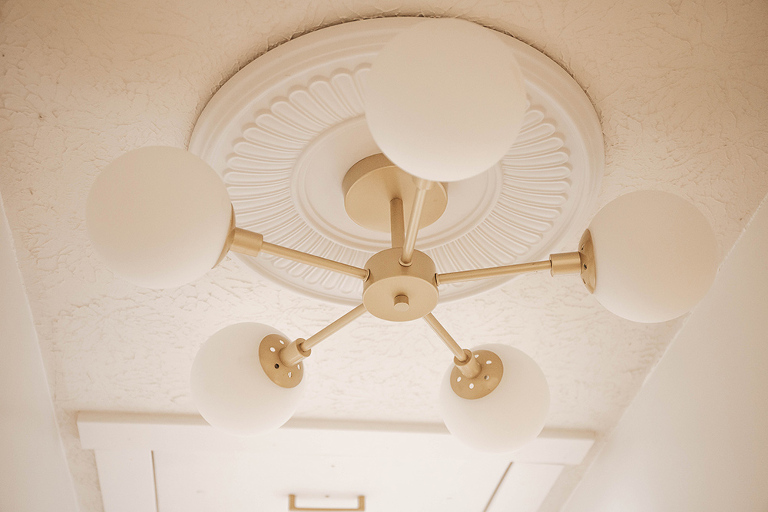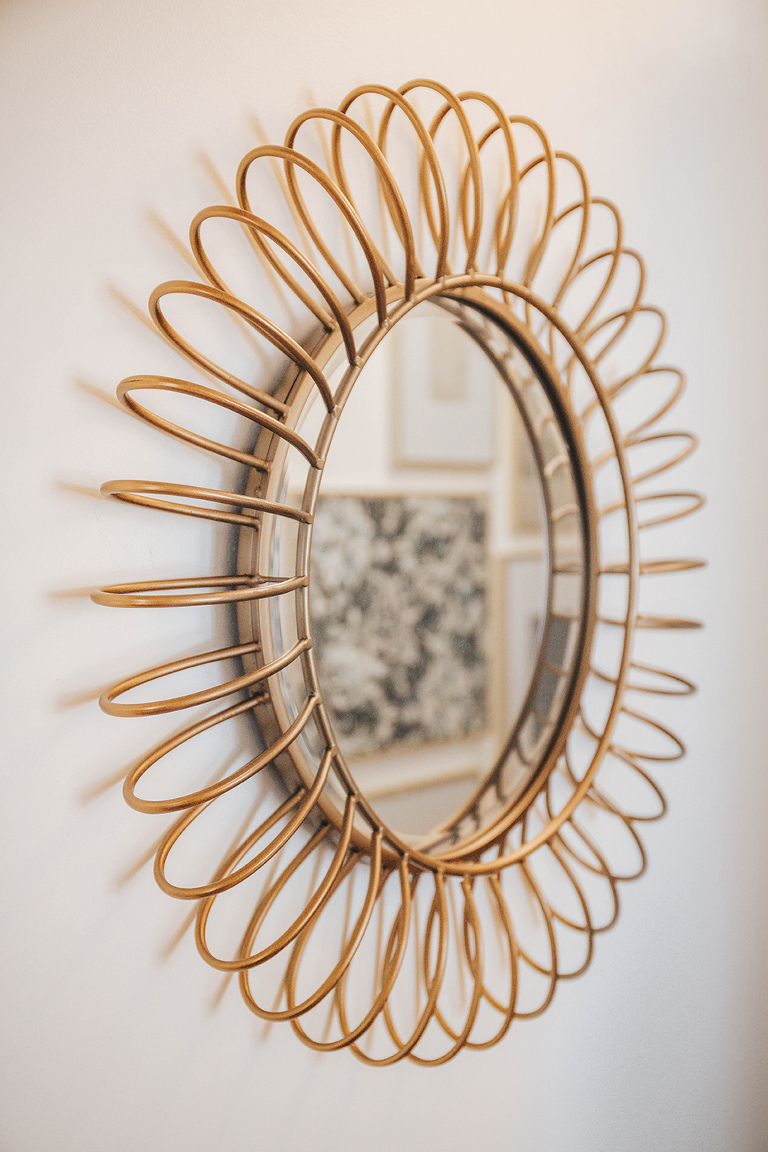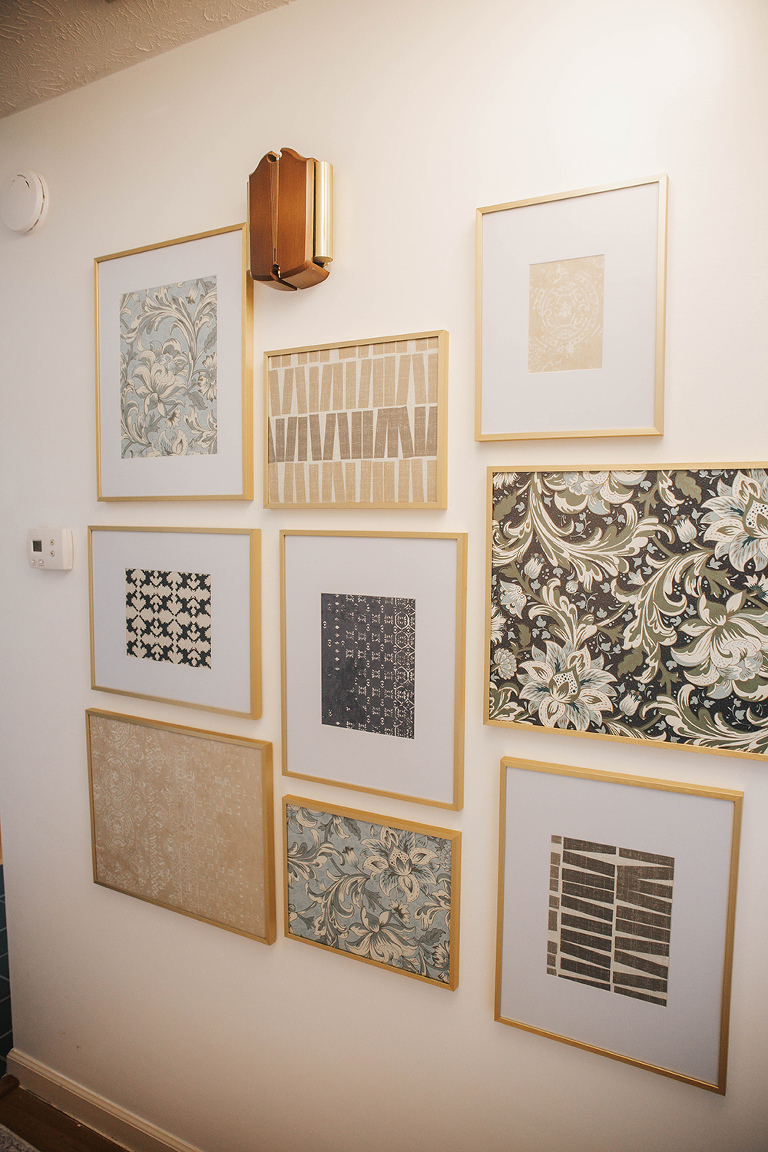 I love the soft neutral color palette of that rug, in particular. It's beautiful but not in a loud way. I think the white background helps brighten up the hallway a lot, and the vintage-inspired pattern disguises the seam in the middle where the two rugs meet up. By the way, I used this rug tape to hold the two rugs down securely so they never slide apart.
As another aside, I hope you know that swapping light fixtures is a really easy thing to do if you're renting! Just watch a couple of YouTube videos on how to change a hardwired light (it's more straight forward than you might think), and then swap out the ones you don't like in your rental home. Just make sure you save the old lights so you can put them back up when you move out.
Keep an eye on my Instagram channel for a full video showing how I brought this space to life (including the DIY wallpaper-wrapped lamp shade). That will be going up in collaboration with Better Homes and Gardens later this month. I'll be sure to update this post once it's live. Now, leave your own renter-friendly hallway décor ideas in the comments, would you please?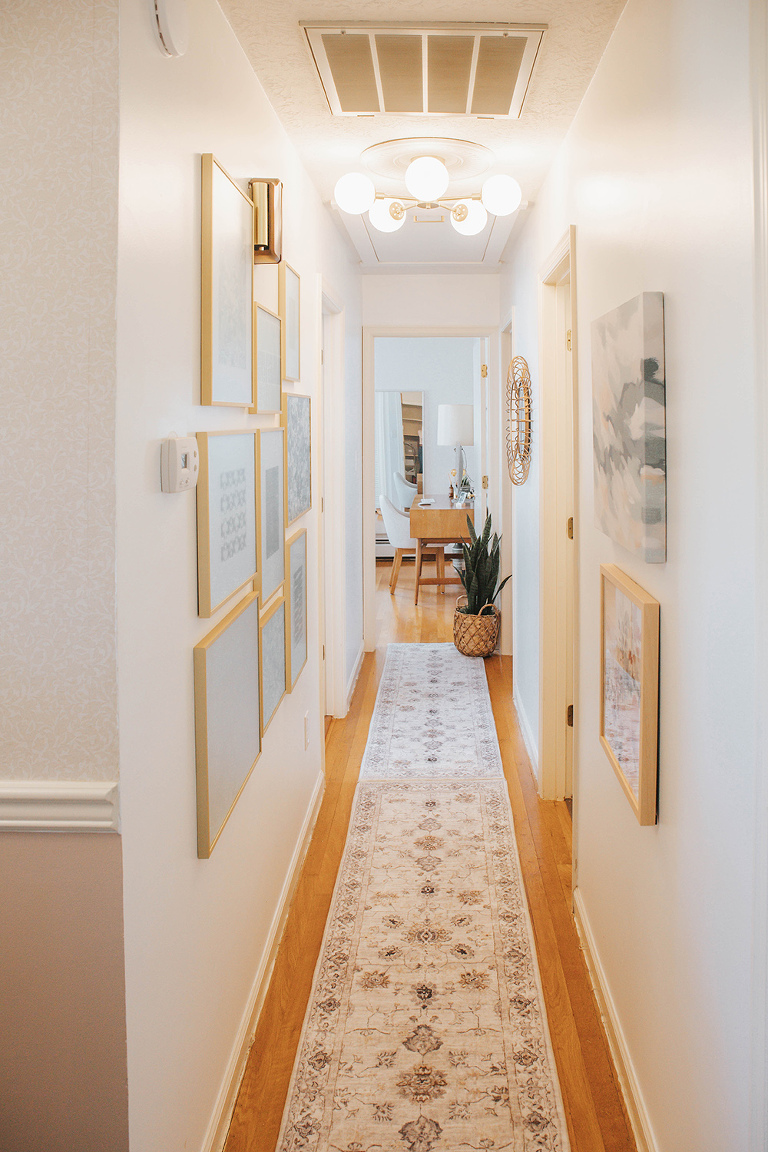 *I earn a small percentage from purchases made using the affiliate links above. Affiliate links are not sponsored. Rest assured that I never recommend products we wouldn't use or don't already love ourselves.