*Today's post was made possible by Our Place, and features gifted product for the purposes of a candid review. All opinions are my own.
I know this is such a cliche thing to say at the beginning of a blog post, but it's the truth: I can't believe Thanksgiving is next week! It seems so soon for the holiday season to already be kicking off, and yet here we are. I think lots of you will agree with me when I say that this truly is my favorite time of the year, so I'm certainly not complaining about the passage of time. Bring on the Christmas sweaters, twinkly lights, holiday tunes, and big family gatherings! I'm so here for it.
Another thing I'm very much here for? Holiday dinners (and all the tasty leftovers that come with that). My sister will be coming into town separately for both Thanksgiving and Christmas, and one of our main traditions is making large, slightly elaborate dinners together to mark the occasion. I have a whole blog post planned next week to talk though our specific Thanksgiving menu, including links to the recipes we use, but I thought today I'd chat specifically about food storage and meal prep since all of that goes hand in hand with a completed table's worth of food.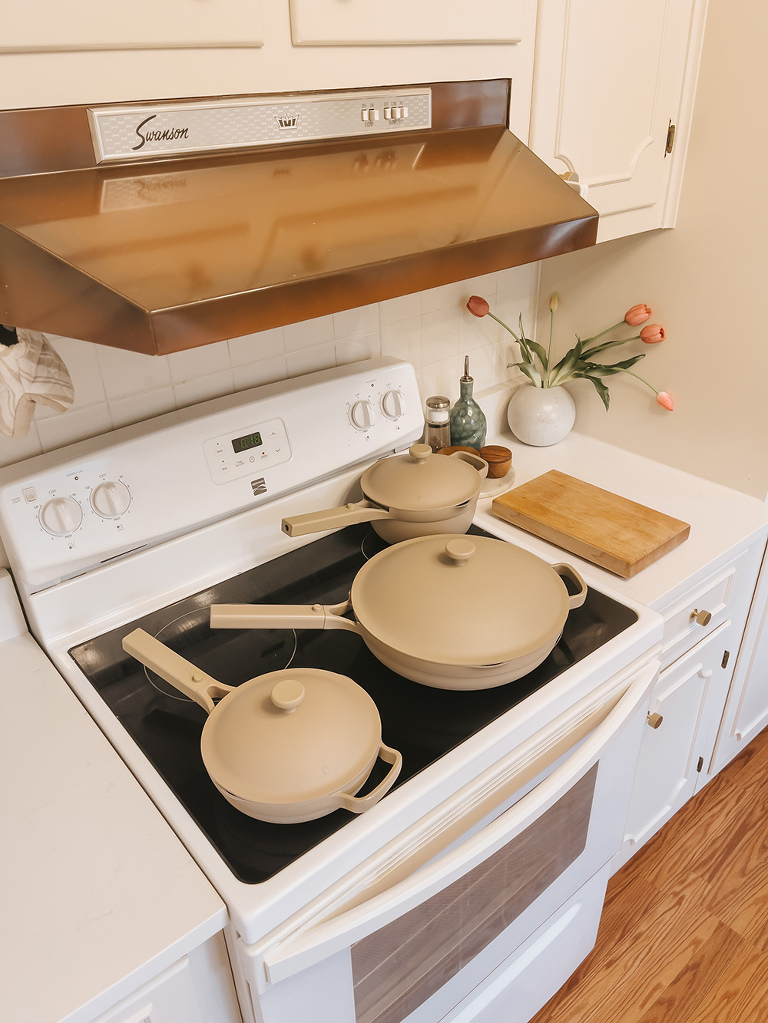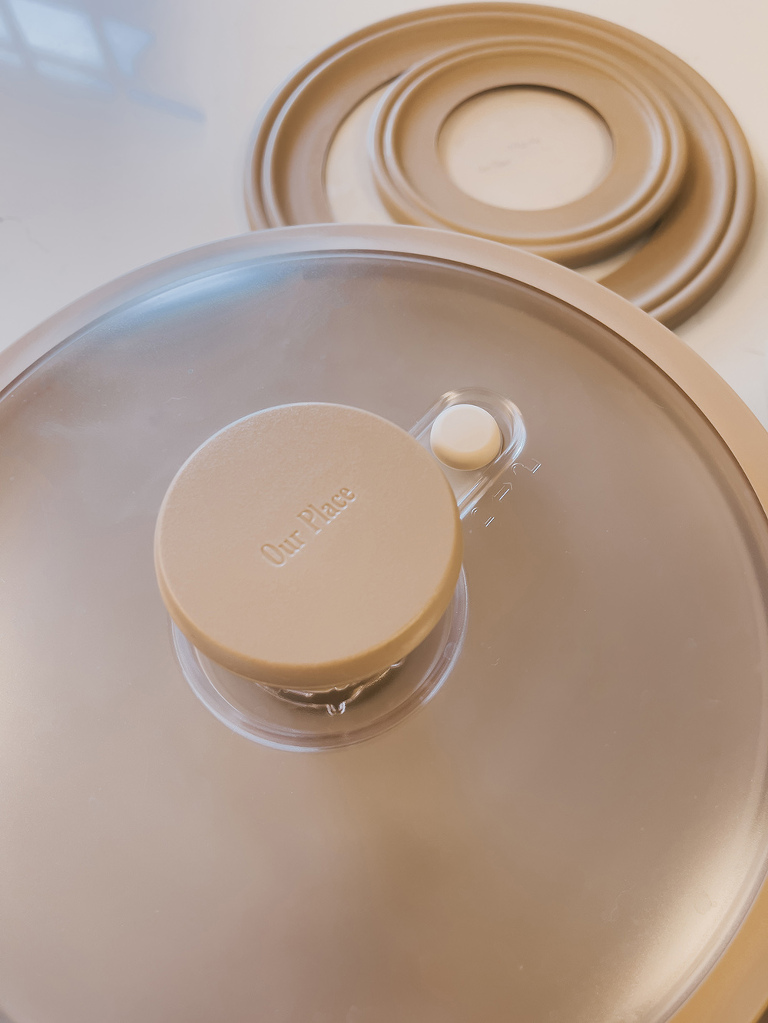 I've been using dinner- and cookware from Our Place for years, and I just recently had a chance to test out their new Better Bowls set. It has been fantastic for storing leftovers and creating the recipes themselves over the last few weeks, and I have no doubt that we'll be breaking out the set pretty often during Thanksgiving week. The 9-piece set comes with mixing bowls, transparent lids, a grater, juicer, and a salad spinner. Everything is made from 60 percent recycled materials, and is super lightweight so the pieces are easy to lift and transfer to different kitchen zones when you're in the middle of a complicated recipe.
One of our favorite features—aside from the fact that they nest together inside one another for easy storage—is the non-slip rubber bottoms on the bowls. There's nothing worse than having to chase a large bowl across the counter while mashing potatoes with a powerful hand-mixer! Our Better Bowls stay in place, though, even under pretty hard pressure from stirring, mashing, spinning, and serving. I also love that the bowls and lids are freezer and dishwasher safe because I know we can clean the bowls with barely a lifted finger, and we can also tuck holiday leftovers away straight from the table to the freezer.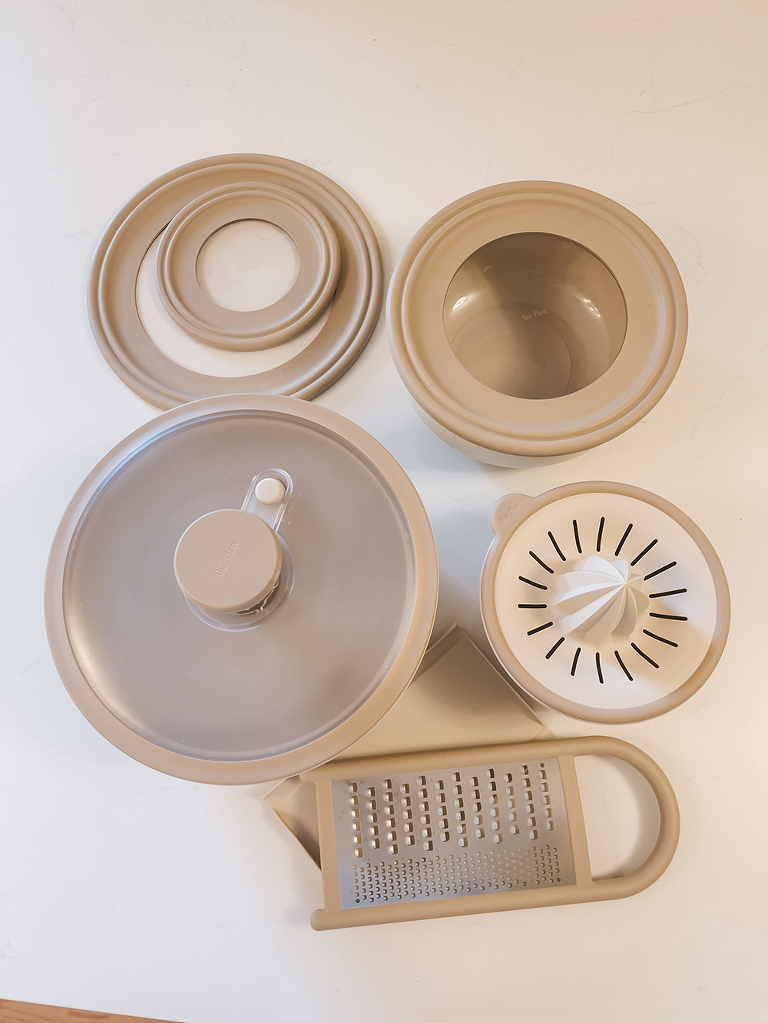 Anyway, I just thought this set was worth mentioning as we inch closer and closer to the holidays and all of those scrumptious meals to come! You can shop the entire suite of Our Place cookware and tabletop goodies right here. Their Black Friday sale is epic this year—trust me.
If you have a specific question about anything in their collection, just leave a comment. We use our Always Pan and Perfect Pot (both the large and mini sizes) every single day, and I genuinely couldn't recommend them more. Do you have anything from the Our Place lineup? What's your favorite piece?
P.S. Click here for the recipe pictured in today's post—a healthy fall salad that's great to make ahead to have on hand for holiday guests to plate for themselves as they get into town!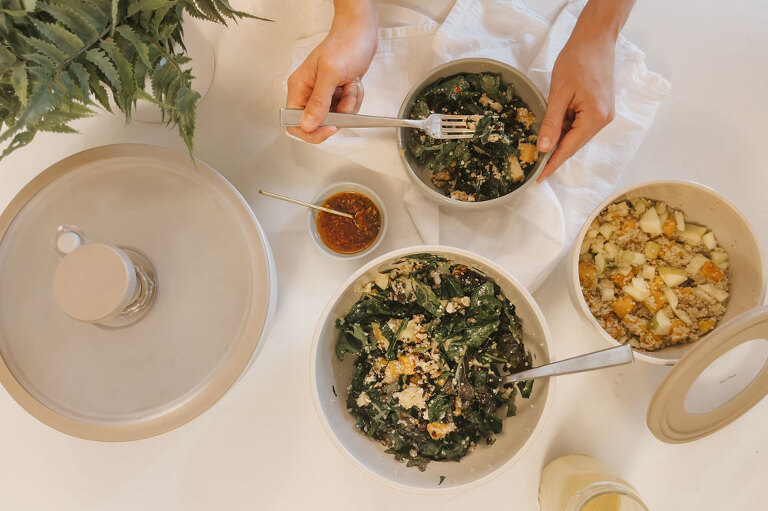 *I earn a small percentage from purchases made using the affiliate links above. Affiliate links are not sponsored. Rest assured that I never recommend products we wouldn't use or don't already love ourselves.