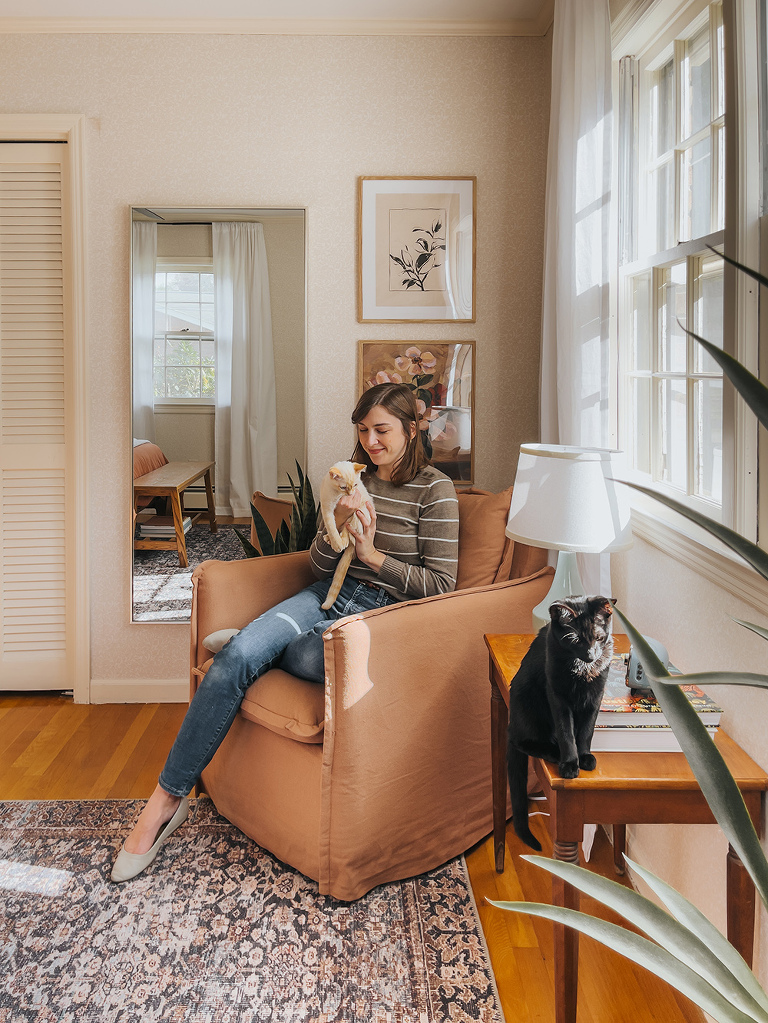 *Today's post was made possible by Sixpenny Home, and features gifted product for the purposes of a candid review. All opinions are my own.
I'll tell you something…When it comes to furniture in our home, seating is the absolute most important. Yes, even more important than mattresses. We have an embarrassingly large number of seating areas in this house, but we genuinely use them all. Since I work from home, I often move from couch to armchair to dining chair with my laptop to type up blog posts and edit my social media schedule, and I also love bouncing from spot to spot with my latest book since I've been a voracious reader in 2023 (I'm on my 31st book now!). Anyway, seating is a big deal for us, and we use each and every chair, couch, and sectional in this house, even if it might seem like we have too many for our little family of just two humans and three pets.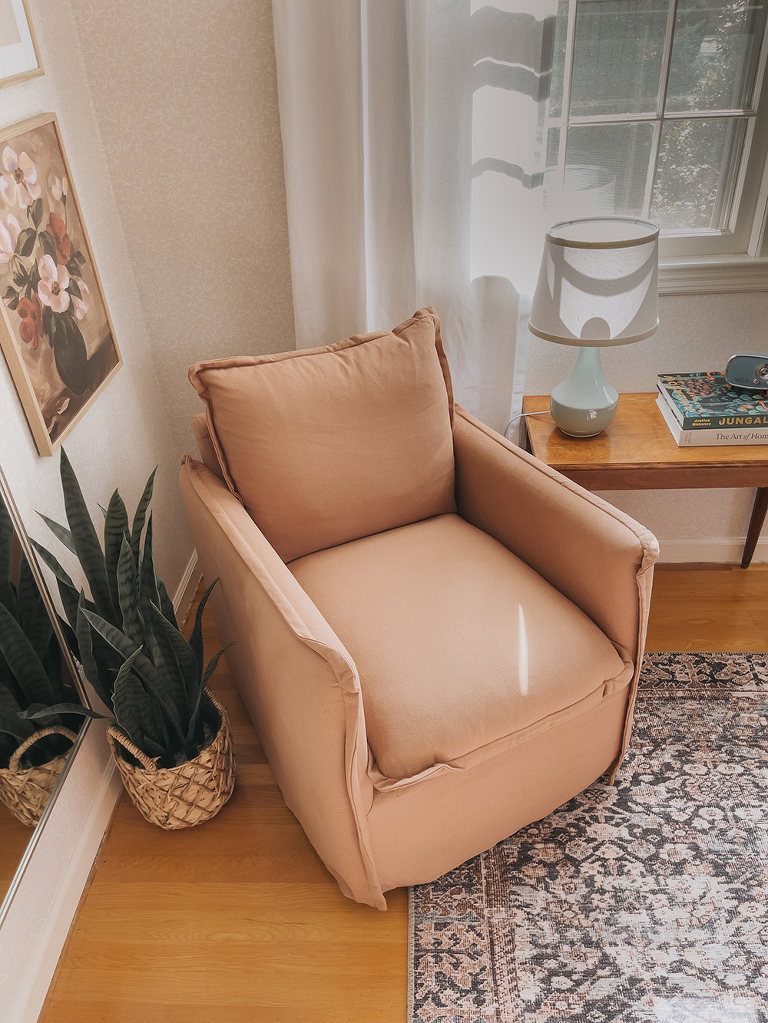 The most recent order for our home is the Neva Swivel Glider from Sixpenny Home. You may remember when we added their Gabriel sofa to our collection earlier this year? Well, that experience went so well (and we still loooooove that sofa to the moon and back), so when it came time to incorporate additional seating into our guest room, it was a no-brainer to go with Sixpenny.
I wanted something petite to fill this awkward blank corner in the space, but it also needed to be moveable since I planned to hang my full-length mirror in the corner, too. I had my heart set on something that could swivel so that I could keep the chair angled out into the room for most of the day, but then swivel it off to the side with my hand when I needed to do an outfit check in the mirror every morning. The Neva was the perfect fit!
It has a small, petite silhouette that makes it easy to move around as needed, and it perfectly fills the corner without encroaching too much on the bedroom. It's also incredibly comfortable! We opted for down-filled cushions, which makes this chair so easy to lounge in with a warm kitten or good book and glass of wine.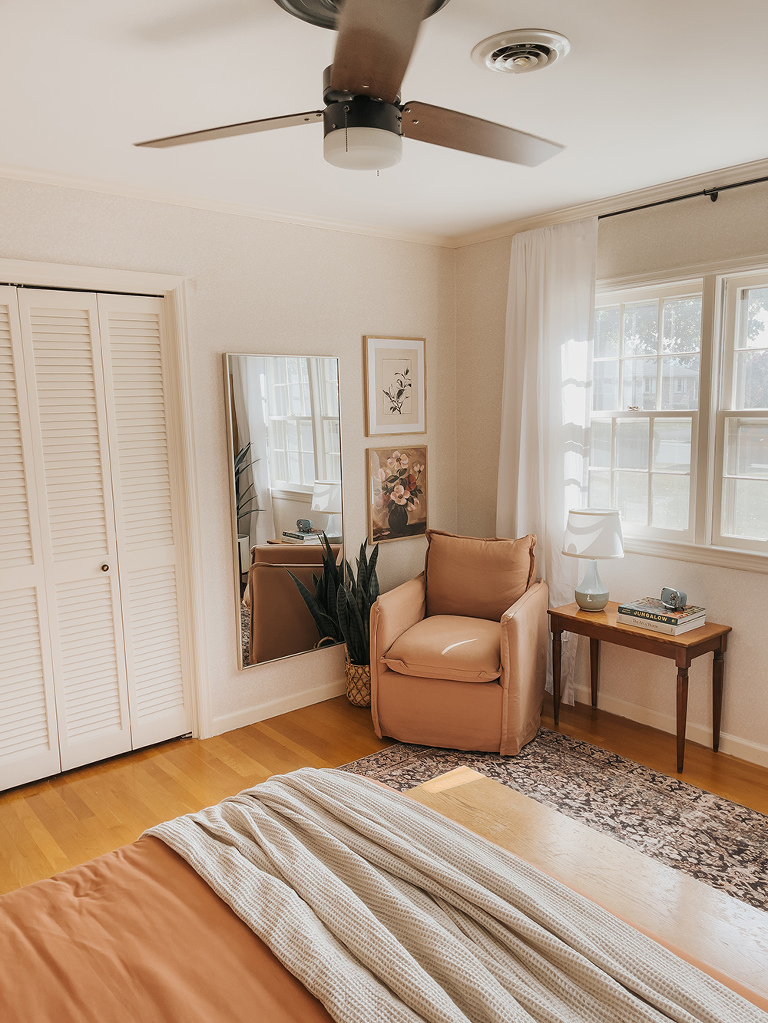 Isn't the fun poppy "Nectarine Dream" fabric color so much fun?! I love how it plays with the other terracotta colors in this space, but it's just desaturated enough that I feel like I could easily swap it to a different room if I felt like it. It's practically a neutral. The casual exposed seam along the edges is another favorite detail. It makes this chair look and feel less fussy and more inviting.
If you're not sure which style from the Sixpenny Home collection is right for you and your room's specific needs, click here to visit their comfort comparison blog post. Reading that helped convince me that the ultra fluffy Neva chair was right for our guest room since I was hoping to find something that my guests and I could really sink into. Which Sixpenny piece do you have your eye on right now?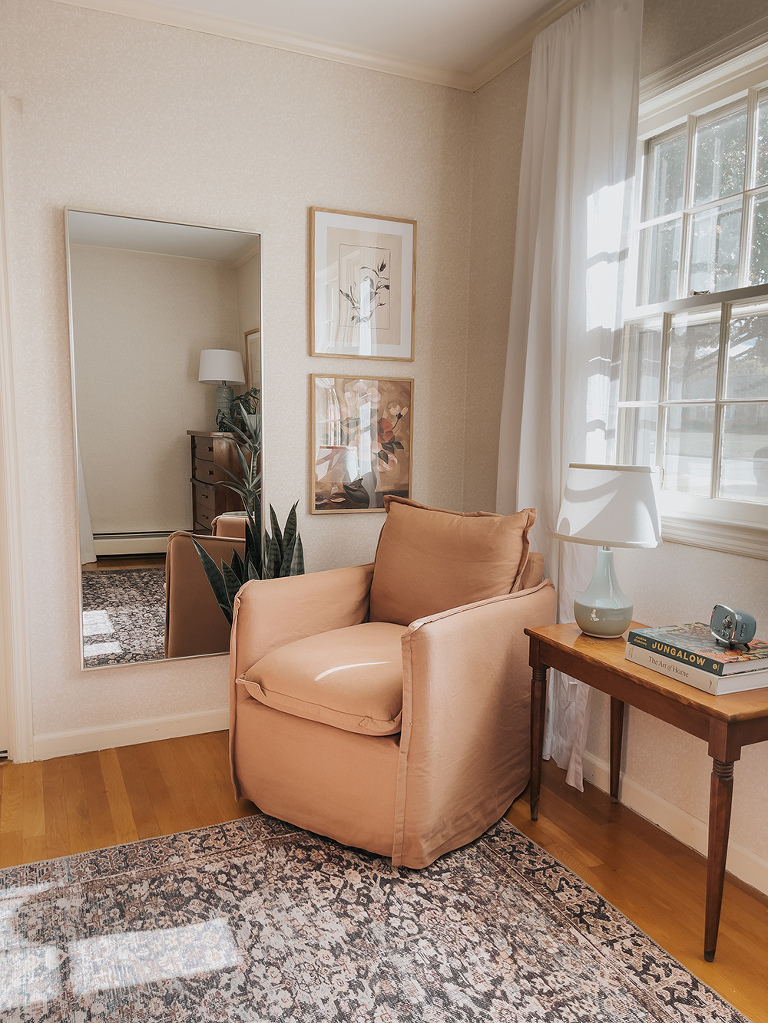 *I earn a small percentage from purchases made using the affiliate links above. Affiliate links are not sponsored. Rest assured that I never recommend products we wouldn't use or don't already love ourselves.