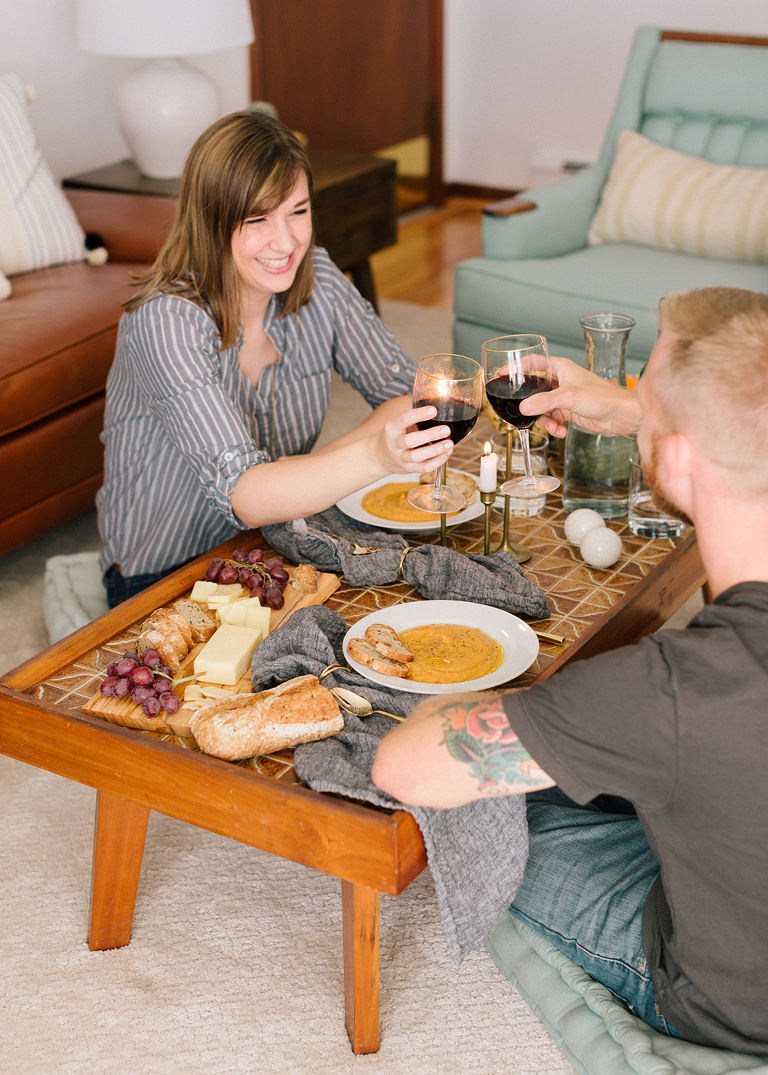 (Photos by the Mallorys)
It's officially Thanksgiving week, and I'm practically bursting at the seams to get the ball rolling with this oh-so-cozy, OH-so-sweet holiday. I think I've talked at length about my new-found passion for cooking post-COVID, and no time is that more evident than at Thanksgiving. This holiday is just such a great excuse to try a wide variety of recipes since there's generally so much that goes on a T-giving table.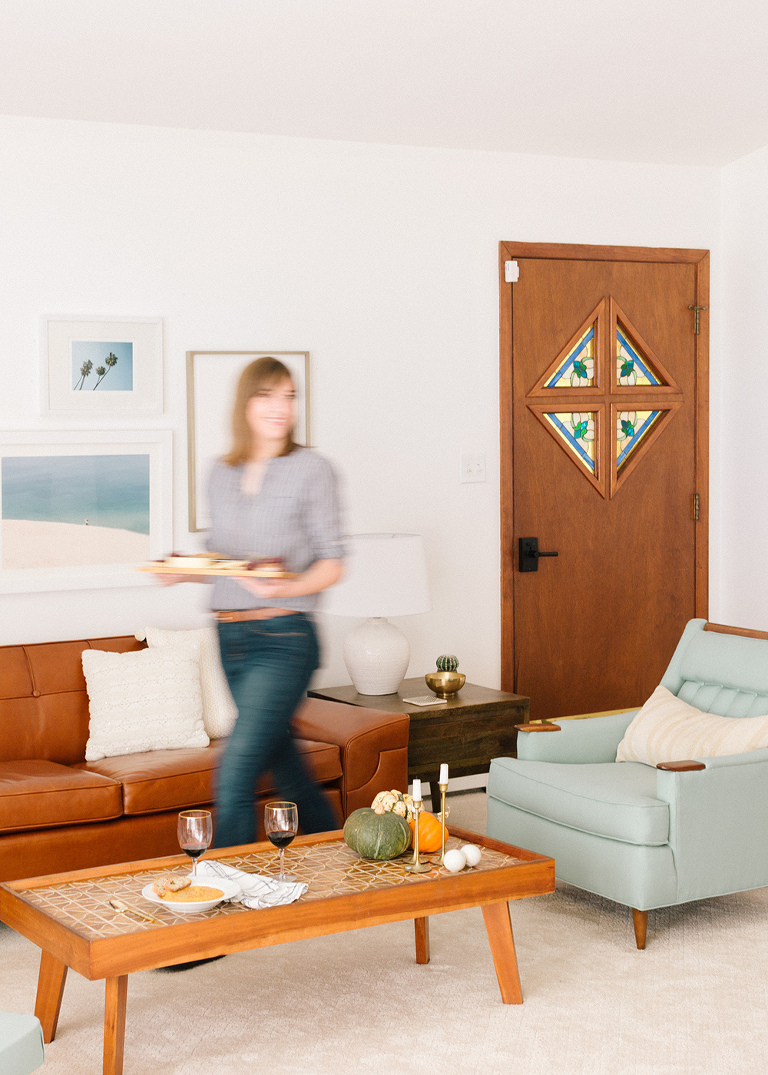 Last year, John and I relied heavily on some of our favorite Bon Appétit recipes from YouTube, and we've decided to go the same route this year, with just a few small tweaks. We actually did a trial run of our Thanksgiving menu items last week, and are still learning a lot about these recipes, so I can't wait to try the final dishes this Thursday. Our responsibilities are the brussels sprouts and mashed potatoes, and this year I'm going all out by ordering a potato ricer to make sure those potatoes are extra creamy.
Keep scrolling for a linked list of all that's on this year's Thanksgiving menu, and don't miss a few honorable mention recipes at the end of the post that I might test for next year.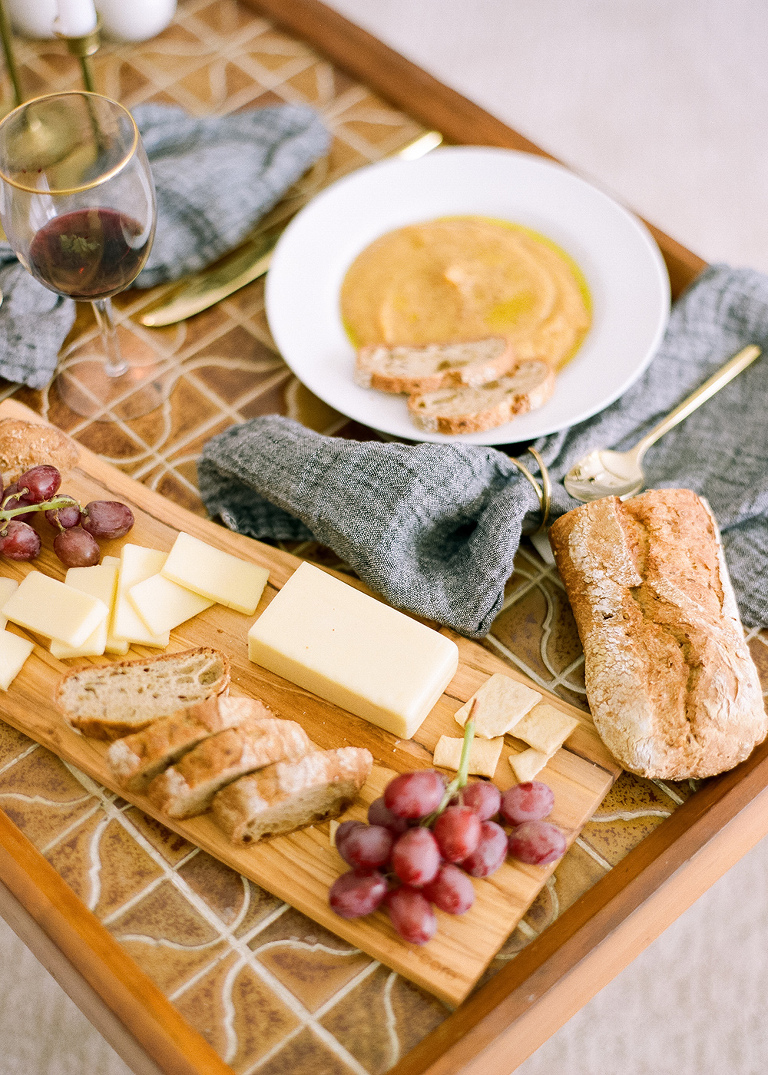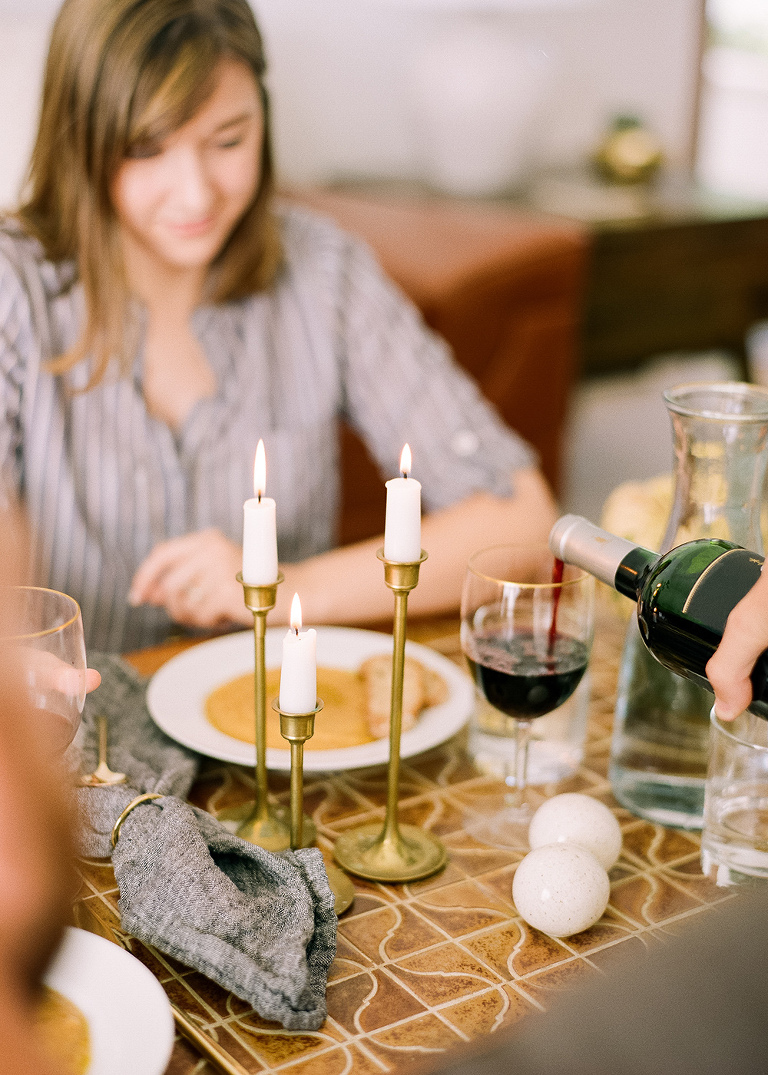 What's On Our 2023 Thanksgiving Menu:
1. No turkey! We're not really very big fans of turkey, and always end up with way too many leftovers. This year we've decided to stick with chicken since we know we love it, it's easy to find this time of year, and we know how to portion it out so that we're not saddled with a ton of leftovers. We're thinking about adapting this Skillet-Roasted Lemon Chicken recipe for the grill so that we can free up the oven for other menu items.
2. Charred Brussels Sprouts With Warm Honey Glaze: John and I chose our two side menu items based on this Bon Appétit video series from three years ago. We appreciate how deeply the chefs went into research for their recipe development, and I feel pretty confident that it just doesn't get much better than these specific recipes. That said, I may combine the Charred Brussels recipe I linked to above with the Turmeric And Ginger Brussels Sprouts from this more recent Bon Appétit YouTube video. The spices combination just sounds too good not to try.
3. Mashed Potatoes With Crispety Cruncheties: Here's another one from BA's video series from a few years ago! There's nothing in the world that can top those Crispety Cruncheties, I'm tellin' ya…I'm excited to try my new potato ricer for this recipe to make it more authentic and true to the original recipe's intentions.
4. Roasted Butternut Squash Soup and Curry Condiments: My sister is pescatarian, so we always make sure to have plenty of menu items on the table that suit her limited diet. This Butternut Squash Soup is her main dish to take the place of turkey/chicken, but, truth be told, we all love it. We make it with vegetable stock, by the way.
5. Make-Ahead Turkey Gravy with Onions & Sage: You can't have Thanksgiving without gravy! Again, since my sister is pescatarian, we make it with vegetable stock and no turkey drippings. We usually add extra wine, though…
6. Grand Marnier Cranberry Sauce: I think my dad would prefer cranberry sauce out of the can, but we outvoted him for this homemade recipe that my mom makes every year. Cranberry sauce is so crucial on a Thanksgiving table, am I right? You really need that chilled brightness to complement the heavier dishes.
7. Pepperidge Farm Cornbread Stuffing: We're quadrupling this recipe because it went super fast last year, and it's a family favorite. It's so good as leftovers! I do think I'd like to stretch our culinary skills with this menu item, though…Maybe try a more homemade version, like the one Alison Roman created for her 2023 Thanksgiving Special.
8. Bread, of course: My dad will be making his famous homemade rolls this year, just like always. I don't have his recipe, but I link to a delicious option for you below.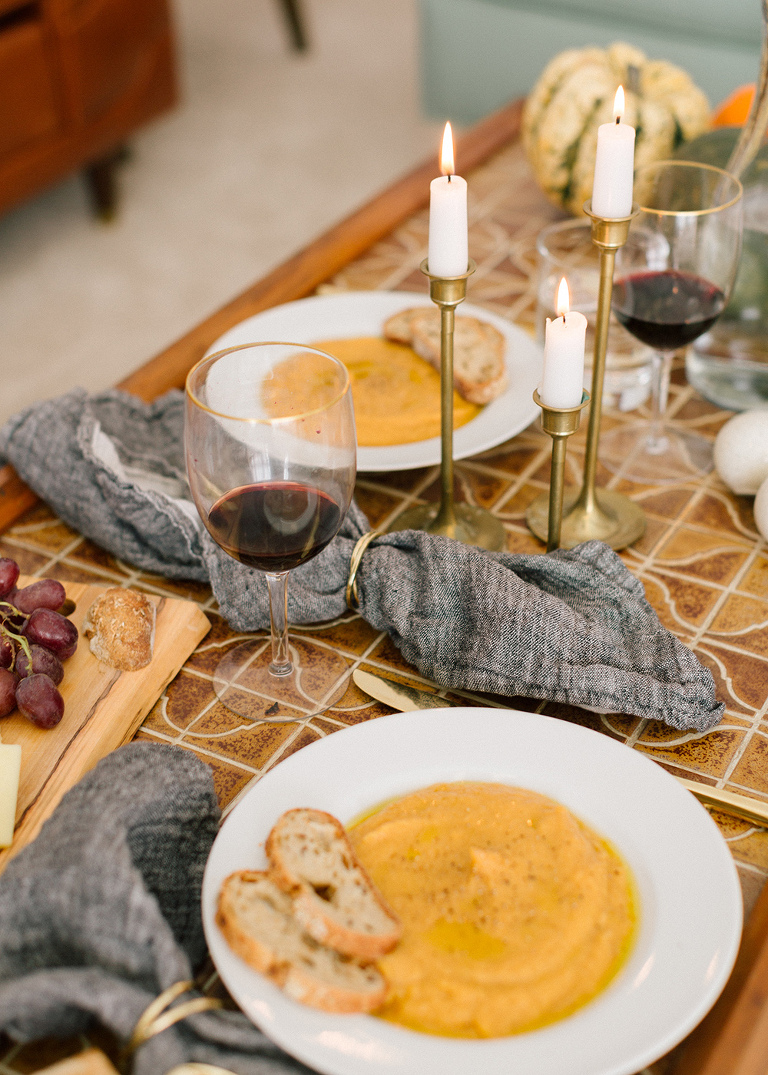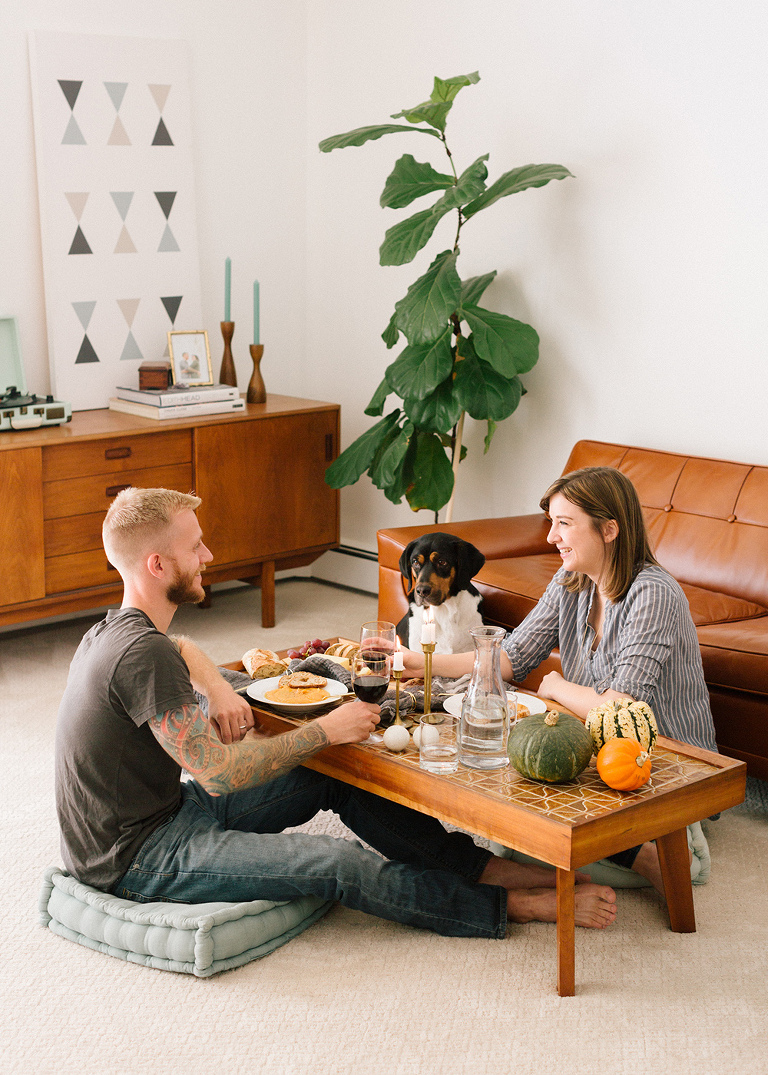 As I'm sure you've picked up on, I've been absolutely devouring (pun intended) Thanksgiving recipe videos on YouTube lately, and so I wanted to mention a handful of menu ideas that caught my attention for possible inclusion in next year's menu (or maybe this Christmas!). I can't wait to try these 4-Ingredient Dinner Rolls, this Upside-Down Cheesy Cornbread, and also this Pecan Slab Pie from "Claire Saffitz's Ideal Thanksgiving" video for NYT Cooking. Comment below with all the links to your favorite Thanksgiving recipes! I can't wait to see what's on your menu.
P.S. If you're inspired to enjoy an extra small Thanksgiving dinner around your coffee table, like what you see pictured in today's post, check out my "Thanksgiving For Two" story over on Camille Styles with photos by the Mallorys!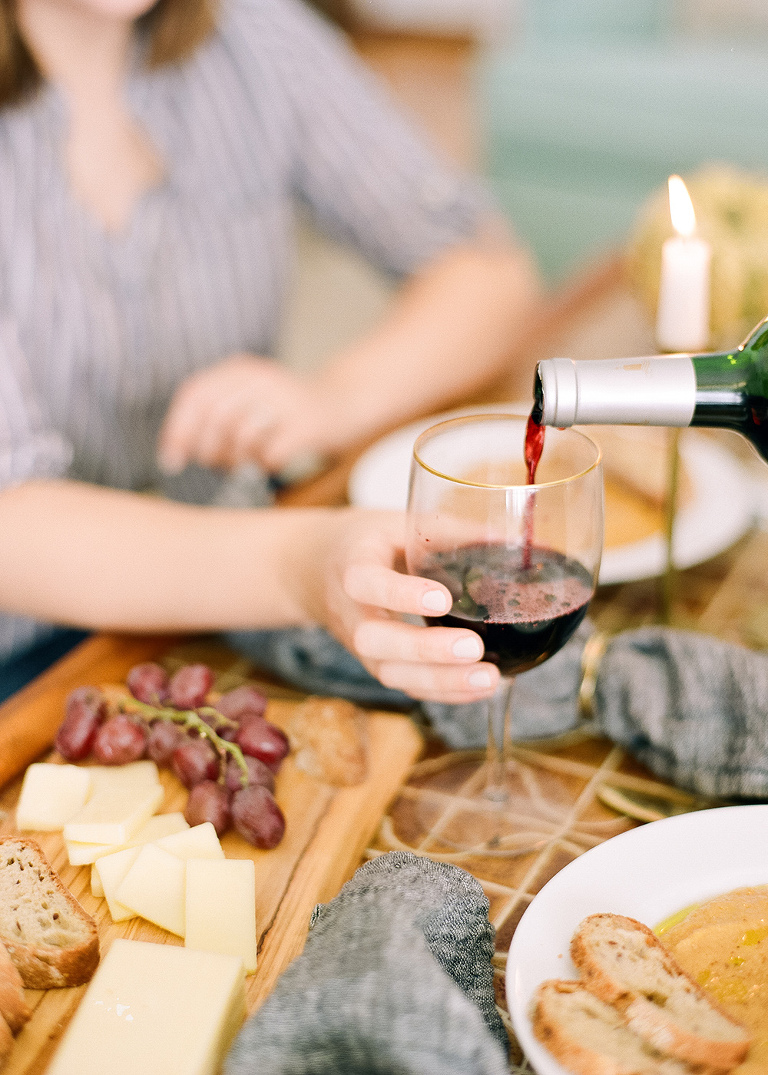 *I earn a small percentage from purchases made using the affiliate links above. Affiliate links are not sponsored. Rest assured that I never recommend products we wouldn't use or don't already love ourselves.