What on earth had John working like this early on a Saturday morning??!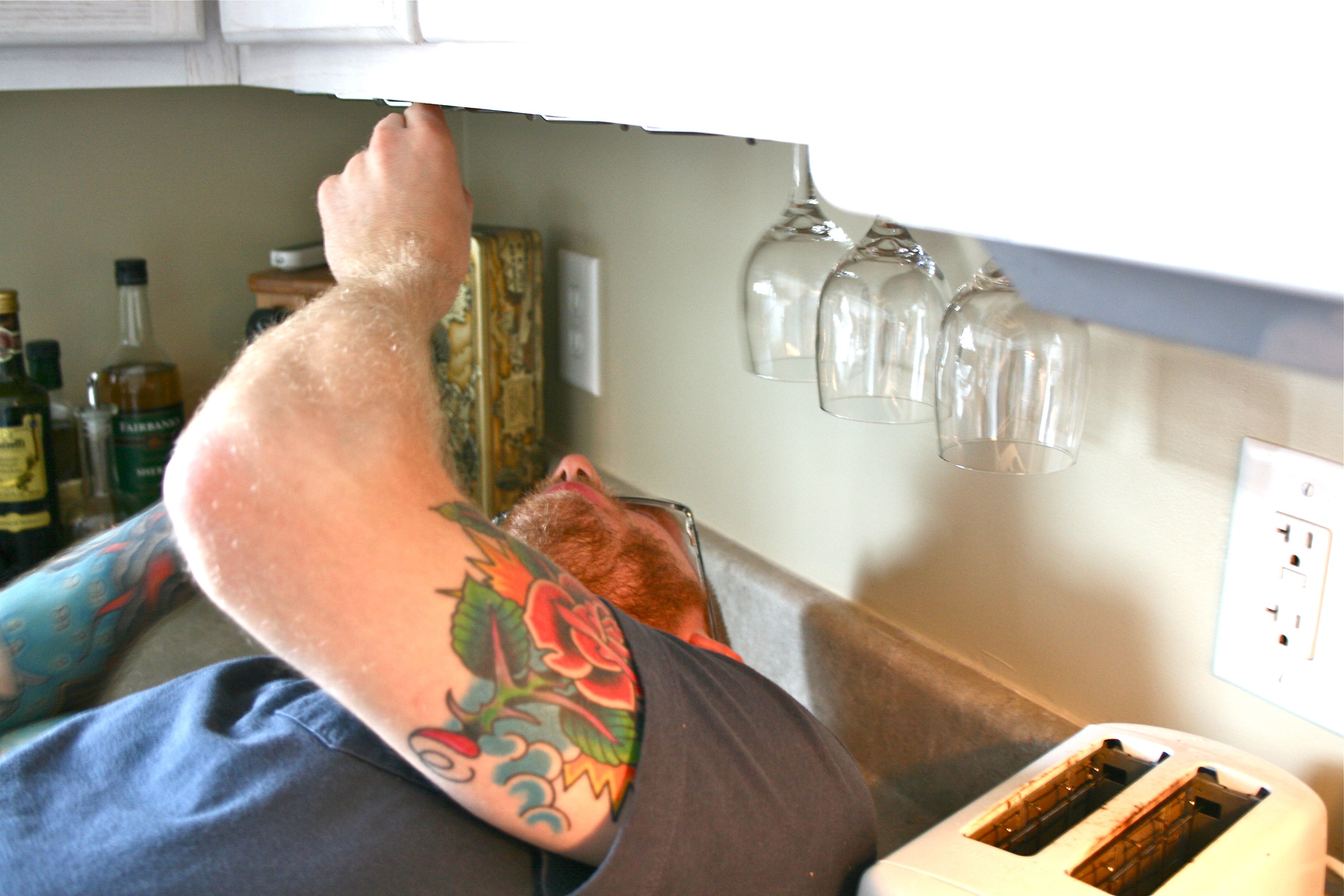 Well me, of course 😉 The poor man hadn't even had time to put his contacts in!
I kid, I kid…Neither one of us can sit still for long. For example, we tried REALLY hard to relax and do nothing this past weekend, but still managed to:
line the walkway out in front of the house with solar lighting
move another load of my stuff in and get it organized
finish a two-part clock redo project
change the oil and spark plugs in my car
That's probably the best we'll ever do when trying to have a lazy weekend. In between projects, we had time to plan a new health regime (maybe that should go up in the list since most people wouldn't consider that "fun"…), watch a couple of movies and grab a tasty frozen treat at the new Sweet Frog shop in town. It was a nice weekend, but I don't think it'll become a habit. Are we crazy? Or maybe just in need of some forced loosening up??
Probably, which is a nice lead in to the explanation for this post's project rehash – As you know from the title, it's wine-related.
In the photo above, John was sweetly working to mount two under-the-cabinet wine glass holders for me. Now honestly I'm not big on wine yet, but I've heard that it's an acquired taste. I think John's banking on that theory because he IS into wine and I know he's looking forward to quiet evenings on the back deck, each with a glass of wine – I am too…
So in anticipation of becoming huge winos in the near future, we decided to find a way to keep our combined collection of stemware in view. Solution: 8 screws, some awful body angling and two wine glass holders I picked up from Pier One for just $12 each!
Here's what the mechanics look like from underneath: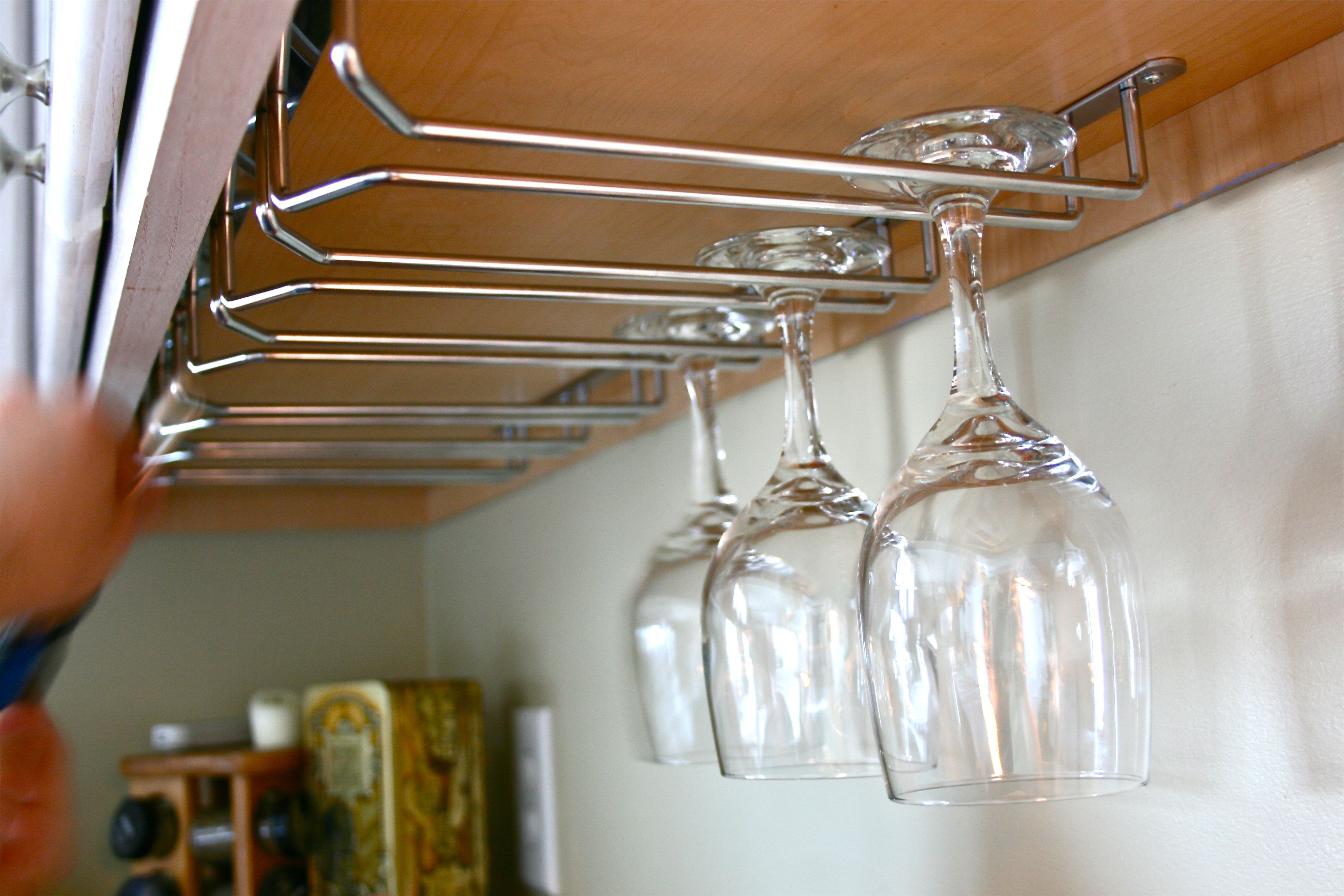 The opening at the front of the metal rack allows you to slip the wide sphere of the glass base over and onto the parallel mounting arms. I know that was probably self-explanatory, but you guys know I like to explain things to death.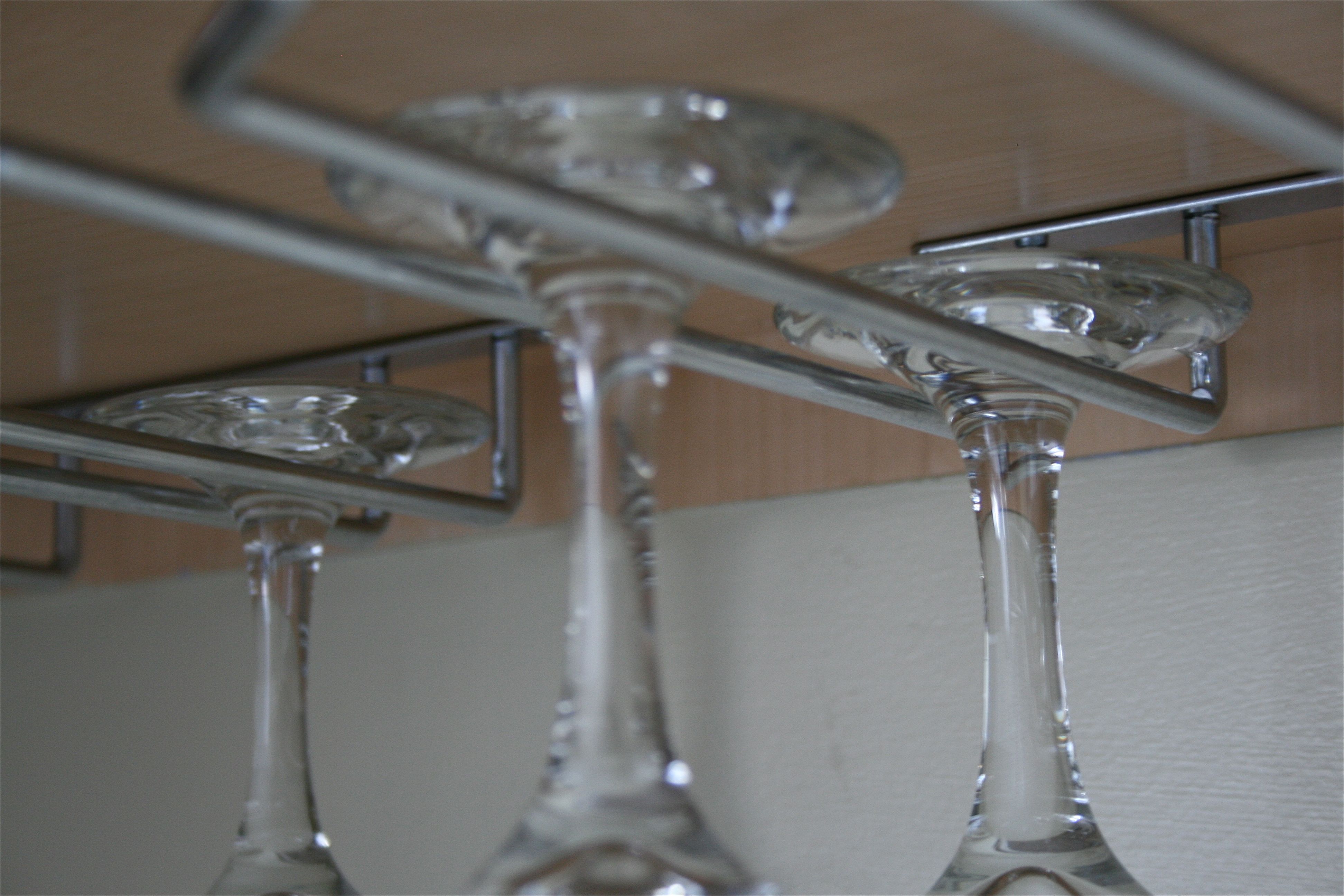 At the time of this photo, we only had John's three wine glasses to put up, but I added my larger collection this past weekend to finish it off. That's right – I don't like wine but I have a full collection of glasses in various sizes…I like to entertain and most of my friends love wine. Plus, it's kind of fun to drink lemonade from a wine glass 🙂
When you back up, you can hardly see the metal holder. In fact, you can ONLY see it when you bend down a bit – Like this: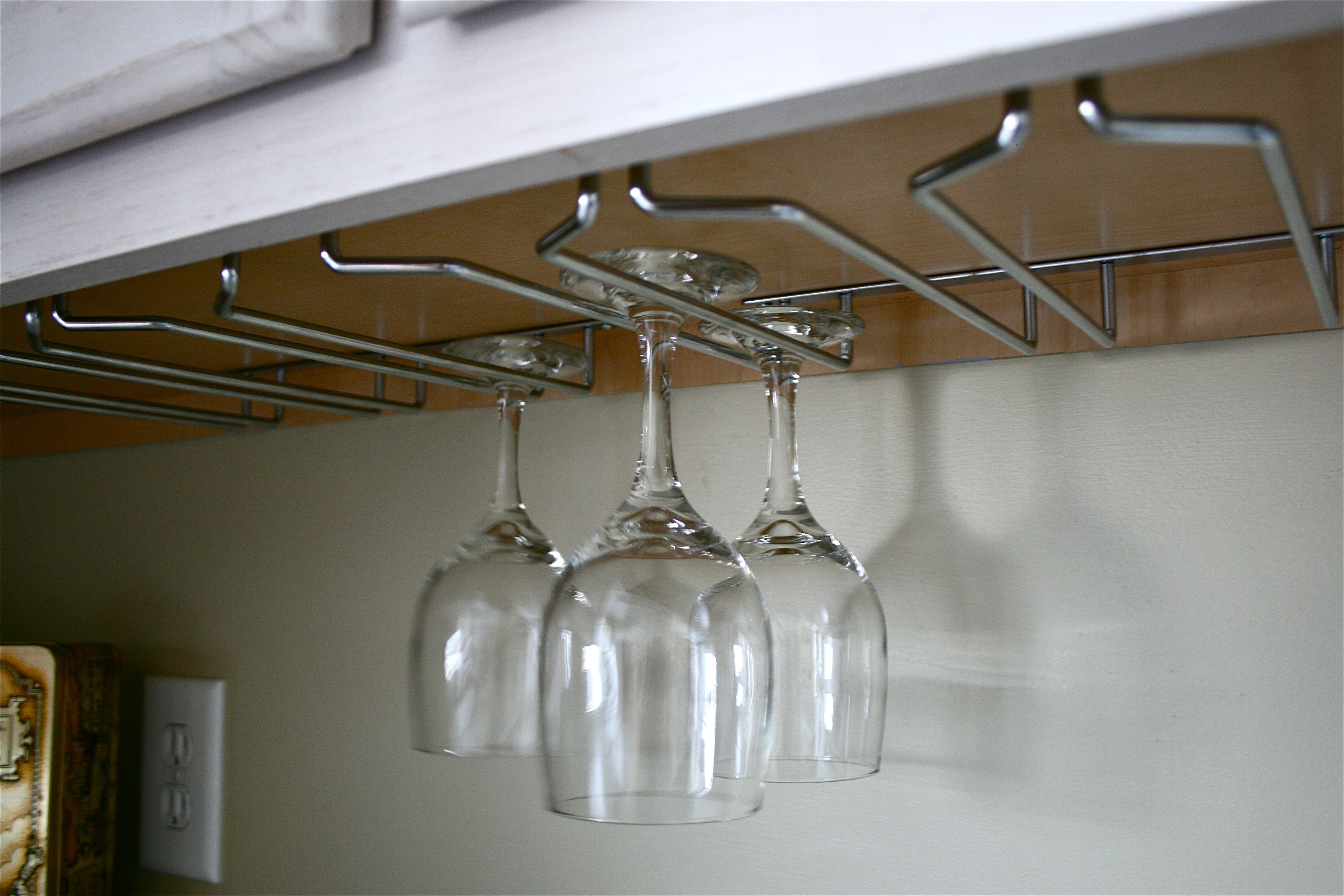 When you are standing upright in the kitchen, it looks more like this – Floating glasses!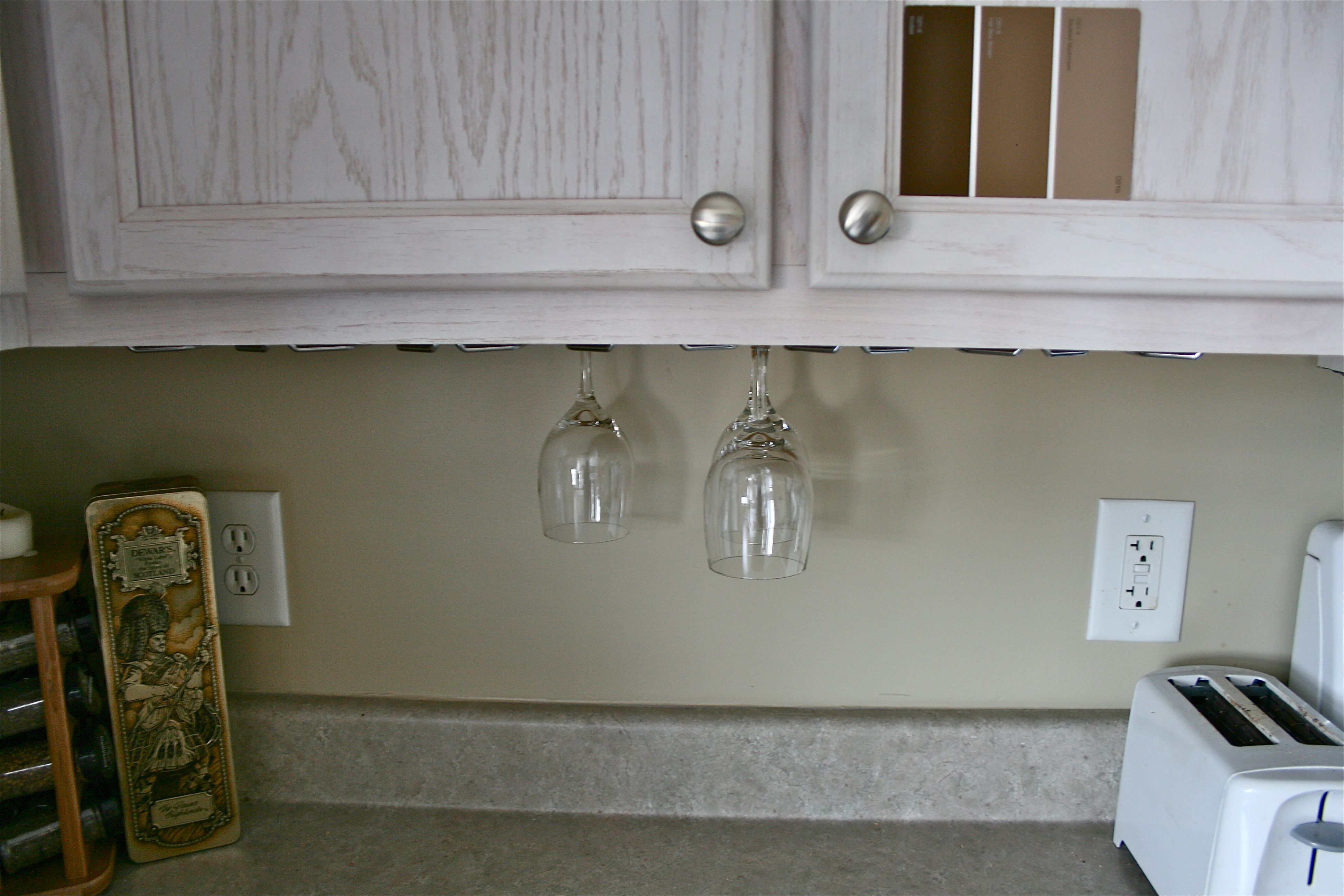 I didn't get a picture of it with ALL of our glasses yet, but hope to update this post with one soon. Oh and that's a paint swatch taped to the cabinet door – We are trying to get up the courage to tackle a FULL kitchen cabinet overhaul here in a few weeks…We are contemplating the darkest color on the paint chip if you're interested in imparting your two-cents. My opinion is that it's a bit too red-brown.
Anyway, if you are interested in getting your own under-the-cabinet wine glass rack, check out these great options (With the exception of the first photo, which refuses to link correctly, click on the photos to link to the product website. Here's the manual link for the first product photo):
Product description: "Keep your hands free at parties by keeping your wine close at heart! This clever little clip with adjustable strap holds a regular-size stemmed glass to your chest, giving you the freedom to snack and socialize as you sip!"
PLEASE tell me if you buy this. You'd be my hero.
Got any wine recommendations for a newbie like me?
P.S. What do you guys think of the new blog header?? 🙂 It was a labor (emphasis on the "labor") of love yesterday creating it from scratch in Adobe InDesign, but we needed it badly…I'm still working out a few kinks (like it not taking you to the "Home" page when you click on it…) but hopefully it will be functioning soon! UPDATE: Fixed!!!
Also be sure to check out the mini version of the header over on our BRAND NEW FACEBOOK PAGE!!! Check that out over here, and be sure to "Like" us while you're there.