I'm not a big traveler…I am typically very content to stay riiiiiiight here at home in my cushy comfy house without having to worry about finding places to eat or bathrooms in unfamiliar territory. I like KNOWING where things are and being able to plan with ease. Luckily John's the same way.
But my best friend and her husband are a different story altogether.
Here's a photo to introduce you to the two of them: Meet David and Savannah! (and their dogs Corbin and Deebo too, of course)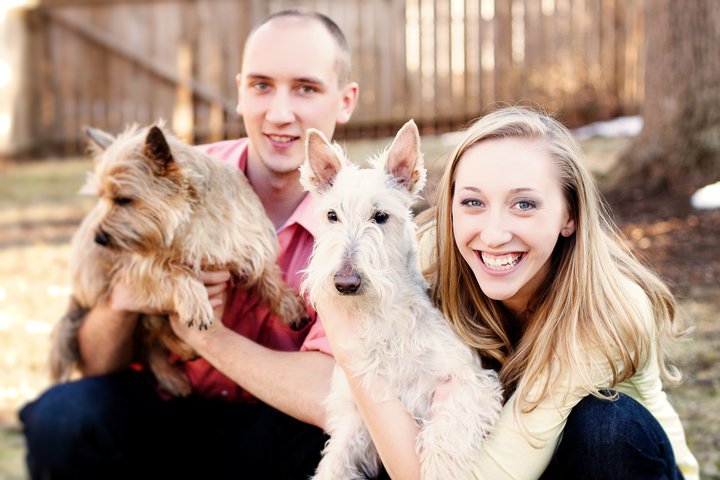 (Photo by Liz Cook)
They are adventurous and daring when it comes to the places they've traveled to, whether together or separate. They have gone four-wheeling out in the deserts by Las Vegas, they've repelled down zip lines in Mexico and explored caves to their heart's content. Between the two of them, they've gone across the US, to Australia, Mexico and I think even Africa! And many-a cruise as well – I'm thinking the Caribbean?
They recently celebrated their one year wedding anniversary and Savannah thought it would be neat to find a way to document all of the places they've visited together as a gift to David. After a bit of research she came across this amazing product: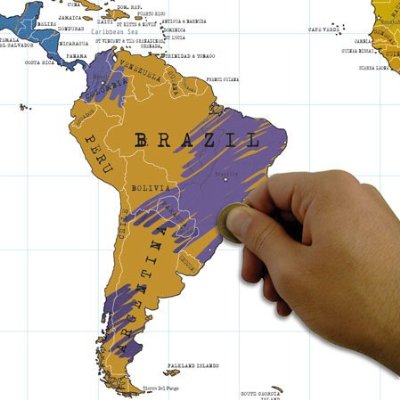 A Scratch Map!!
This is essentially a giant lottery ticket – You take a coin and rub off the top layer to reveal a different colored section beneath allowing you to easily see all the places that you have been!
The map came in a fun tube with instructions on it, seen here: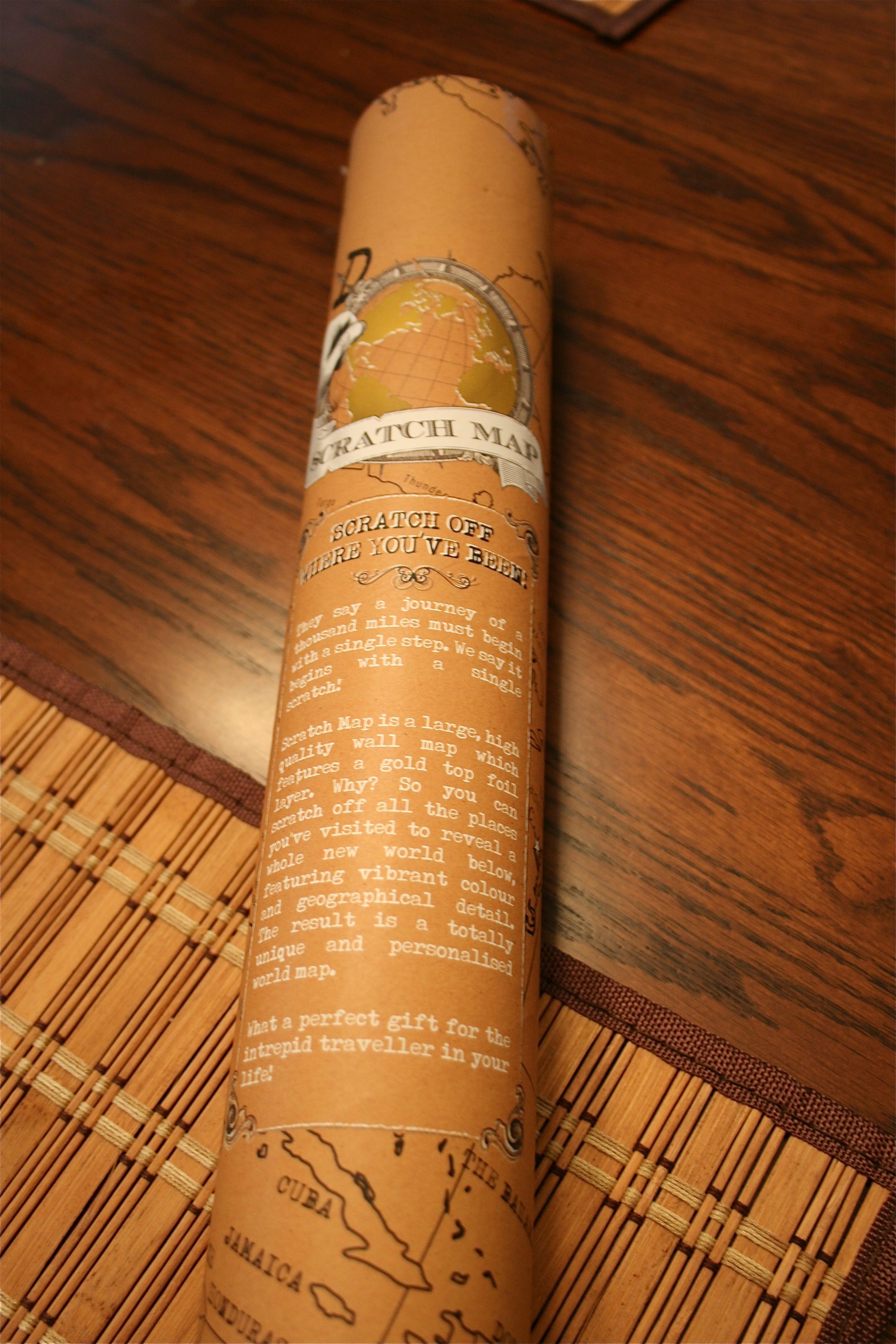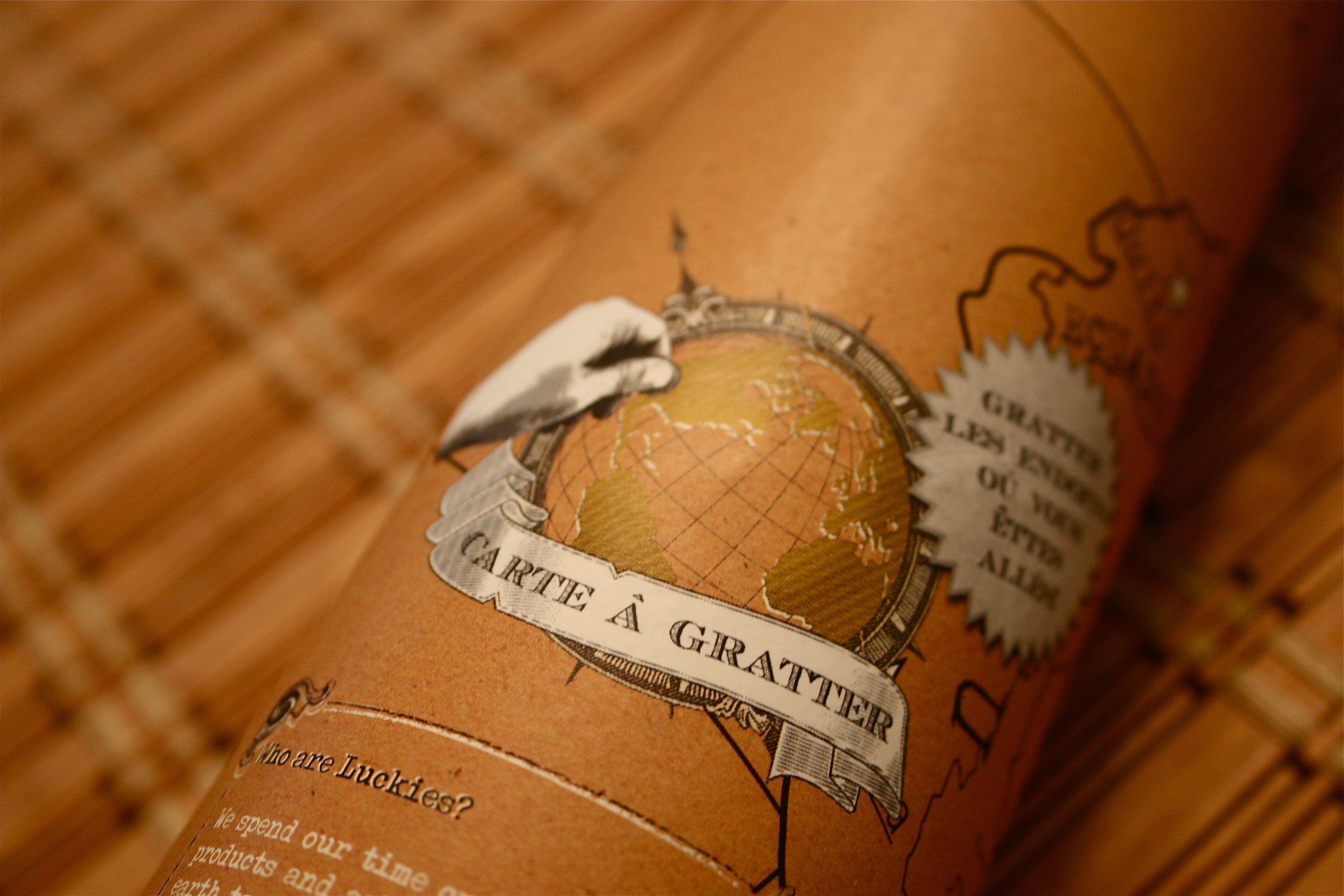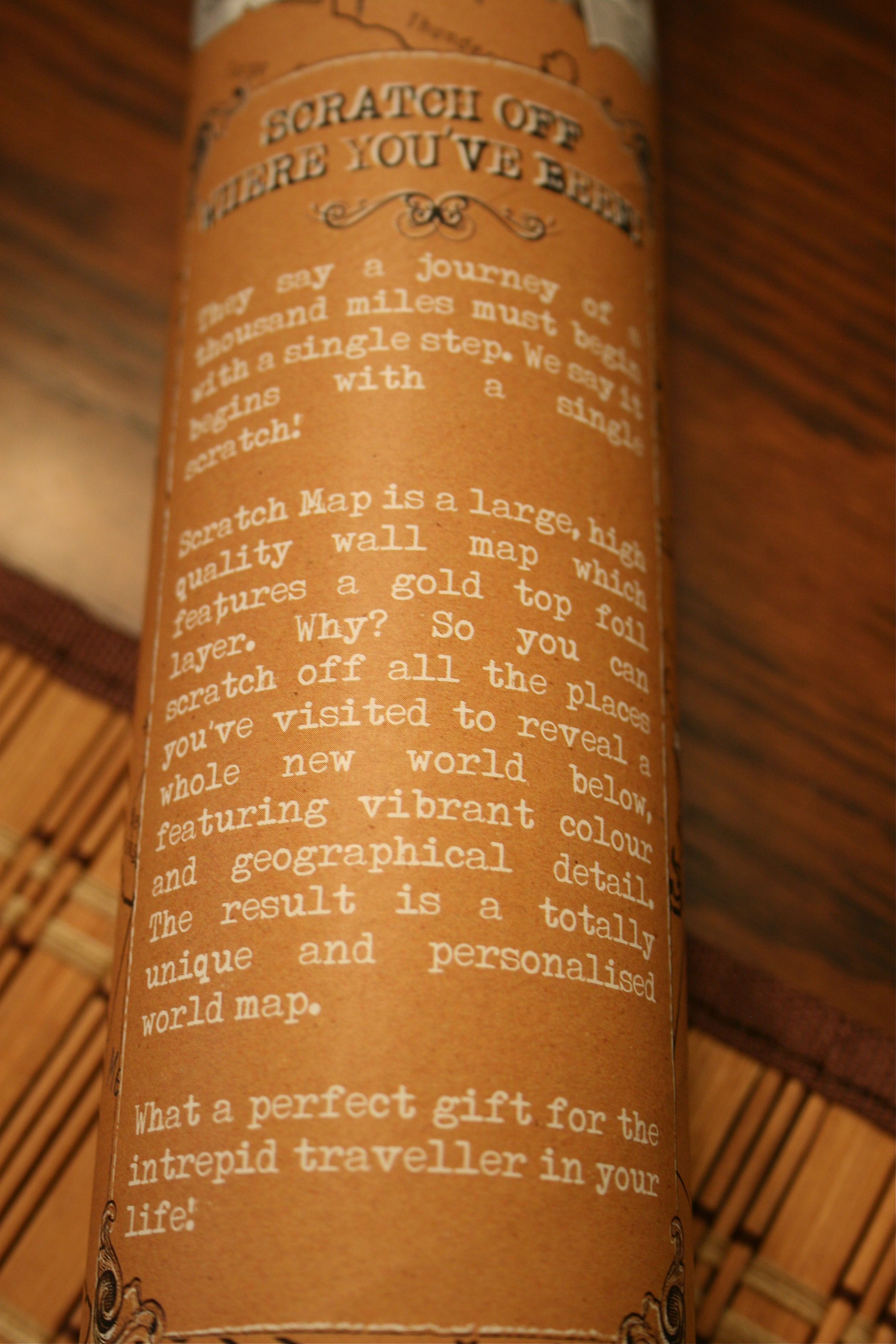 If you can't see it clearly, it says:
"They say a journey of a thousand miles must begin with a single step. We say it begins with a single scratch! Scratch Map is a large, high quality wall map which features a gold top foil layer. Why? So you can scratch off all the places you've visited to reveal a whole new world below, featuring vibrant colour and geographical detail. The result is a totally unique and personalized world map. What a perfect gift for the intrepid traveller in your life!"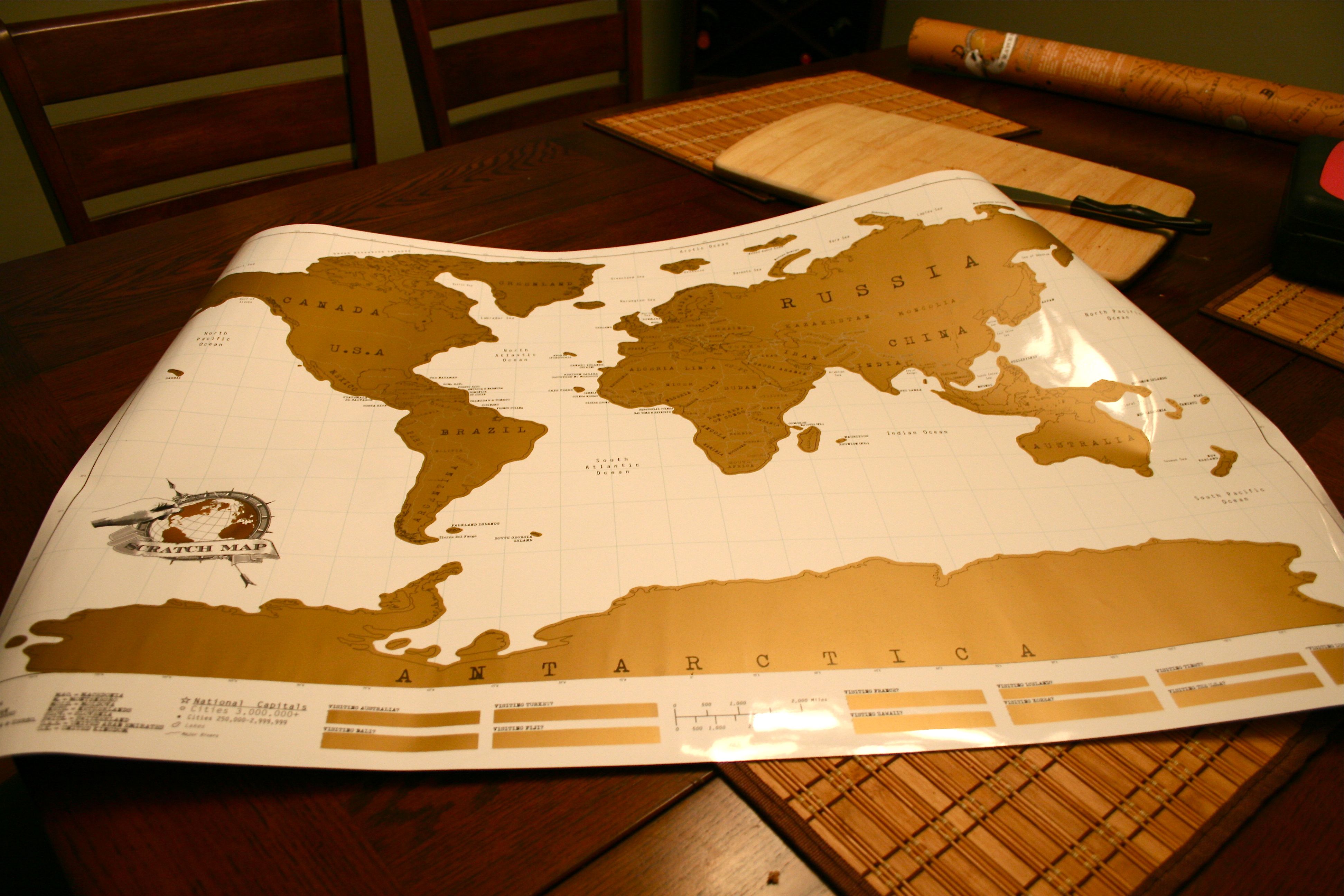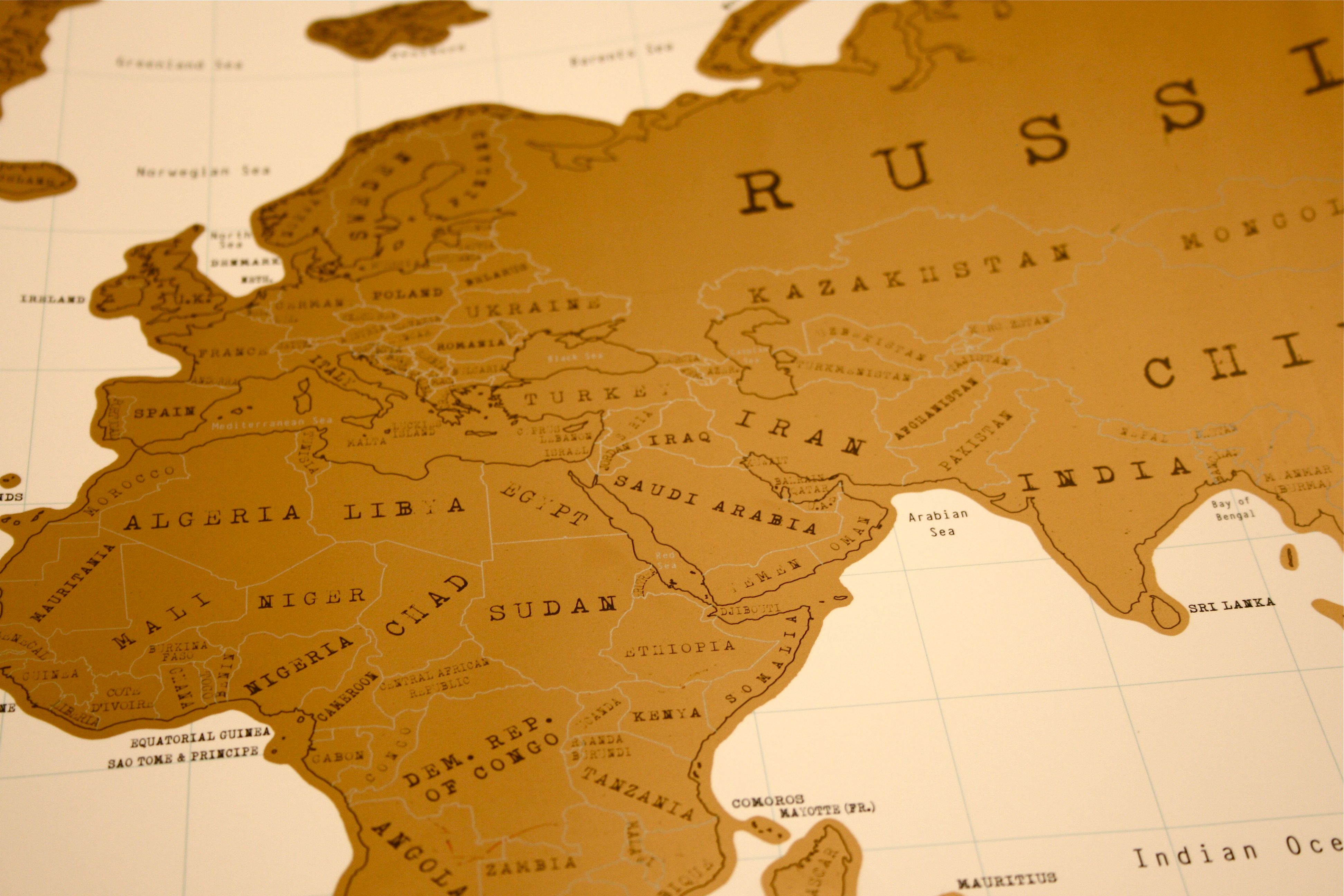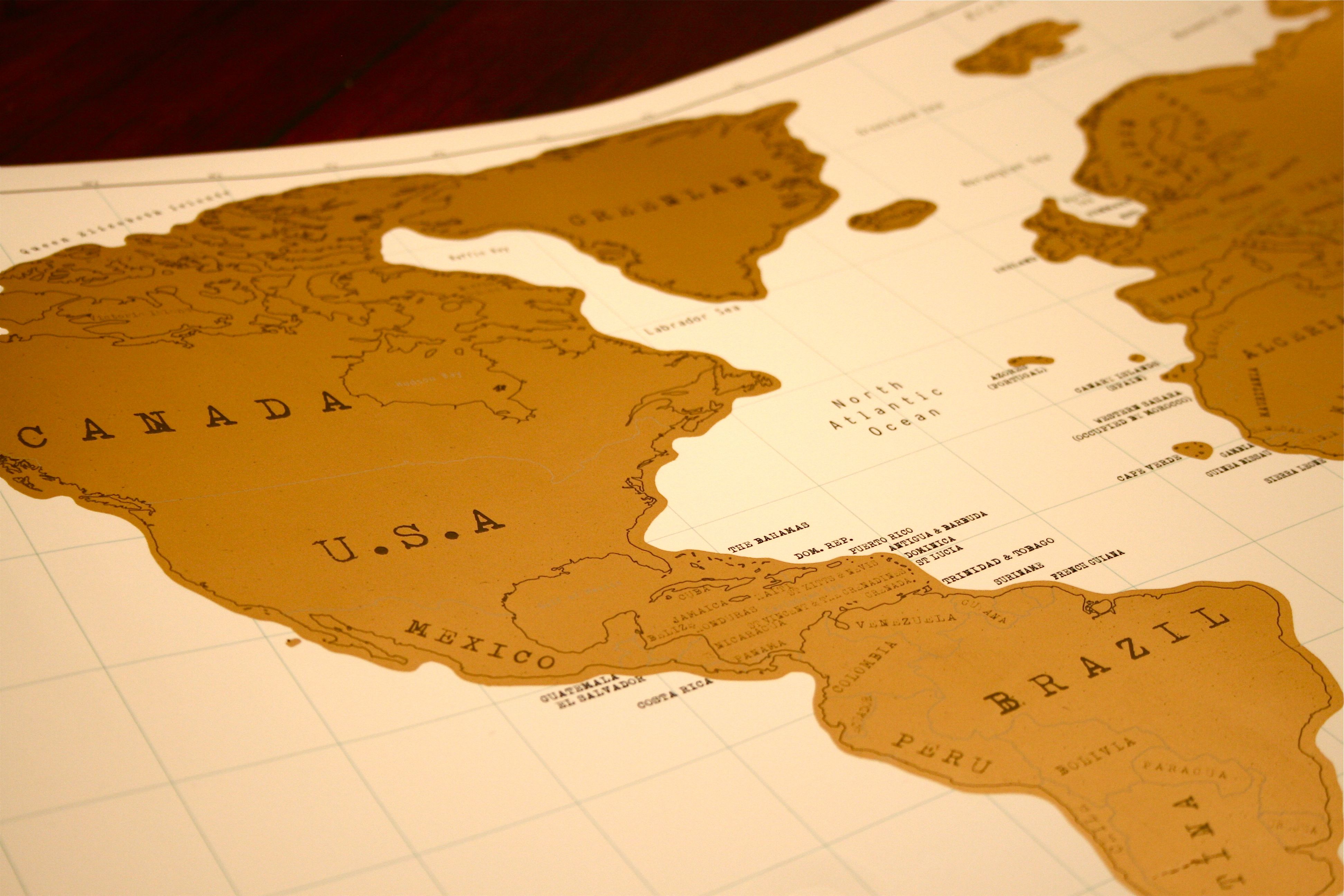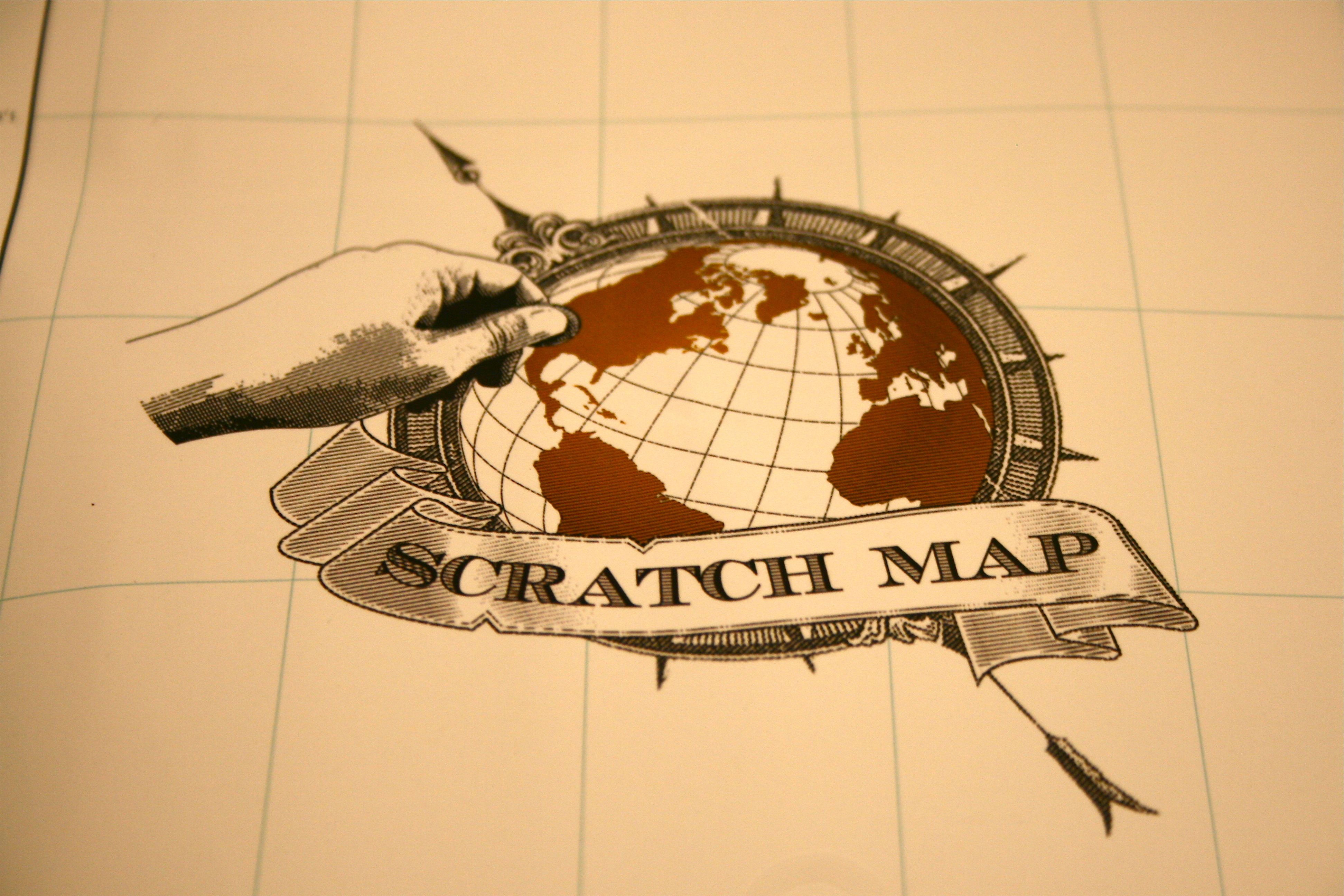 Savannah enlisted my help to figure out how to put this fun map up in their home, so we drove on over to the nearest art supply store. As soon as we walked in we came across a HUGE framed corkboard that could have worked – All you'd need to do is thumbtack the map to the center of the corkboard and you'd have plenty of extra push-pin-ready surface to hang things like plane tickets, activity brochures, memorable receipts, etc. around it. But I should reiterate that this thing was HUGE and would have taken over whatever wall they chose to hang it on…
So back to the framing section we went! Although at first we didn't think putting it behind a frame would be ideal since you'd want to be able to easily scratch off sections after vacations, we eventually came to the conclusion that putting it behind glass would protect the delicate surface better than if it was open to the elements. Their two dogs might end up jumping up and scratching off all of South America!
After a bit of perusing and rummaging through the frame section, we ended up finding a beautiful wooden frame that would fit and protect the map with ease 🙂
Savannah and I rushed home to show off the purchase to David who, thankfully, was pleased.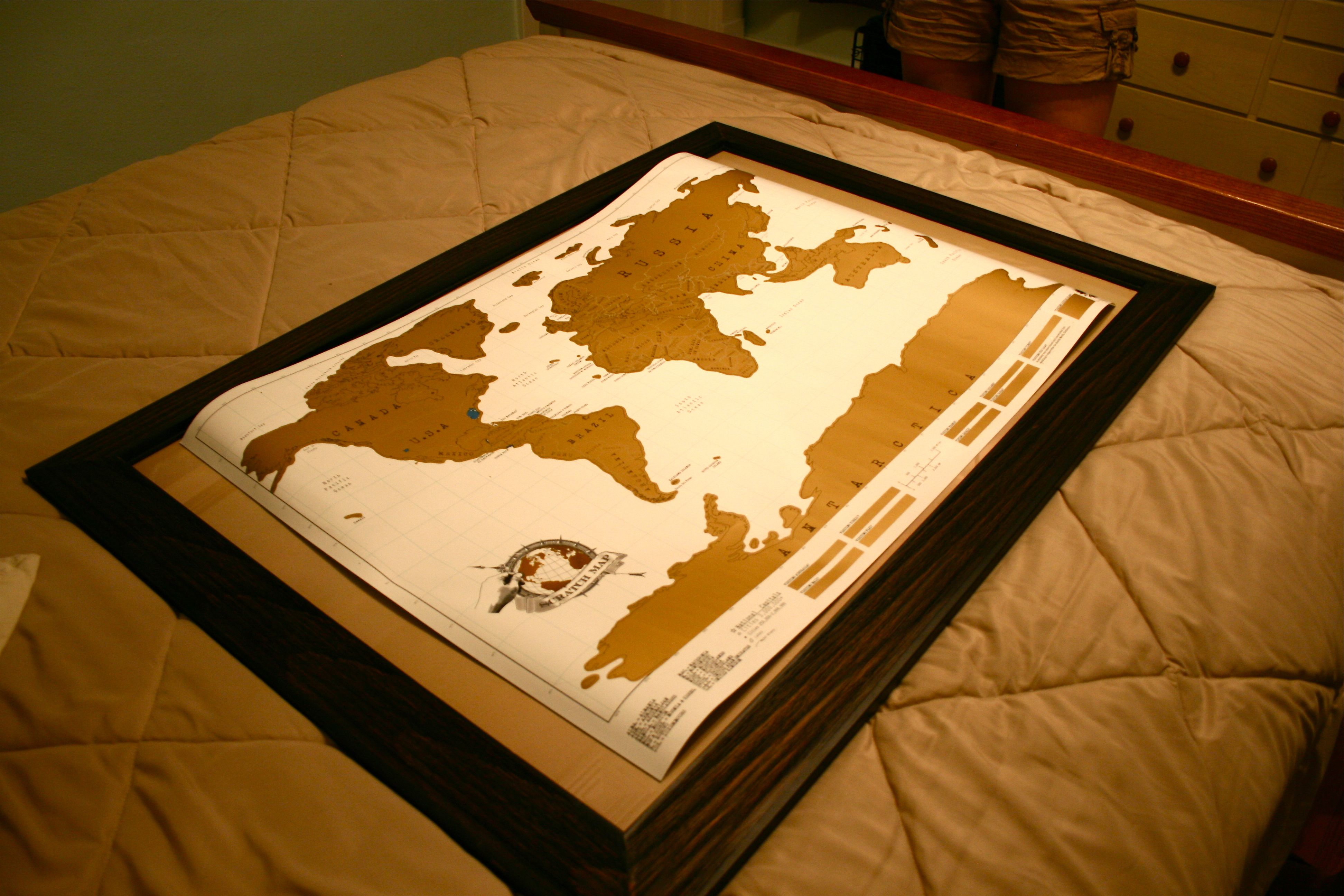 I was lucky enough to stick around while to two of them broke out a quarter to document all of their travels together as a couple. It was so neat to watch them light up when thinking back on their adventures.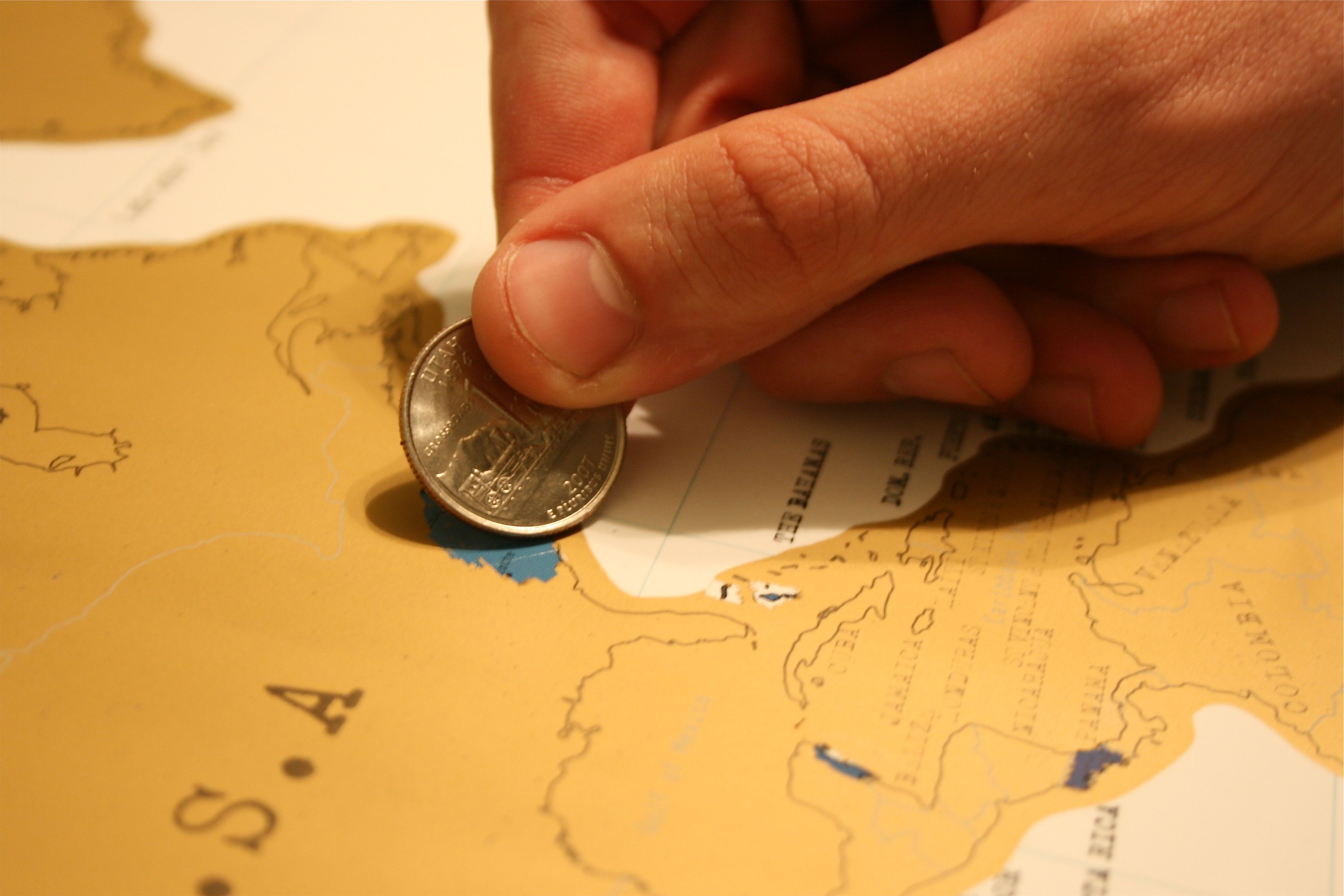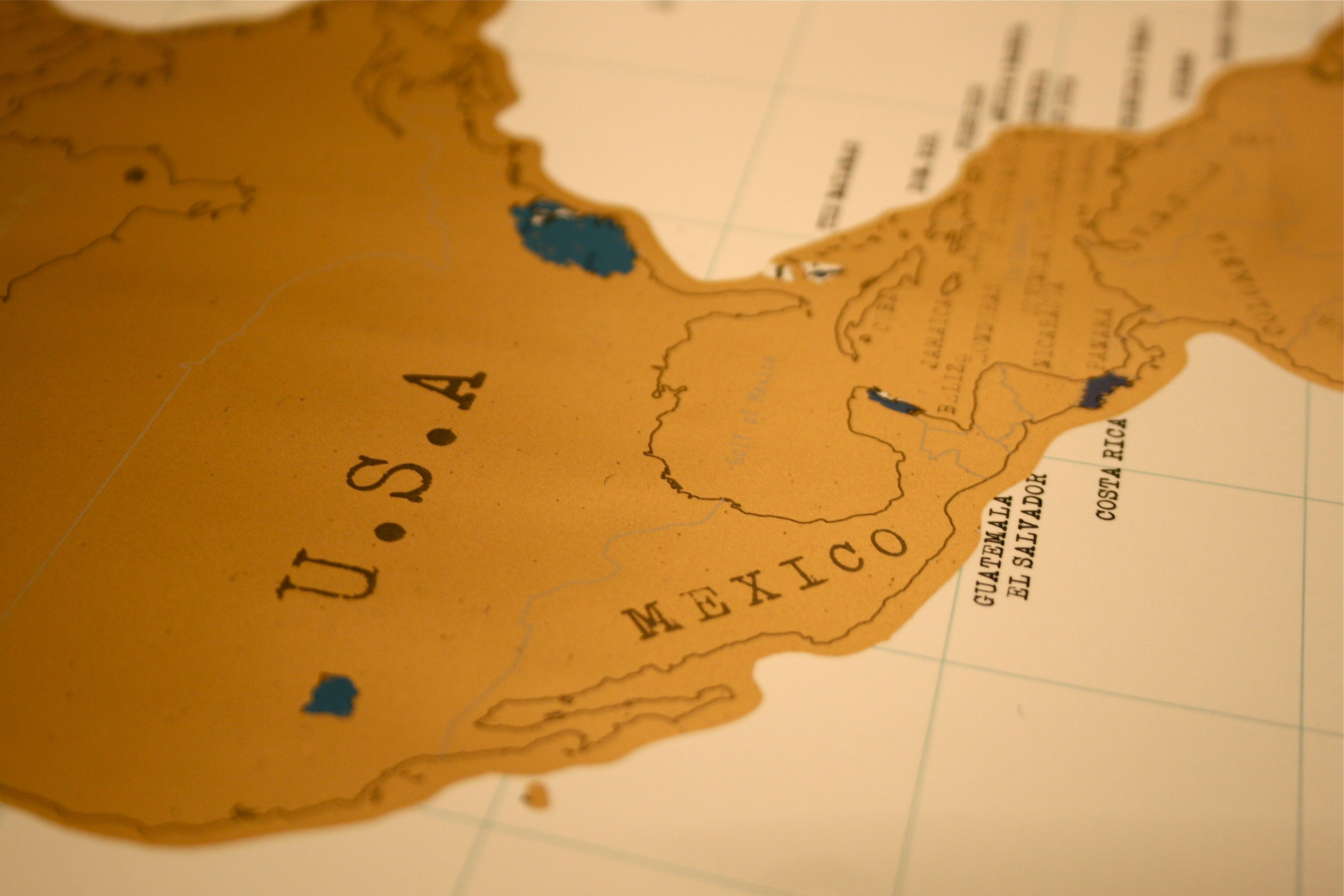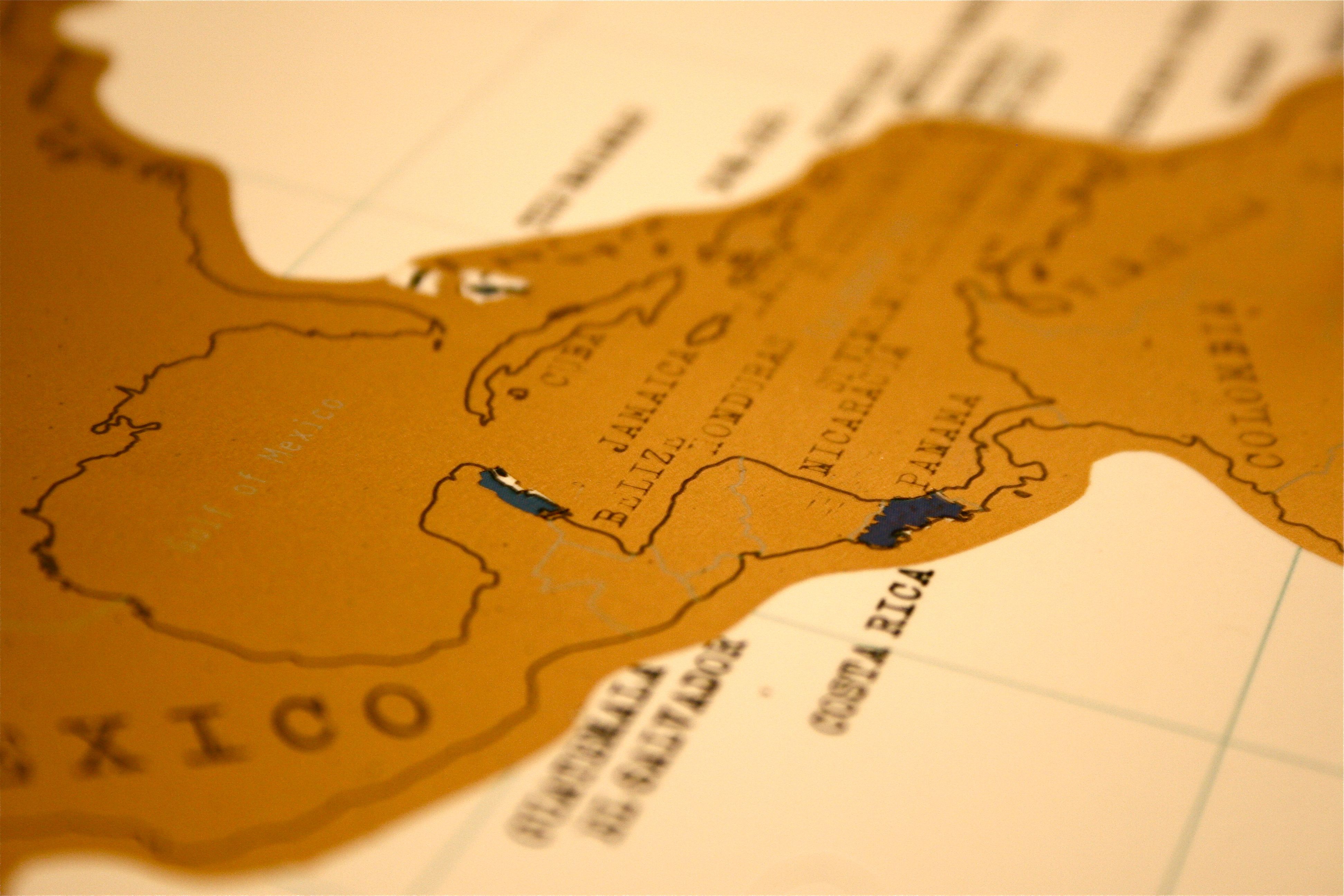 I had to go before they put it behind glass and hung it on the wall, but she sent me an iPhone picture of it later and it's beautiful 🙂
Although John and I would be able to scratch off about a millimeter of this map throughout our lifetime, I highly recommend this for any world travelers out there. It's definitely a great way to document your memories and have a visual reminder of all the places you have gone.
Happy travels!!!
(Photo credit for scratch map promo image: here)