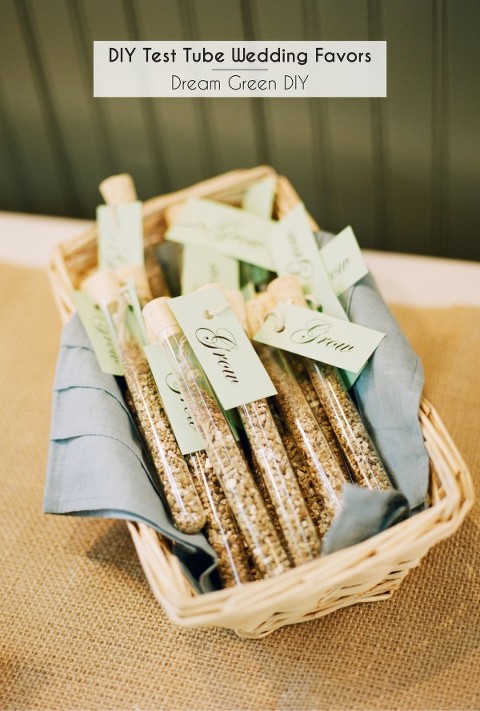 When my hubby and I tied the knot April 2012, we set out to create an event that was truly "us," with as many DIYed details as we could cram into our after-work and weekend schedules. Sure, it took extra time, but stepping into our wedding reception to see all of our hard work in action blew us away (and brought this emotional bride to tears).
One of my favorite projects that we tackled has to be our wedding favors. Now, I'm the kind of type-A personality that appreciates good, old fashioned practicality. That said, I really wanted to come up with a favor that our guests would actually use post-reception. I mulled over the idea of candy (who doesn't love candy??) and even went so far as to purchase candy forms to make my own. But then I stumbled upon some inspiration via Pinterest that caught my attention. The idea was to fill classic glass test tubes with things like candy, potpourri and birdseed, and let guests make their choice. Sold.
For our own favors, we went with the following: wildflower seeds, mini M&Ms and bath salts. My mom and sister helped to fill the 80 glass tubes using a couple of funnels. To differentiate between the favor fillers I typed and printed small tags, each with a different color and worded label. The wildflower seeds were marked with tags that read "Grow," the M&Ms were labeled "Indulge" and the tags for the bath salts read simply "Relax." Using twine, we looped it through a hold punched into the tag and then sandwiched the knot between the glass and natural cork stoppers.
Simple as that! They seemed to be a big hit and I think everyone got a favor that they would use long after the new Mr. and Mrs. drove off into the sunset.
Photos by Katie Stoops
Which would you have chosen?