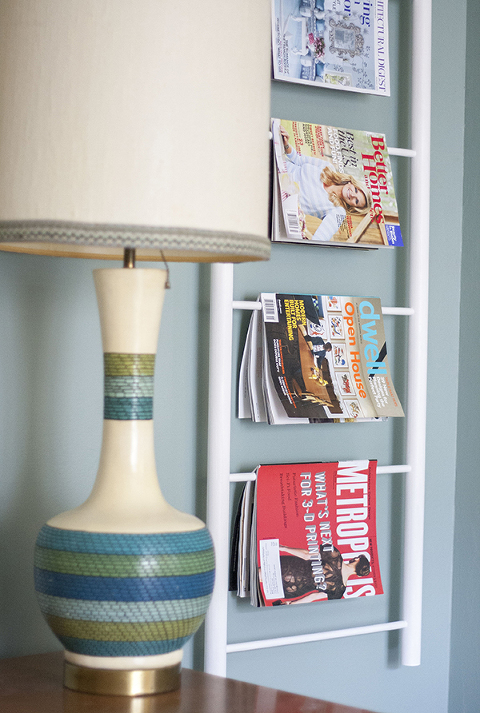 Have you ever had a project roll around in your head for (dare I even admit it?) years – one that you just couldn't figure out how to pull off? Well this is definitely that project for me. You see, when I first moved in with John, I had in my head the idea for a ladder magazine rack. You've probably seen similar concepts on Pinterest or other blogs (my friend Whitney just put together a BEAUTIFUL one for The Home Depot this month!). The way I planned to make it unique was in the installation itself. But before I get to that, let's discuss the process for the ladder itself.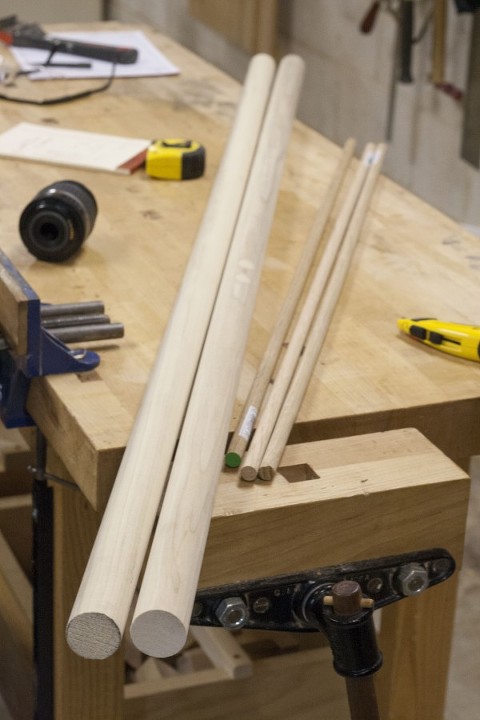 I called in two pros for this project – my favorite woodworking supply brand, 3MDIY.com, and my favorite woodworking engineer, my dad. We spent an hour or so in his workshop, putting together the ladder using 2 6-foot dowels (for the long sides) and 3 3-foot dowels (for the rungs) – these we sawed in half to create 6.
The holes for the rungs were measured down the lengths of each long dowel, and then dad pushed the two dowels together and rubbed charcoal perpendicular to our measurement lines. Any askew holes would have thrown off the rungs when we got to the point that we put the whole thing together, so the charcoal lines helped to ensure we were spot on and perfectly lined up.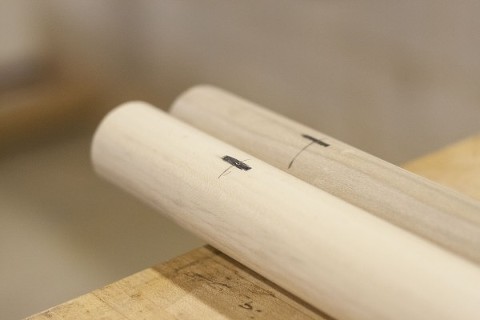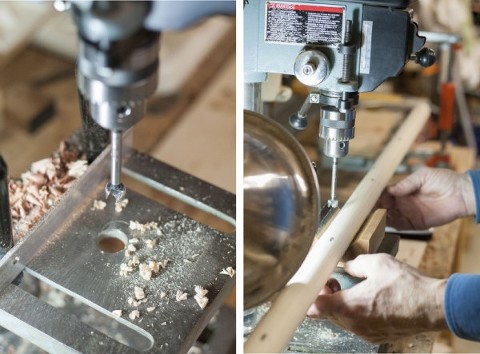 Then, one by one, we drilled the holes for the rungs using dad's drill press. You could easily use a screwdriver for this step though if you don't happen to have this big tool (Whitney's tutorial shows you a great alternative process). After the holes were cut, we painted a bit of wood glue on each end of each rung and wiggled them into place.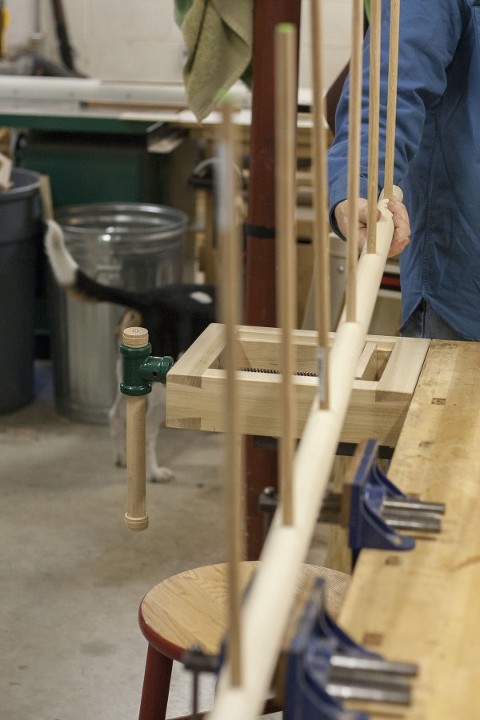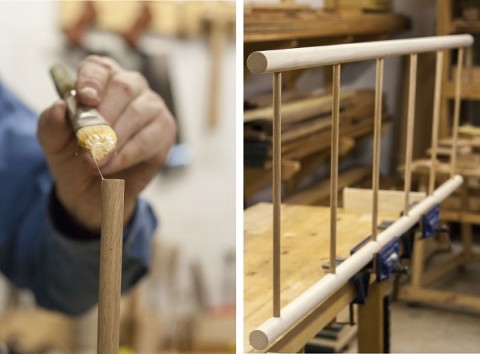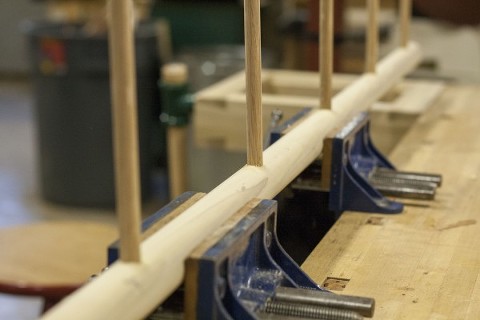 We left the ladder to dry overnight, and then I got to painting. To keep things nice and simple, I used a crisp bright white on the entire piece. Initially, I had planned on using ScotchBlue™™ Painter's Tape to add gold-dipped legs and even a couple of mint accents, but in the end I went with a simple look. After I tried it out with the magazines, the cover image graphics and colors turned out to be enough pop on their own. The great thing is that I can always change my mind and add more color later!
Before I broke out my paint brush though, I did make sure to give it a nice once- (or twice-) over with 3M Advanced Abrasives. This ensured the best possible surface for my paint to "grab" onto.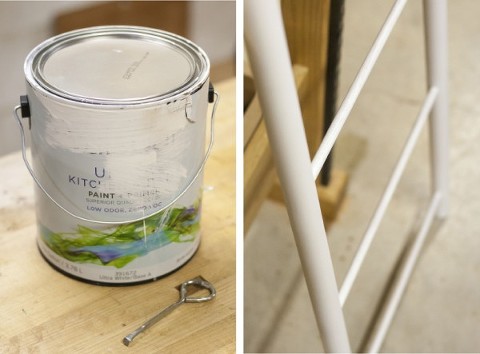 With the ladder assembled, painted and dry, it was time to consider the hanging method. My idea was to use standard (read: cheap!) cafe rod hardware. In my head, I imagined that the loop at the end would be perfect for cradling the top-most rung of my ladder, and the extended bracket would hold the ladder a couple of inches away from the wall so that my magazines could slip right in, no problem.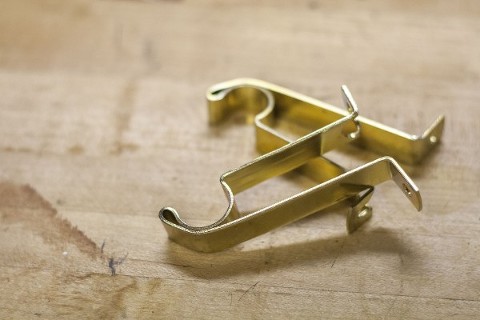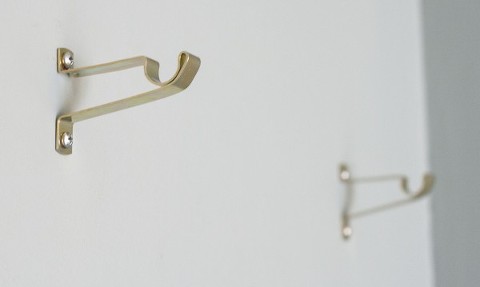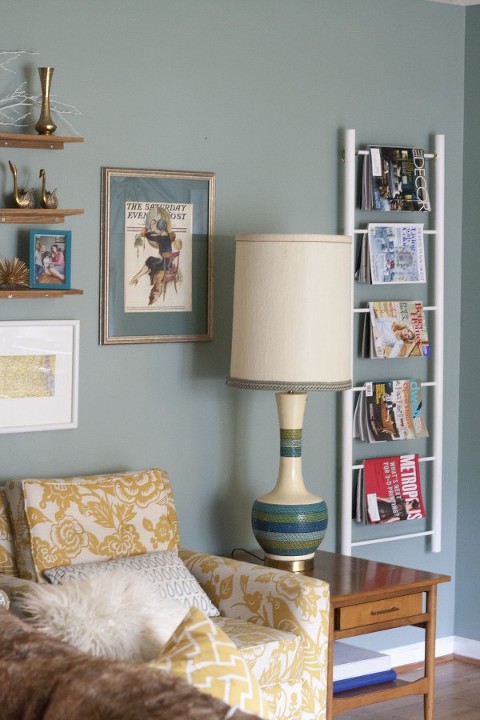 I'm happy to say that it worked like a charm. With the addition of heavy duty wall anchors to give the rod hardware extra stability, the ladder went up in a matter of minutes. After choosing and hanging an armful of my favorite issues of Elle Decor, Architectural Digest, Better Homes and Gardens, Dwell and Metropolis, I stepped back and couldn't have been more proud. It feels so good to finally cross this project off my to-do list.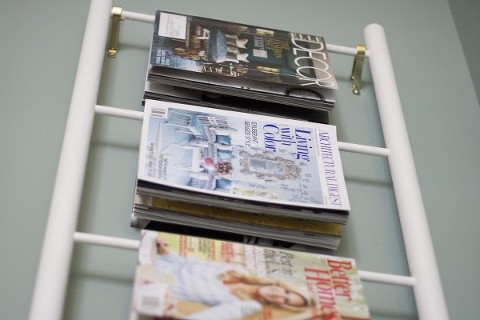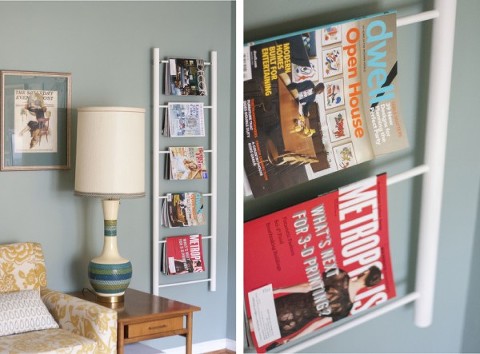 Big thanks to my dad for helping me whip this project up in no time, and to 3MDIY.com for being such a great resource for quality tools and supplies. As they say, your support system is everything!
This post is a collaboration with 3MDIY.com. To keep up-to-date on projects, products and sampling visit the 3M DIY Facebook Page, 3M DIY Twitter Page, 3M DIY Pinterest Page and 3M DIY YouTube Page. All content, ideas and words are my own. Thanks for supporting the sponsors that allow me to create fresh projects like this for Dream Green DIY!