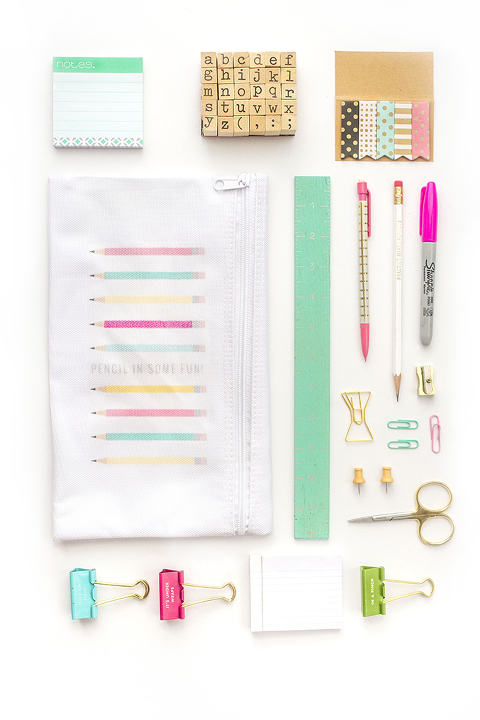 Even though I haven't been in school now for over eight years (jeez, that makes me feel old), I still get giddy around "Back To School" season. There's just something so thrilling about crisp, blank notebooks, newly sharpened pencils, and a few brightly patterned folders with that summer's hottest boy band plastered all over the front—have I mentioned lately that I miss the 90's?
The point is, I'm a big, big fan of school and—perhaps more importantly—the supplies. To satisfy the nerdy kid in me, I designed my own cheeky "Back To School" pencil-themed phrase, and used good old iron-on paper to stick it to a white zipper pencil bag. Whether you're a student gearing up to hit the books once again, or you're an out-of-school pencil junkie like me, this little printable project is sure to get you extra excited for the semester's kick off.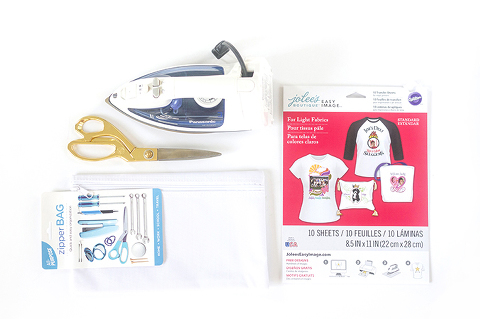 Cotton white zipper bag
Scrap wood large enough to fit your bag (the instructions for my iron-on paper specifically said not to use wood rather than an ironing board)
Start by downloading the template to your computer. The lettering is already mirrored for ironing on and it also is sized to fit a standard 8-1/2-by-11-inch piece of paper. Next, follow the instructions that come with your printable iron-on paper to print the design onto the paper. Make sure to pay close attention to the paper orientation in the printer according to your set of directions. For example, I used a paper made by Jolee's Boutique, and I needed to be sure to load my paper so that the un-lined side was printed on.
Below is a detail shot of the design without mirroring so that you can visualize what it will look like on your bag. I also created a downloadable template of the art without the lettering mirrored in case anyone wants to frame it on their wall, or use it as a fun desktop background—snag it by clicking here.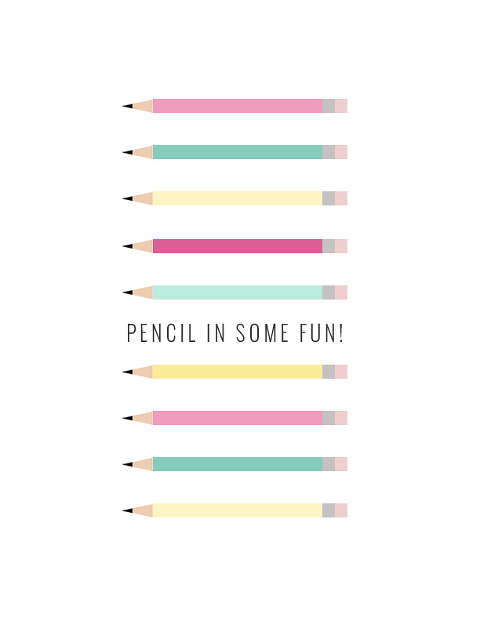 Once printed and the ink has had a minute or two to dry completely, use a pair of sharp scissors to cut away the excess paper from the design. You don't need to cut away every inch of white paper, but you will want to cut out as much of the white border as possible. I trimmed so that only about a 1/4-inch of white border was left on either side, top and bottom edge.
Next, lay the zipper bag right-side-up on a piece of scrap wood, and place your printed design right-side-down on top of the bag, making sure to center it as best you can—I just eye balled it. Then, reference the iron-on paper instructions again to find out what setting to put your iron on and for how long you'll need to iron the design. I set mine to the highest setting and ironed for 60 continual seconds. To finish, unplug and set the iron aside, and allow the design to cool entirely for two minutes before slowly peeling away the paper to reveal your completed zipper bag.
Just two quick notes. I made the mistake of not adding a piece of wax paper inside my nylon bag, so the sides ended up getting heat bonded together. Happily, I few quick tugs unstuck the bag, and it's perfectly fine, but learn from my mistake and either use a cotton bag or line the inside of your nylon bag with wax paper! And one more: after ironing on the design, I realized that a darker font would have shown up better, so I updated the printable design with black lettering. Yours should show up just fine now.