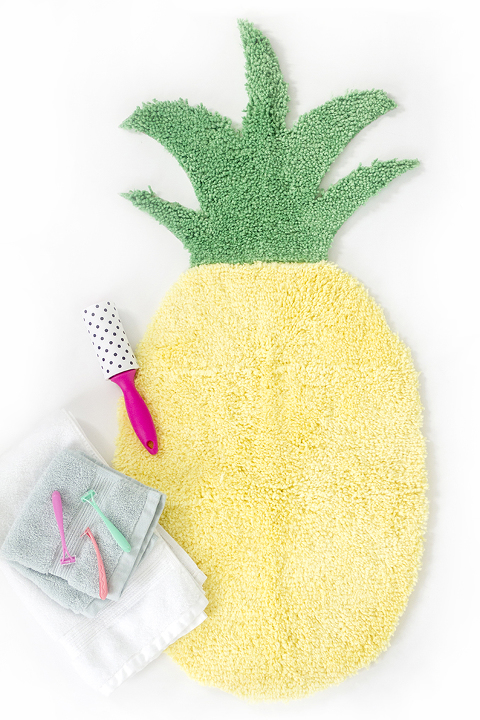 I've said it before, but I'll say it again. The community is the absolute best part of this blogger business. The friendships I've had the pleasure of forming throughout my four+ years as a blogger are priceless, and I still can't get over the fact that I haven't even met all of them face-to-face! While competition and copy cats do put a damper on the creative aspects from time to time, the authentic relationships and idea sharing make up for it 10-fold.
Case in point, today's DIY pineapple shaped bath mat project. I don't mind one bit telling you that the idea for this project came by way of my friend and fellow blogger Cyd Converse, of The Sweetest Occassion fame. The light bulb moment struck and, without a proper place to work it in on her own site, Cyd sweetly offered it up to a few of her more fruit-centric blogger pals, myself included. I voiced my enthusiasm over the concept, and later was able to bring Cyd's idea to life here in the DGD studio—with my own flair added, of course. Consider this not only an ode to the blogger community as a big, beautiful whole, but also to the last remnants of summer before we slide on into fall.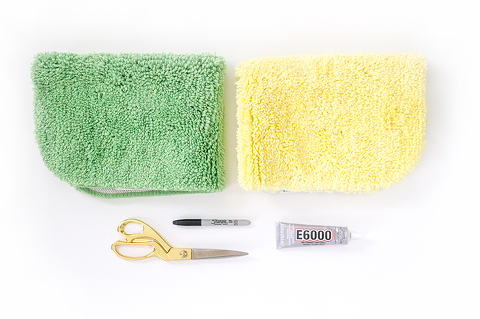 Green bath mat
Yellow bath mat
Scissors
Permanent marker
Tube of E6000 adhesive
Start by flipping your bath mats over and place them one short end to another short end. Then, grab your permanent marker and get to sketching! We all know the standard pineapple shape—oblong, oval bottom and frilly, spiked top—so play around with your shape on the back of the mats until it feels just right. As you can see, I made a couple of mishaps with my marker, but since no one will see the back of my finished bath mat, it's okay to just scribble out the mistakes and keep going.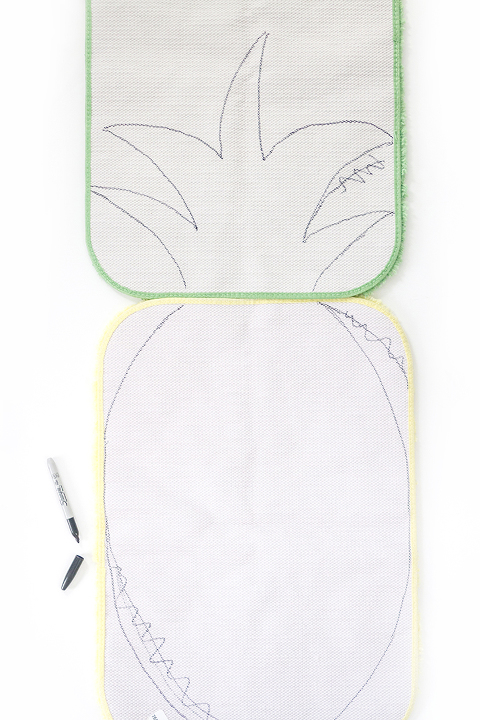 With the outline drawn, use your scissors to slowly cut the shapes out from the mats. I made sure to leave the bottom of the green mat and the top of the yellow mat (where the two would eventually meet) as is with the original binding still in place, but the rest of my yellow and green shapes were cut right out of the mats without binding. Although I was a little worried that my trimmed edges would be slightly rough, the fluffy pile of the rugs themselves helped to mask any uneven cuts. You can try using some liquid hem solution (or even rebind it if you're a sewing pro!), but mine is holding up just fine without it. It turns out that the rubber mat bottoms are sturdy enough to handle a quick cut.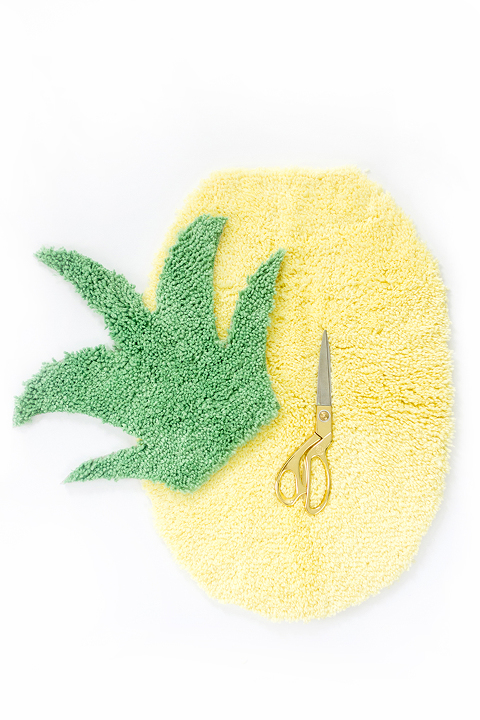 After flipping your mats over to give them a quick check and trimming any obviously uneven areas, flip them back over and lay them end to end with the binding overlapping. Then, gingerly lift the green mat and squeeze a generous line of E6000 adhesive out onto the binding of the yellow mat where it will lay against the green one. Press the two edges together and hold them in place for 30 seconds, and then leave them to fully cure for at least two hours.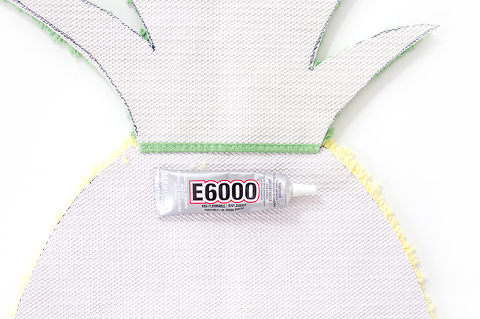 I actually came back after the two hours were up to check that all was well by flipping the combined mats over to peek at the front. Everything looked good to go, but I felt like it needed a bit more time to dry, so I left it to sit in the studio on a piece of foam core overnight. The next day, the mats were fully attached and ready to be laid as one on the bathroom floor in front of the sink.
Note that you may lose a few of the straggler strings on the edges of your rug when you wash it, but it should be fine to clean as needed in the washing machine.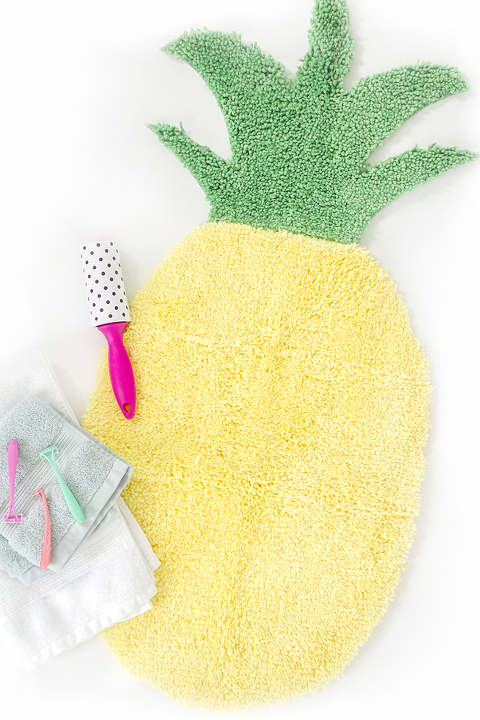 I love the idea of someone using this in their dorm room bathroom. It's eye-catching, whimsical, and could be the perfect pop of color in any bathroom or vanity space. Big thanks again to Cyd for offering her fabulous idea to us—just goes to show that creativity really can be a team sport!