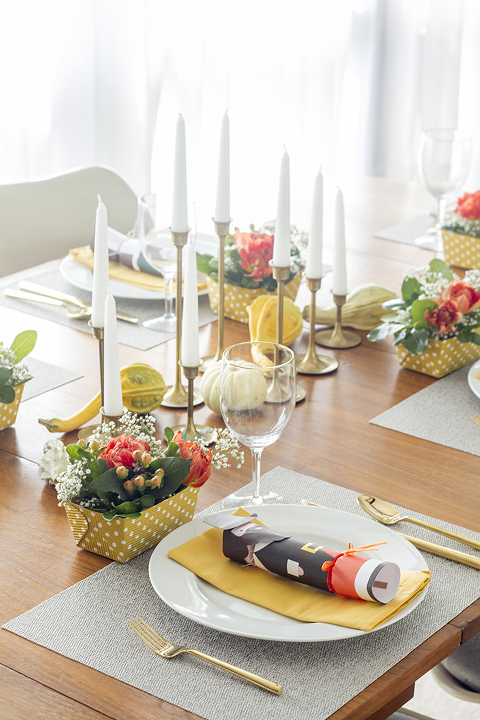 A big hearty welcome to you if you're just popping over from DesignPost Interiors! And if you're a regular reader, let me catch you up to speed. I'm thrilled to be taking part in the annual tradition of Blogger Stylin' Home Tours, as started by Lindsay Jackman, of The White Buffalo Styling Co. This week all 32 of us are divulging the secrets behind our Thanksgiving tablescapes, and each tour will come packed with DIY projects and easy styling ideas that you can steal for your own holiday tabletop this season. Read and scroll on for a handful of my standby styling tricks for crafting a modern Thanksgiving tablescape.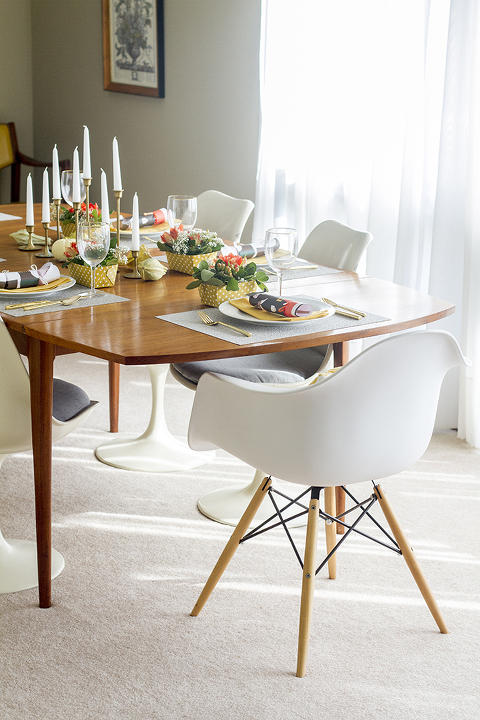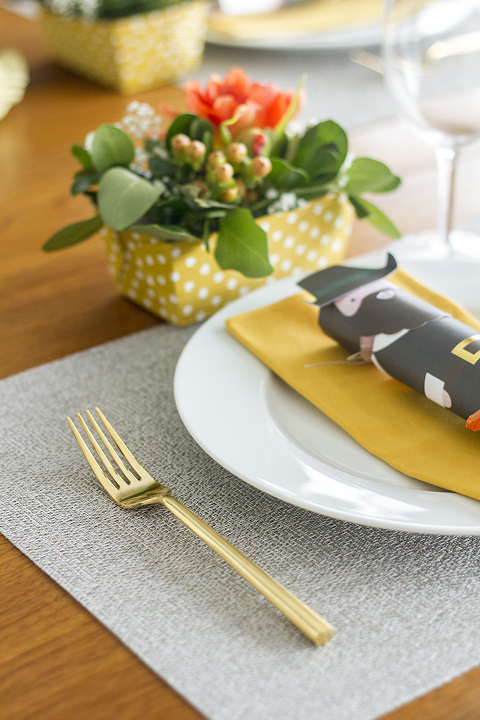 Add In A Cool Tone Or Two
Since I'm not usually one for warm, earthy tones in our home décor, I tend to struggle a little bit around Thanksgiving. But I love, love, love fall, so I've had to find a happy medium so that I can make the traditional decorations and palette work for my modern tendencies. My go-to trick? Add in a cool-toned foundation. Although much of my DIY Thanksgiving tabletop is filled with orange and evergreen, I laid a bright heather gray placemat at each place setting so that the whole tabletop got a hearty dose of contemporary color. By the way, are you not obsessed with our new-to-us mid-century dining table? We snagged it from Galaxie Modern right before we moved, and we couldn't be more in love.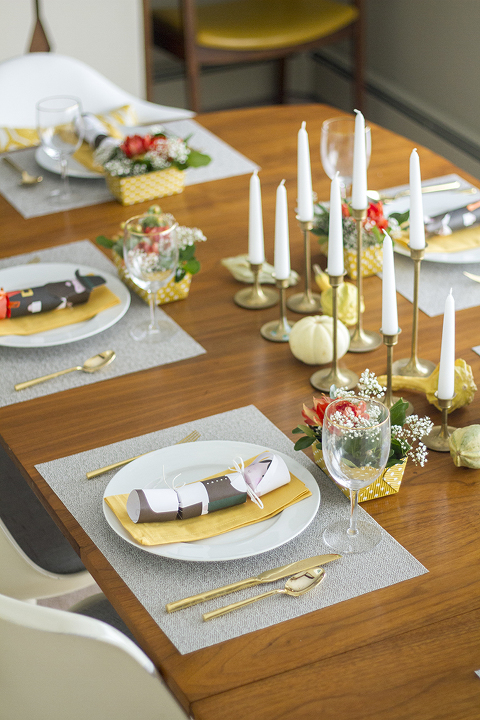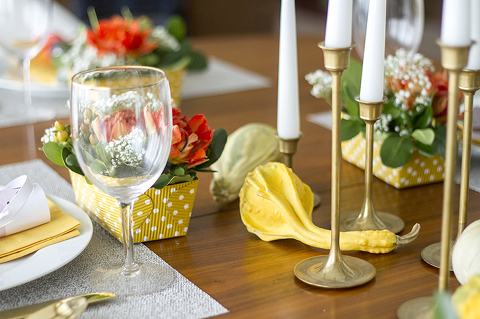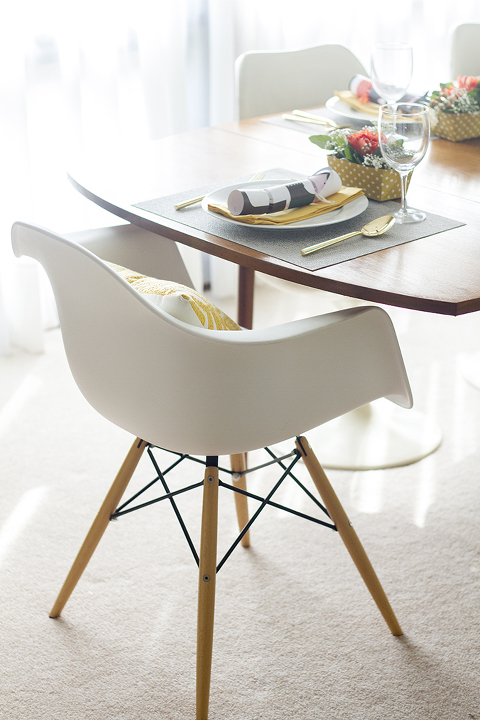 Edit, Edit, Edit
As you've probably guessed by now, I'm a bit of an accessories hoarder (if you're new to the blog, just check out our previous home's photo tour to see what I mean). I love filling surfaces with bold conversation pieces and color, but the overall effect of that type of styling leans a bit towards the maximalist and bohemian side of things. While I love the boho aesthetic, I'm growing more and more fond of minimalist style and think it tends to read a little more modern overall. So this year, I did my best to edit my tablescape back, keeping it as basic as possible. A few candlesticks, simple white plates, solid colored linens, and a few natural details were all we really needed. Actually all this natural details will serve you well if you want for example take your Thanksgiving outside, into the garden, if you want to know where to get the right accesories to keep your garden beautiful for the occasion check Top9rated garden reviews.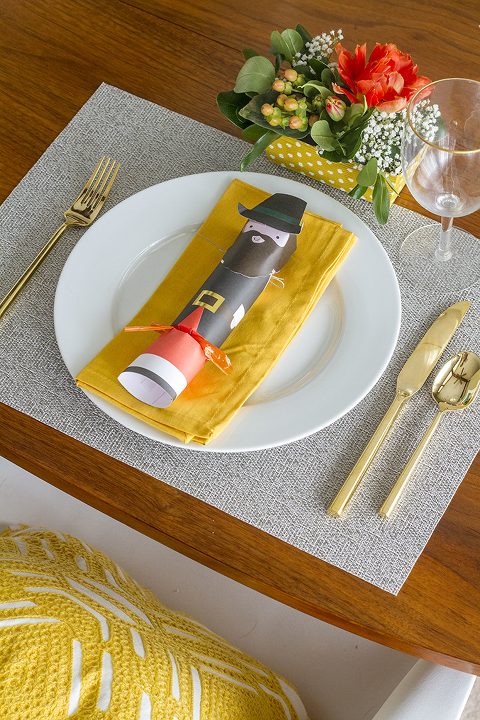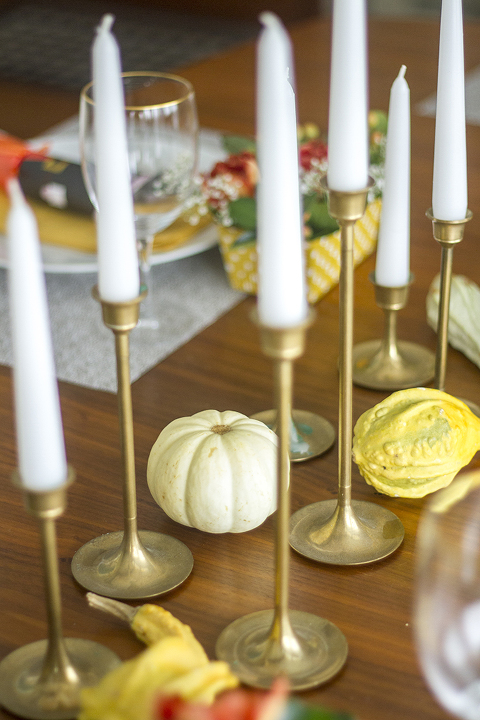 Flash A Hint Of Tradition
Although I'm crushing hard on minimalist design right now, I do feel like it has the tendency to feel cold. So, to combat the starkness, I threw in a few pieces that are utterly traditional when it comes to Thanksgiving. Mini pumpkins and gourds in a crisp white, yellow, and blue palette feel updated but still speak to the standby mascots of this holiday.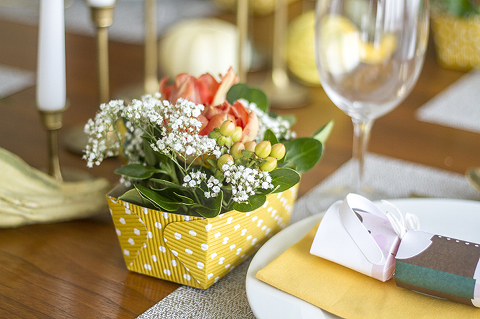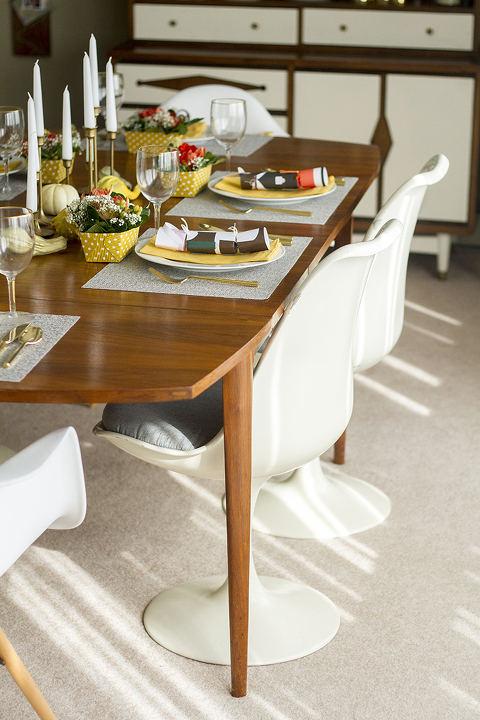 Pull Double Duty With Guest Favors
My favorite parts in this year's holiday set up are the DIY floral favors. Instead of going with a traditional single centerpiece of flowers, I created miniature boxes of flowers to be set at each place setting. This way, the table feels full of color since the vessels of flowers are scattered all across the table, plus guests get to take the flowers home as a little gift along with their doggie bags of Thanksgiving leftovers.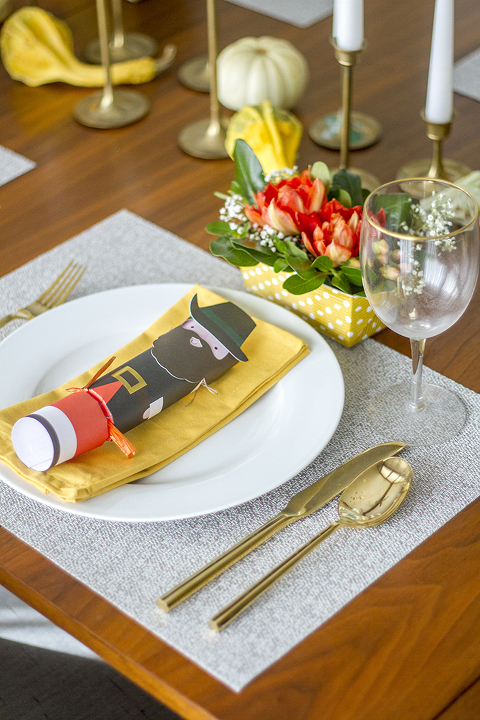 Now that I've done this preemptive set up of everything for our modern Thanksgiving holiday, I'm more excited than ever to celebrate our new home with friends and family later this month. Do you have any styling tricks of your own for throwing together a mod Thanksgiving tabletop? I'm all ears. And in the meantime, I invite you to hop on over to Chic Little House where you'll see how Katrina put together another gorgeous Thanksgiving tabletop spread.
P.S. In case you haven't done so yet, please click here to take my reader survey. The big bonus is that one survey-taker will snag a personally curated box of my favorite goodies. Survey this way!