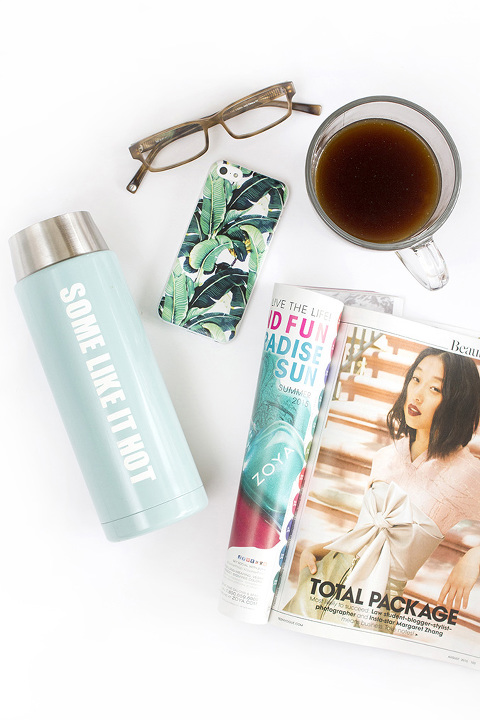 This project has actually been on my mind since back in the summer when I visited Charlotte, North Carolina for the Bloom Workshop. Charlotte just so happens to be the closest city to us with an IKEA (although it's still three plus hours away), so I always plan to stock up on a few extra goodies whenever I go.
In particular, I grabbed this steel thermos for a cool $10 while shopping, all with the intent of adding a fun saying to the metal side. But then big things happened (like listing our home, selling our home, buying a new home, and then moving), and it was pushed to the project/priority back burner. But yesterday I finally made my dreams of a simple "Some Like It Hot" DIY thermos come true, and it took much less time than expected! Details and the how-to below.

Sticky vinyl (the color of the vinyl doesn't matter)
Scissors
Painter's tape
Spray paint in your color of choice
Scrap cardboard
First, download my "Some Like It Hot" design from the Cricut Design Space by clicking here. You, of course, can use any kind of cutting machine if you don't have a Cricut, or you could use stencils—point being, don't feel limited if you don't have a Cricut! If you do have a Cricut though, download the design and then load your Cutting Mat with a sheet of vinyl, and slip it into the machine. Cut the design into the vinyl, and then use the Weeder Tool to carefully peel the vinyl (backing paper and all) off of the cutting mat.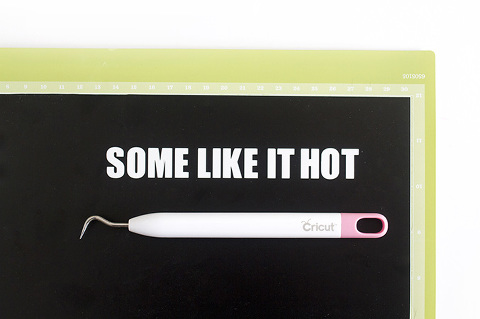 Once you have the vinyl removed from the cutting mat, use scissors to cut around the design, leaving about a 1-inch border on all sides. It doesn't need to be perfect as you'll be supplementing with painter's tape in the next step.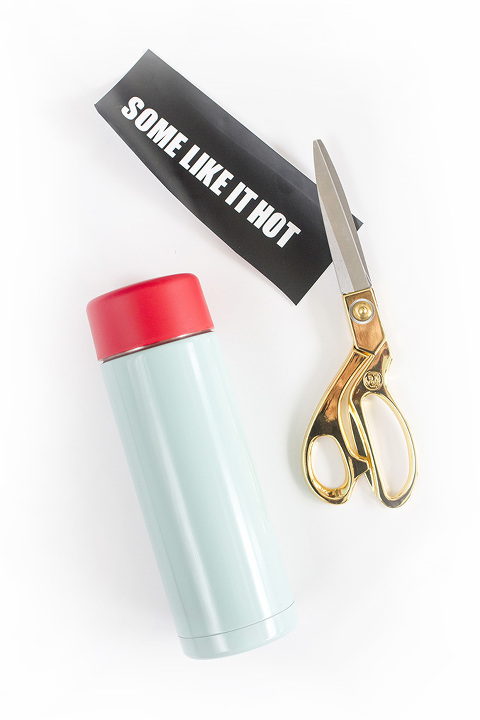 Clean and dry the thermos so that it doesn't have any residue or dust on the surface. Peel the backing paper off of the trimmed stencil, and gently lay it on the thermos. The slower you do this, the more likely you are to reduce the appearance of bubbles in the vinyl. Bubbles don't matter too much towards the outside of the stencil, but you'll want to avoid them near the letters since they could allow paint to seep under the edges of the stencil.
Oh, and don't forget to bring over the little inside sections of the "O"s!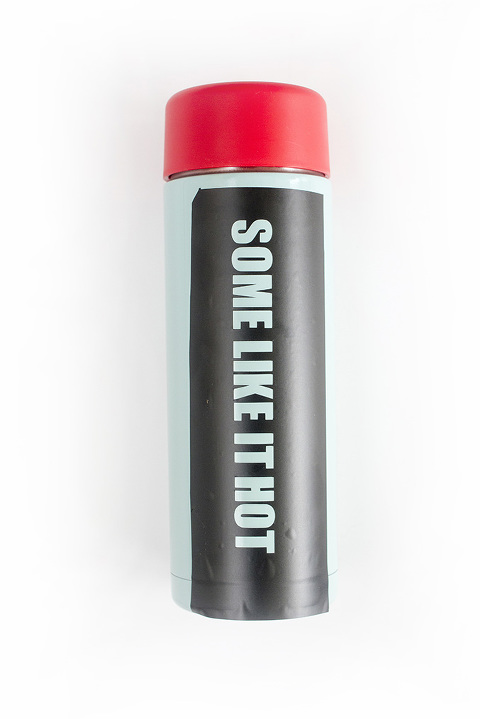 Finally, mask off the rest of the thermos with painter's tape so that you don't get spray paint overspray. I did decide to paint the top of my thermos, too, but made extra sure to mask off the area that went inside the thermos. I also only spray painted it opening-side-down so that paint didn't really have a chance of even making it to the masked off area. If you aren't comfortable with the idea of spray paint near the mouth of your thermos though, feel free to skip this step or use a food-save shellac spray over top of your color.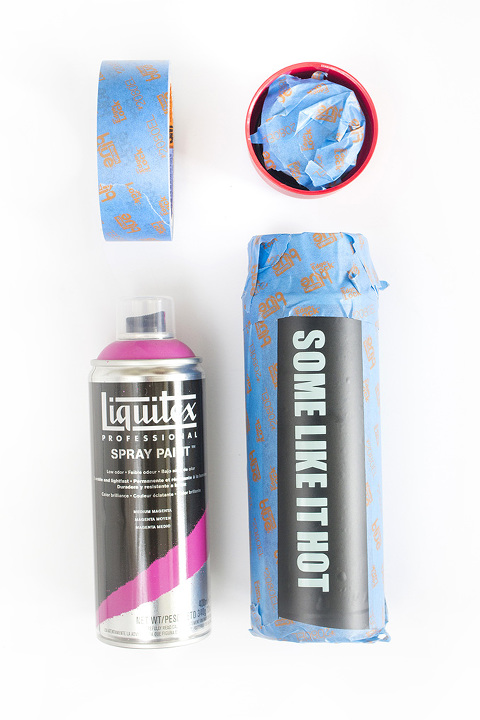 Once everything is completely masked off, take your thermos and thermos top outside and set them on a sheet of scrap cardboard. Then, with your can of spray paint held about two feet away, spray color onto the top of the thermos top and on the side of the thermos over the stencil. Make sure to spray in short bursts and in a side-to-side motion.
Trust me when I say that you'll want a really thin application here. I actually had to start all over again after spraying too much paint on my first stencil, and I ended up with a gloopy mess. Rookie mistake! As you'll notice below, I ended up having to switch to white paint as opposed to the pink spray paint pictured above. The nozzle quit working on me right as I started painting, so I grabbed my white paint instead. Honestly though, I sort of prefer the simpler color palette. A happy mistake.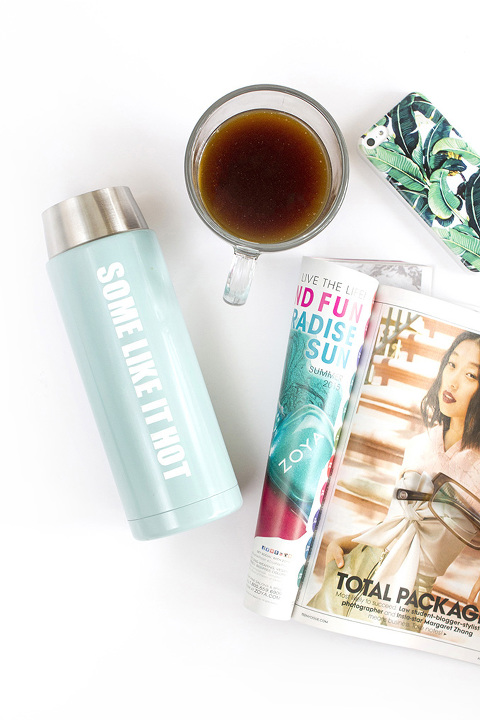 Before the paint has time to dry, peel off the stencil and painter's tape (do this slowly!), and discard. Allow the paint to cure for 24-48 hours and then enjoy!

P.S. There's still time to enter the reader survey giveaway! I'm asking all of you wonderful, fabulous readers to participate in the 5-minute survey by clicking here. One survey taker gets a prize pack filled with all of my favorite goodies—on my dime! One friendly reminder though…I'm a real person and have feelings, too, so I really appreciate your KIND constructive feedback if you have it to give!