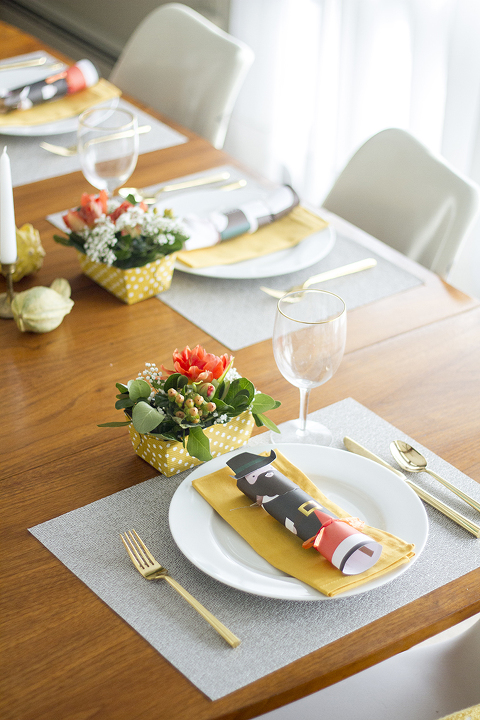 This post is part of the 10-minute projects series started by Laura Putnam, of Finding Home Farms, in which six bloggers tackle a different themed 10-minute project each month. Click the links at the end of the post to visit the other bloggers who are part of the series to see how they spent their 10 minutes. This month, we're tackling 10-minute fall decorating ideas.
Guess what?! Thanksgiving is just four short weeks away! As a big, big fan of all things "fall," this realization is pretty thrilling for me. So thrilling, in fact, that I've already done a test run of our set-up for the holiday. I plan to share the full shebang (filled with easy tips and tricks) next week, but for now, I wanted to offer you one simple fall decorating idea that can be recreated all throughout the season: 10-minute DIY mini fall floral arrangements. Let's get into the details below.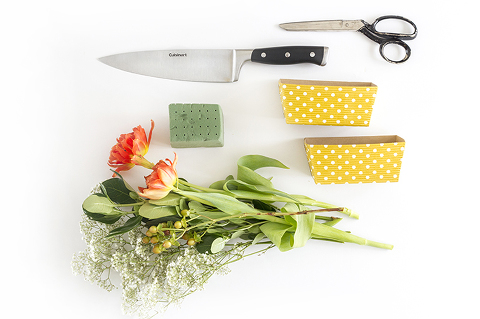 Grocery store blooms (including greenery, filler flowers like Baby's Breath, bright blooms like these orange tulips, and one other accent, such as berries)
Block of Oasis floral foam
Sharp knife
Small favor boxes or cups
Plastic snack baggies (if using paper containers)
Scissors
This project costs very little if you source your flowers from the grocery store or local farmer's market, so you don't have to worry about breaking the bank with this one. Just grab an assortment from your grocery store—to include everything listed in the supplies list above—and head home with your bountiful blooms. Once there, lay everything out on a flat work surface, and begin by cutting your Oasis into small rectangles or circles with a butcher knife. You'll want to customize the size of your Oasis blocks to fit the insides of your mini favor cups or boxes.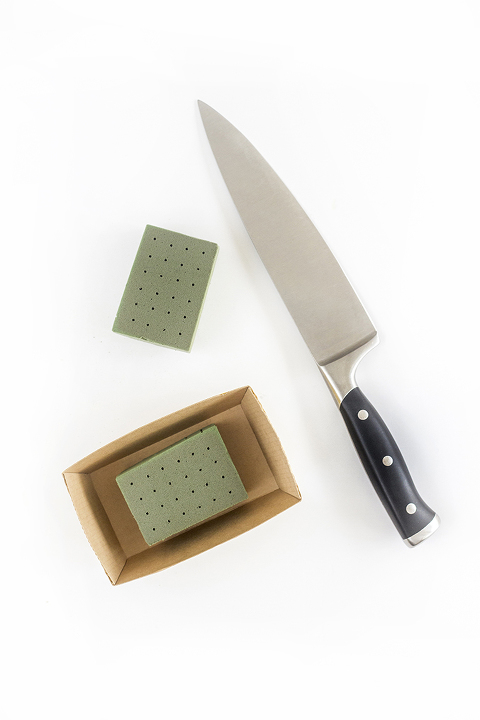 After your Oasis blocks are cut, go ahead and place them inside your mini favor boxes or cups. If you're using paper boxes like I did, slip your Oasis blocks into a plastic snack-sized baggie so that the water for the flowers doesn't soak into the favor container. Then, lay out your flowers and begin trimming them to size for your boxes.
You'll want to cut most of the stems off the flowers and greenery so that they lie flush with the lip of your boxes or cups. You almost can't cut them too short, but you can cut them too long. So, keep trimming down until the blooms come out of the Oasis block right at the edge of the box or cup—this will also ensure that the Oasis is hidden from view.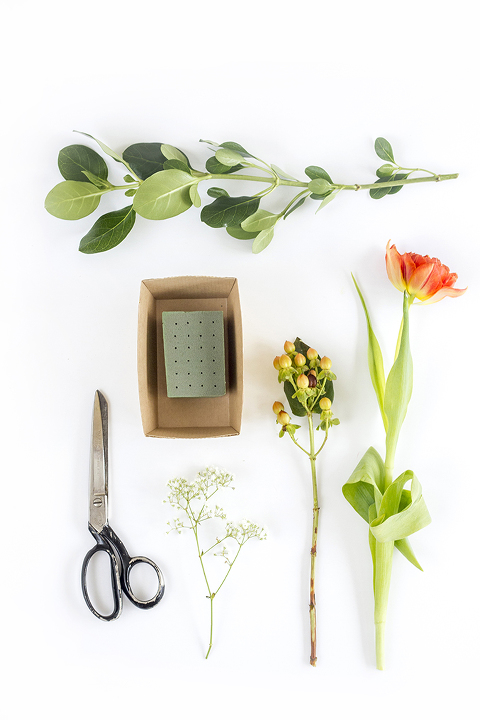 Start with the greenery, layering it all along the outside edge of the Oasis block, and then add the filler flowers on top of that. I used Baby's Breath, and added it in spurts around (and sometimes in between) the greenery to give it a natural, organic look. Make sure to press everything deep into the Oasis as that is how the stems will get their water.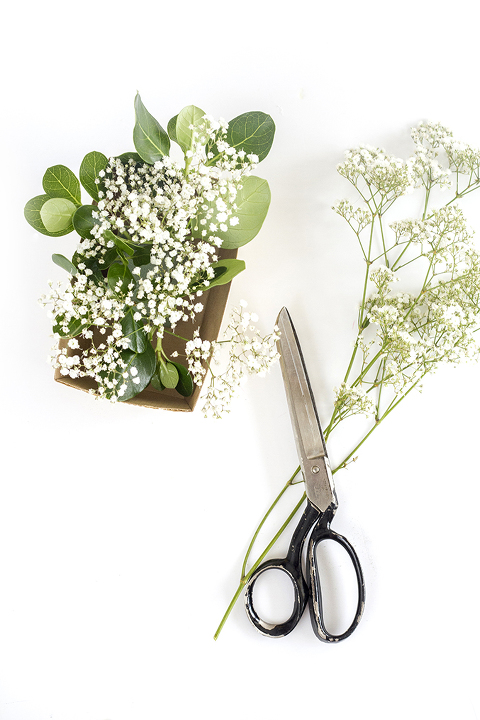 Once the base layers of greenery and Baby's Breath are in place, go ahead and add in your statement blooms—in my case, Tulips—and the accent flowers, too. I used a selection of tiny orange-colored berries as my accent flower, but you can use anything from herbs to smaller blooming flowers. Since these accent and statement flowers are a little more expensive, use them sparingly. I added just one sprig of berries to each arrangement and two Tulips, but those were really all these mini floral favors needed.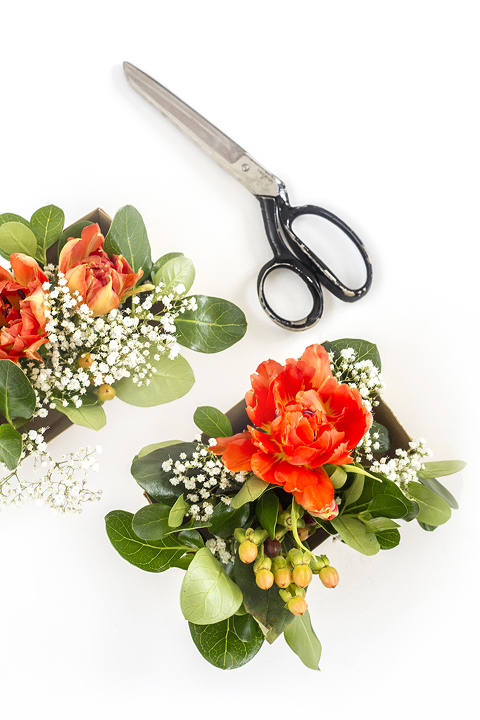 To finish, add a bit of water to the bottoms of your boxes or cups (make sure to add it to the inside of the plastic snack baggie if you're using paper containers!), and then plop the arrangements at each of your guests' place-settings. My flowers cost me about $30 total and the rest of my tabletop décor was free because I already had it on-hand. A fully decked out Thanksgiving table for just $30? Yes, please! Check back next week for the entire tablescape tour.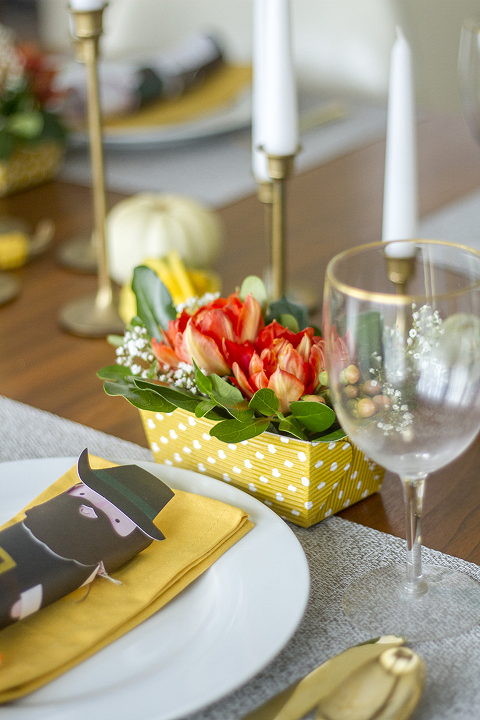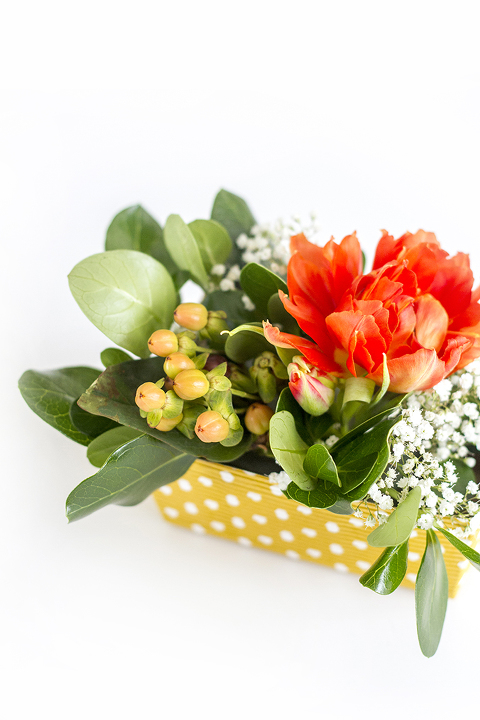 CLICK THE LINKS BELOW TO SEE WHAT
EVERYONE ELSE CAME UP WITH THIS MONTH!