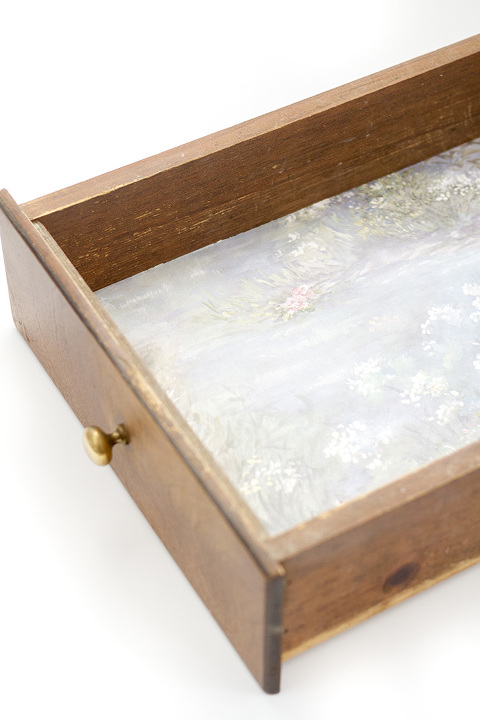 When we first moved into our new old house, the very first thing to go (like, before vacuuming up old dust from the baseboards) was the wallpaper. Now, I'm a big fan of wallpaper—and we actually left up a good bit of the existing textured stuff—but the dated pattern in the kitchen needed to go right away. Another place we de-wallpapered? The main bathroom on the first floor.
This top-to-bottom purple bathroom sported a pretty intricate floral wallpaper that had seen better (i.e. more in-style) days. So my mom came to visit one weekend and we spent a couple of hours ripping off every last scrap of the paper. Then, I repainted the walls a bright new shade of white. Although the room has quite a bit more to go before I'm willing to call it done, this photo below shows where we stand today.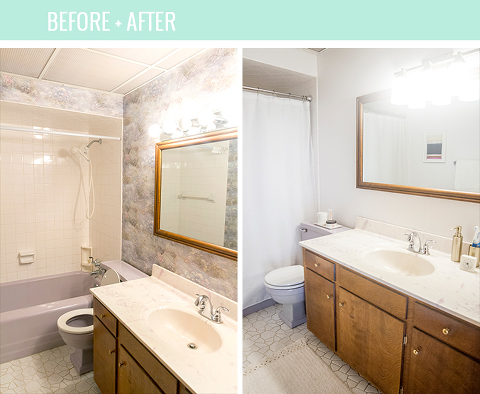 To get the scoop on how to remove wallpaper, you can click through to eHow here where I ended up sharing the step-by-step process in full last month. But today, I wanted to share how I managed to commemorate that purple-lisious wallpaper for old time's sake. Read on to learn how to turn wallpaper scraps into drawer liners for yourself!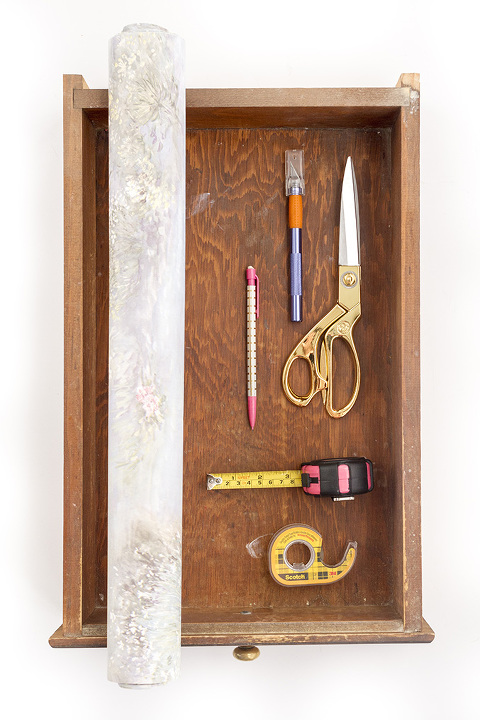 Leftover roll or scraps of wallpaper
Ruler or tape measure
Pencil
Straightedge
Steel square
Scissors
Double-sided tape (I used permanent double-sided tape, but I think the tape and wallpaper would both come off without much struggle later on down the road—the tape really isn't all that strong despite being labeled "permanent")
Razor blade
As for the wallpaper scraps, the previous homeowners of our new house were sweet enough to leave behind two extra rolls of the purple floral wallpaper. We found them on move-in day safely tucked back in the corner under the sink in the bathroom. Although we probably didn't use the wallpaper like she had intended, I'm glad that we found the perfect place for it inside the existing vanity drawers.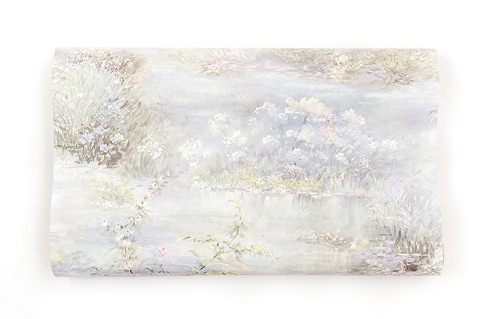 To make your own wallpaper drawer liners, first measure the inside of your drawer. Then, unroll the wallpaper on a flat surface with the back side facing up. Use a ruler or roll of measuring tape and a pencil to lay out your dimensions directly on the back of the wallpaper. A straightedge and steel square will help you get the lines and right angles just perfect.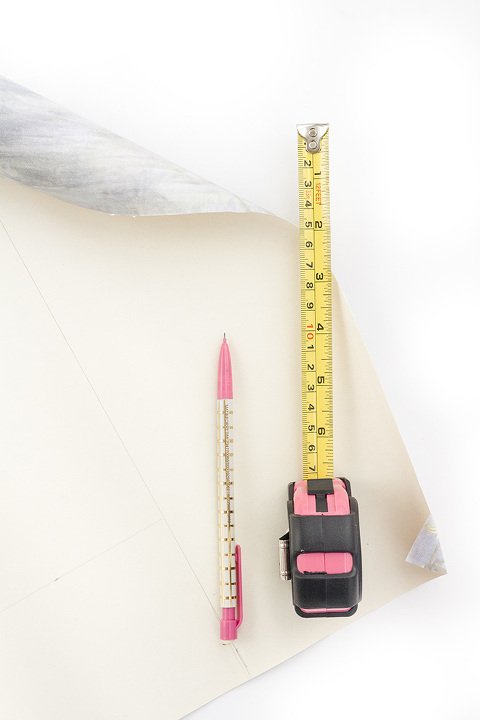 Use a pair of scissors to carefully cut the marked rectangle out of the wallpaper, and discard or roll up the scraps for future use. Next, tear off 6-inch lengths of double-sided tape and lay them on the interior surface of the drawer. I laid my pieces of tape first along all four outside edges, then across the middle of the drawer. Press your own pieces of tape down to make sure each one is secure, and then gently lay your cut wallpaper scrap on top.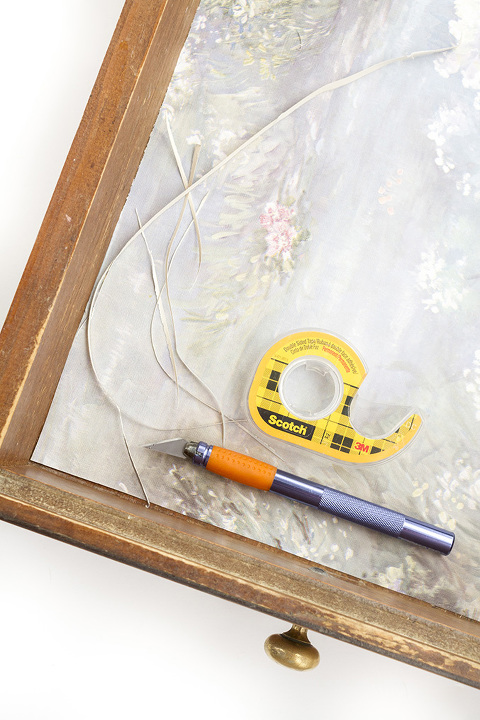 Finish by pressing the wallpaper down firmly in place on top of the double-sided tape, and then use a razor blade to trim up any uneven edges. If you want your wallpaper liner to be really permanent, feel free to skip the double-sided tape and use wallpaper glue instead. Pre-glued wallpaper would also work, as would the self-adhesive kind that comes with a peel-off paper backing.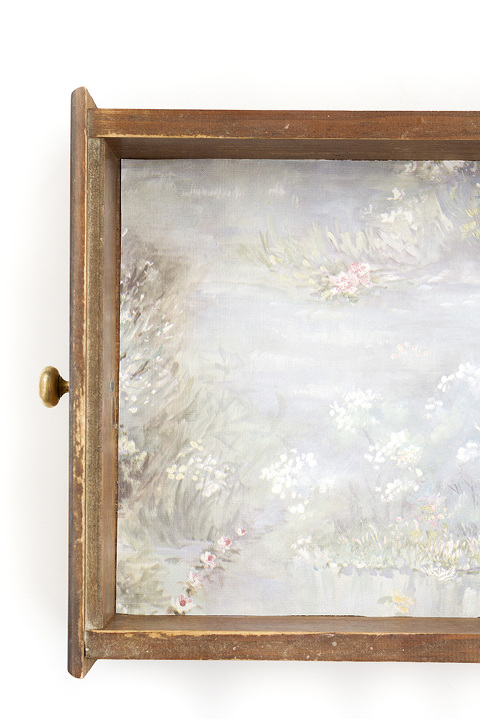 This bathroom vanity cabinet was likely installed when the house was built back in 1962, so it and its drawers were a bit worse for wear before this project. Frankly, the wood still is a little worse for wear, but now the inner pop of pattern and color helps to dress them up a bit, and takes us back to the days of fully wallpapered walls. It brings a smile to my face every time I open those drawers and remember where we started—not to mention, just how far we've come!