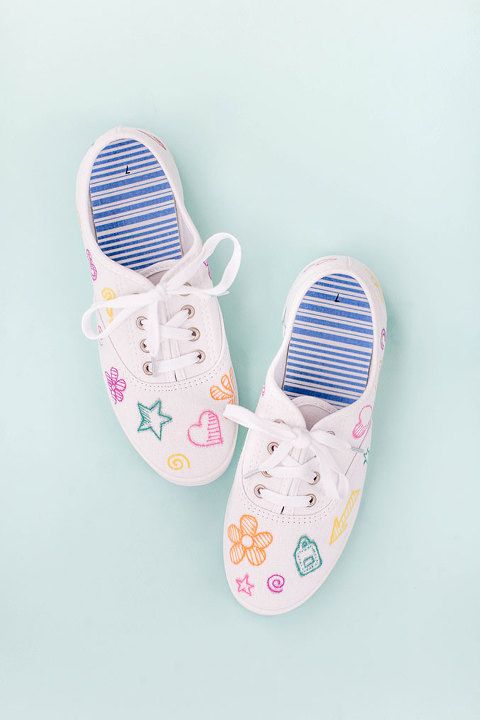 Okay. So, yes, the back-to-school season is already well under way, but here's my thought: why should you stop putting in the extra effort a few weeks in when you could be making fresh waves all semester long?!
In case you're aching to hit a new all-time high with your strut through school, I'm sharing my quick and easy tutorial for DIY Back-To-School Doodle Sneakers. These puppies will definitely catch more than a few of your classmates' eyes this semester, plus you can customize them however you want!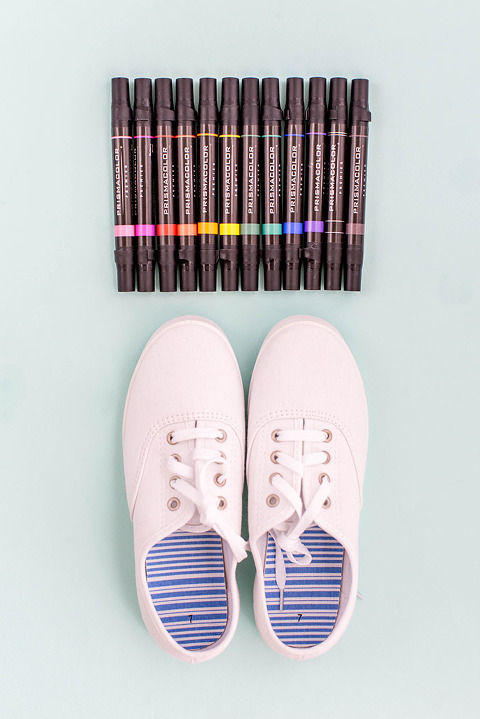 White sneakers (I got mine from Walmart for less than $6)
My first time using Prismacolor markers was actually in high school, and I remember thinking—even back then—just how incredibly good they are. You know how, when you're coloring something in with regular markers and overlap a section and the ink is sort of darker in those overlapped strokes? Not with Prismacolor. You can overlap with the same color all you want, and the ink looks nice and even. They're a little pricey, but definitely worth the money. Oh, and by the way, this post isn't sponsored by Prismacolor, I'm just a big, big fan, and am willing to pay top dollar to get that seamless finish!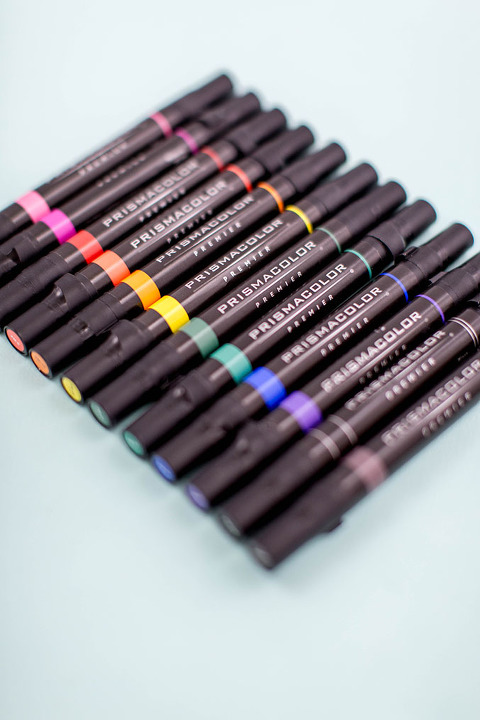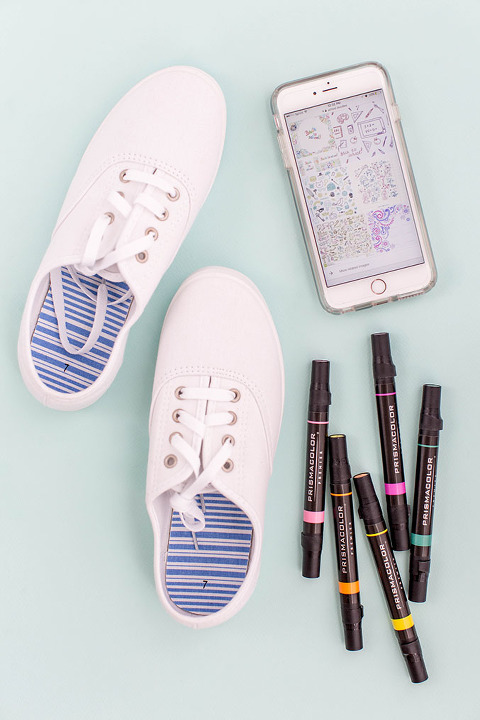 To make your DIY Doodle Shoes using your set of Prismacolor markers (Sharpie markers would work, too), start by pulling up some inspiration on your computer or phone. Then choose a collection of designs to recreate—think: stars, hearts, a backpack, swirls, flowers, etc.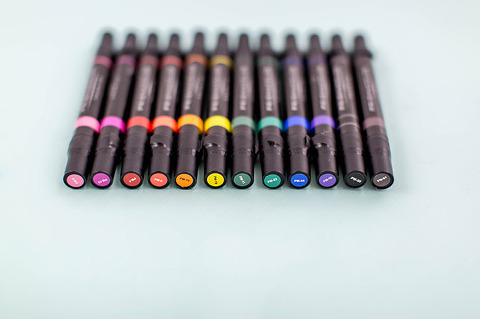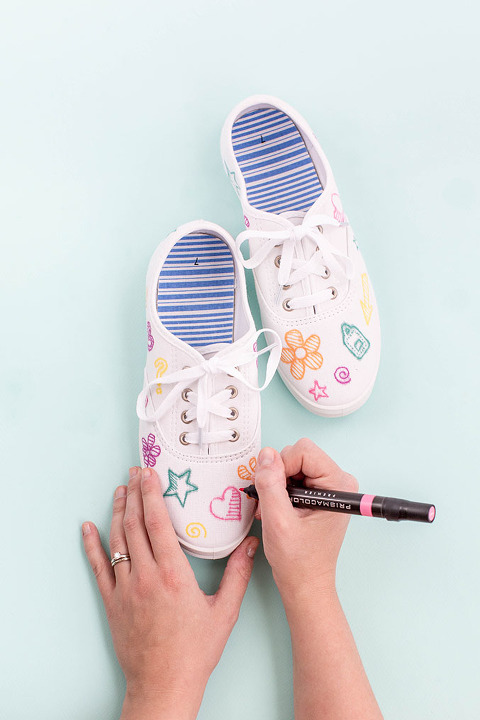 Grab your first chosen color and draw a few shapes and illustrations right on the canvas surface of your sneaker. Pepper your shapes across the the two shoes, leaving about 2-3 inches between the shapes so you can later go back and fill in. I did something like three shapes per color, but your design will depend on how many colors you choose to use. When finished with your first colored marker, repeat the steps with more colors, leaving white space between each object so that it doesn't look too messy or busy.
To avoid tons of ink bleed (although it's sort of impossible when you combine ink and fabric, so learn to embrace the imperfect look!) don't press down too hard with your marker. A light touch is best, and be sure to use the fine tip end of the marker so that your details show up.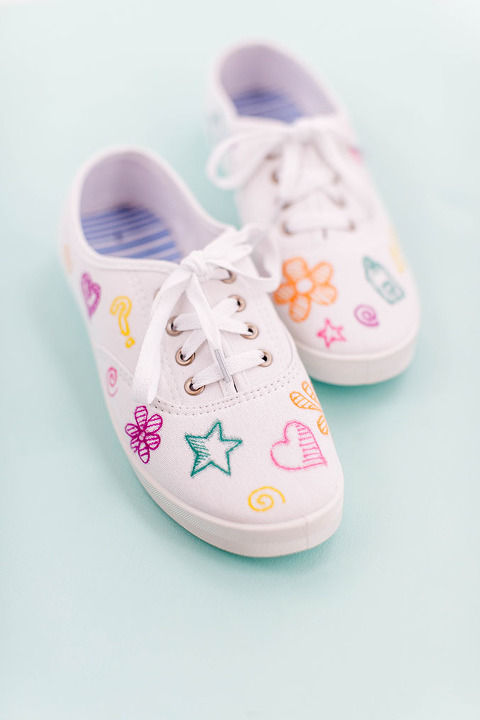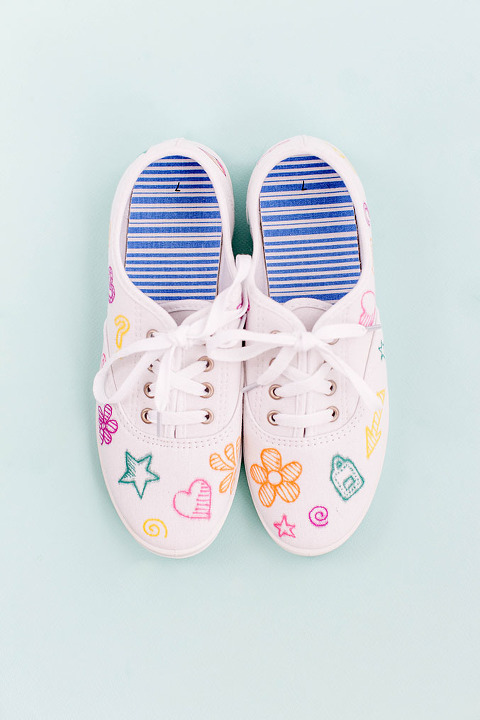 Finish by removing the shoe strings and spraying the shoes with a few thin and even layers of a clear spray sealer. Allow to dry for 24 hours, and then slip them on and give them something extra fun to talk about in class come Monday morning. What would you doodle on your DIY shoes? Tell me in the comments below!