Well as mentioned in yesterday's post, we are on our way out of town! Gotta love family vacations 🙂 I'm sure I'll have much to share with you about it next week, so stay tuned!
But on to today's DreamGreen business!
In light of my now-progressing move into the townhouse, I thought it would be nice to pay homage to my current place of residence! I've lived in my apartment for the last year and a half and will miss it – Though I'm happy and ready to make the move to live with John, of course!
This apartment is the second I have lived in by myself and have had full reign and control over it's decor. It's been fun playing with hand-me-down pieces from my parents and adding new ones of my own that I've picked up at thrift stores along the way. My mom has said to me in the past that my apartment looks like me and I think she's right – It's feminine and eclectic and is filled with personal touches that are special to me.
So without further adieu…Here's the layout to orient you: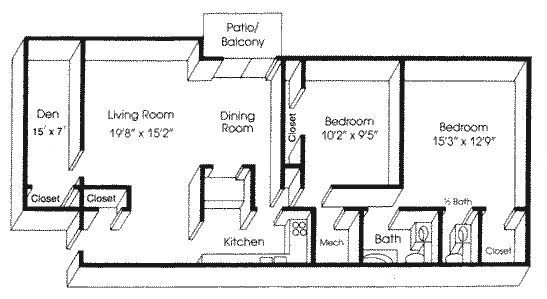 The apartment is a little over 1,000 square feet and has been perfect for my needs. My bedroom is on the far right with its own half bath. Next to the master is where my studio was (now it's all settled in at John's!) and the den on the far left is where my sister, Kat, is staying – She graduated a year early from college and has been crashing with me. It's been a really fun year having her around on a daily basis…She is hands-down my bestest best friend and I love that we can always say that we lived together as adults and had a blast doing it!
We'll start our tour in my bedroom.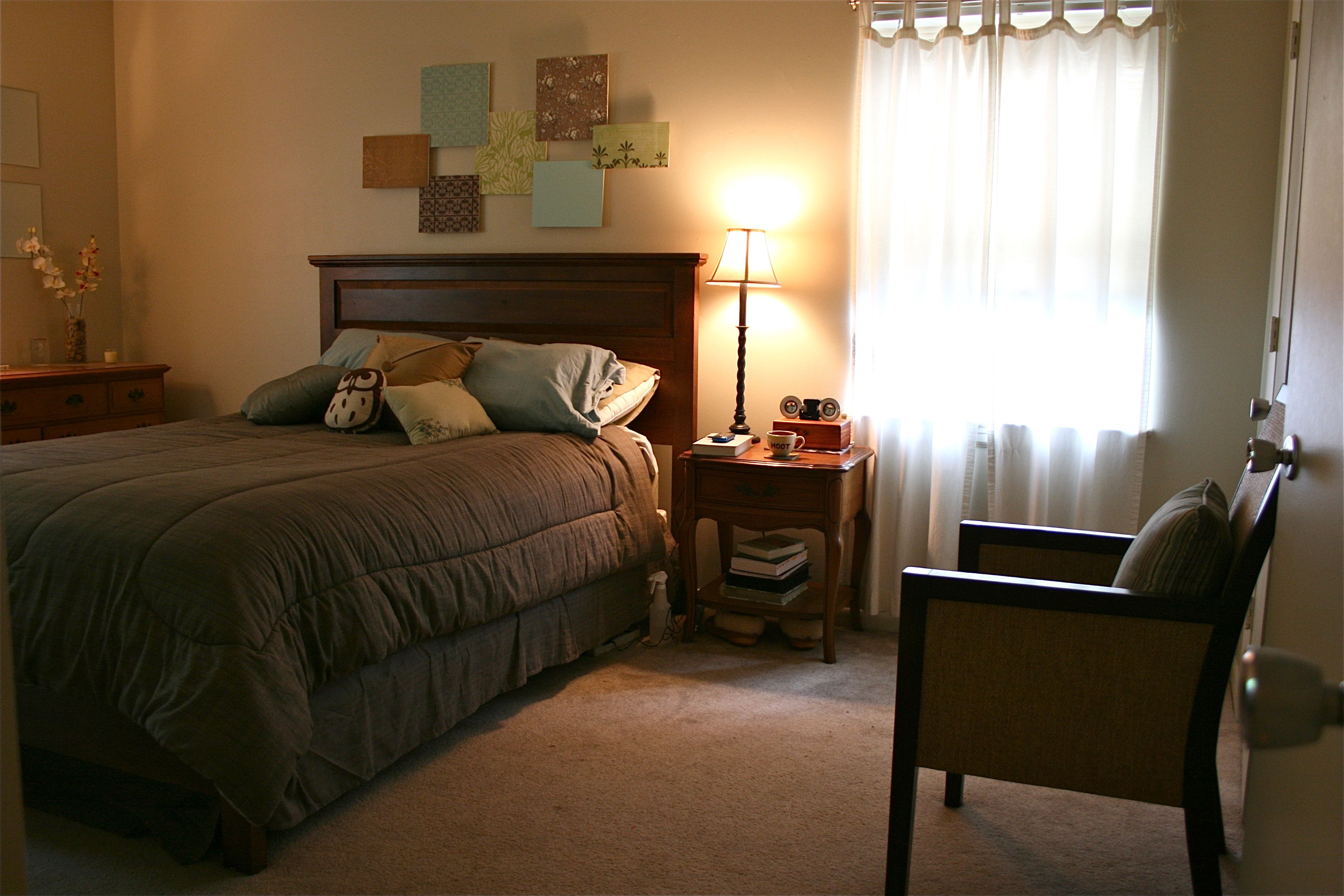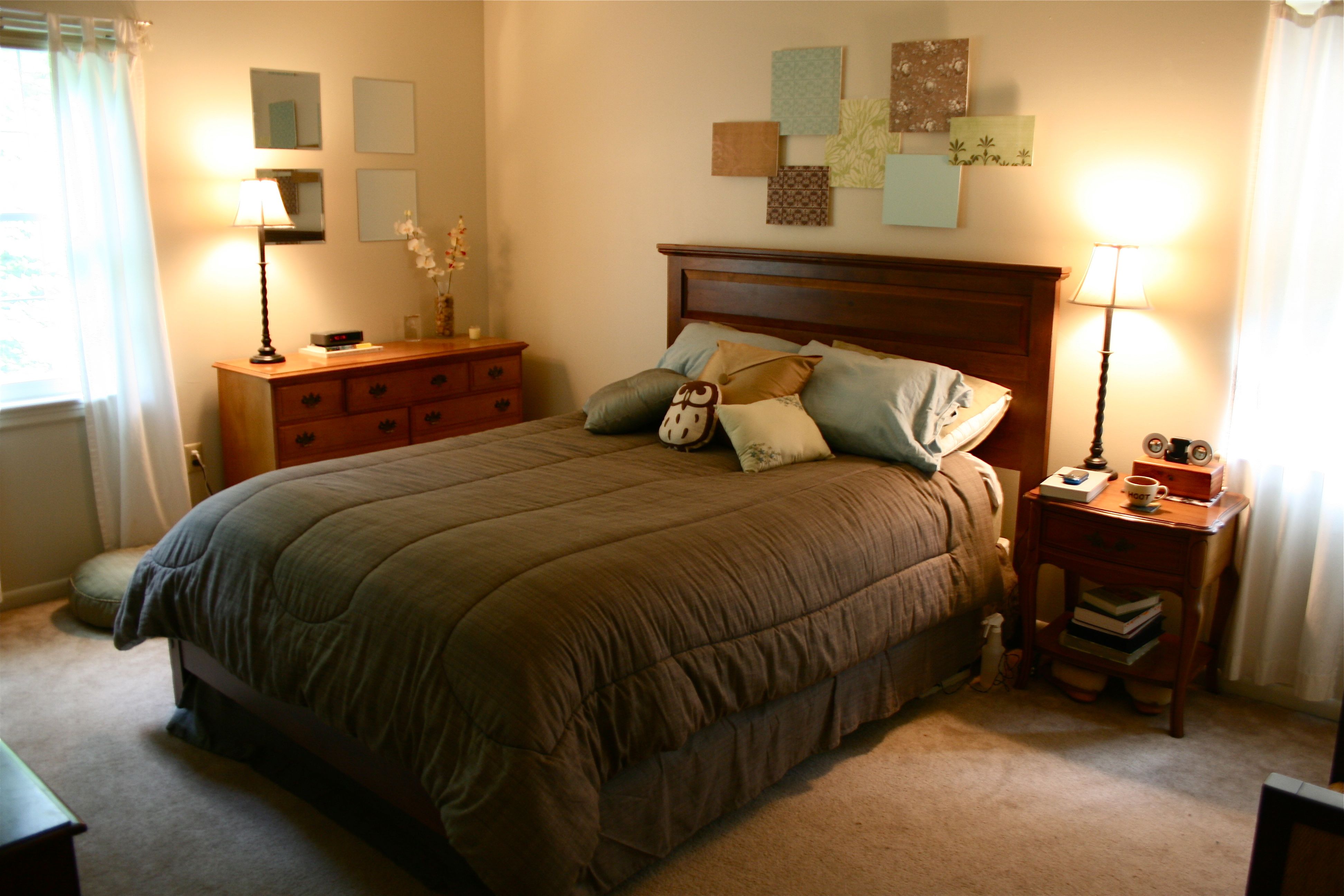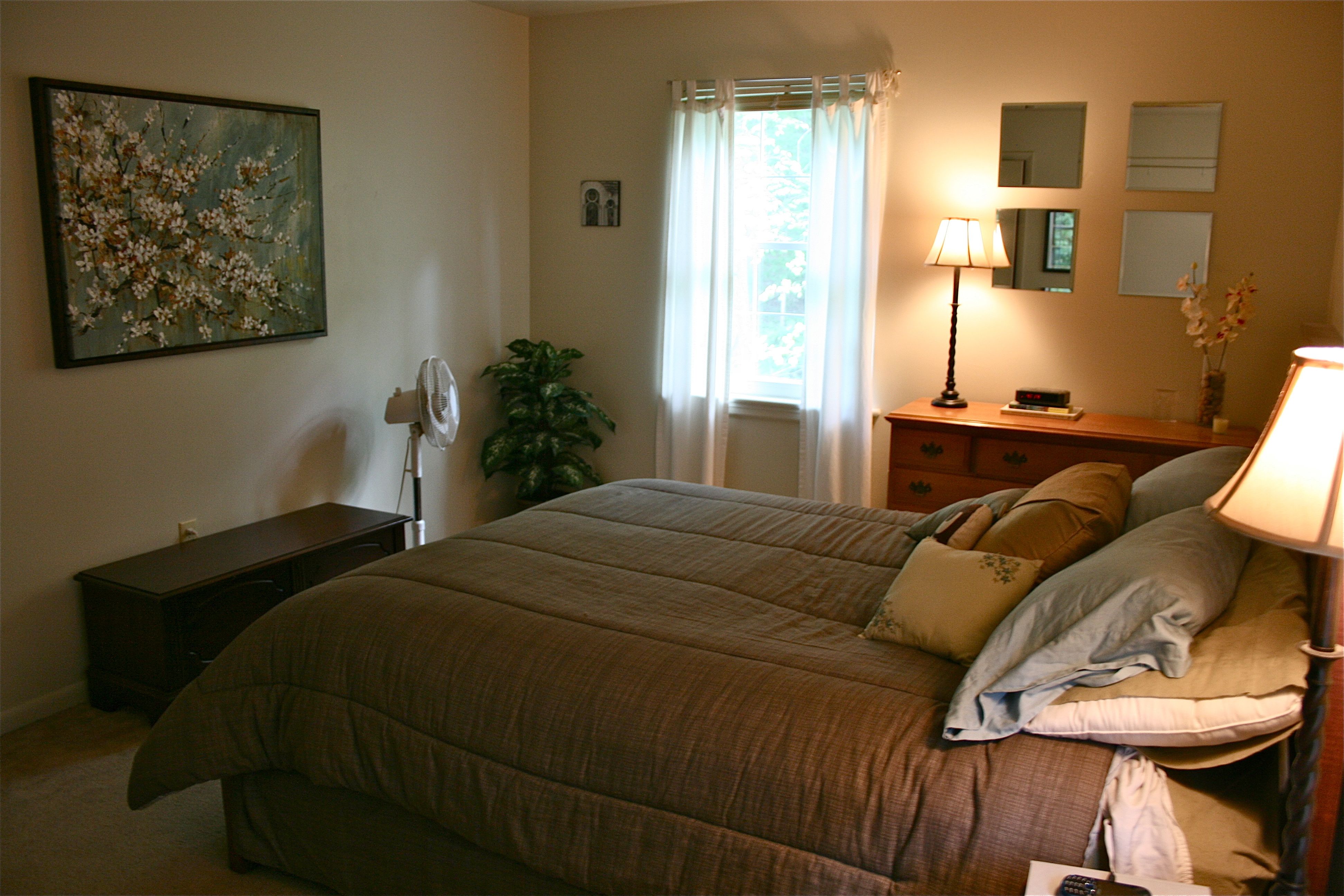 The bed is a hand-crafted piece I bought from the furniture store where my mom works. It's a very up-scale, high-cost store so I'm not able to get many pieces from there – But I knew I wanted to buy a bed that would last FOREVER and this one will. It won't fit at the new house though, so my mom is graciously going to take it for a couple of years until we get a bigger place 🙂
The nightstand and dresser are both thrifted and cost less than $150 for both. The art over the bed was a DIY project I did a while back – It's just foam core and patterned scrapbooking paper cut to size with hot glue and 3M tape to connect everything together. I think I'll end up using it to decorate the studio in the new place.
Oh and the window beside the nightstand is my cat's favorite spot in the apartment – Say to "hi", Luna!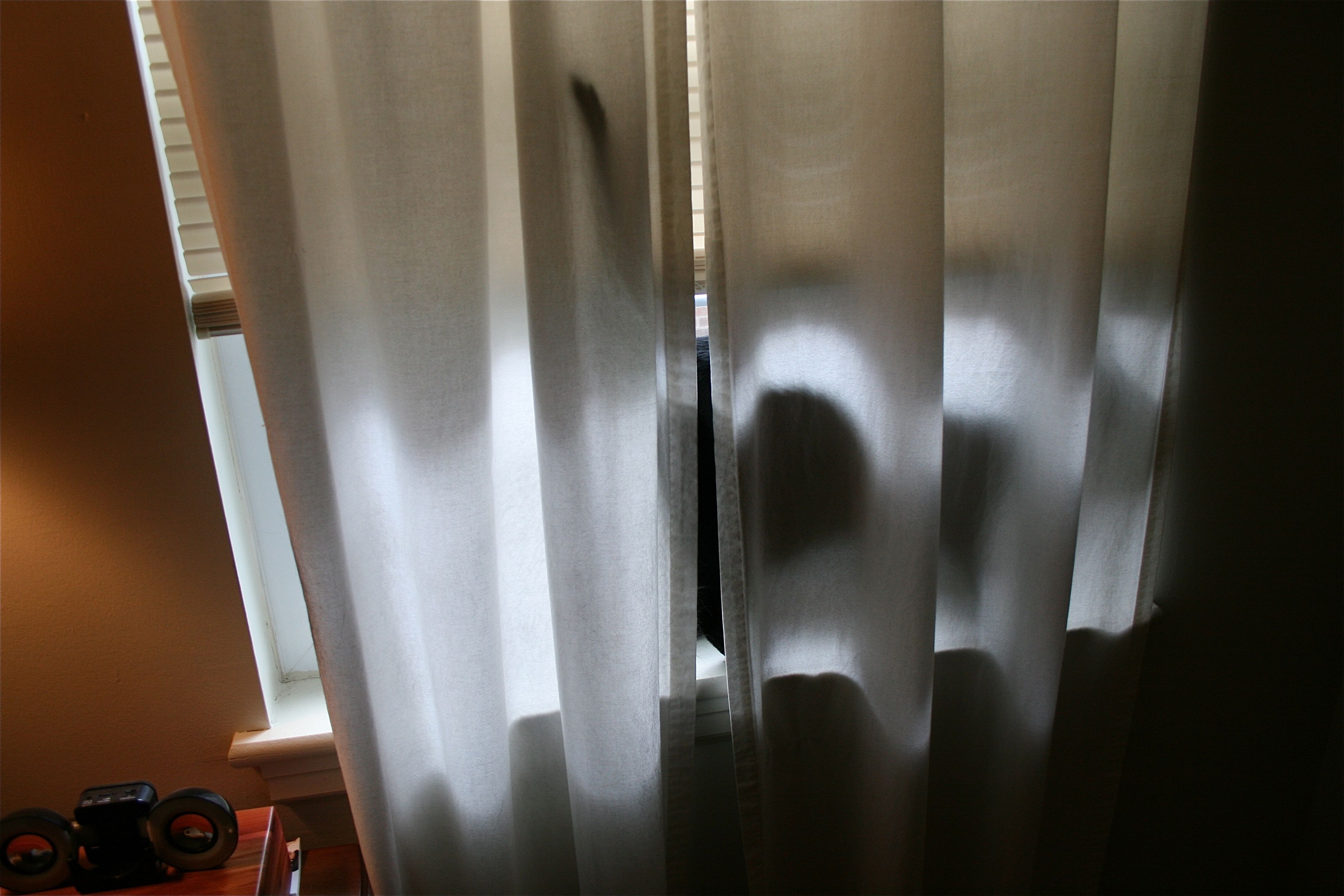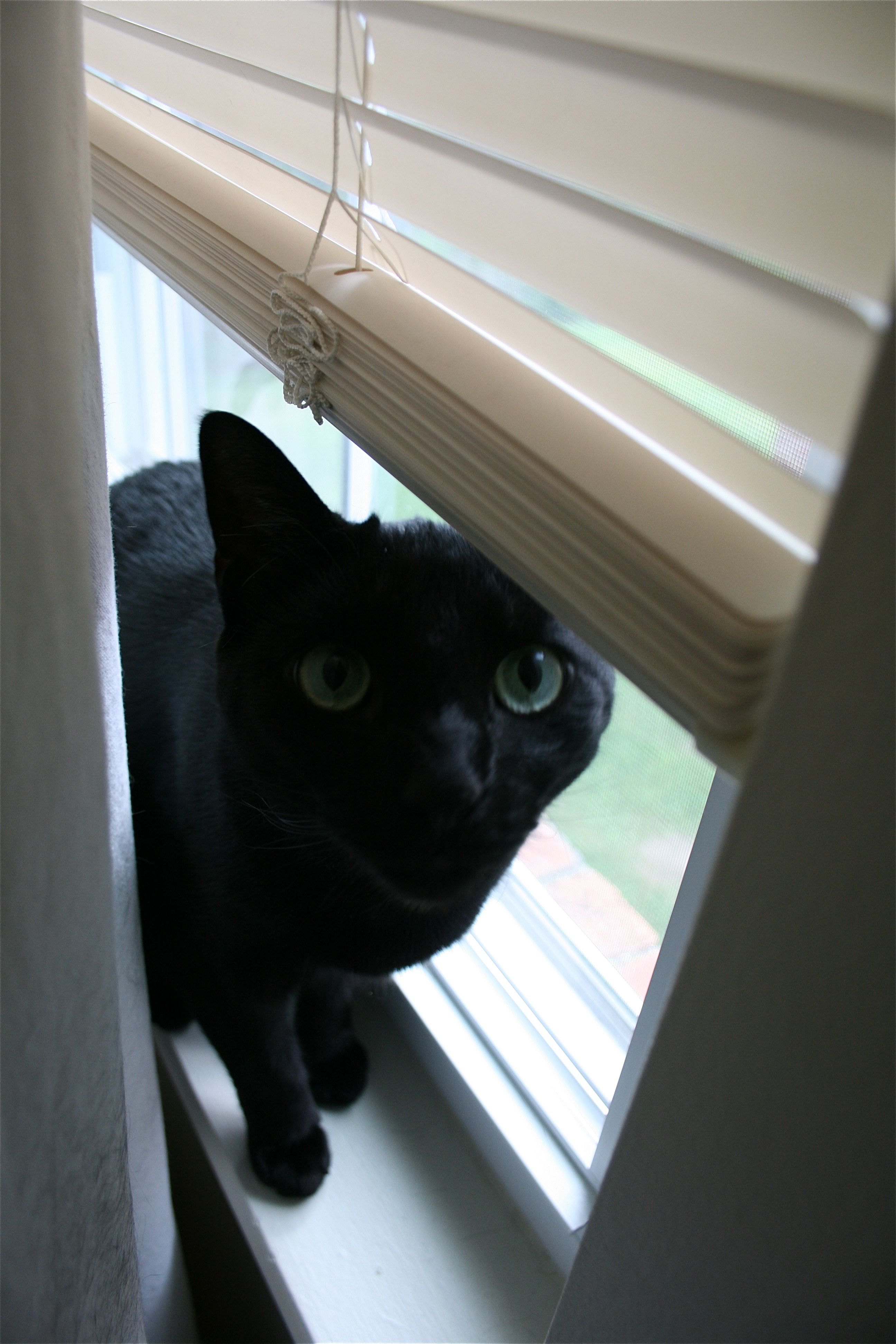 Here's the closet and half bath in case you care!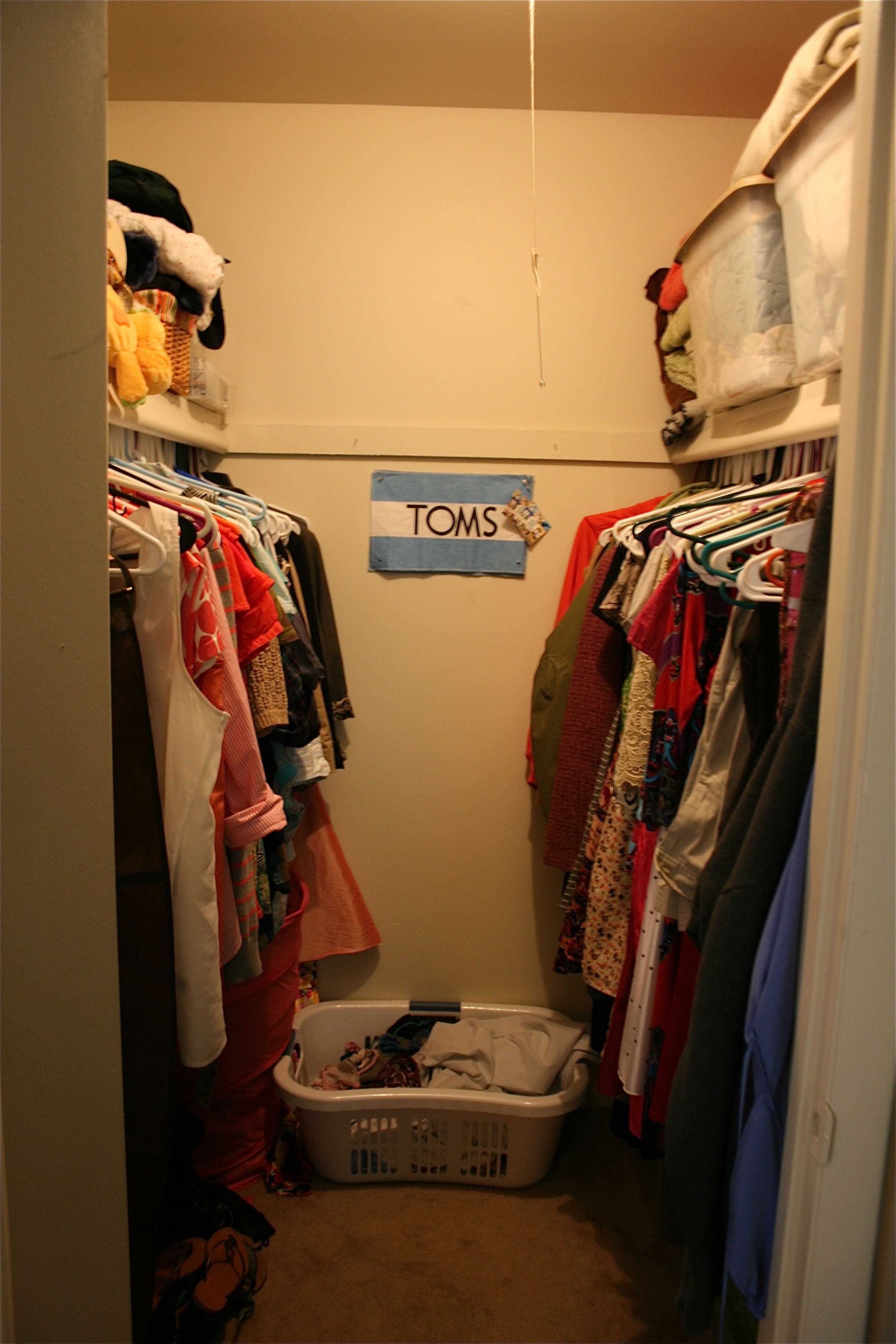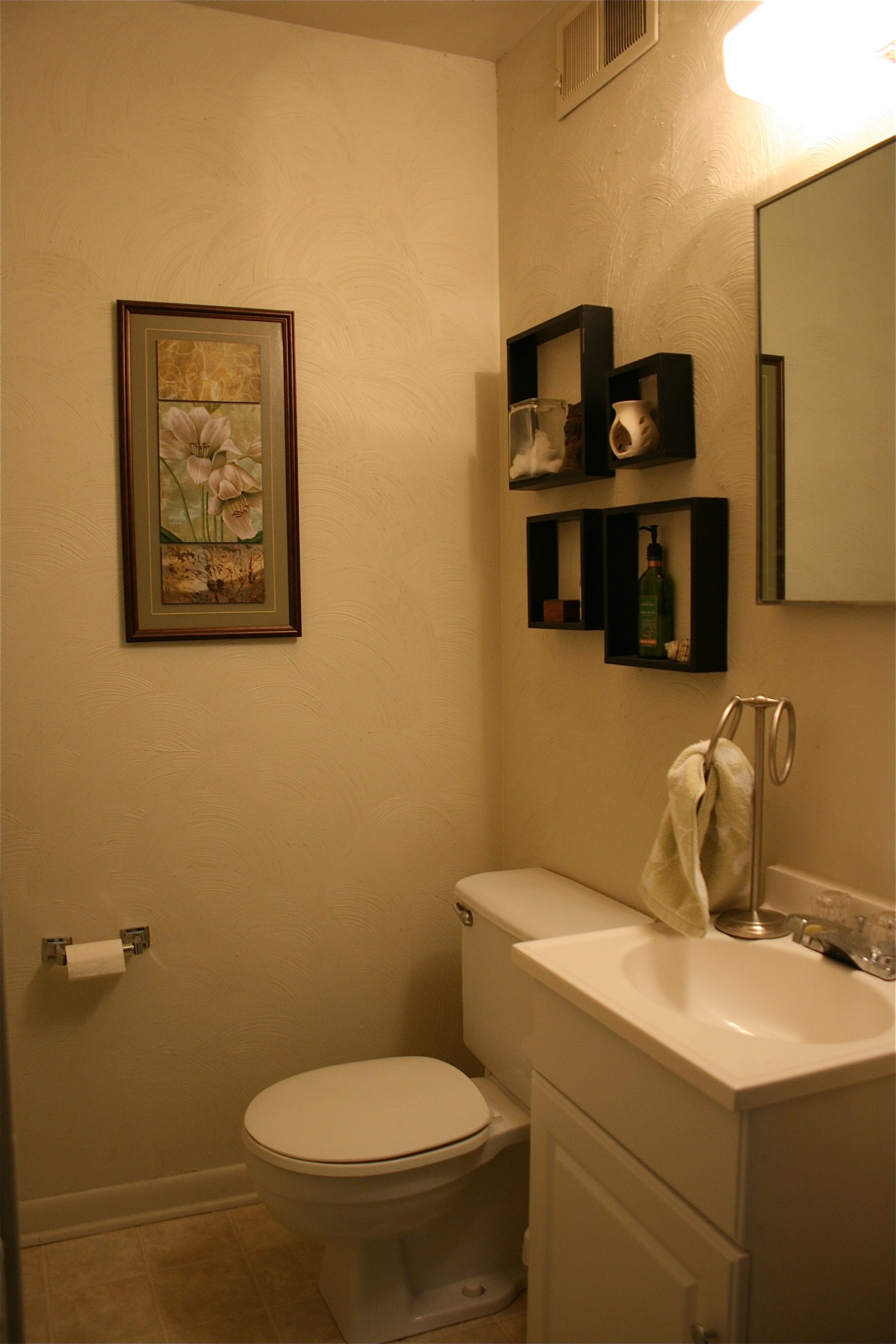 I am NOT going to miss those outdated textured walls in the bathrooms…You can kind of see the raised rainbow-shaped arches in the stucco by the light fixture in the photo above. Blah!
You might be able to see it better in these next few shots of the hall bathroom (which has the same textured walls):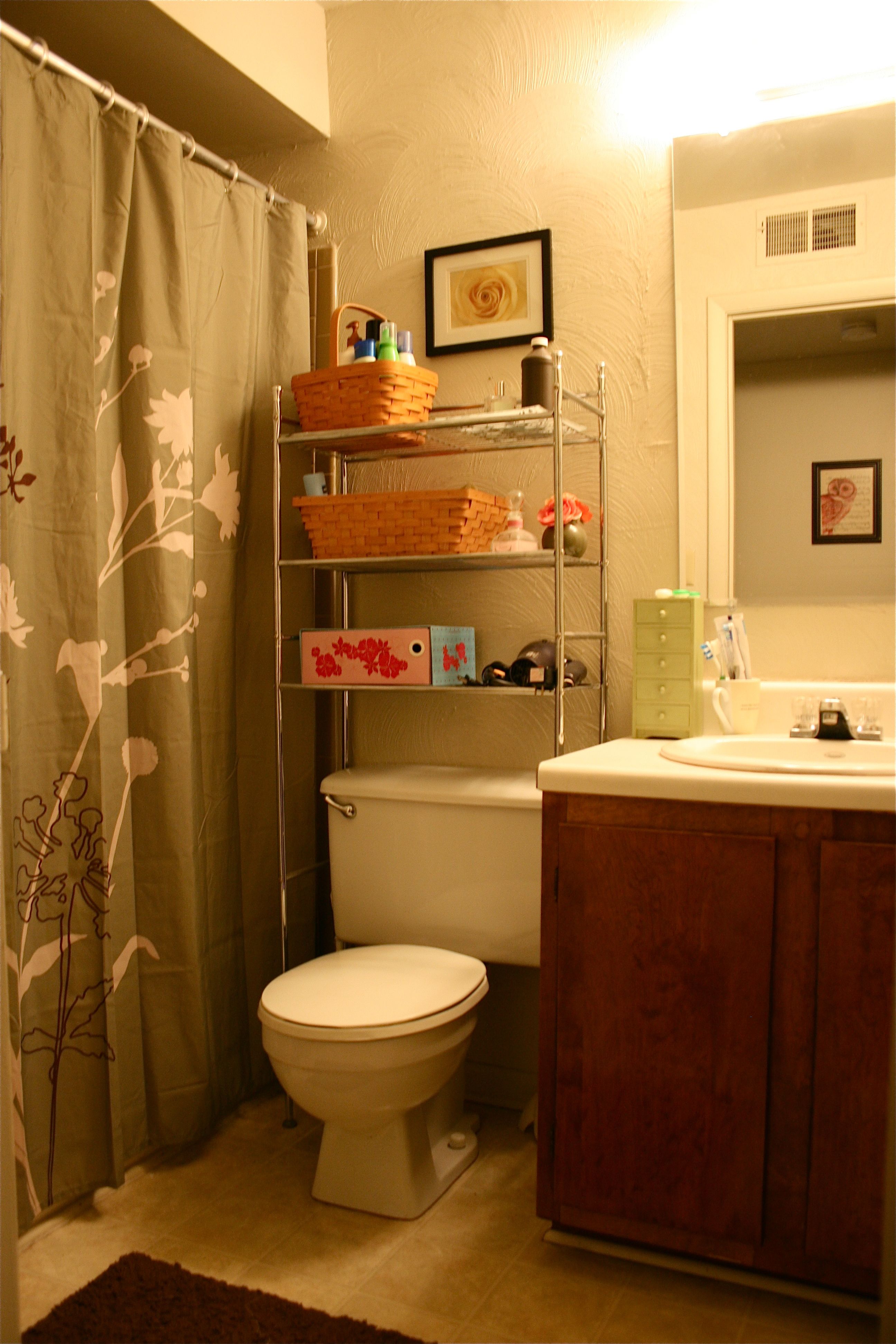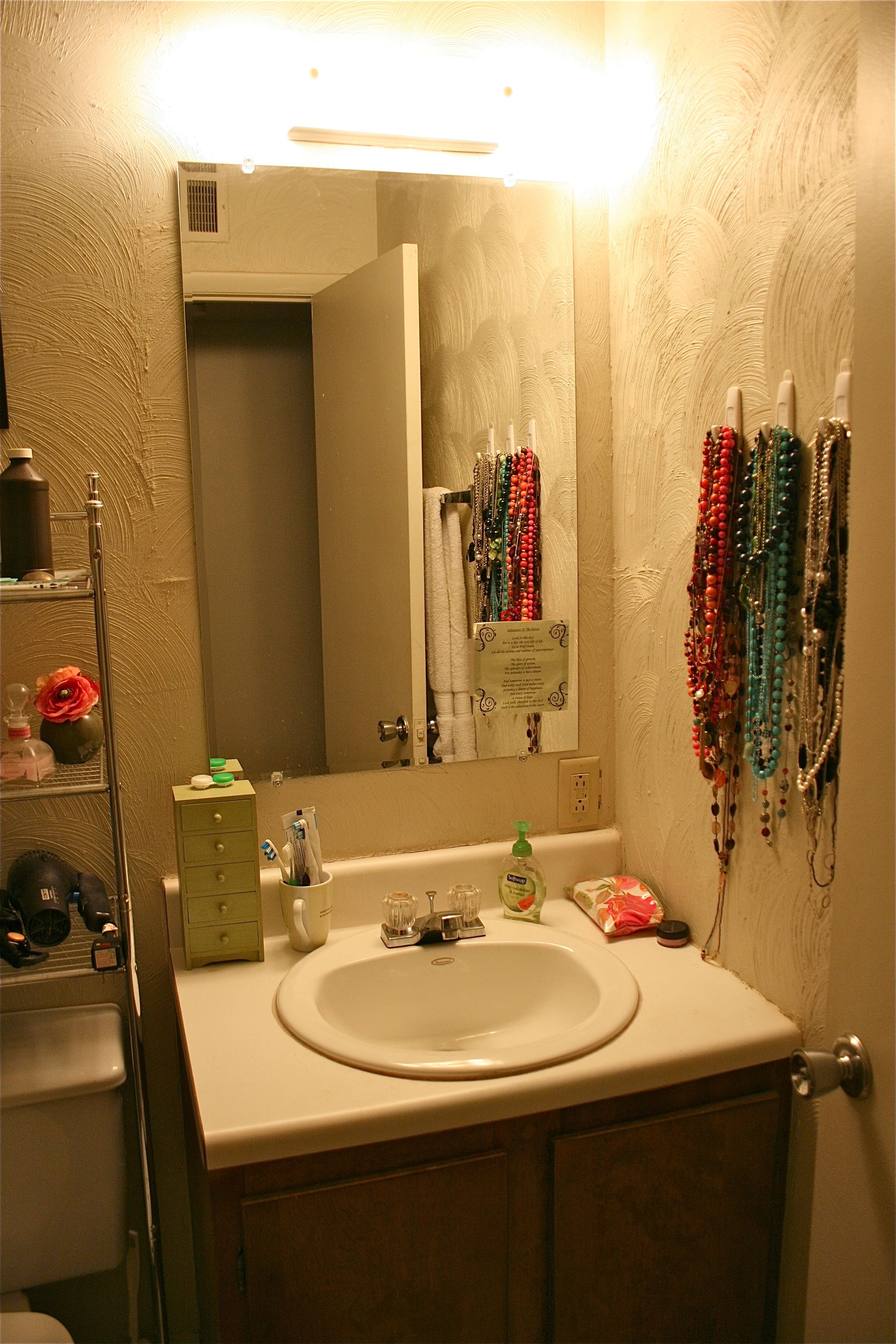 Those thick clumps of necklaces on the wall hanging from 3M hooks is why I tackled a necklace organizer at John's early on…As you can tell, I have a necklace addiction – Can't wait to hang them nicely in their new home!
The piece of green paper taped to the mirror is an Indian poem that I came across called "Salutation to the Dawn":
Look to this day!
For it is life, the very life of life.
In its brief course
Lie all the verities and realities of your existence:
The bliss of growth
The glory of action
The splendor of beauty
For yesterday is but a dream
And tomorrow only a vision
But today well lived makes every yesterday a dream of happiness
And every tomorrow a vision of hope.
Look well, therefore to this day!
Such is the salutation to the dawn.
– Kalidasa, Indian Poet
I read it while I brush my teeth in the morning – Such a good pick-me-up before I start the day!
After the half bath, we come to the studio – Or what USED to be the studio before we moved most of it over to the house.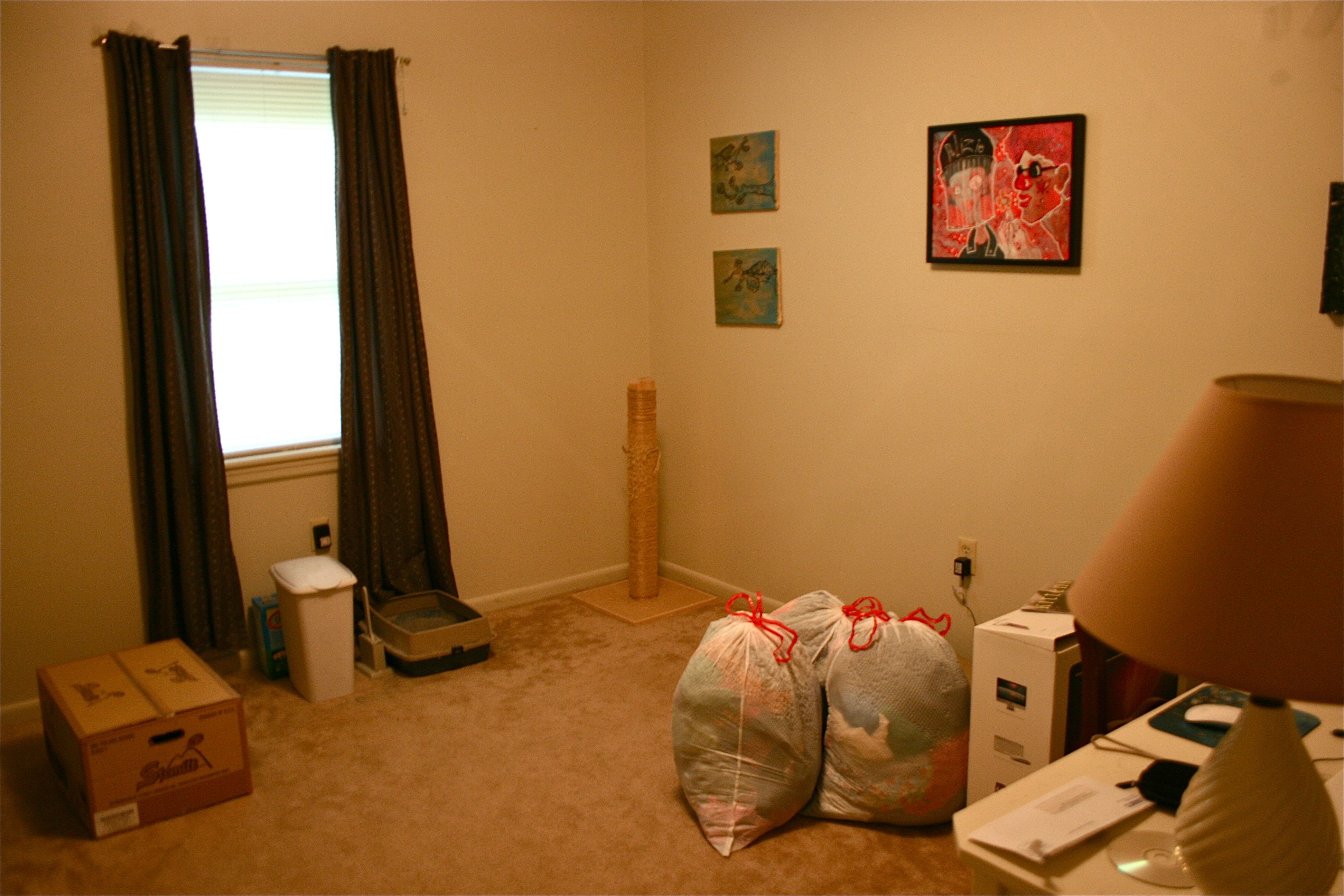 The cat scratch post, litter and desk are going to have to stay in place up until the last moment for obvious reasons of necessity…But the random bags, art and half-filled boxes will get carted over pretty soon!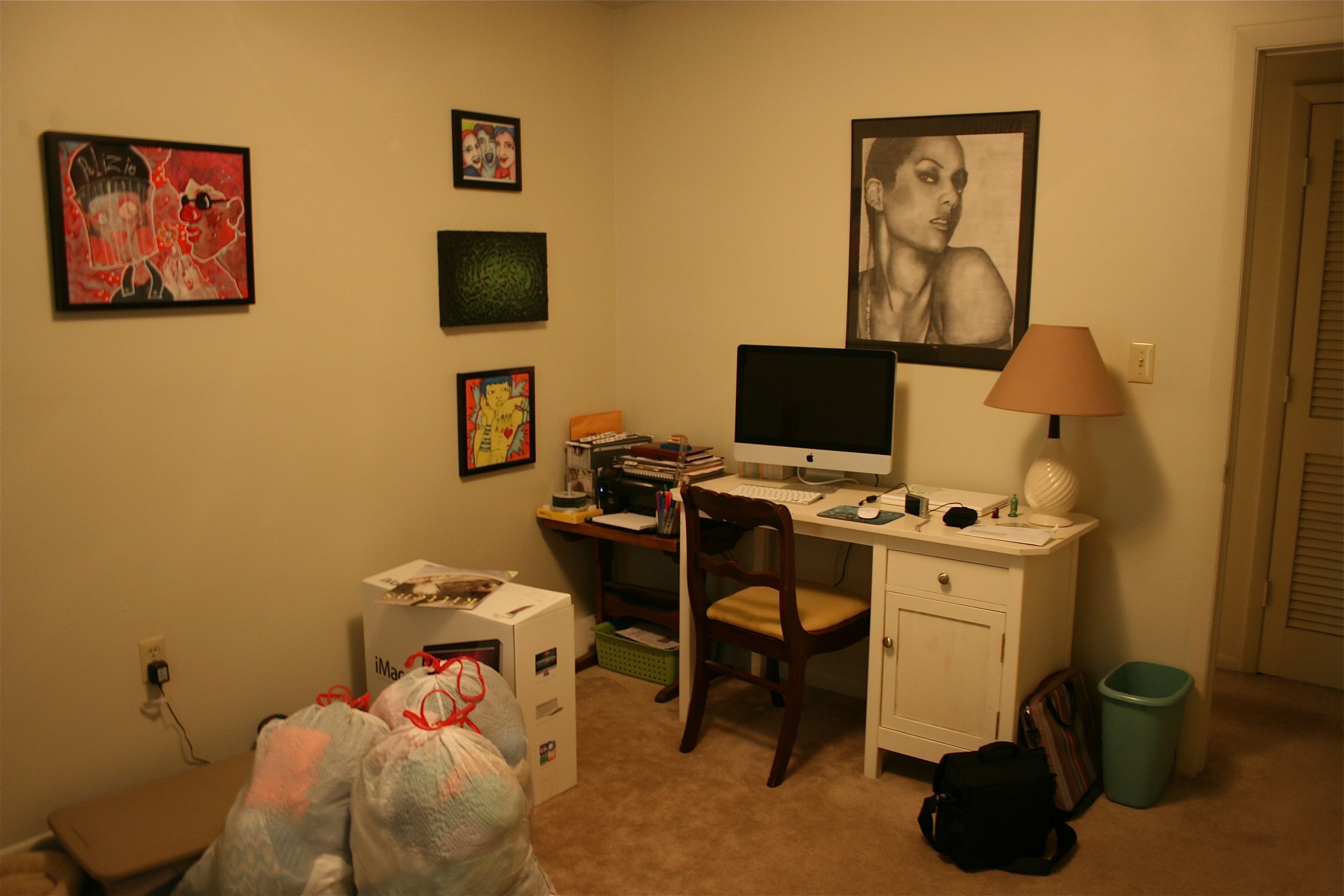 I promise I don't have a random poster of Alicia Keys hanging in my studio like a frantic 16-year-old fan (although Alicia Keys IS pretty amazing)…It's actually the first drawing I did in school and is up for sentimental reasons 🙂
And then on to the second half of the apartment! Here's the blueprint again to refresh you – We are now moving to the left side of the layout: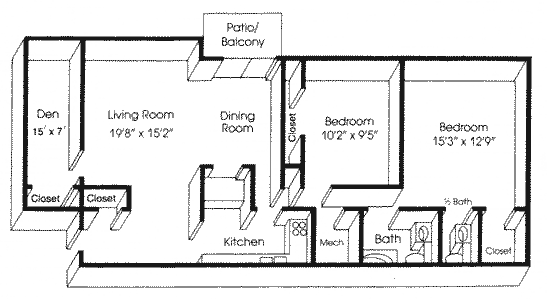 Wanna see the smallest functioning kitchen in existence?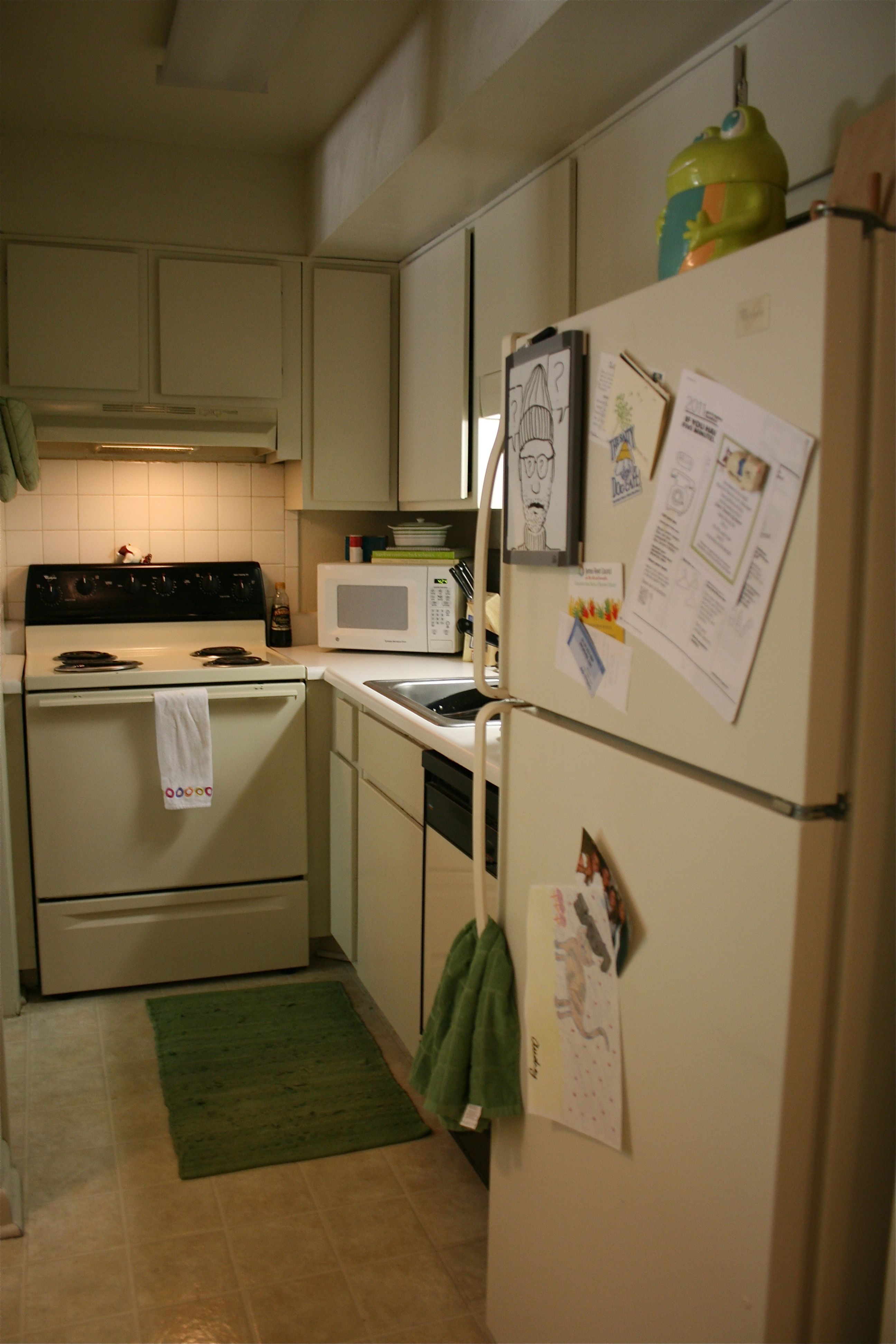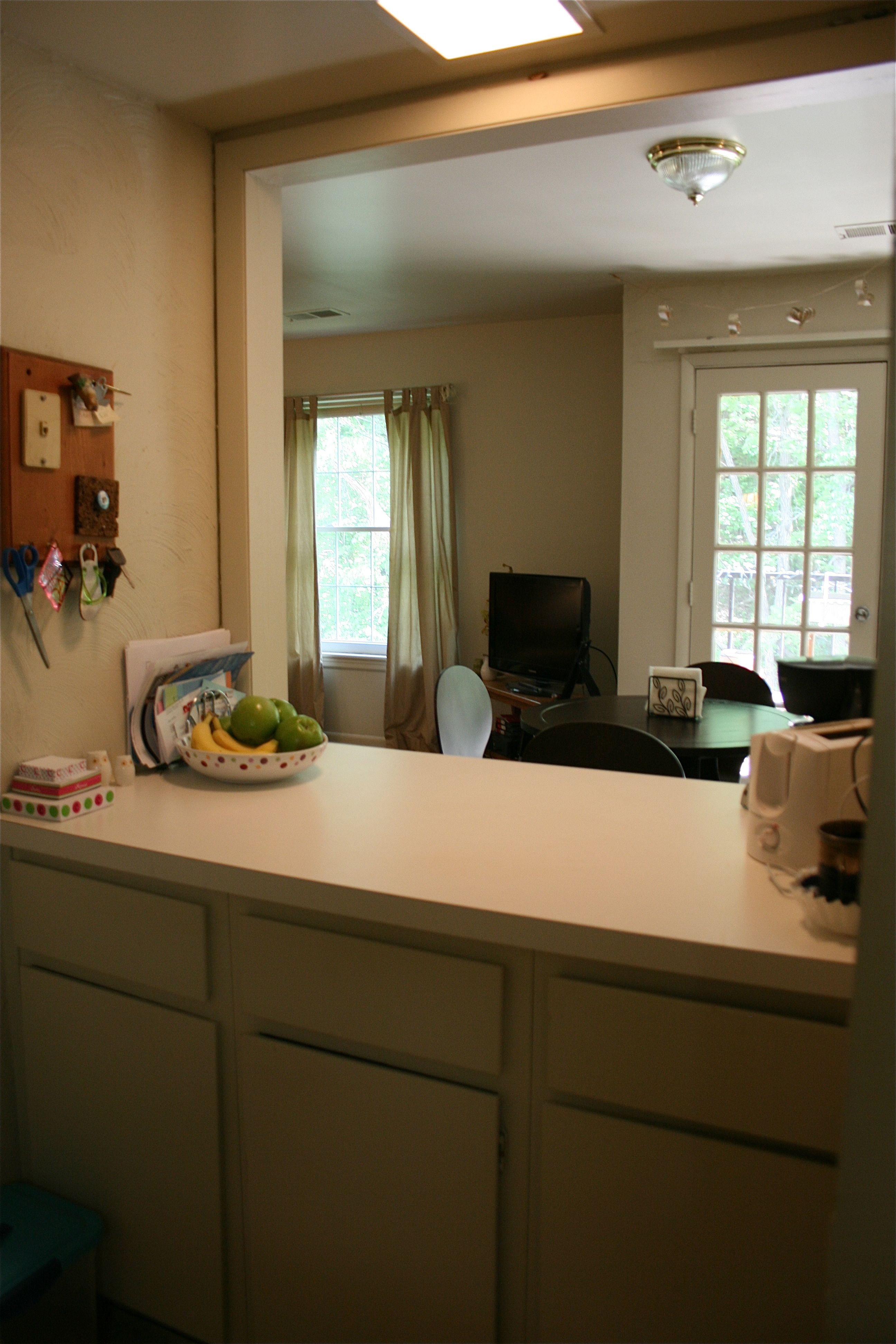 Here's a view of it from the living room: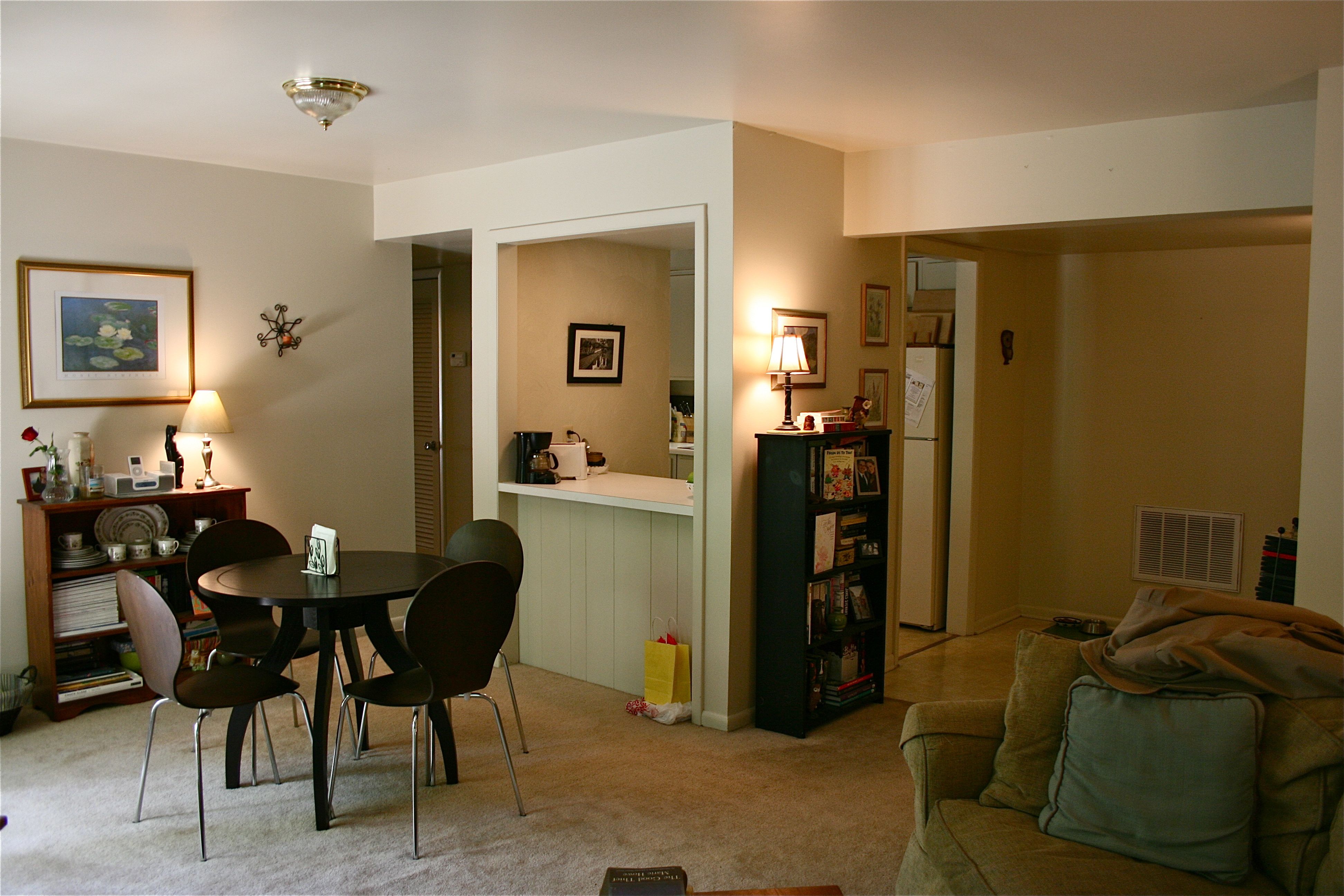 I know, I know…There are definitely worse out there, but by my standards it's a miracle that I get anything done in there! If I didn't have the weird island countertop, I'd be eating out every night I think…
On to the living room/dining room space – The best part of the apartment and the place that gets used the most.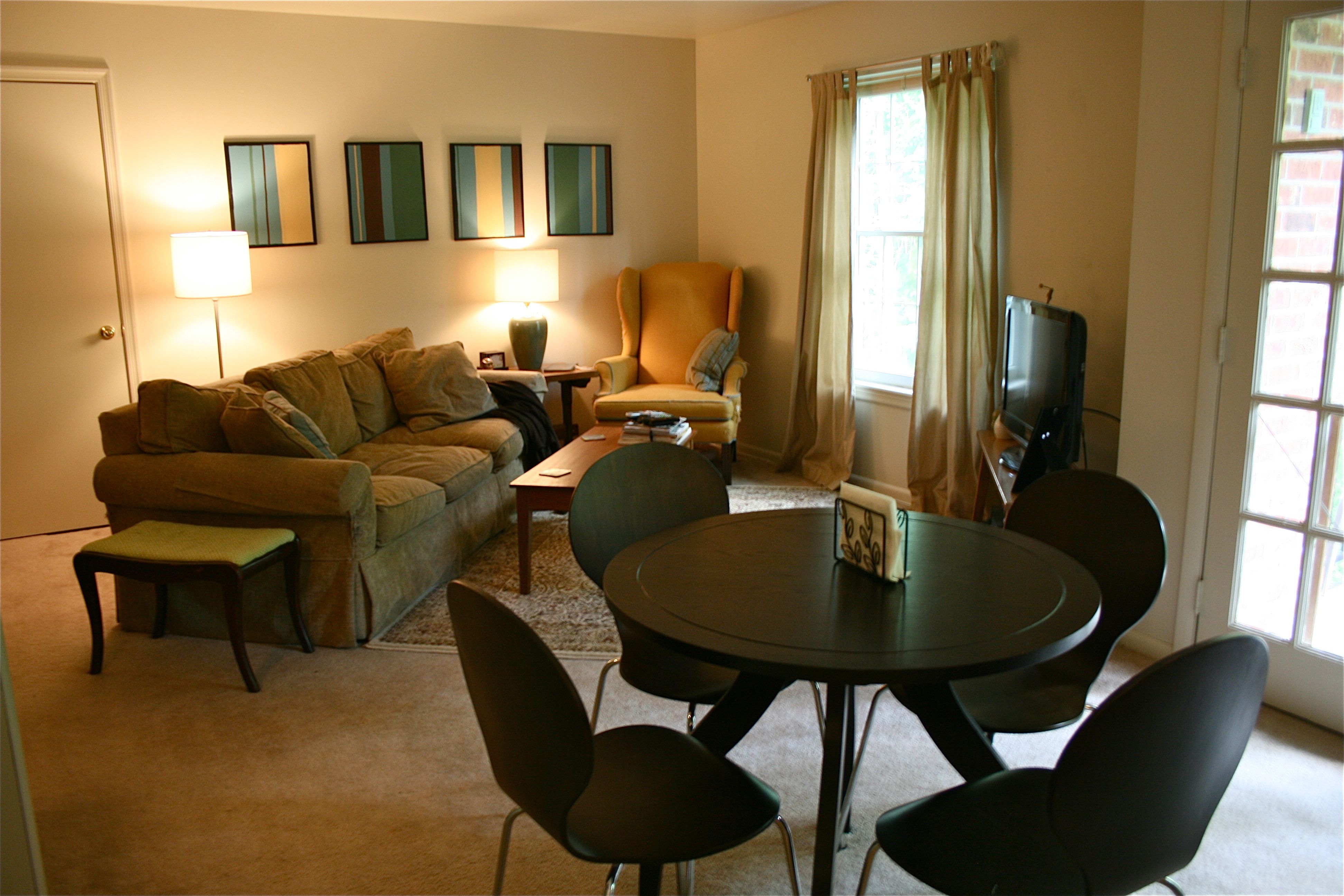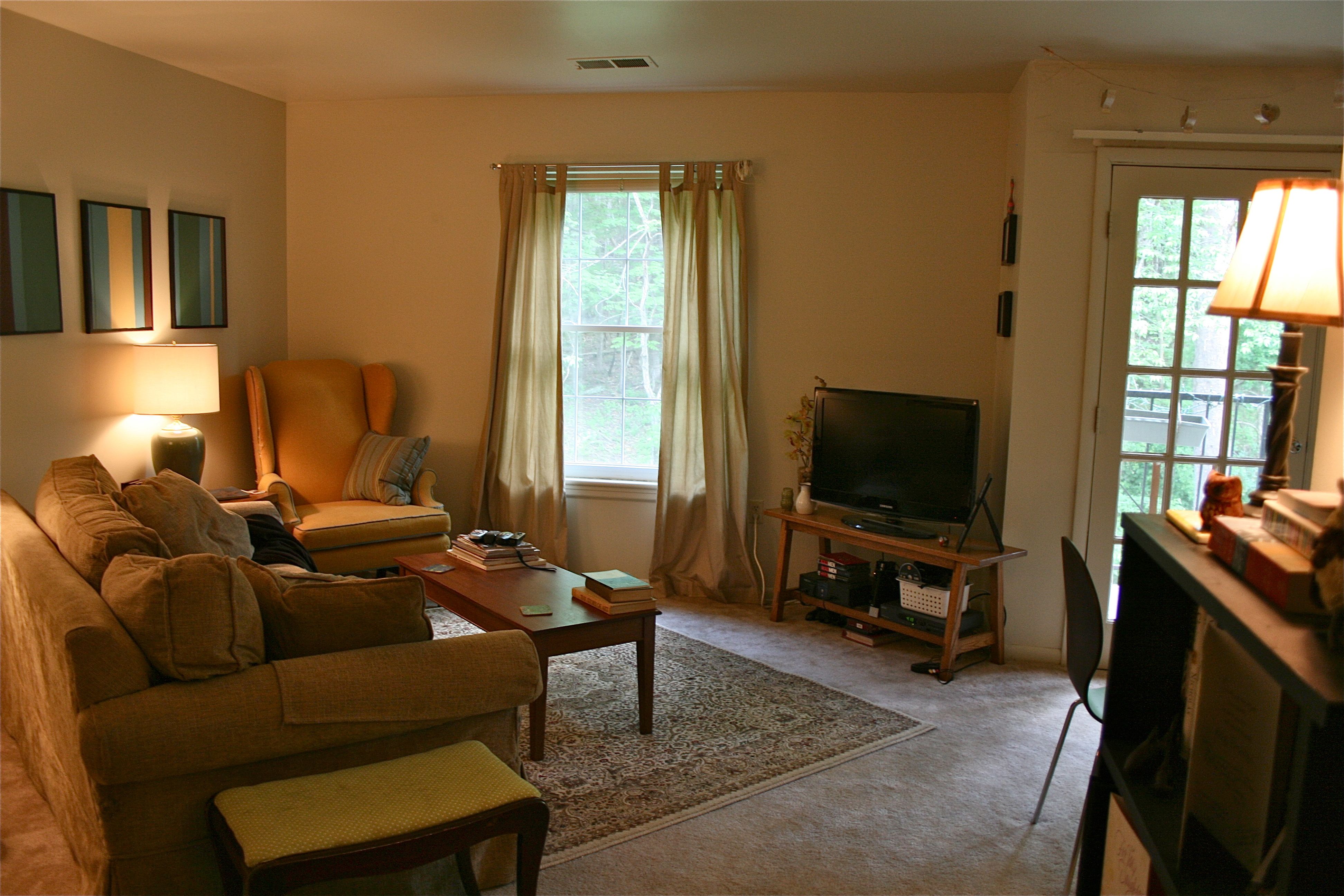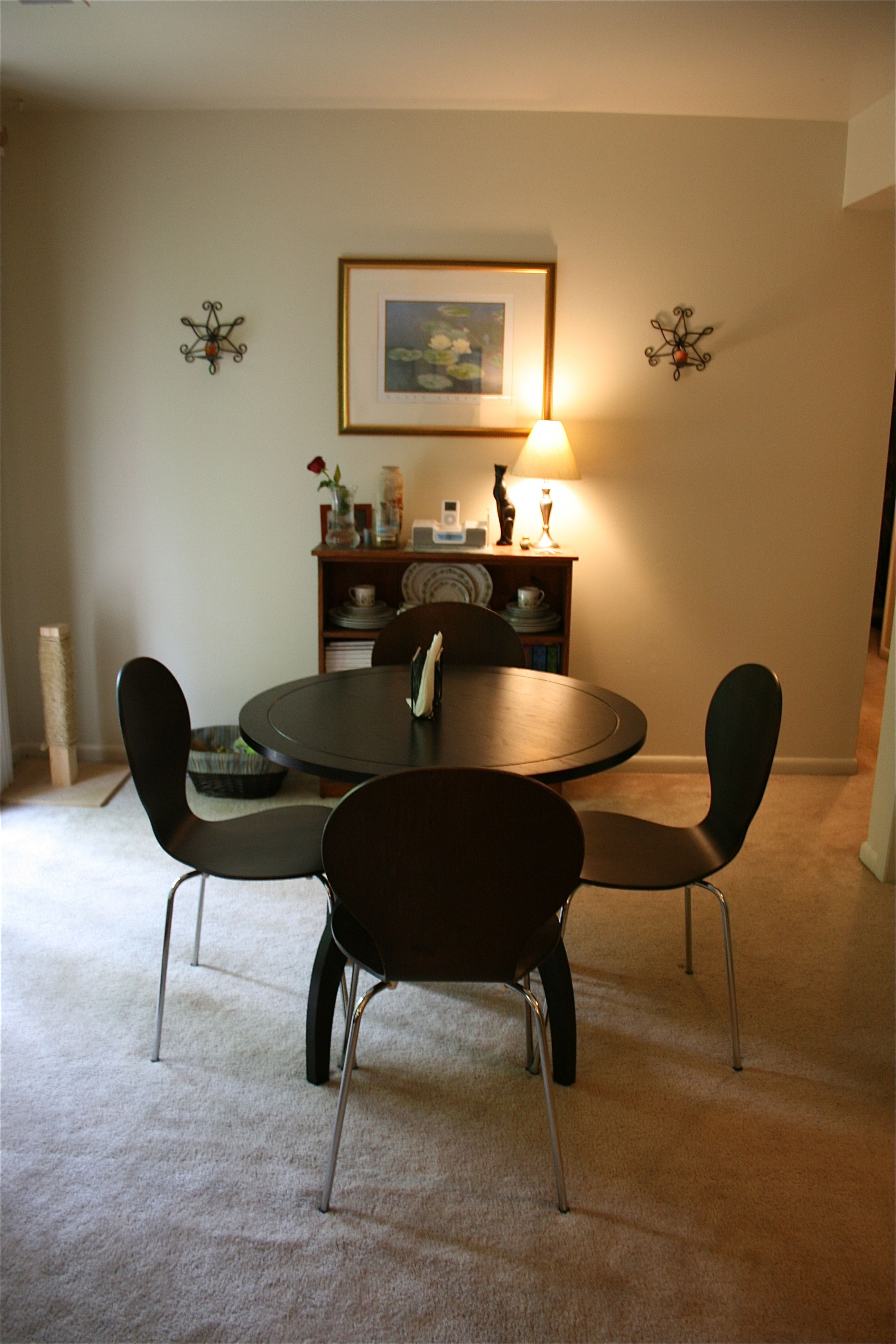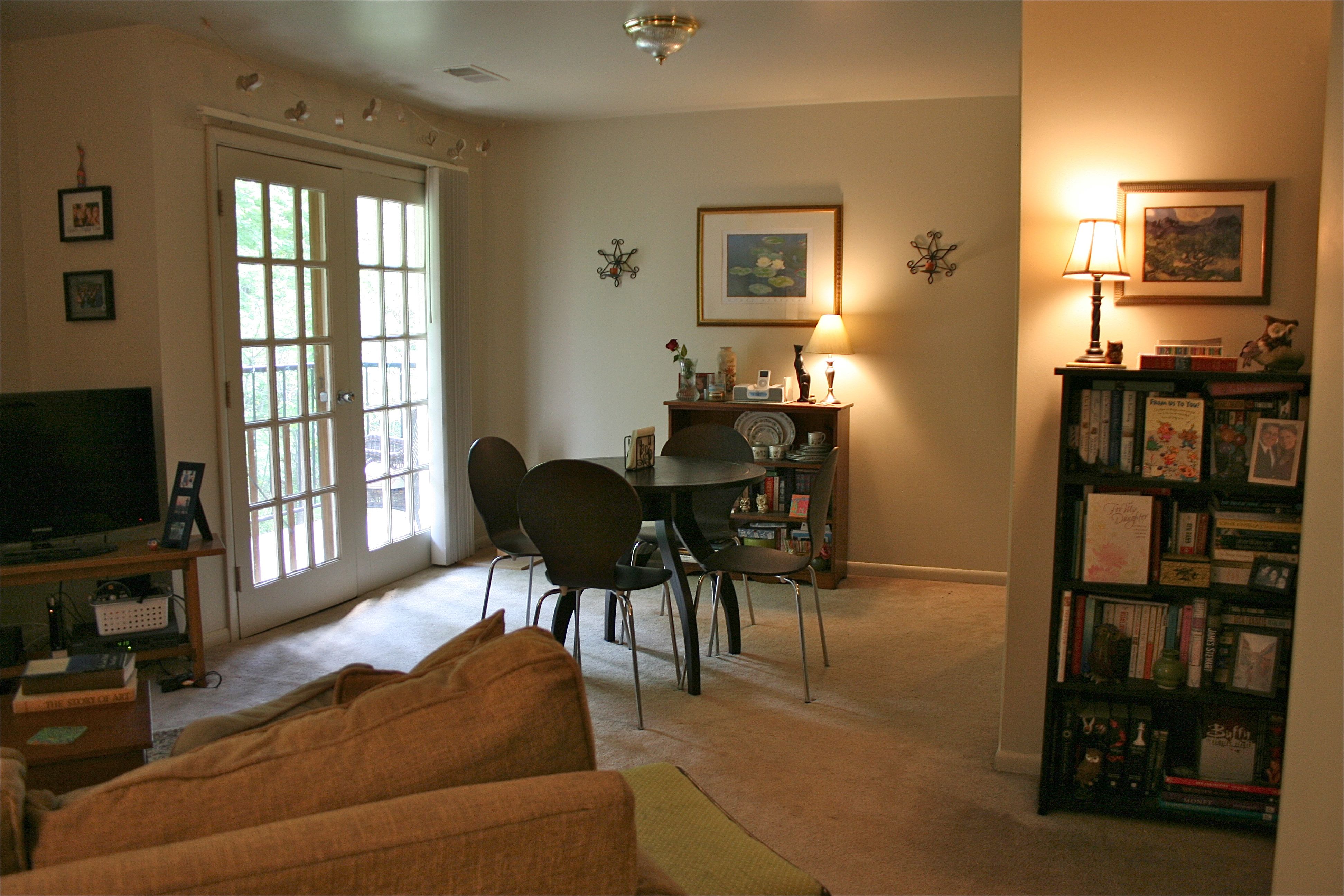 I went for a more thrifty/cozy feel in my apartment, a bit of a far cry from the modern looks we are creating in the townhouse. I love BOTH styles, so I think it will be fun combining them into the "best of both worlds".
Lastly, we have the entryway and Kat's room: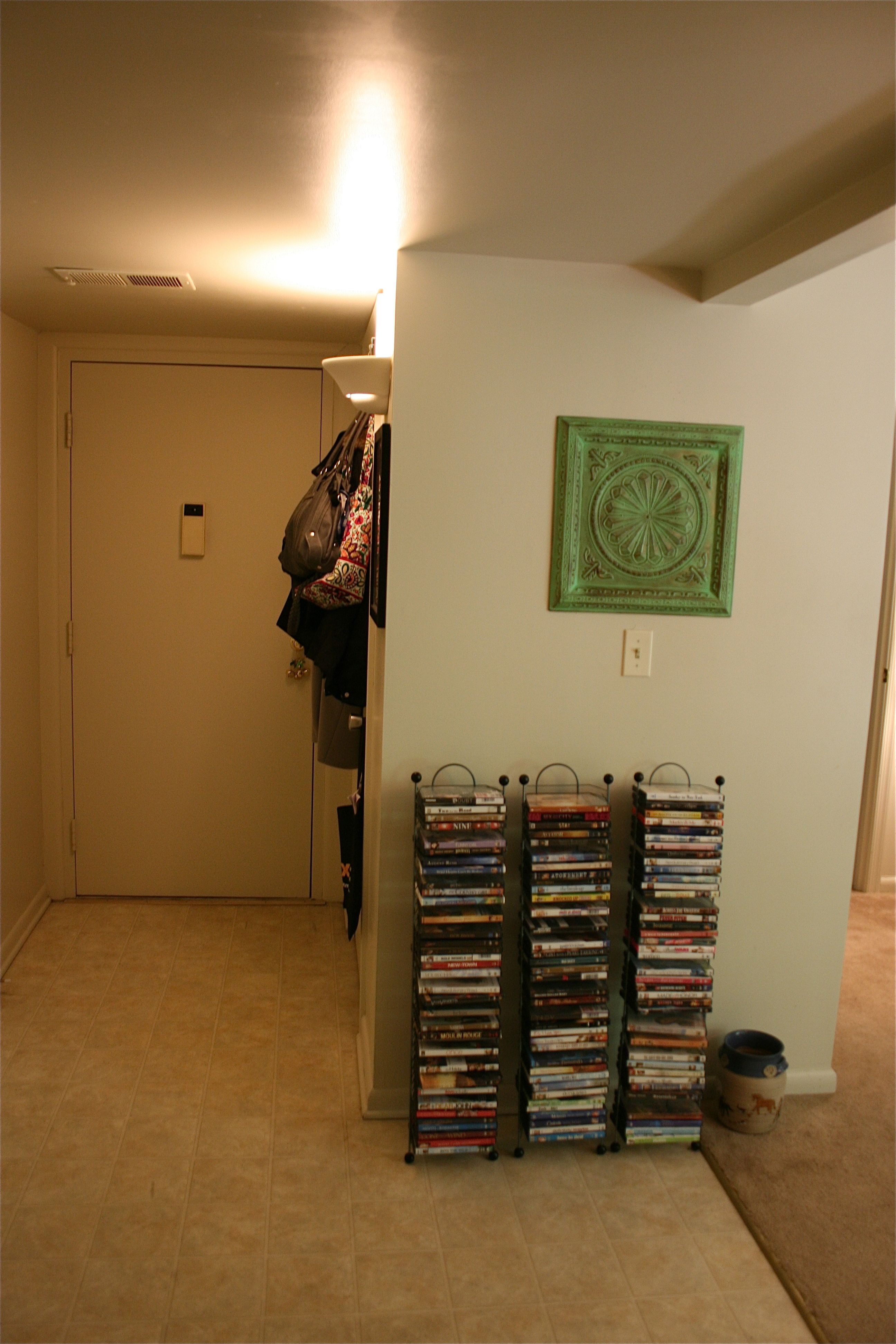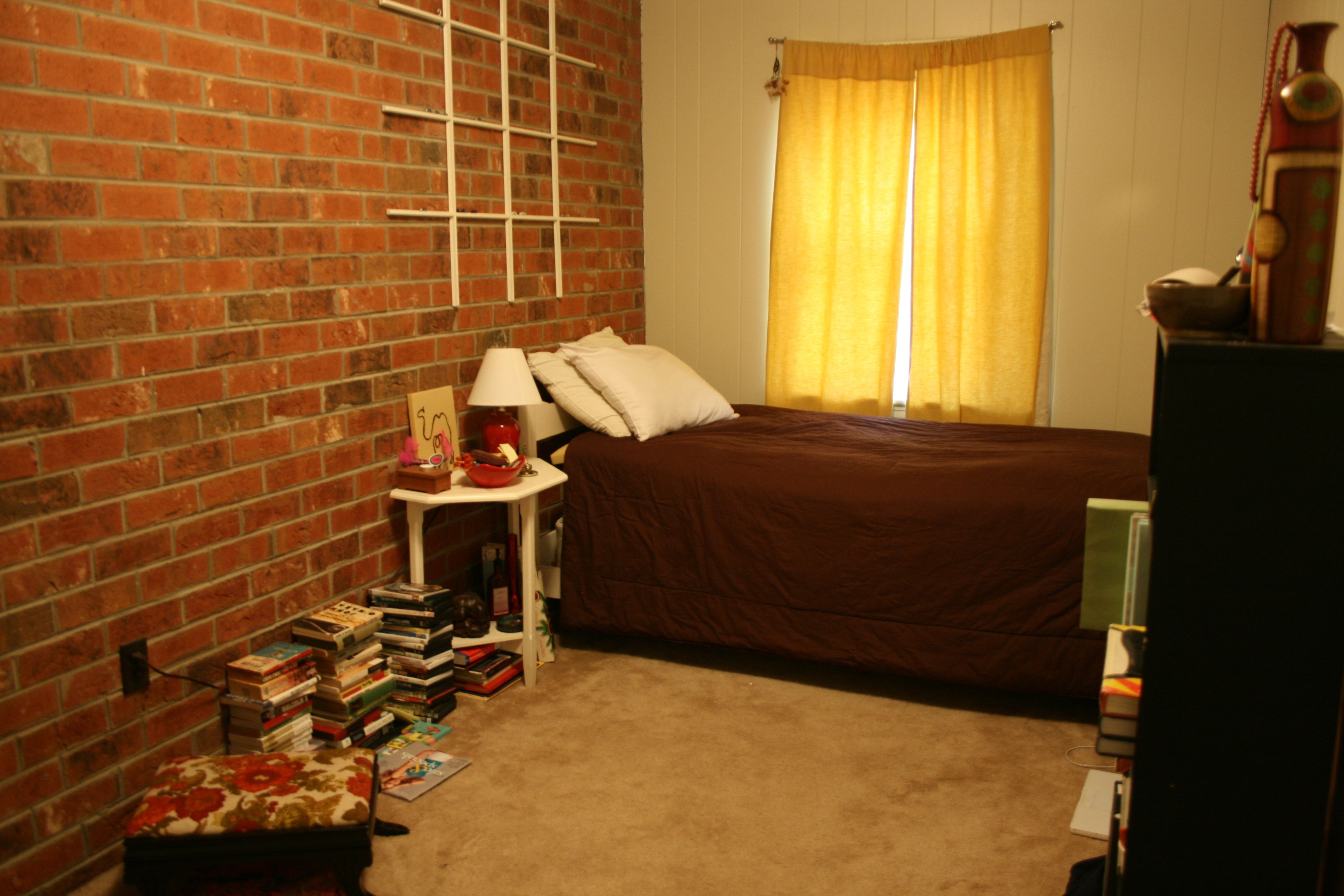 As I explained the beginning of this past post, Kat's style is a little half-hazard at times…But you can tell that she's got a thrifty/eclectic look to her space when you take in the thrifted floral foot stool, piles of used books she picks up at local bookstores and the earthy colors she likes. The square wall hanging above her bed is actually the window pane frames from the big bay window at our parent's house. She's put it up in every space she's lived in – Kind of endearing…
Kat and I are both moving on to bigger and better things in life, so although we love this apartment we are excited to take a leap of faith and move on.
As you know, we'll keep you posted 🙂
TGIF and I hope everyone has a happy Mother's Day weekend!!!!!! I LOVE YOU, MOM!!!!!!!