We are back with another installment of "New Uses for an Old Thing", inspired by the Real Simple version – If you'll remember, our first household-tool-re-purpose involved felt pads and the many handy things they can be used for. Today, we will be talking about tabletop file boxes!
To clarify what I'm talking about, I mean the hard-sided boxes that you can buy at places like Target, Wal Mart, Office Max, etc. to hold none other than files!! They come in all shapes and colors, but I tend to go for the modern/urban metal sort. These are the two that I picked up at Target for about $8 each.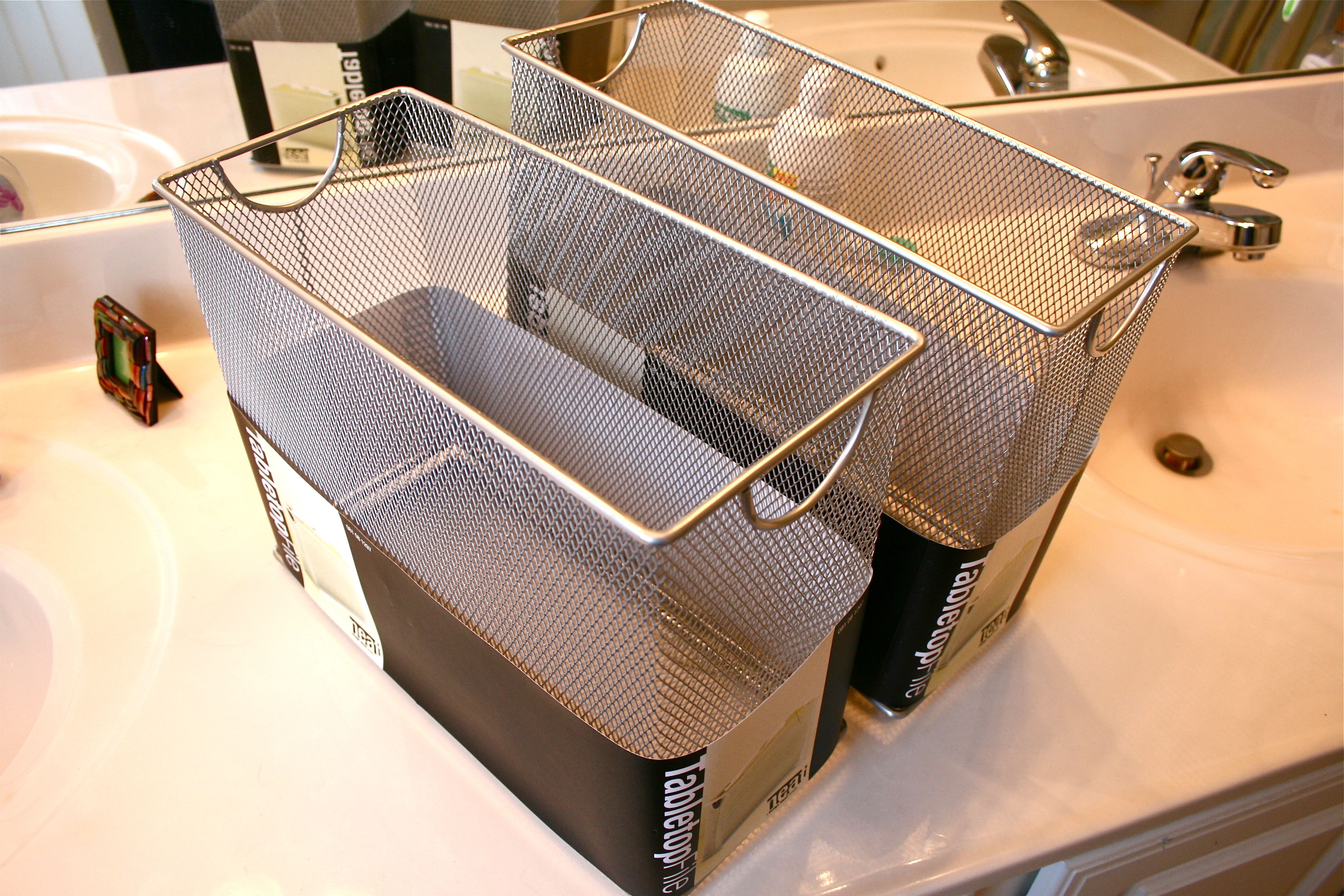 Now, of course given the title of this post, you know that I did not use them for files (even though I have one exactly like it that I DO use for filing)…I had two particular tricks up my sleeve for these, although they could really be used for so much more than what I'm about to demonstrate.
For instance, they could be used in a kitchen pantry to hold all sorts of things (boxes of pasta, individually packaged crackers or chips, etc.), they could be used to hold plastic grocery bags, or for storing magazines beside the chair in your favorite reading nook. The possibilities are endless!
But for today's post, I wanted to show you how I used the two that I bought for storage in our master bathroom and in the studio closet.
First, the one in the master bathroom is now acting as much-needed storage to keep the counter top clean and free of hair appliances, namely a hair dryer and straightener. Here's what the counter looked like each weekend morning when I have to go through my hair routine: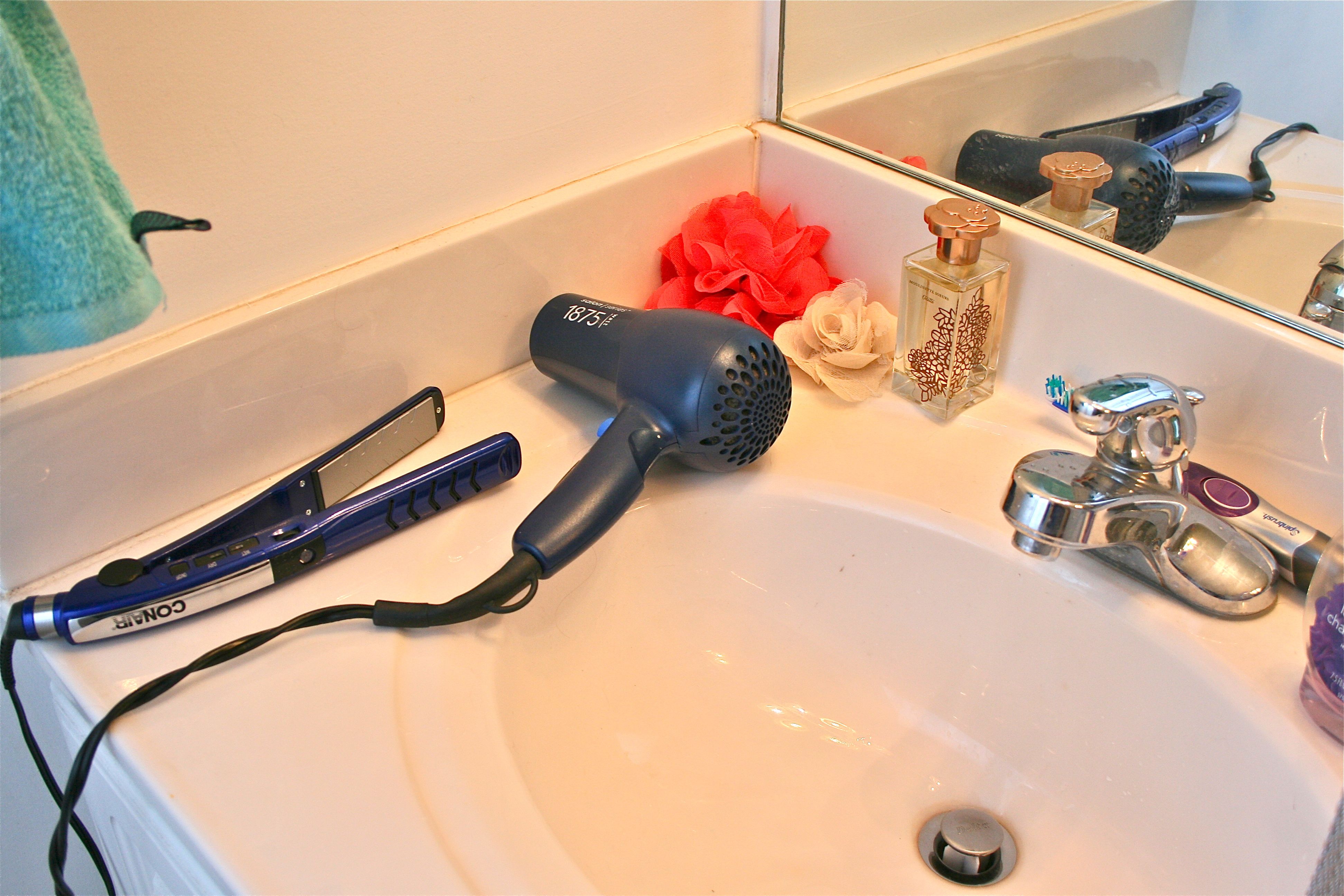 Both are super easy to store when cool – You just wrap the cords around the handle, stick them in a drawer and you are good to go! However, all us girls know that these things are hot hot HOT right after use and can't be stuck into a drawer without some kind of fire or melting hazard. So I am forced to let them cool before putting them away, taking up valuable counter real estate while they're at it…
Recently while brushing my teeth, I noticed just how much white wall space there was to the left of the sink (try to ignore the spackled holes in the wall that we need to paint over…):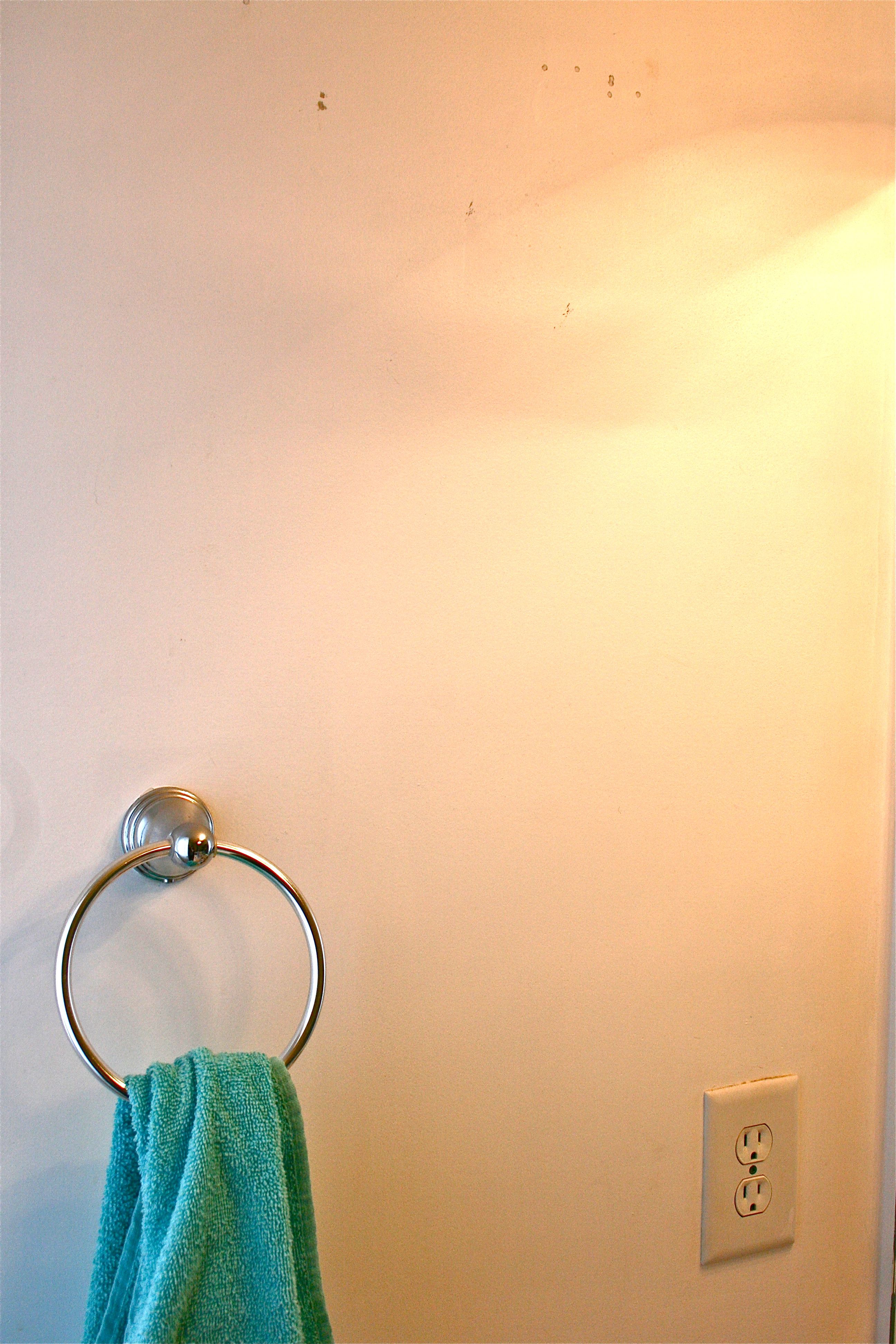 I contemplated a glass shelf or two but those can get pricey and the two appliances wouldn't be very steady on an open-edged shelf.
Then I had the light bulb moment that led to this post – Mesh file box to the rescue!
After a few quick turns of a drill bit and a screwdriver (thanks to my patient and sweet boyfriend), the box was up on the wall and ready for action: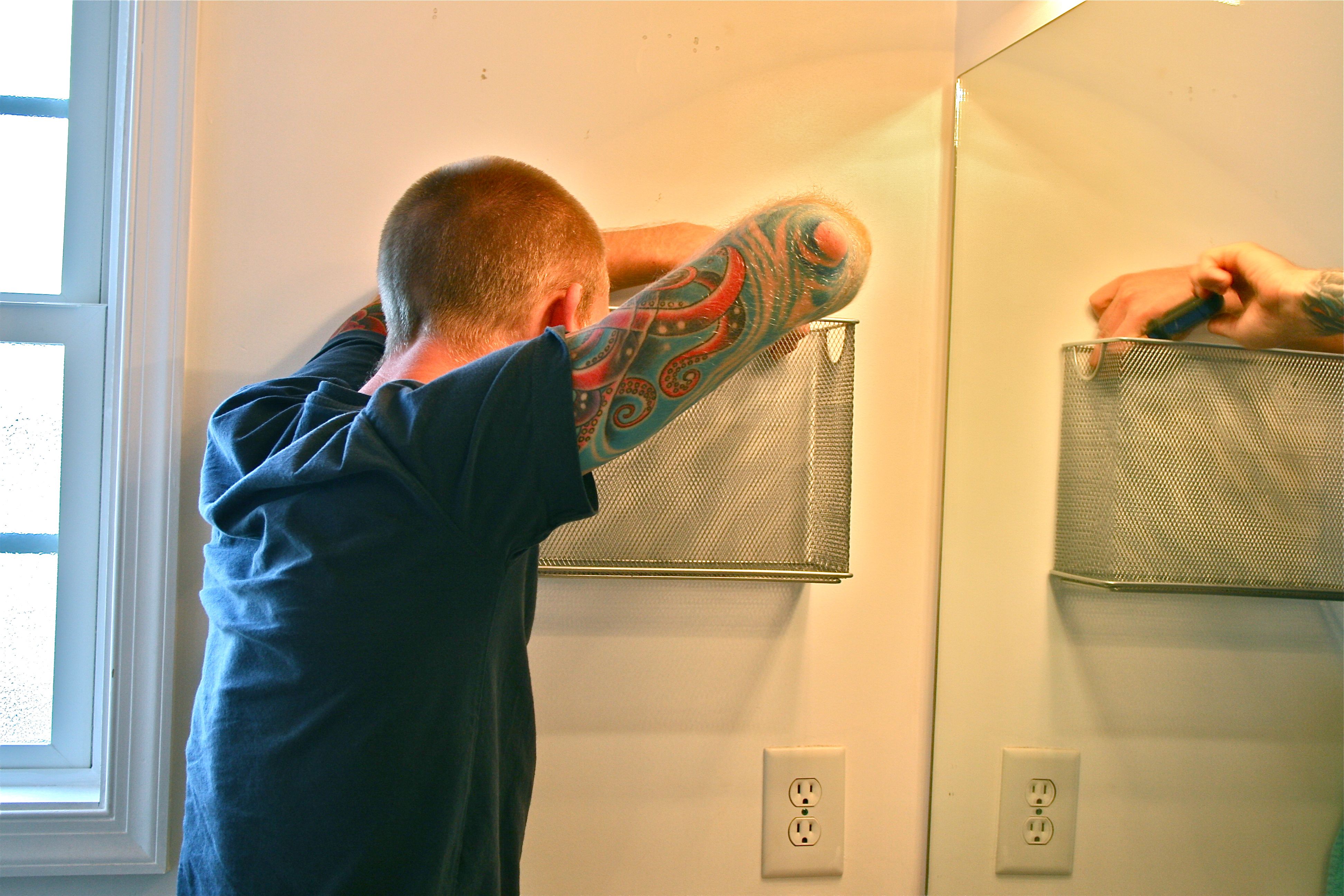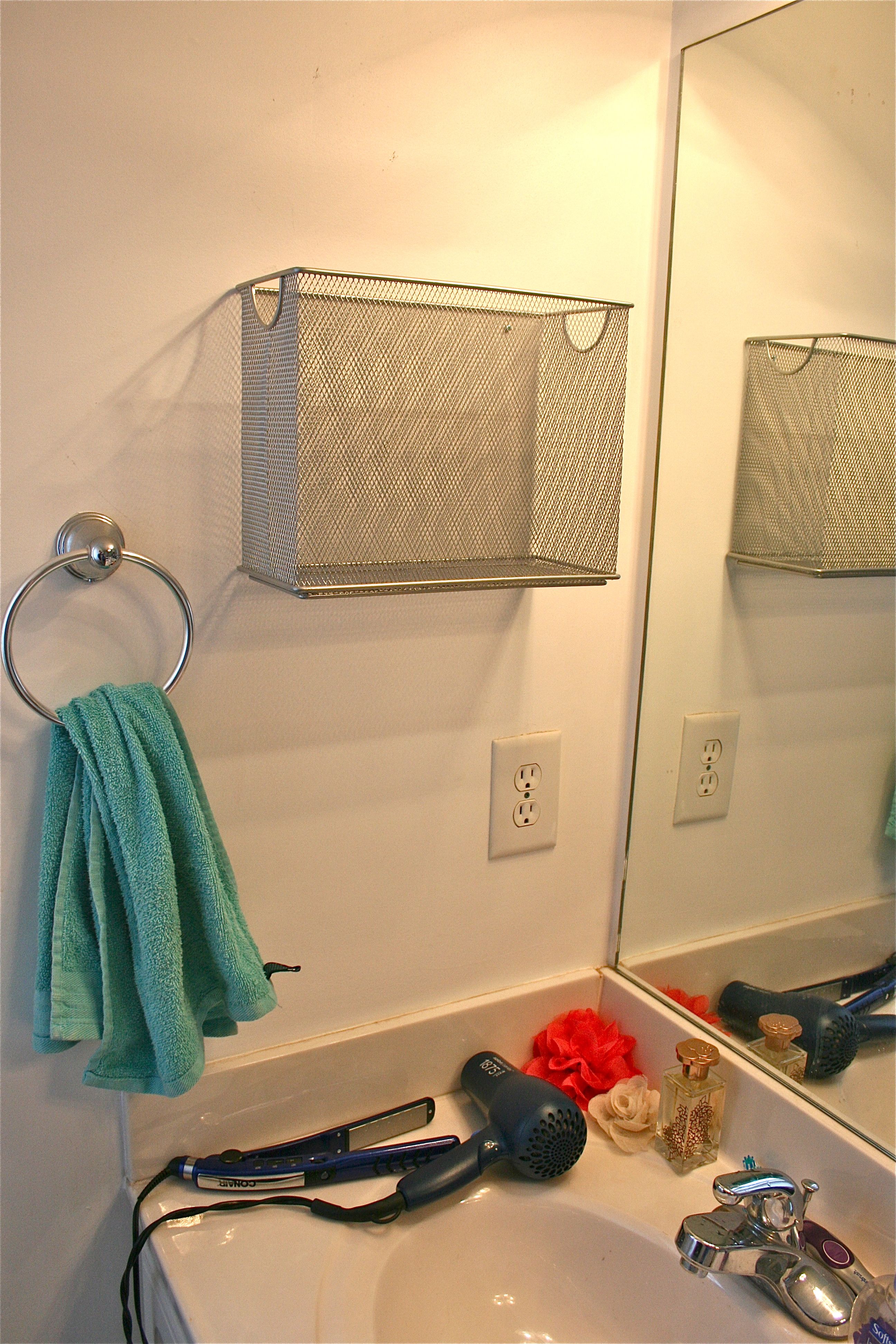 Time to fill 'er up!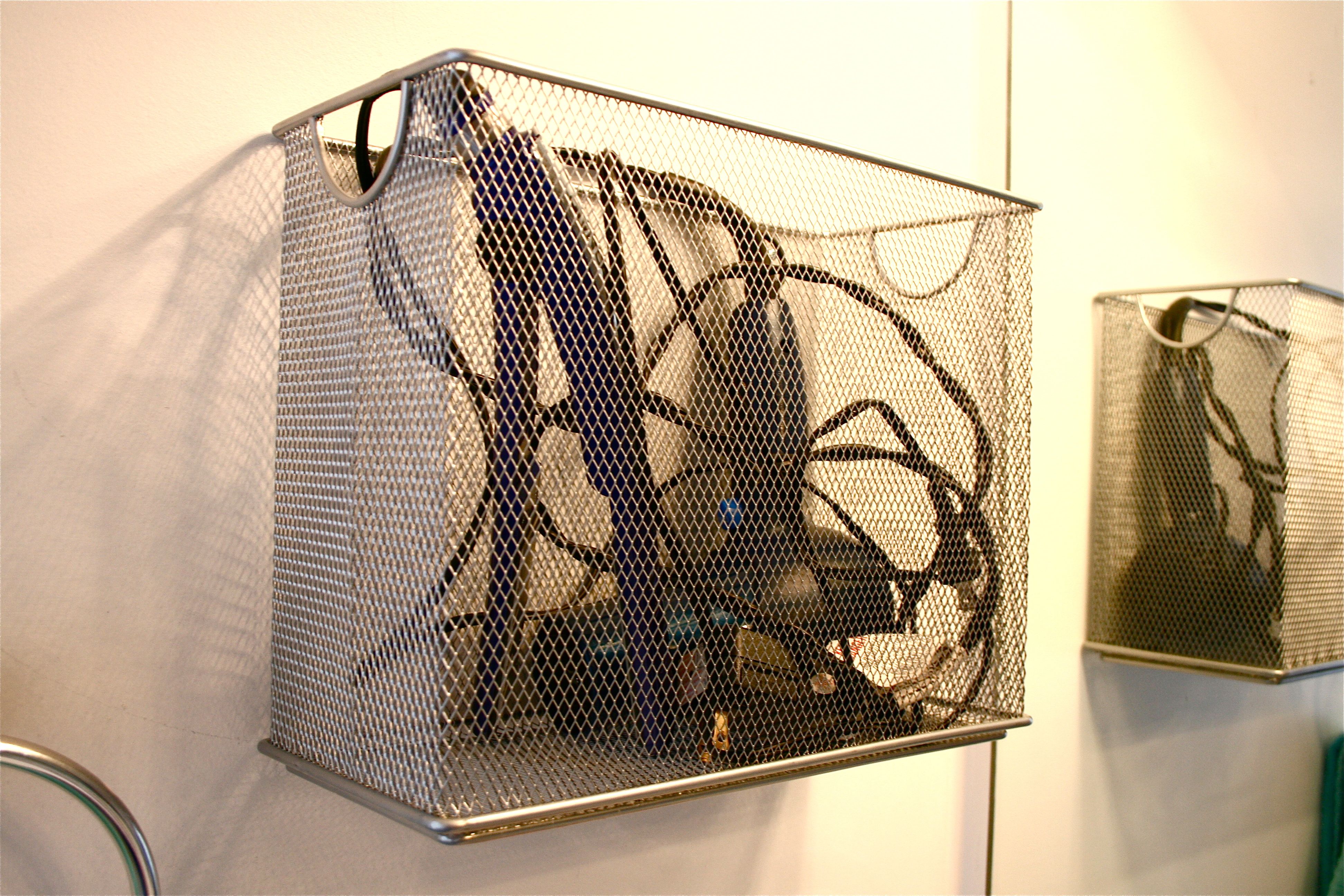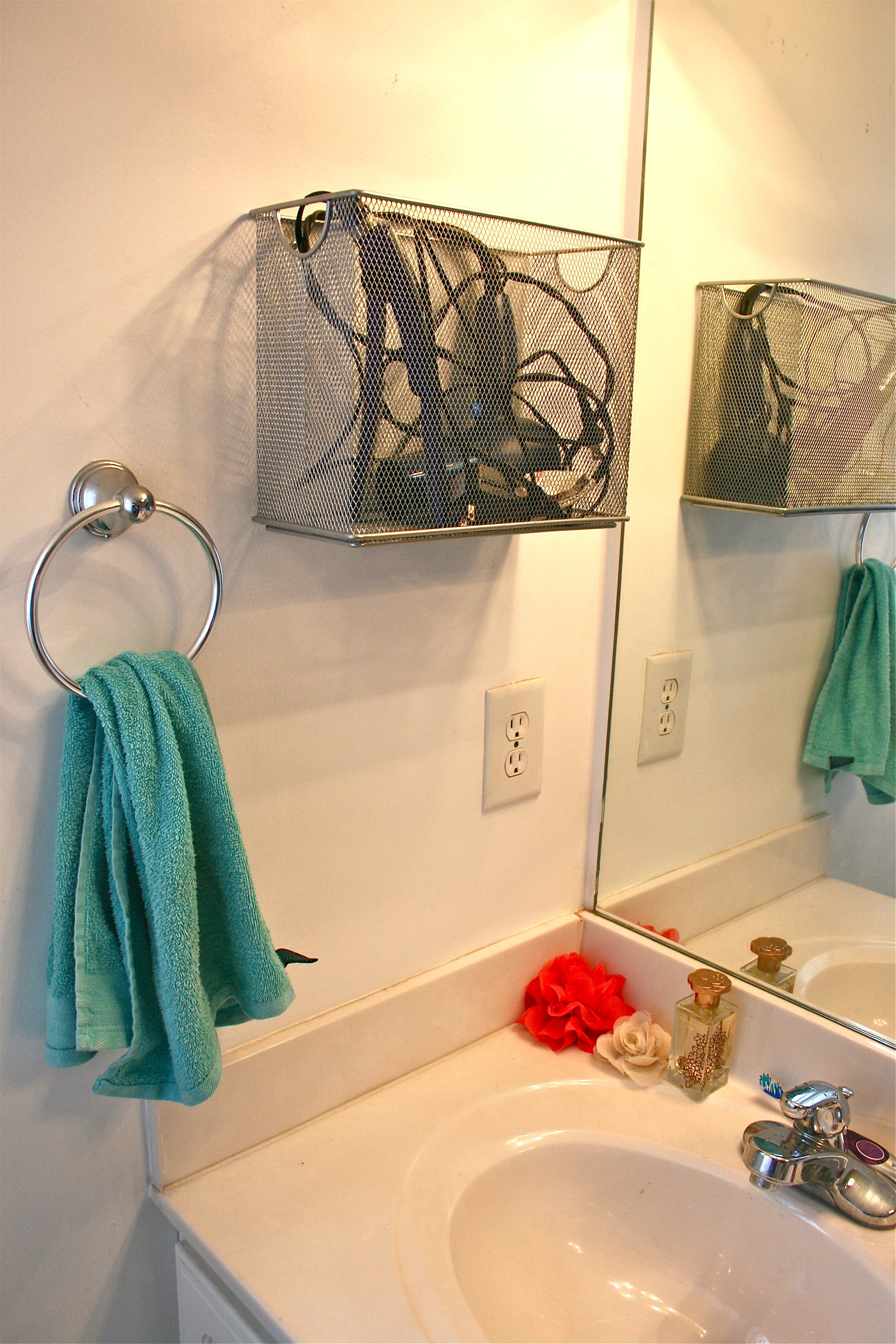 I love counter tops free of clutter…
Granted, it's not the most BEAUTIFUL solution, but it does the job and it does it safely. Both the hair dryer and the straightener can go into the mesh box even when hot because the metal can take the heat – With that said though, I WILL be careful to curl up the cords so that they don't get "cooked" 🙂
New Use for Old Thing score number 1!!!
Next on the list was to take care of some storage issues in the studio closet, which is now home to pretty much anything from decorations and pillows, to art supplies and curtain rods. For this particular project we worked on organizing my wrapping supplies because the tall tupperware I've been using was looking a little overstuffed: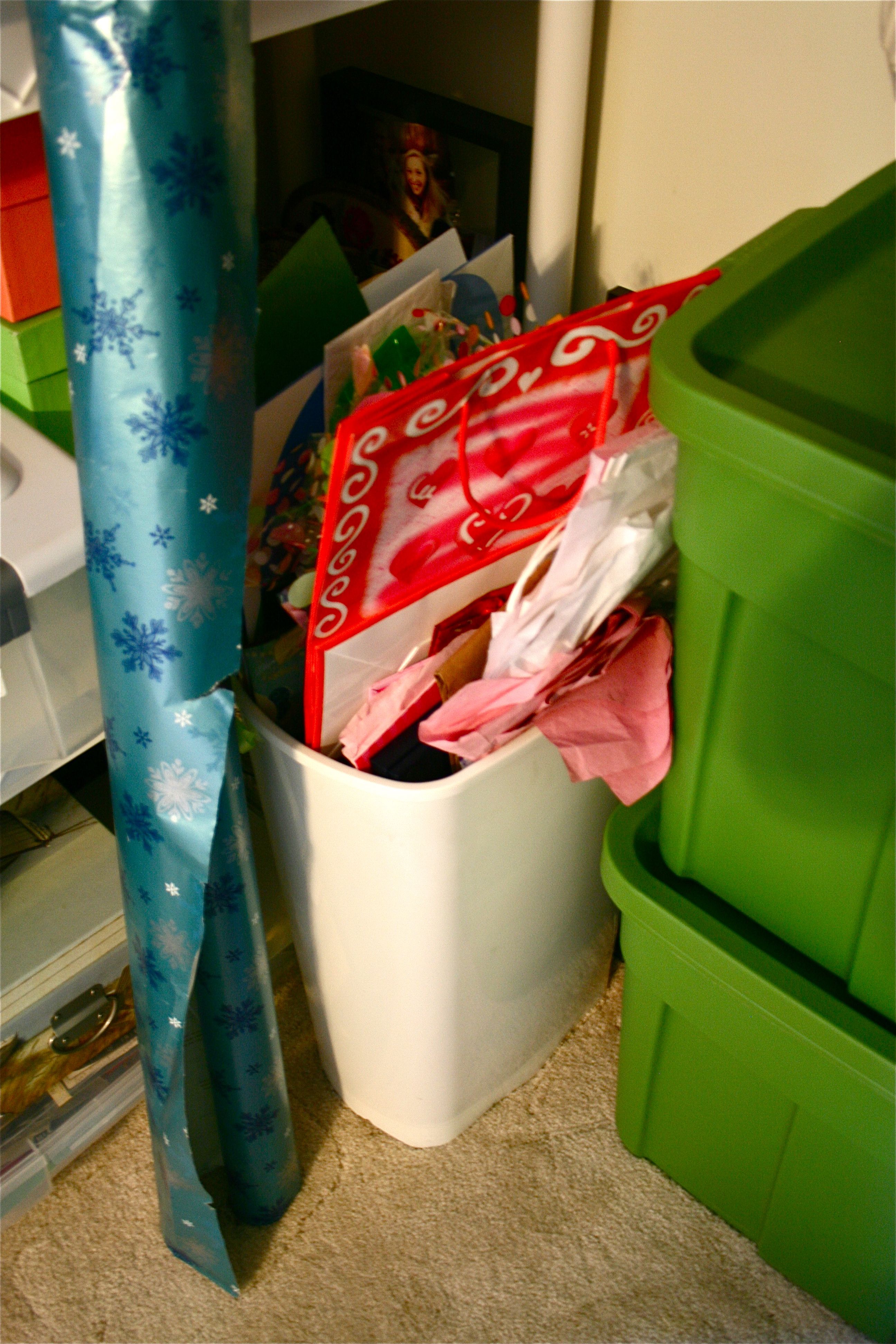 So after a little more drilling and screwing (insert "that's what she said" joke here), we had the box mounted on the inside of the door: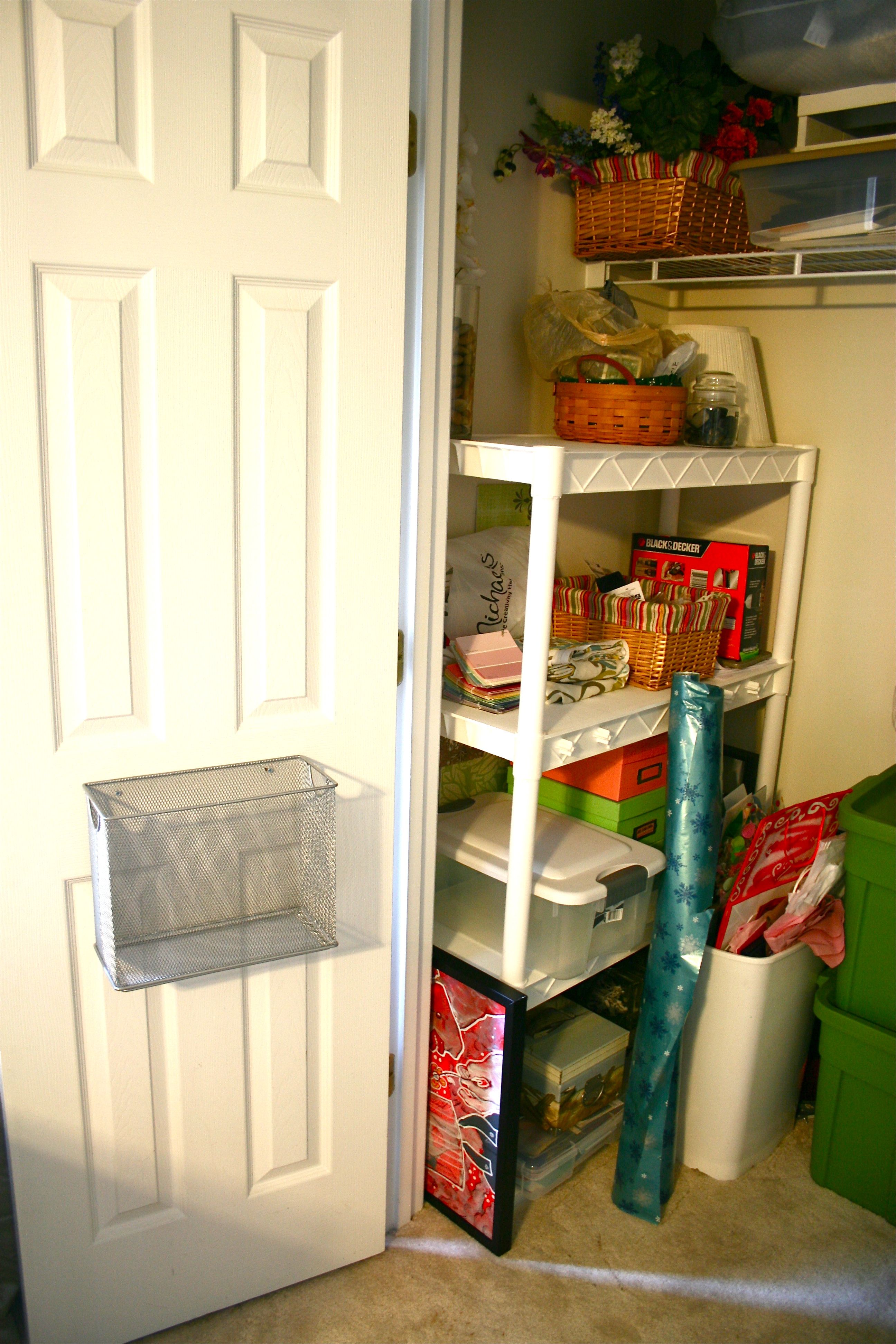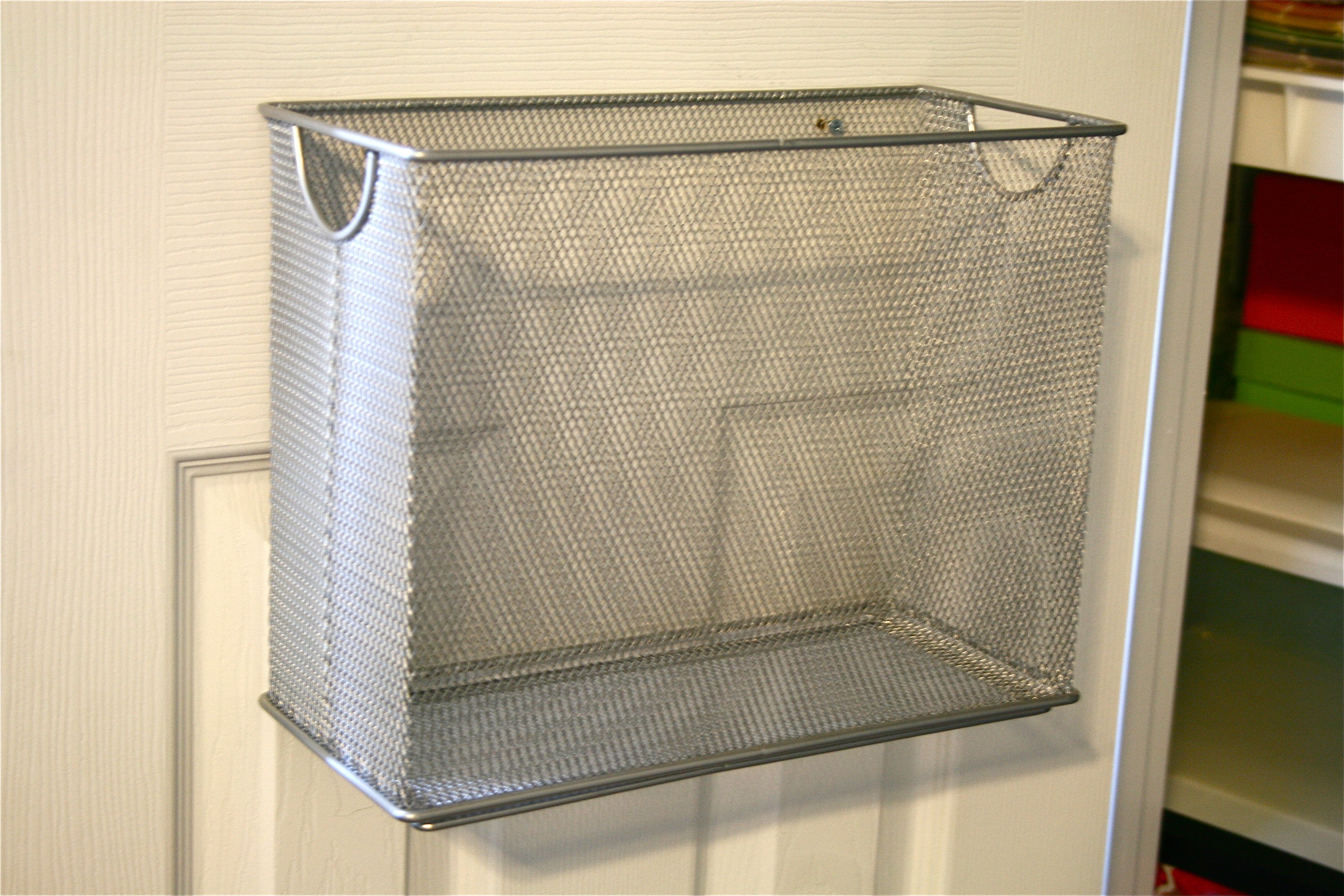 Then I nestled into the carpet for some good old-fashioned fun sorting the wrapping paper, gift bags, tissue paper and boxes 🙂 Is it weird that I absolutely love sorting? ::happy sigh::
This is what I was left with: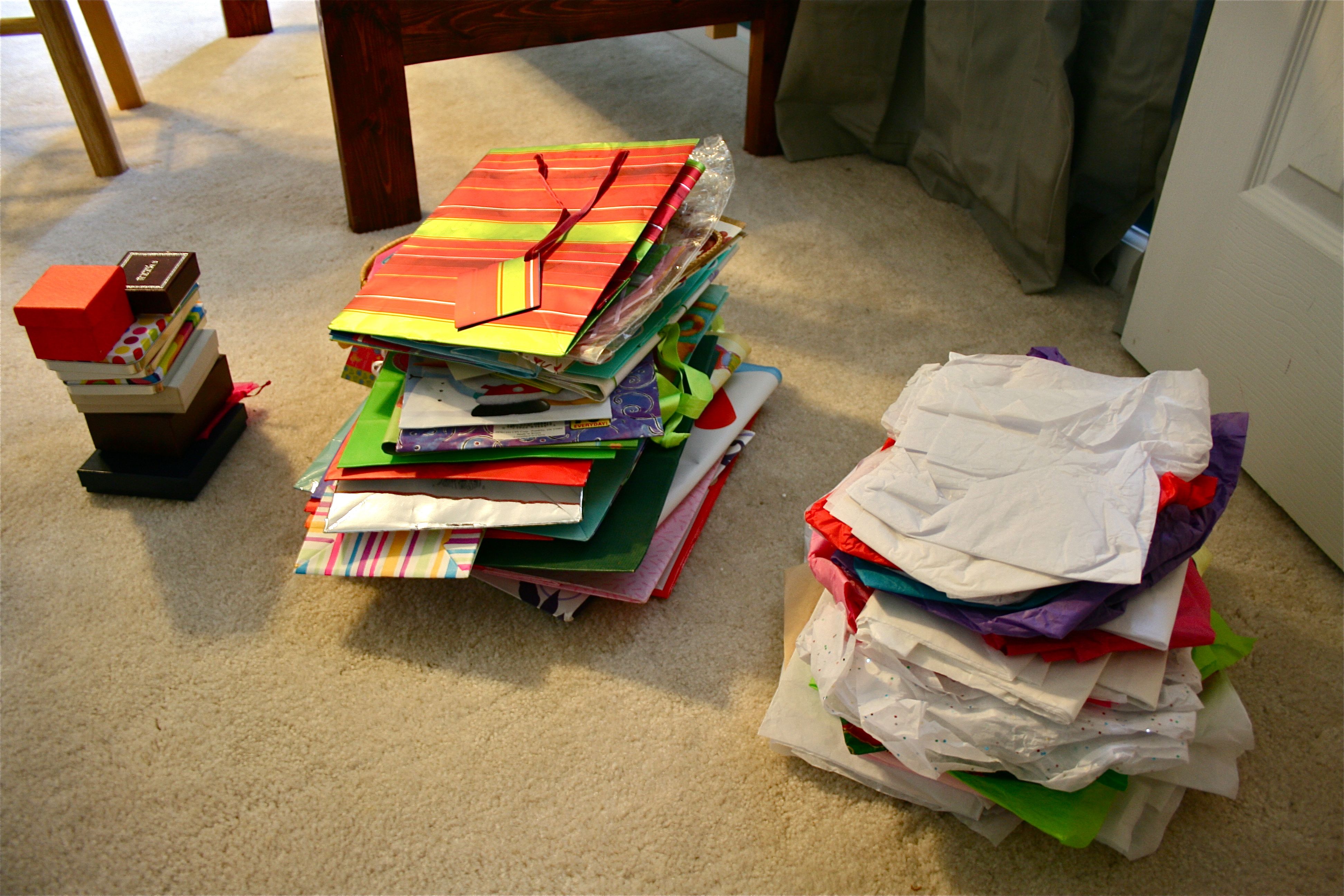 This is around the time that I realized that I had more stuff then I thought…There was no way that all of it was going to fit in the mesh file box. So the little gift boxes went back into the original tall tupperware with the wrapping paper tubes on top: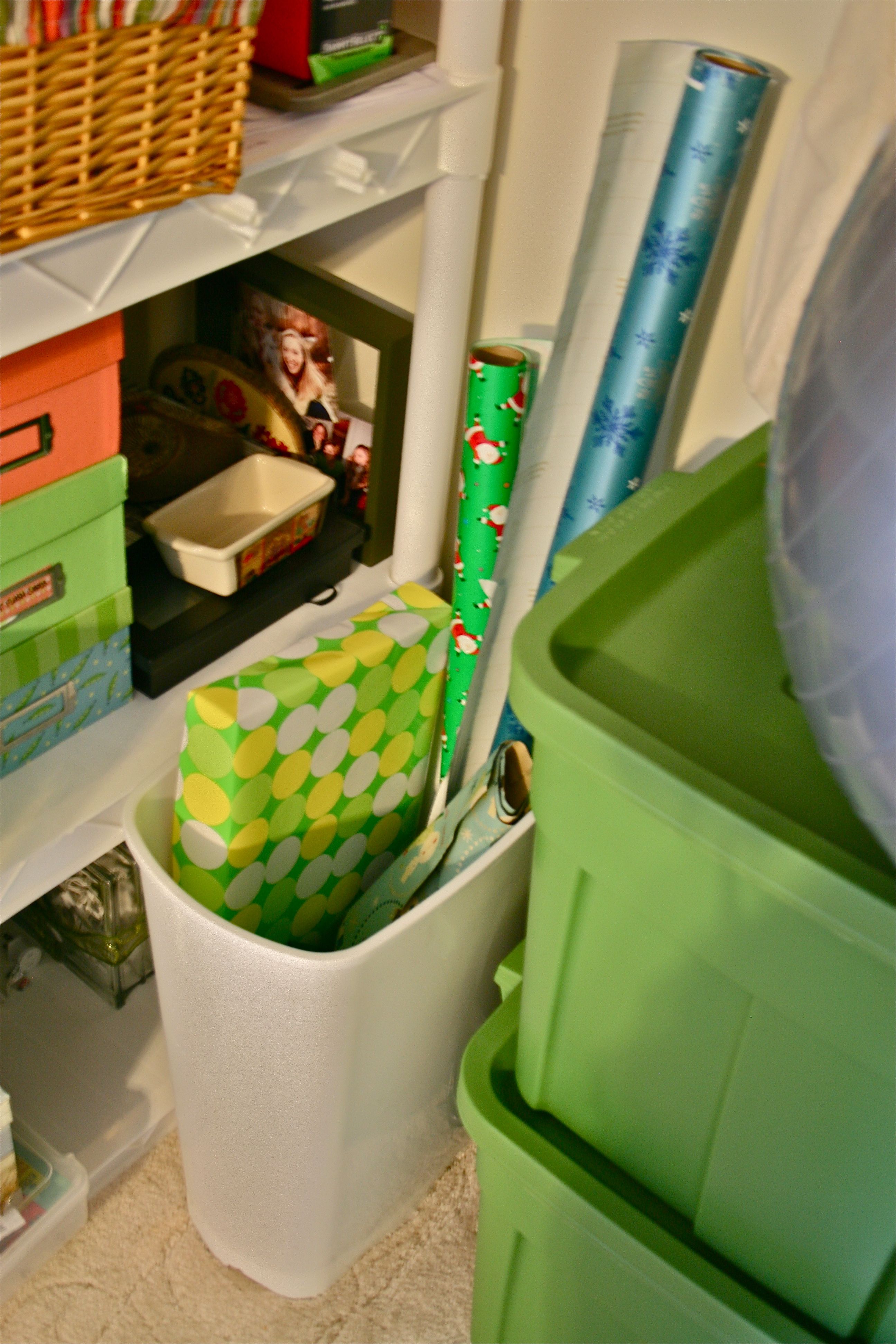 It's definitely much more organized now though!
Then it was just a matter of putting the pile of gift bags into the newly mounted file box – Luckily, they fit like a charm!I was then left with the mountain of tissue paper. You'd think that stuff would be easy to store given its see-through-thin thickness, but I guess in bulk it adds up fast. Oh and YES I keep tissue paper from gifts! I lay it out flat, fold it like a napkin and put it away for later use – Why not reuse it!? I do throw it away if it gets torn though…
ANYWAY 😉 I knew that I wasn't going to able to fit that in the new storage box on the door either, so I popped it all into a gift bag that could hold it…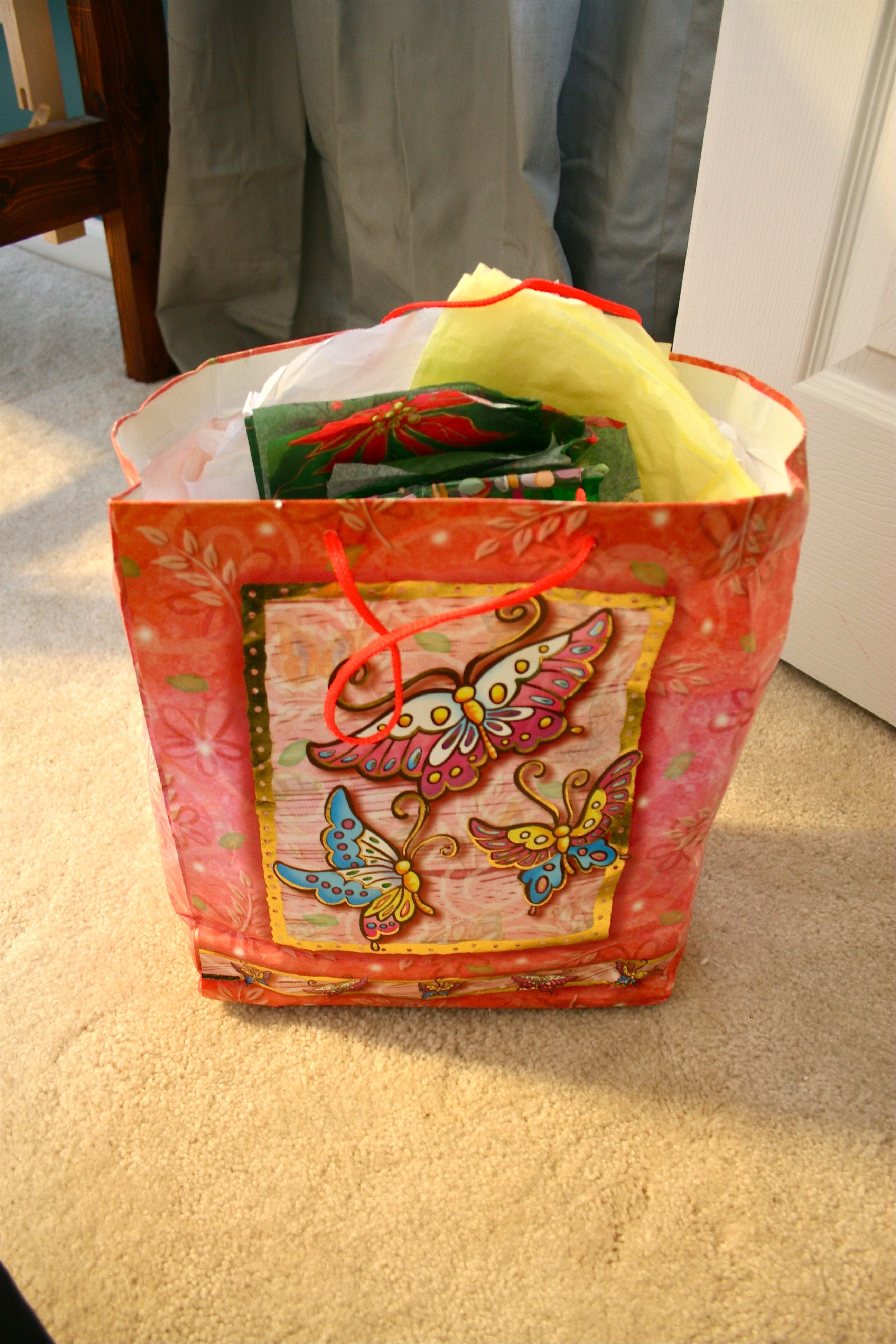 …and stuck a 3M hook up on the door beneath the file box (sorry for the visible black dog hairs):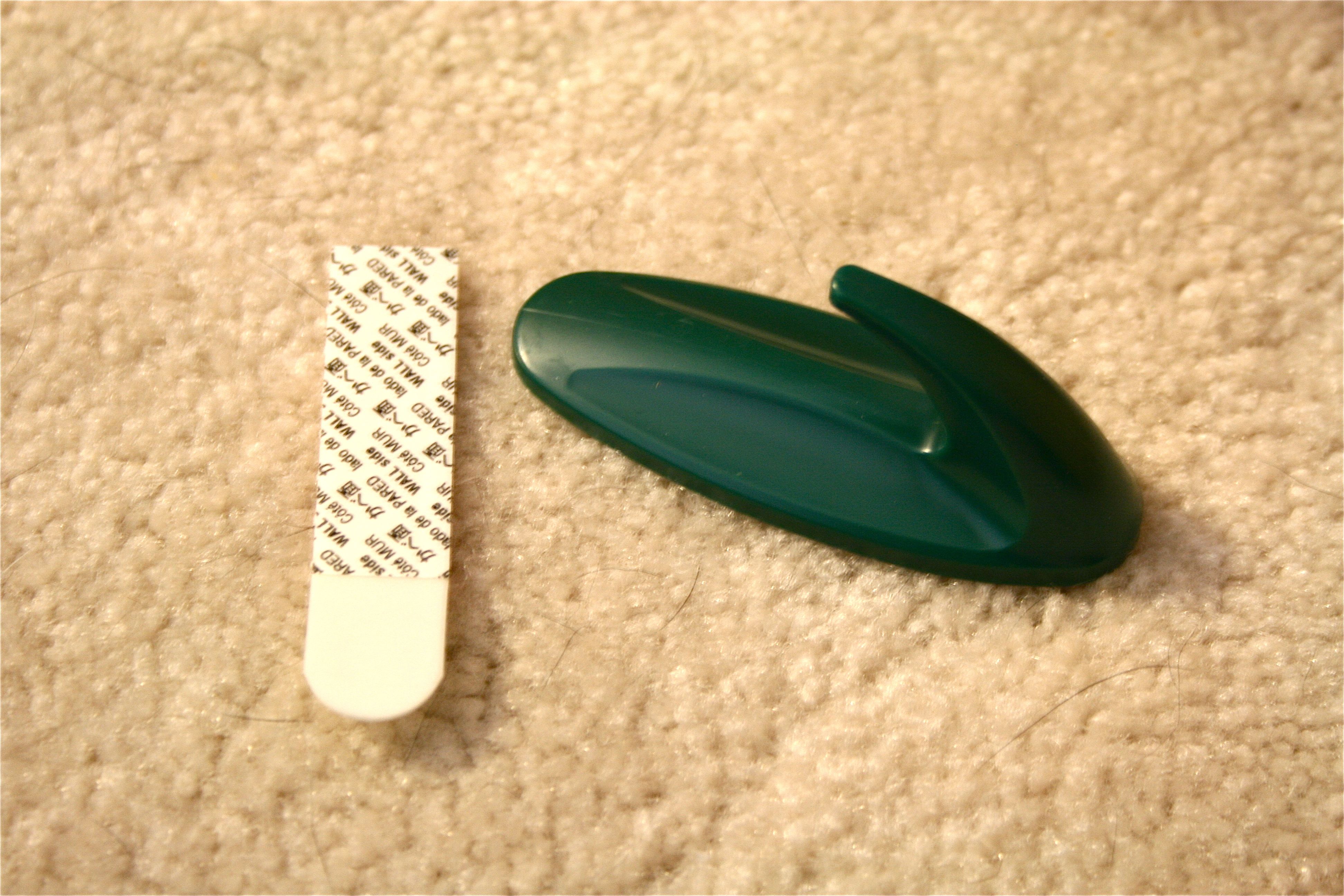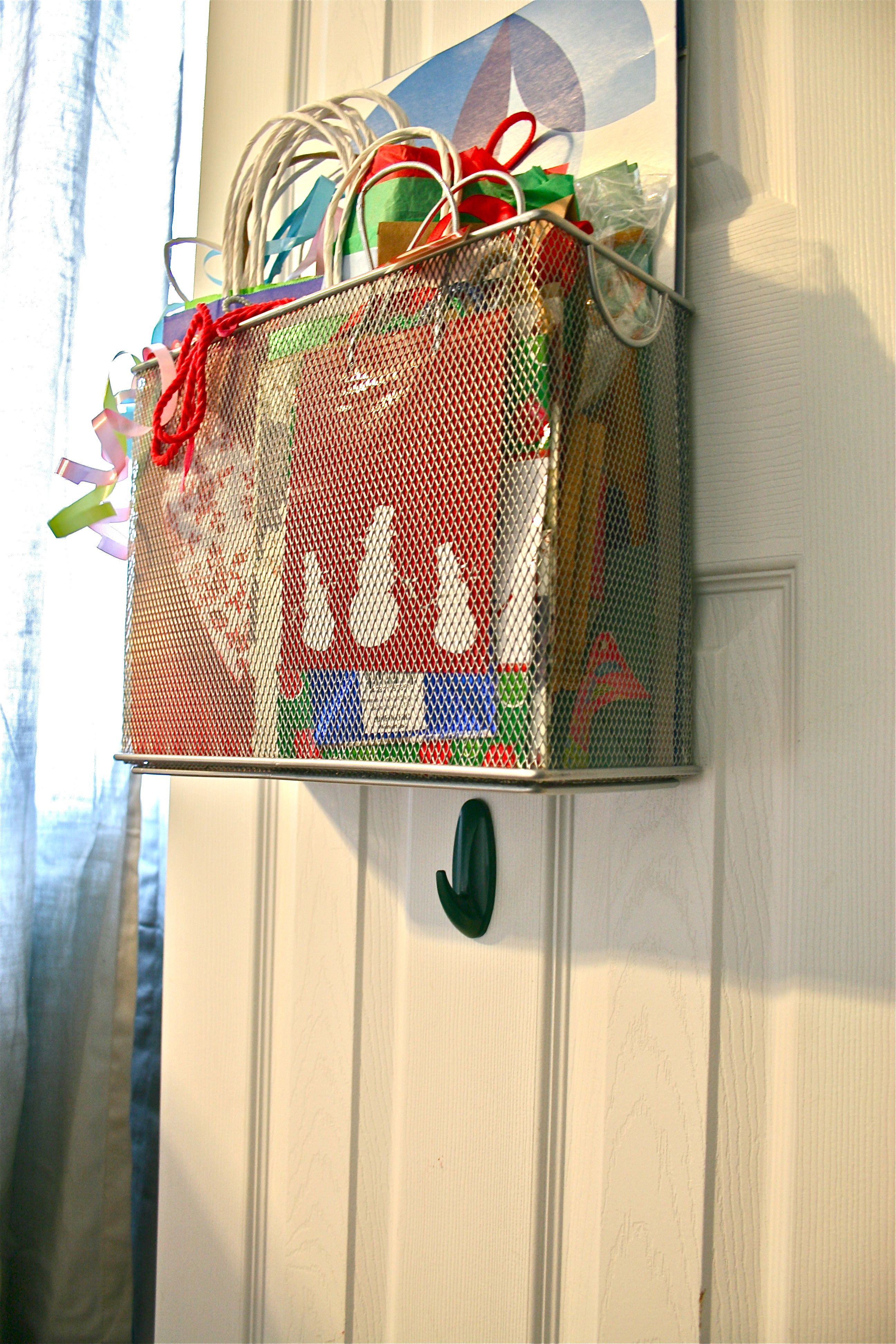 All done!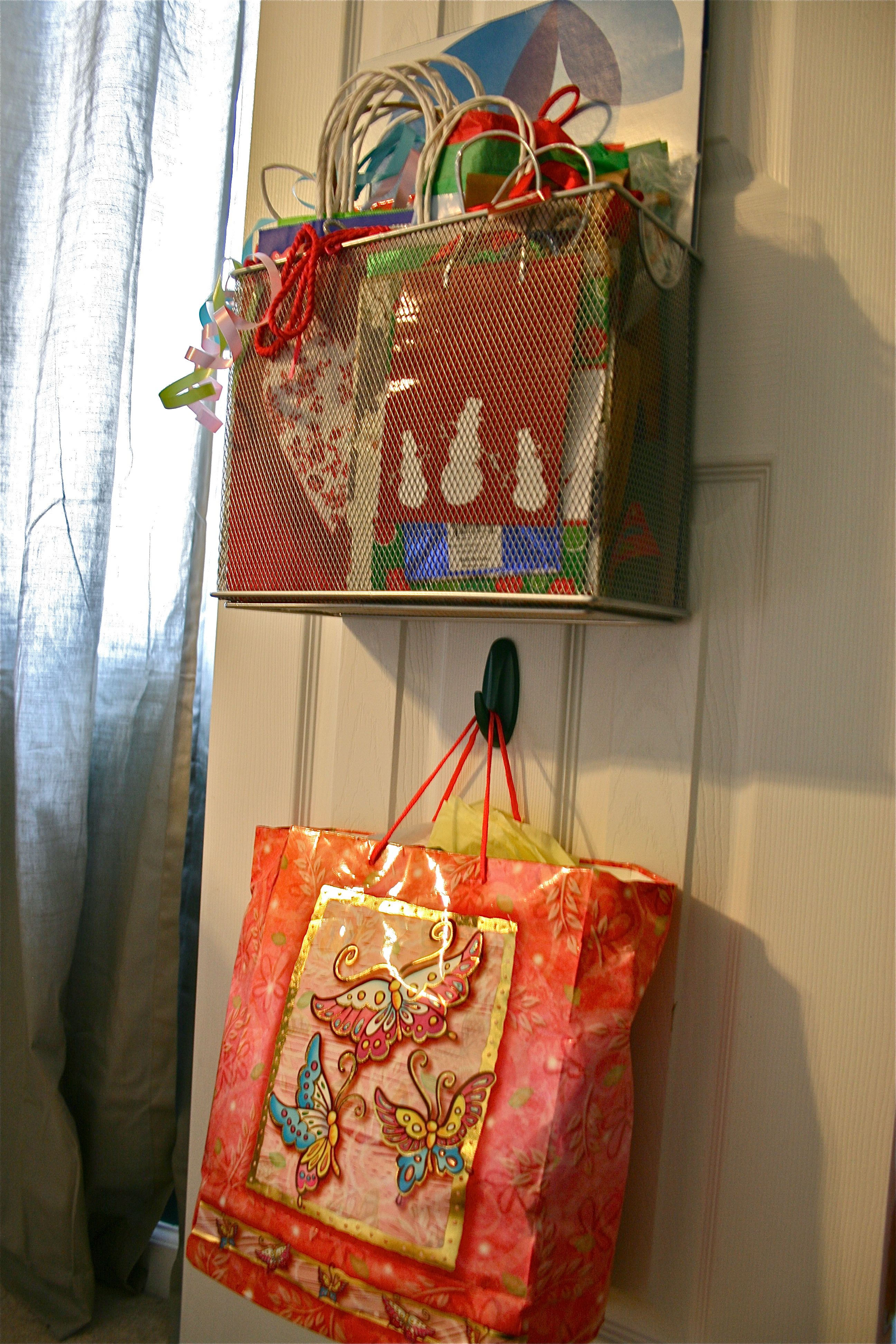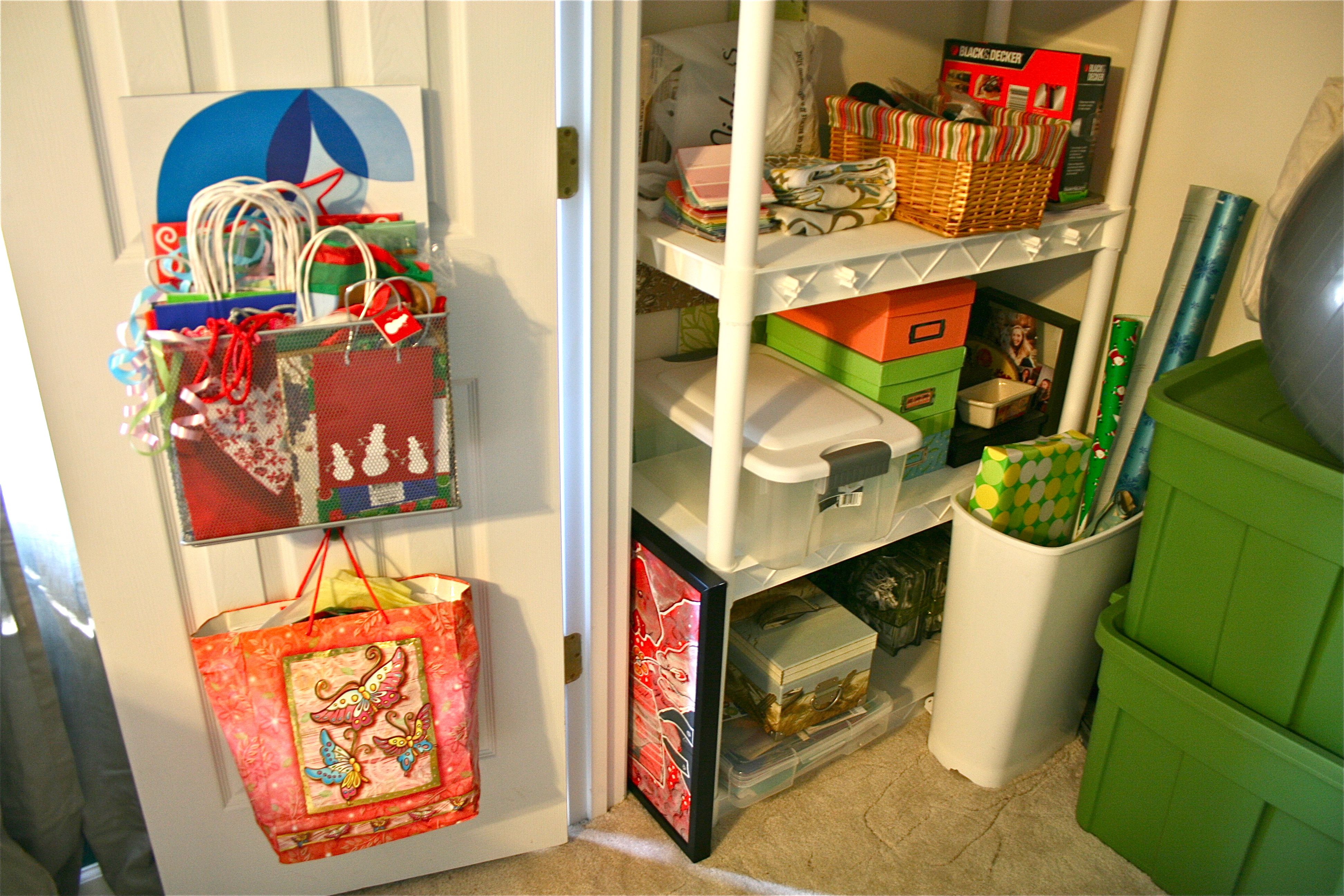 And don't worry, the door will still close even with the added bulk. You can see in the picture below (taken by yours truly while standing inside the closet) that it just barely misses one of my white shelving units: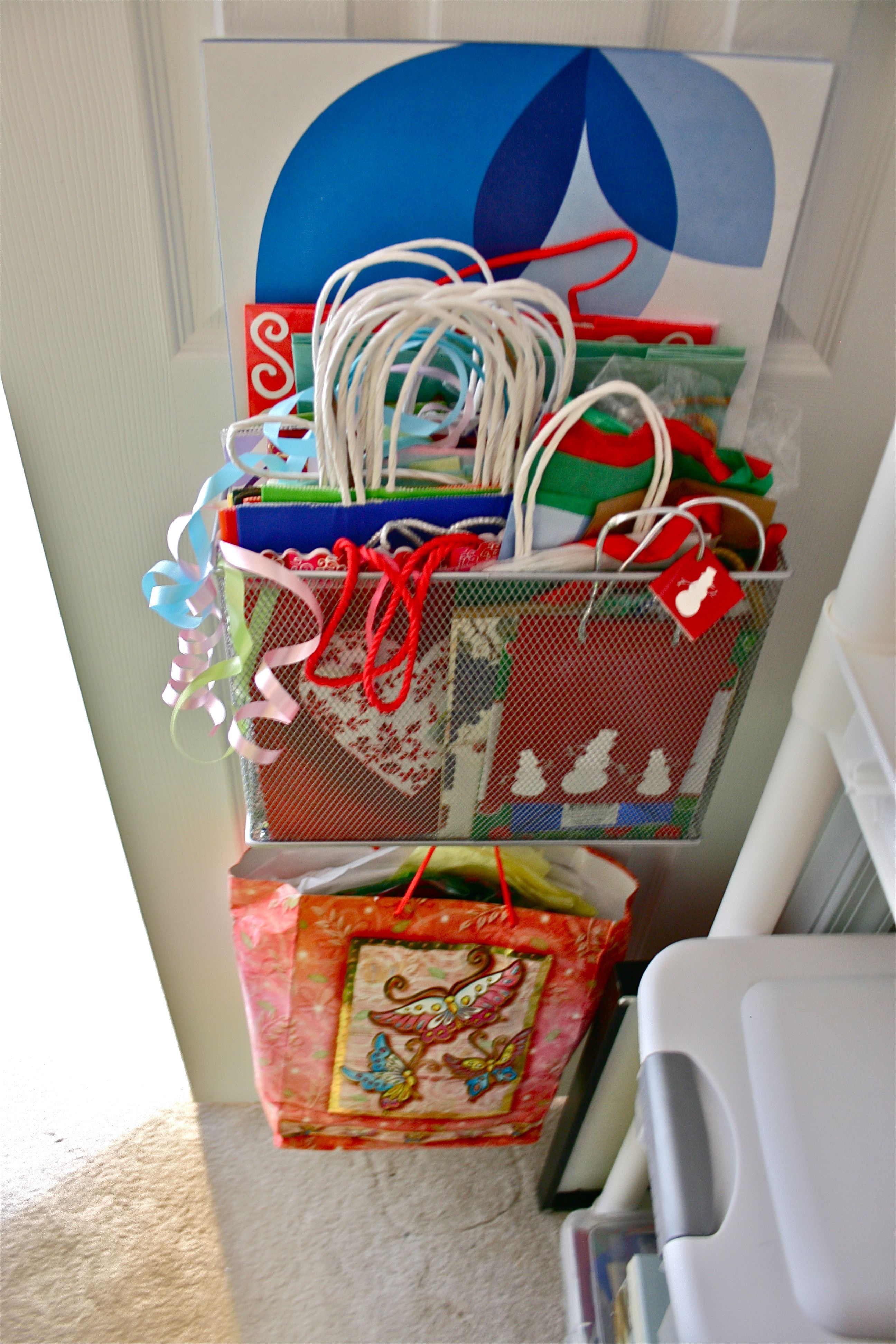 New Use for Old Thing score number 2!!!
Gotta love extra storage in places that may otherwise just go unused 🙂