As promised, I wanted to reveal what one of last week's Where-Are-They-Now "Thrift Store SCORE!"s is up to. I couldn't spill the beans then because it involved anther "Before and After" that wasn't quite ready yet…But we are now happy to let you guys in on one of our recent kitchen updates!
Before I started the move into the townhouse, John was using a dining room table that his parents lent to him. If I'm telling the story correctly, it was the table that John's parents bought when they first moved in together – So it has some sentimental value!
So why on earth would we part with it? (Don't worry, we didn't get RID of it – just gave it back to his parents) Well first of all, it doesn't really fit our taste…And secondly, I bought a very expensive dining room table a couple of years ago that I knew I didn't want to chuck.
You've seen the original table in a couple of previous posts/reveals. Like the plate wall and our new drum shade chandelier: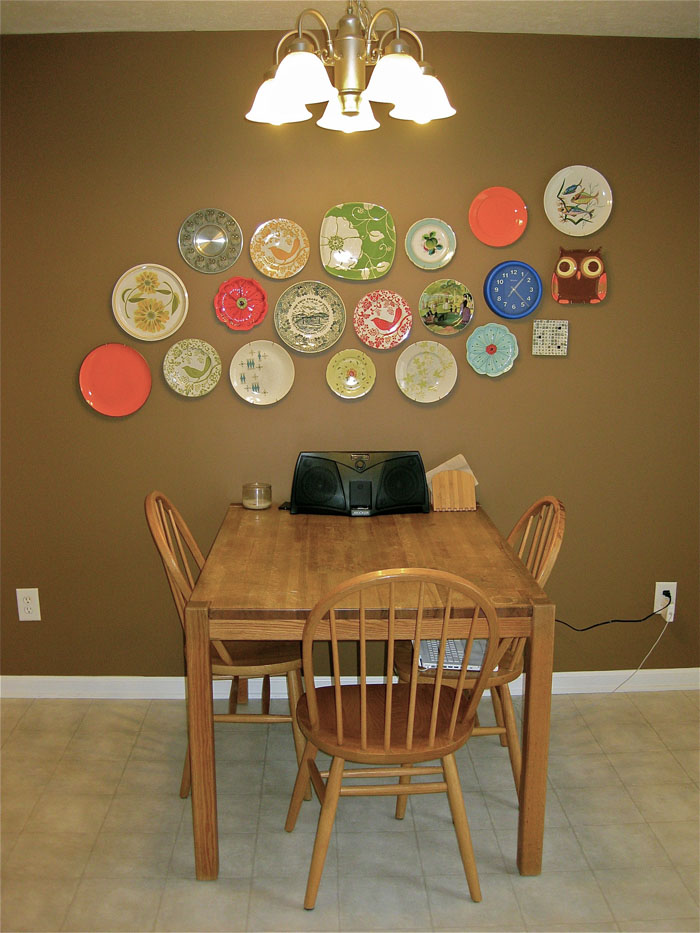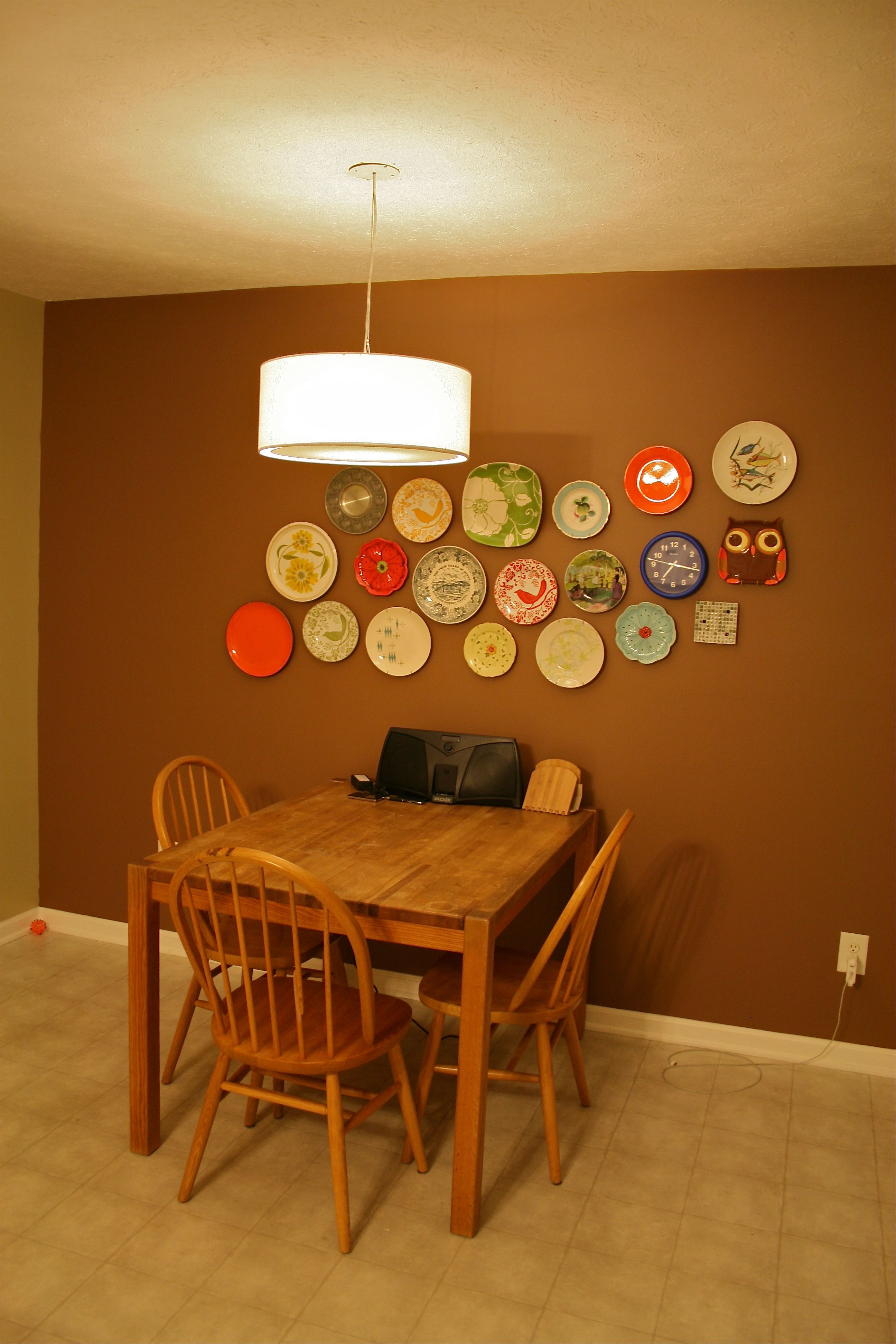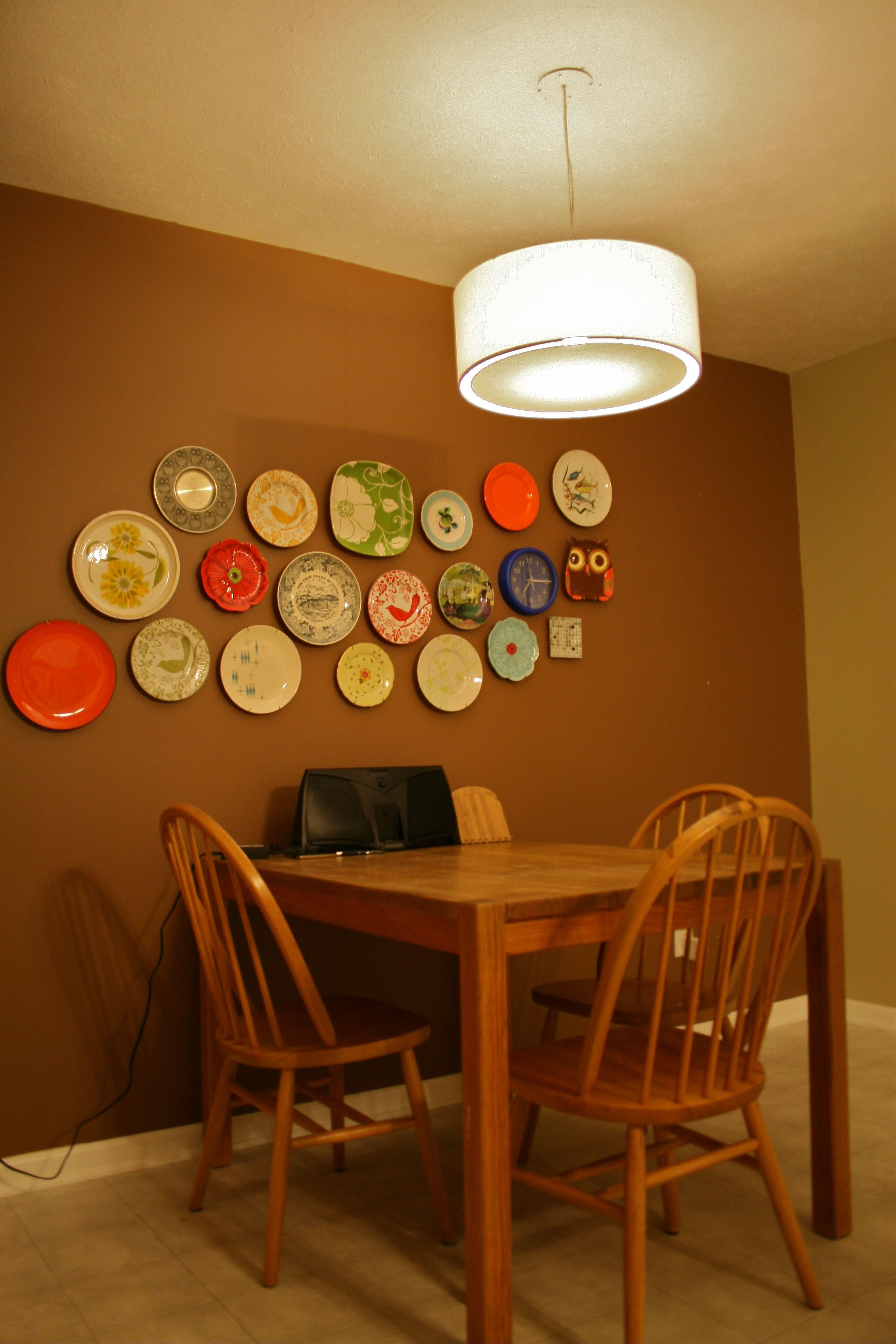 It's actually a GREAT table – Some of you may think I'm nuts for replacing it…If we found a new set of chairs (one of them is broken…) and maybe worked on refinishing it, it could have fit right in – But like I said, my expensive new table made the decision for us…
You've actually already seen the new table too! It was featured in the post touring my old apartment: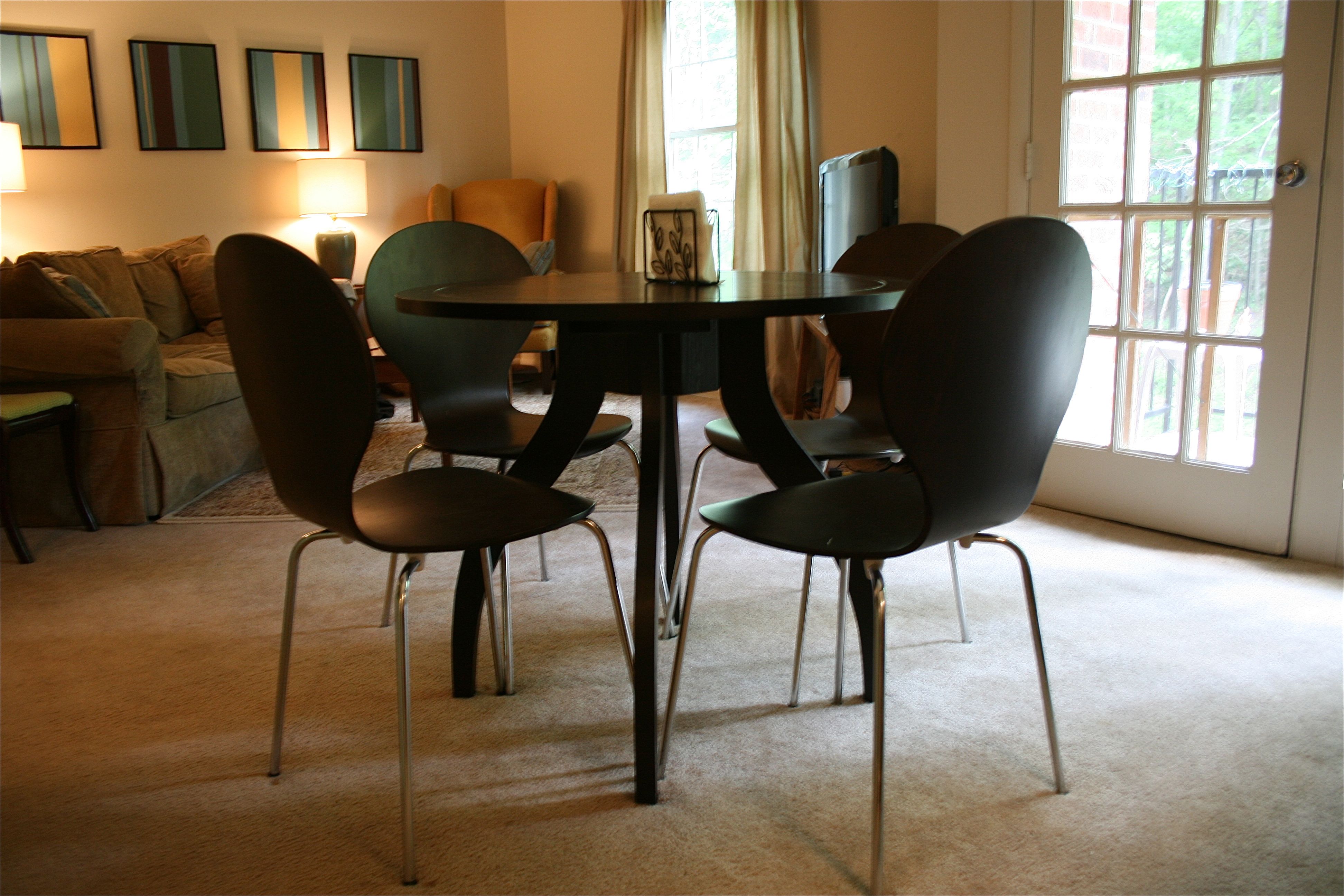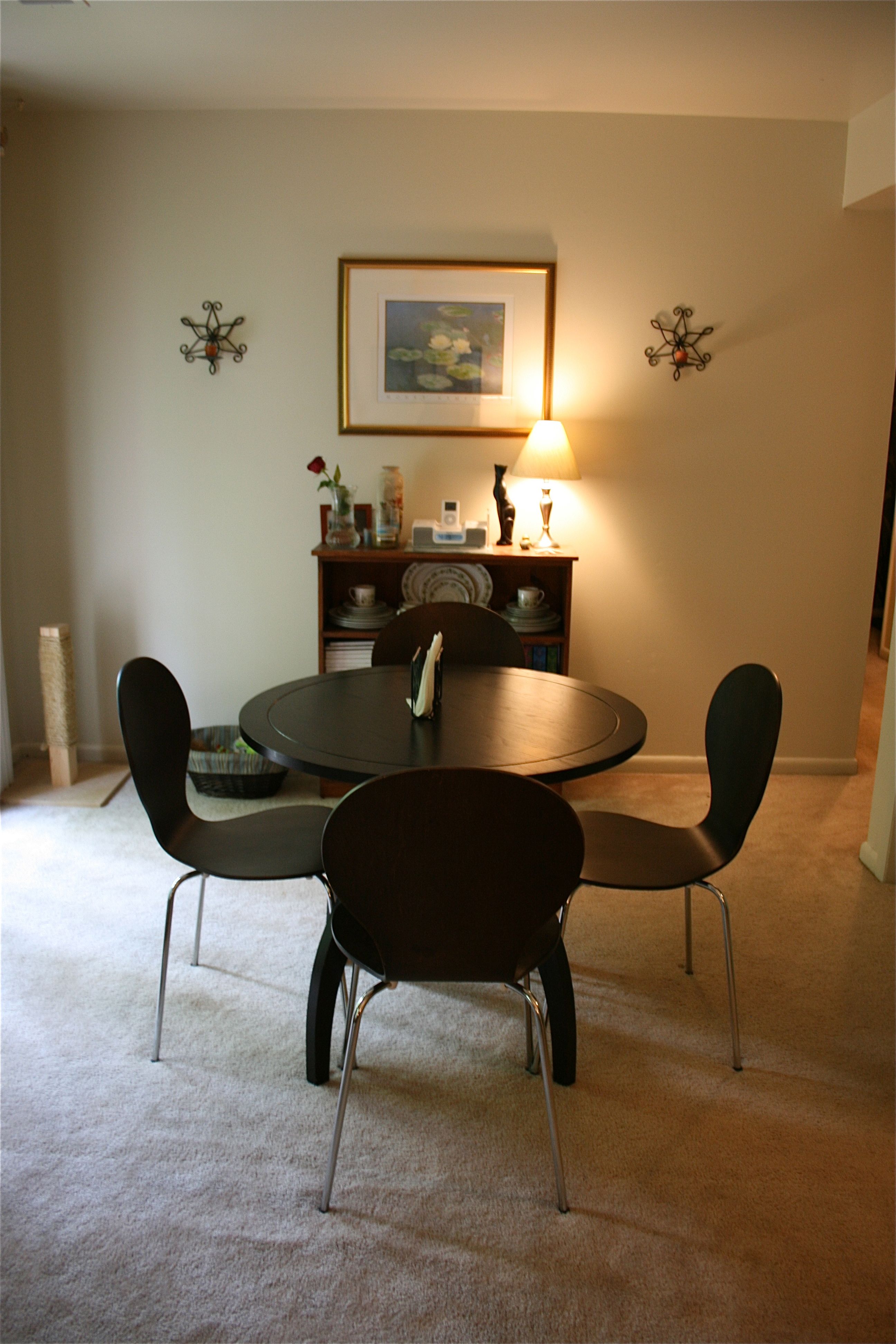 But here's the final reveal of it in place at the house (adorned with last week's "Thrift Store SCORE!" Where-Are-They-Now candle sticks):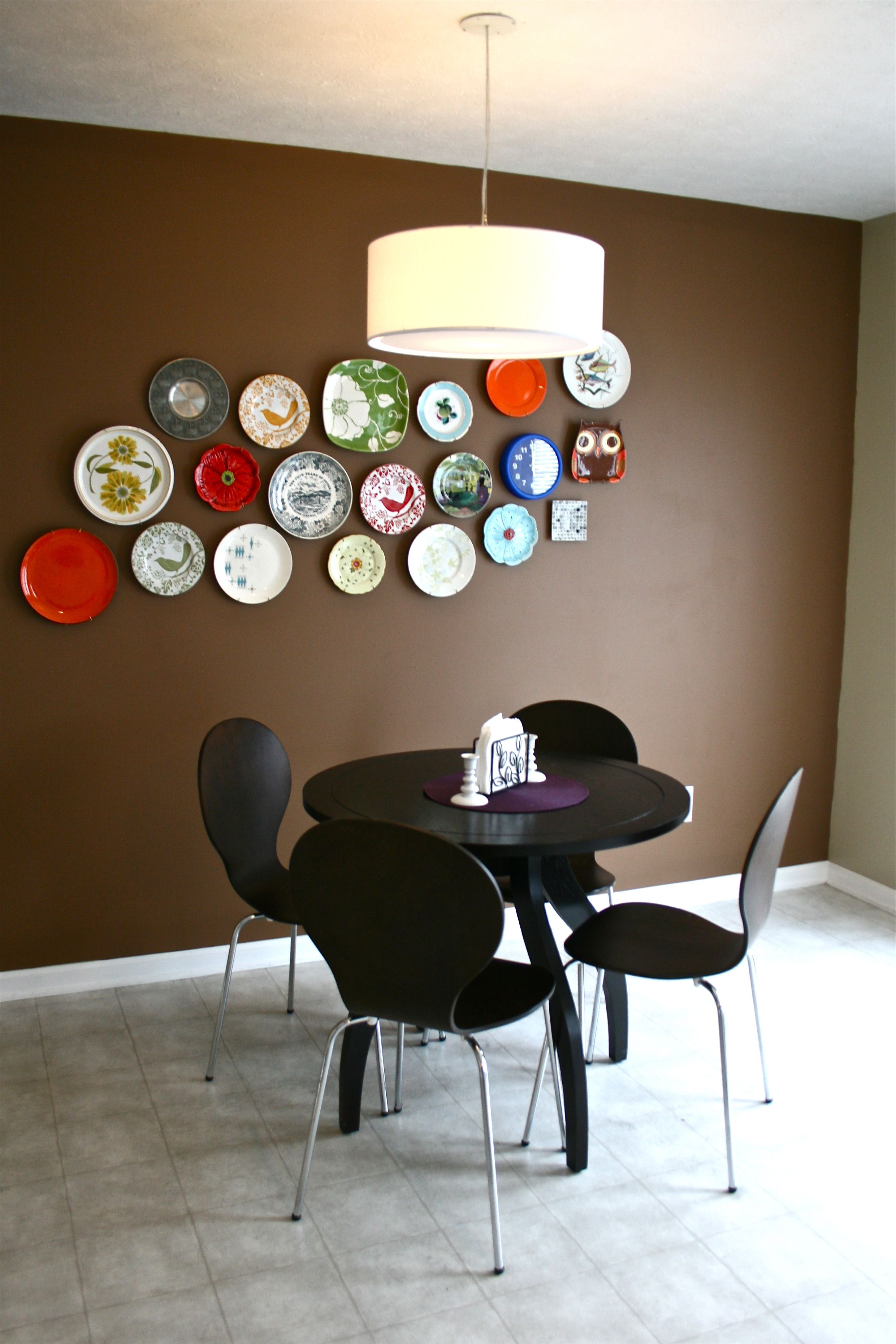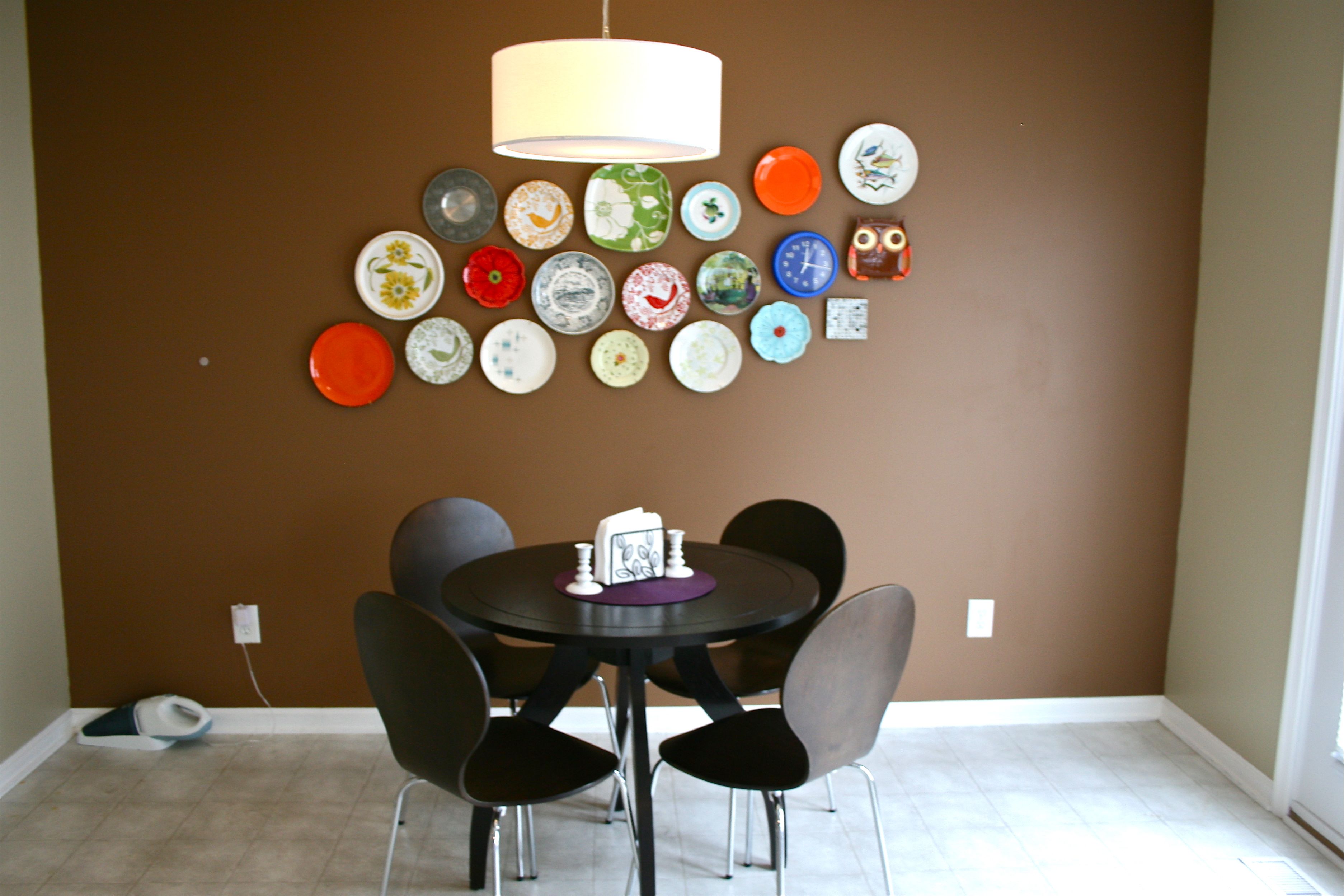 I fell in love with the unique, spider-like legs when I saw it in the furniture shop – Aren't they neat?! The deep brown almost black espresso stain is also so beautiful…The chairs actually came from Target, but their dark finish matched my table so well that you'd almost think it was a set!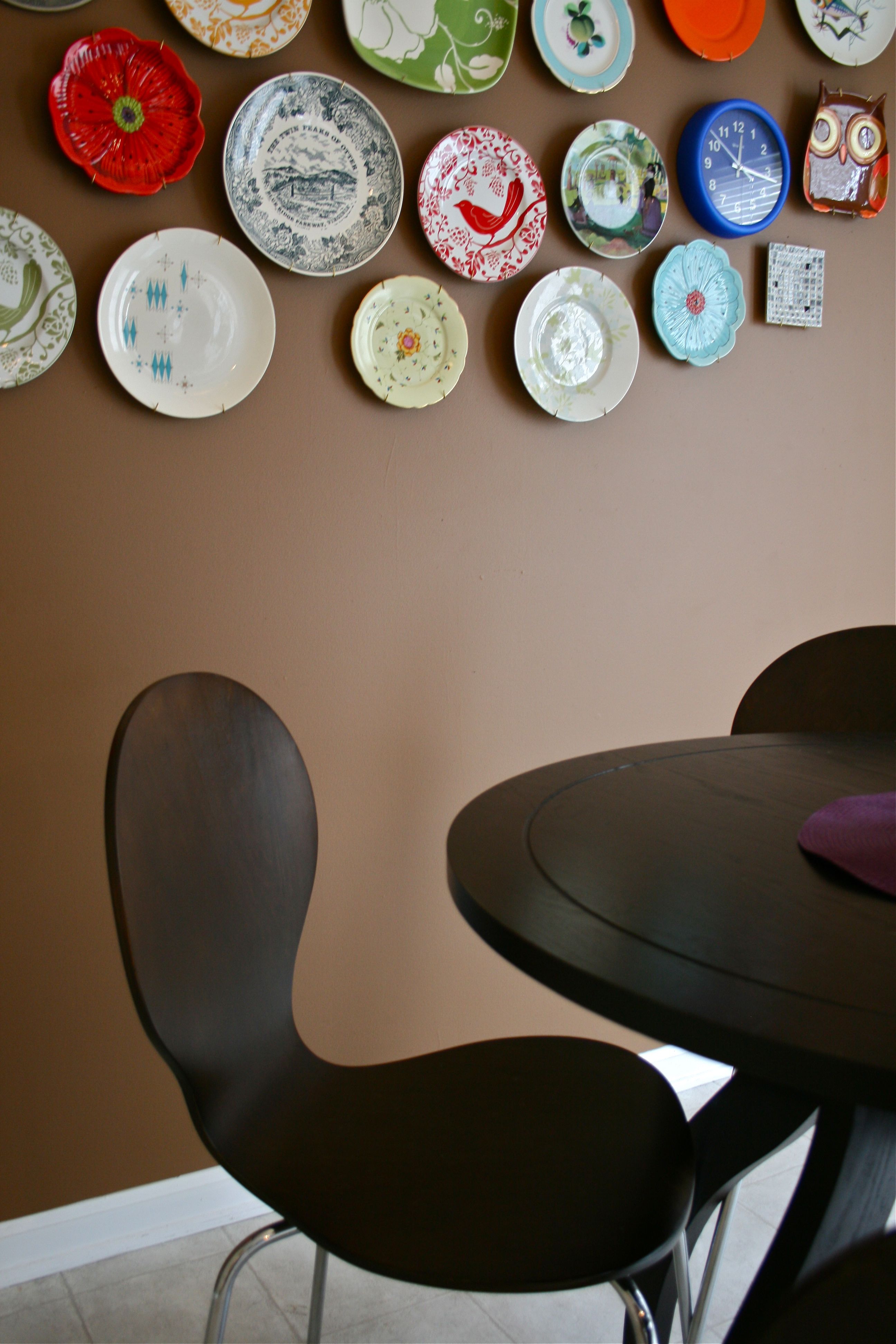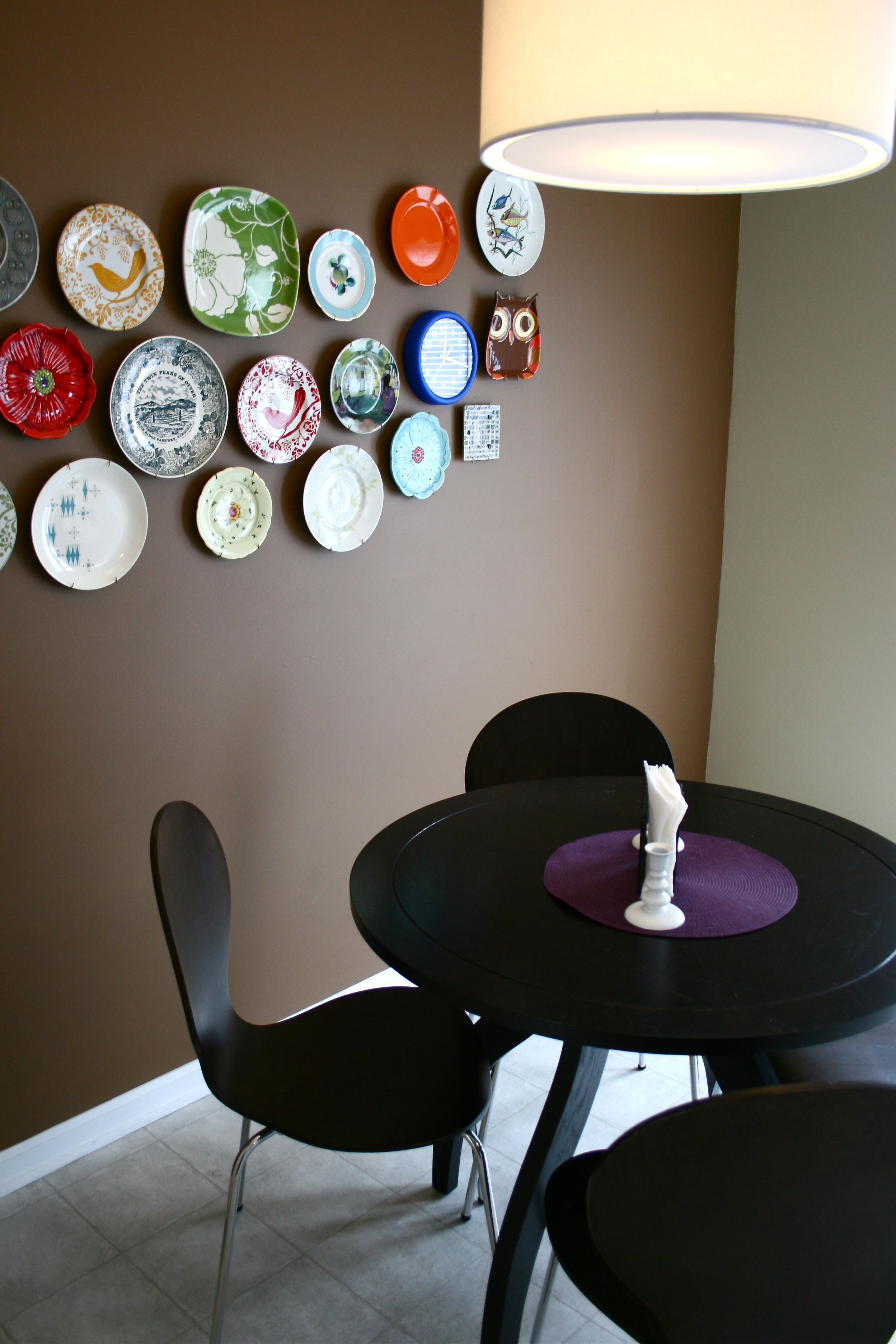 And the newly painted candle sticks seem to fit right in! Like the table, they are a nod to traditional style with a bit of a modern flair.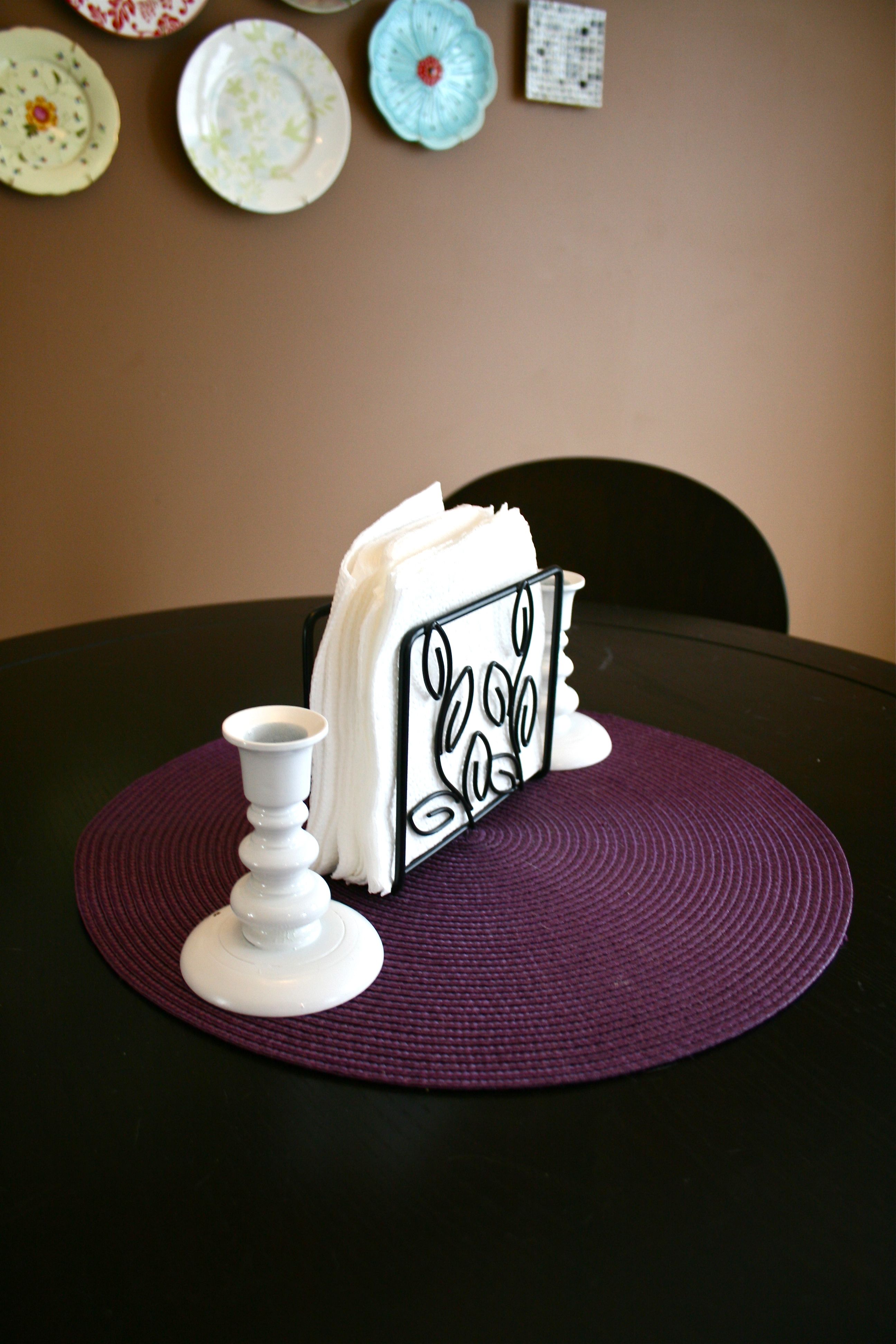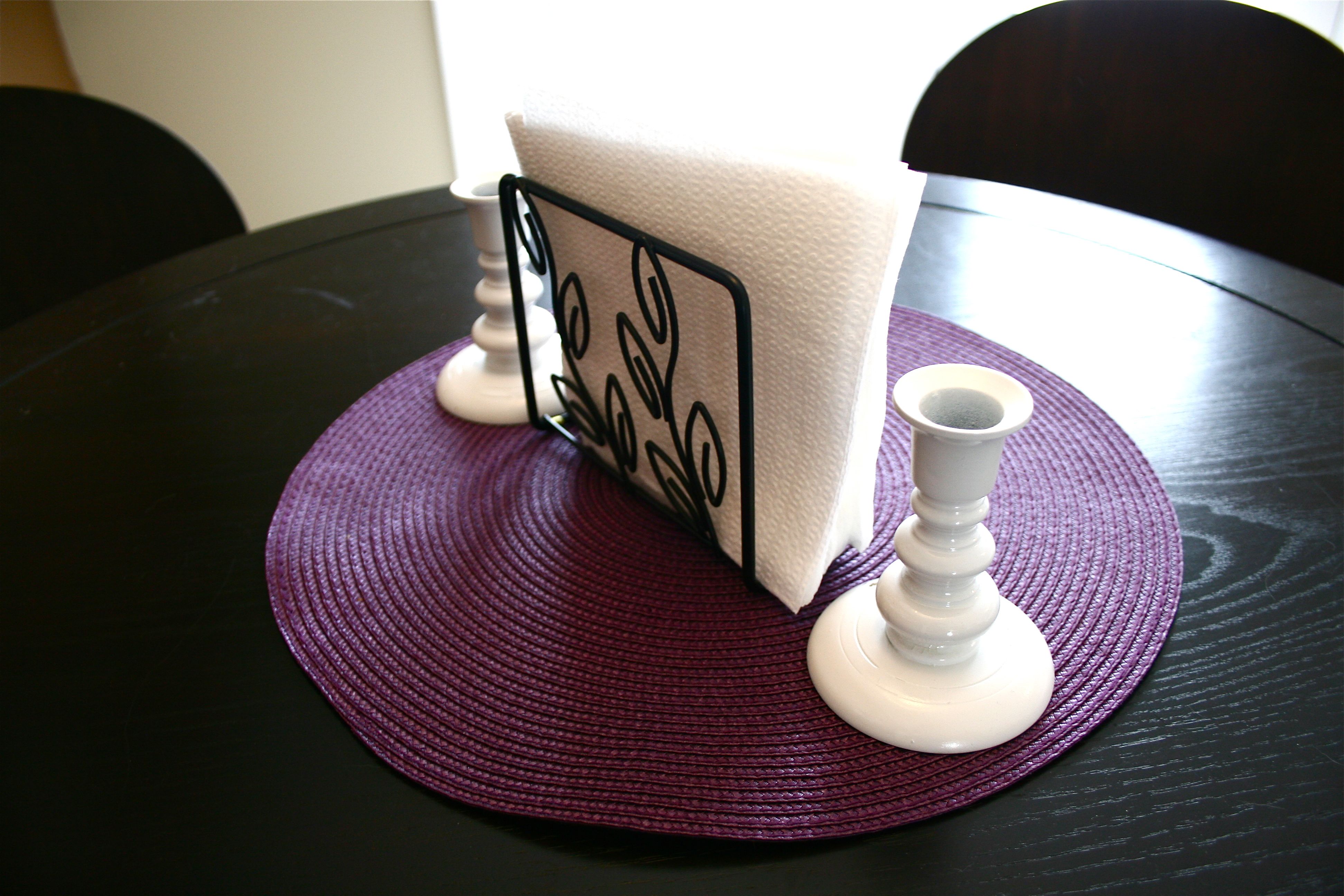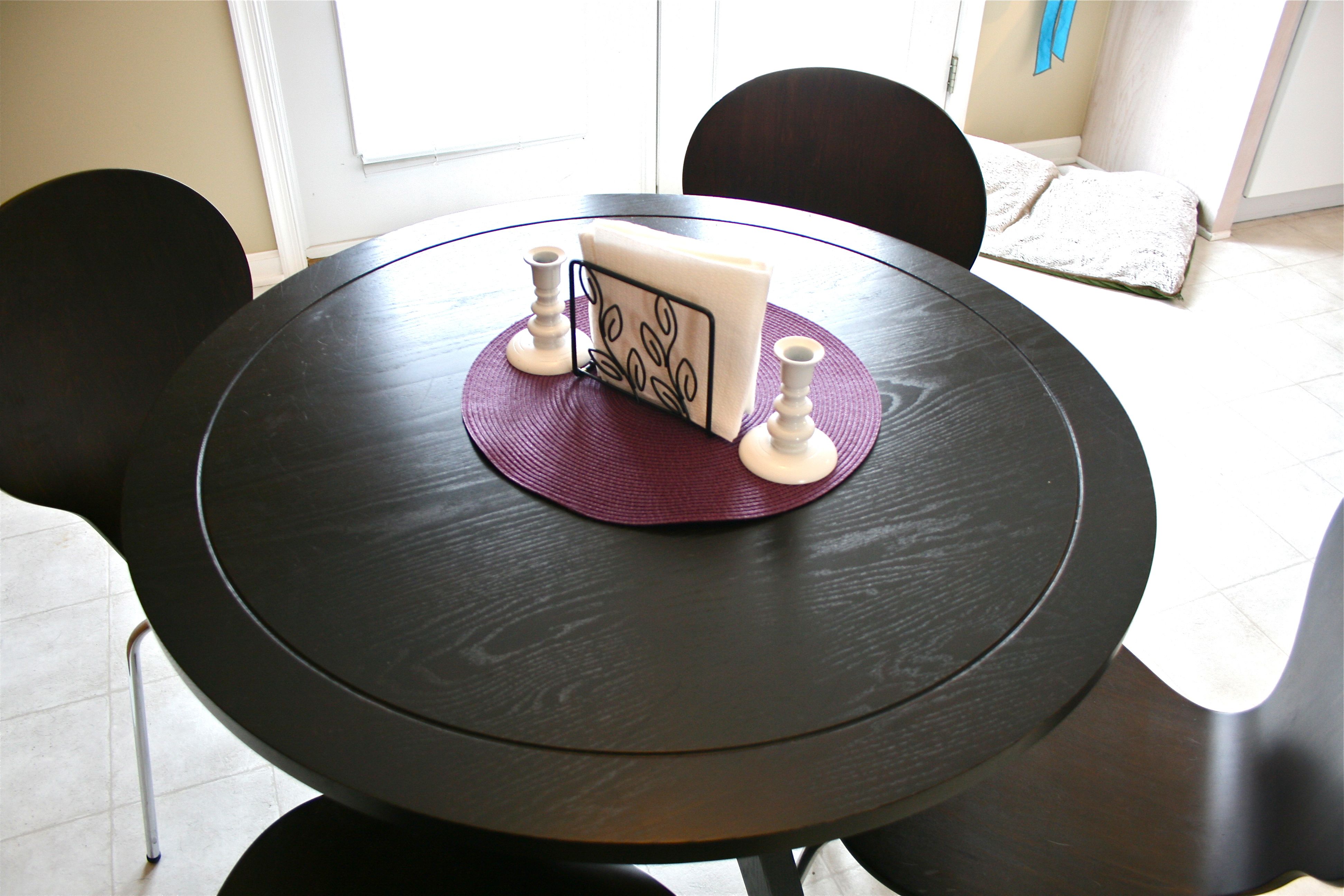 You can see the beautiful grain of the hardwood table top in the glare above – Love that…
I still think this half of the kitchen needs a little something extra to make it feel homey – It seems a little empty: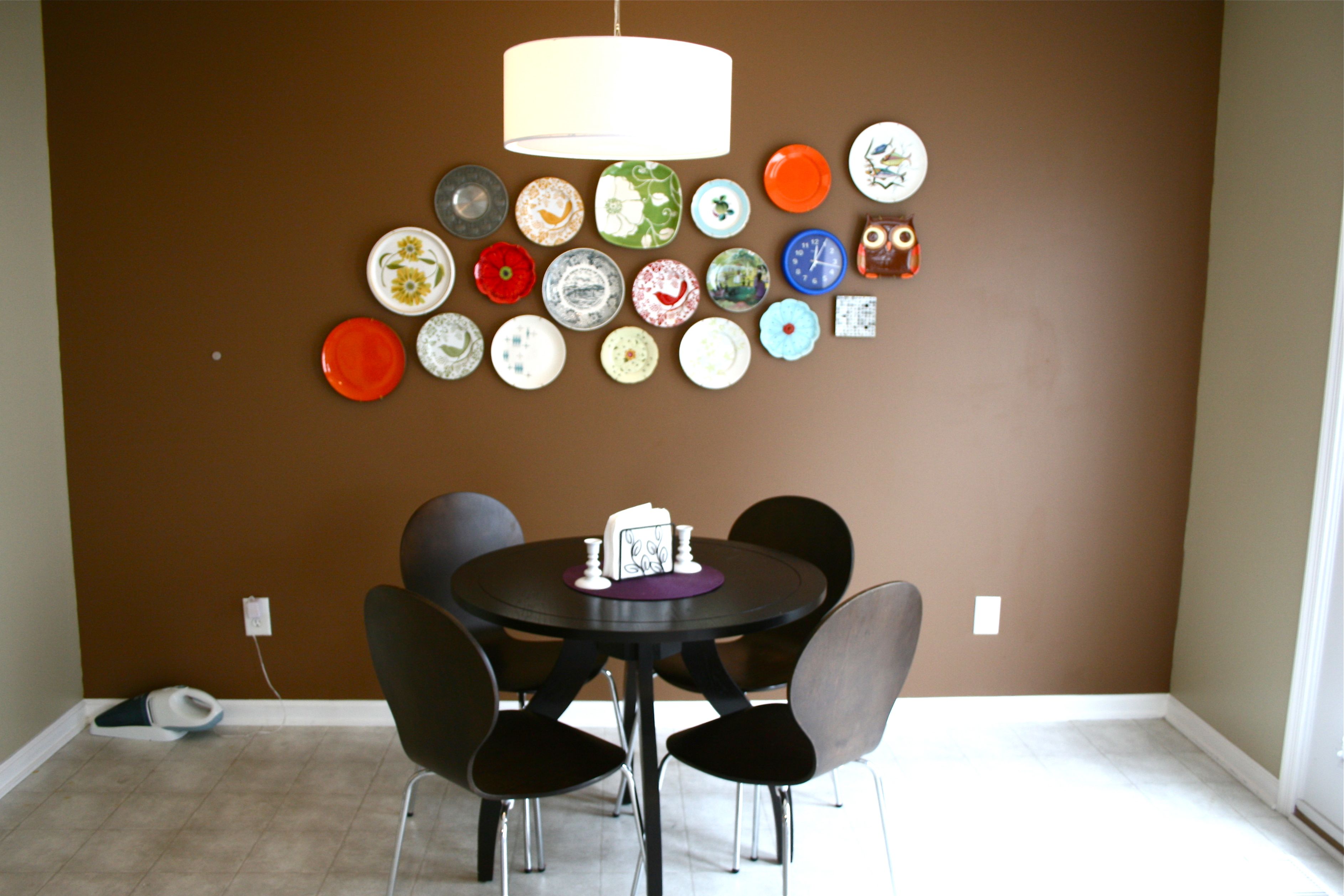 Maybe a shelving unit on the right? Some more art? More plates? What do you guys think? I welcome suggestions and advice. I'd LOVE to put a rug down, but the kitchen is where the dog lives when we aren't home and we don't want any accidents to happen. He tends to target absorbent areas of the house on the rare occasion that he can't hold it any longer…I've thought about getting a vinyl flooring remnant, painting it a solid color, and then stenciling a pattern on top to create a non-absorbent rug for the dining area. But I'm not sure if flooring stores would even sell remnants like that…We'll see!
Let us know what you think in the comments!!