Okay – I'm just going to tell this story from the very beginning with all of the enthusiasm I had before disaster struck…
So it all started a couple of weekends ago when John and I were taking a millionth stroll through our local Target store. We tend to go there if we are bored and looking for something to do – There's usually something that we could stand to pick up anyways, but besides that it's just fun to meander the aisles and daydream about all the things we would love to buy if we had unlimited funds.
This one particular trip, we stopped at this endcap: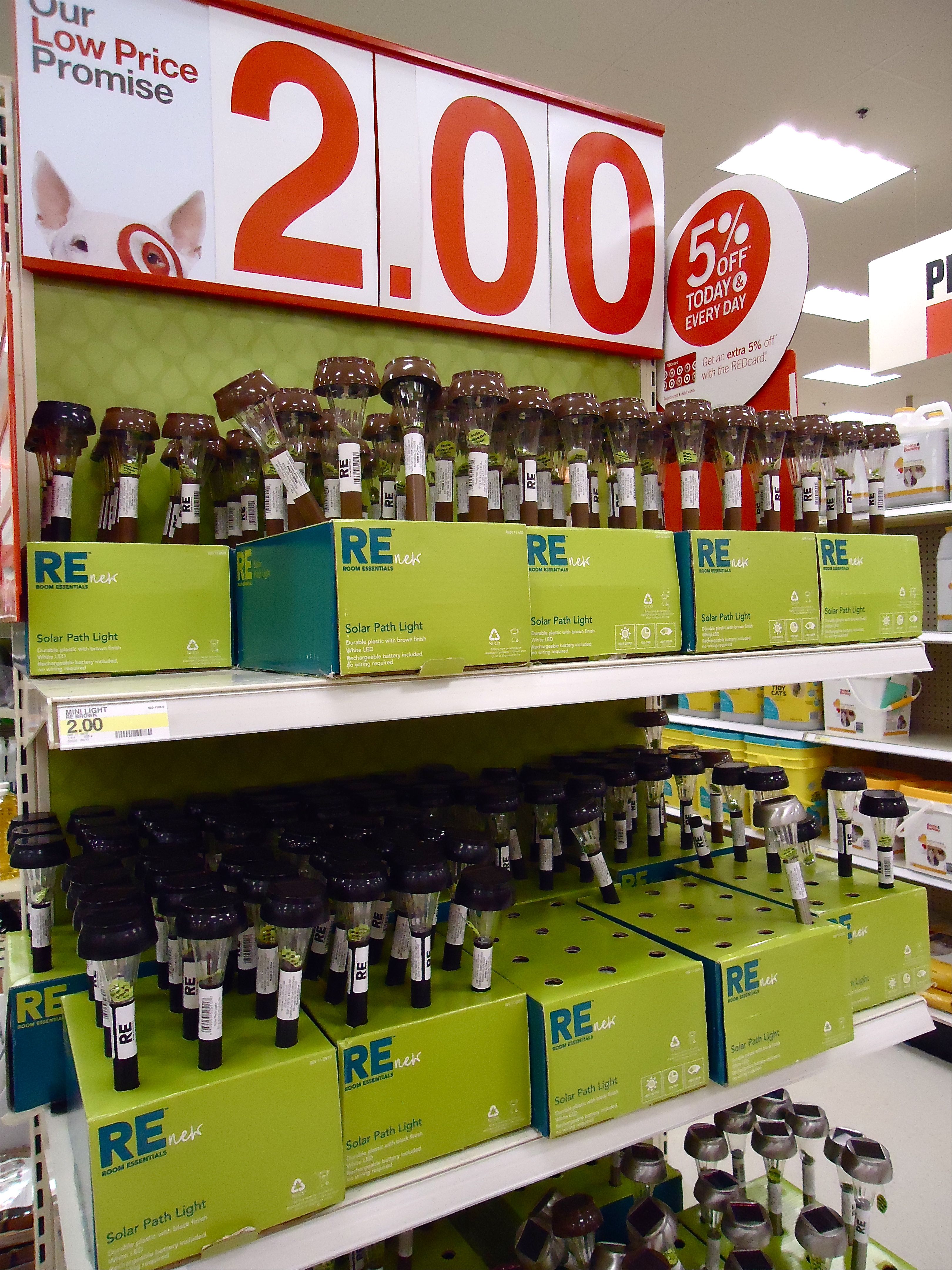 I actually think this was all initially John's idea, but we both decided that it would be nice to line our front walk way with these inexpensive little solar-powered lights. After deciding that 8 would do the trick, the $16 price tag seemed worth the ability to guide our feet home after evening walks around the neighborhood. I also thought it would be good to have so that we could tell guests "We are the house with the little solar lights lining the path."
Our biggest decision? Which color to get!!! The options were…
Silver: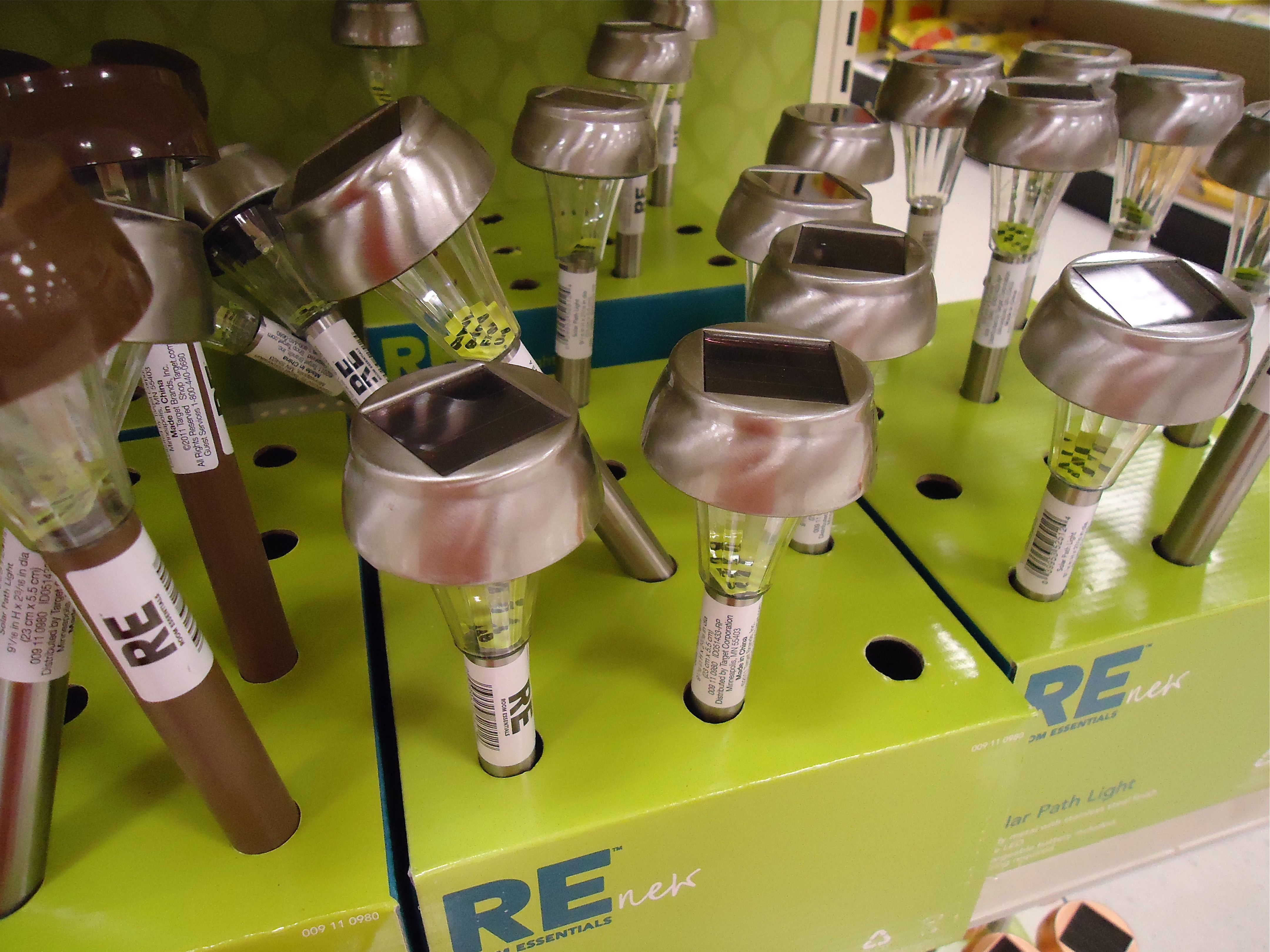 Bronze: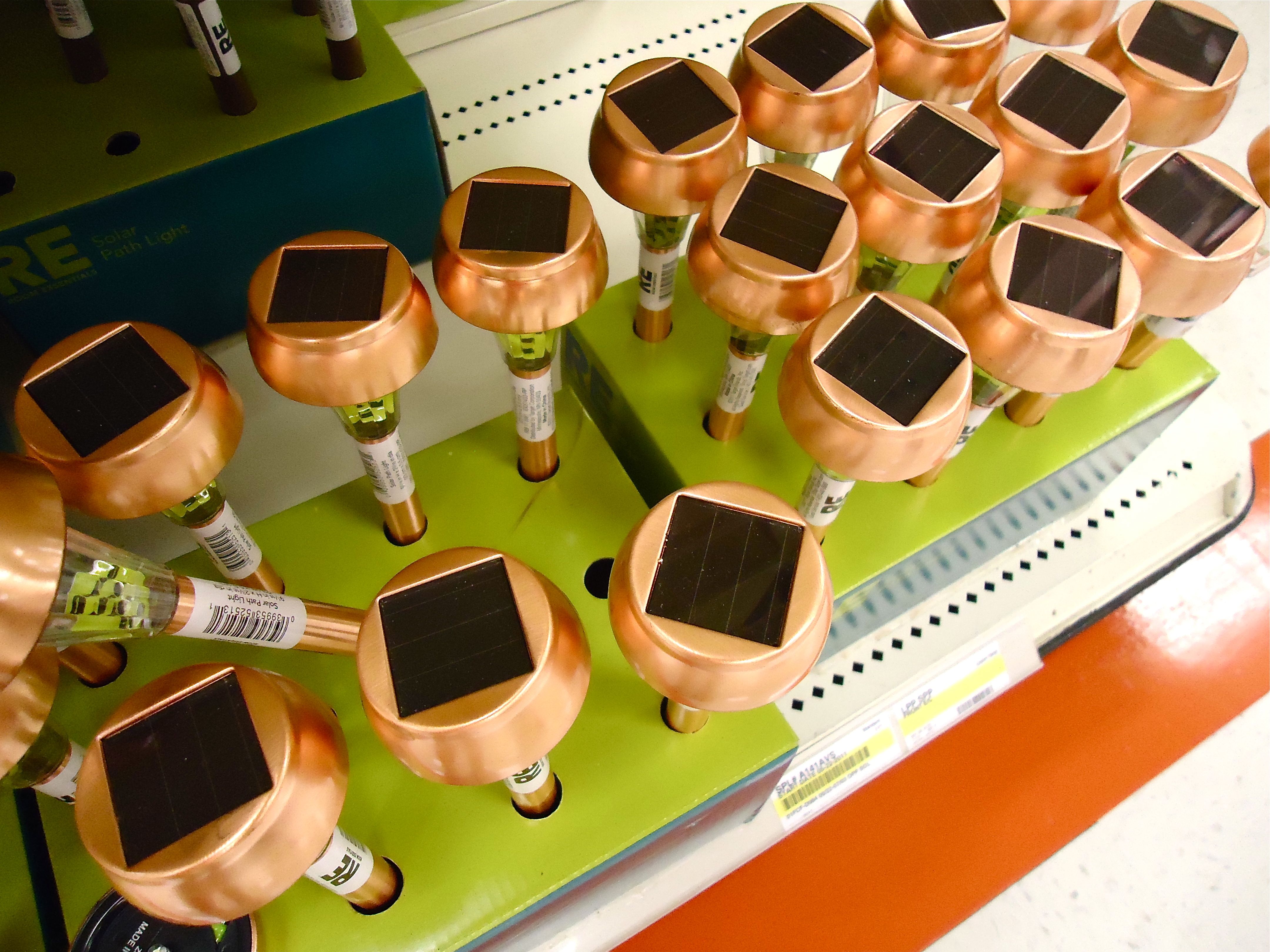 Brown: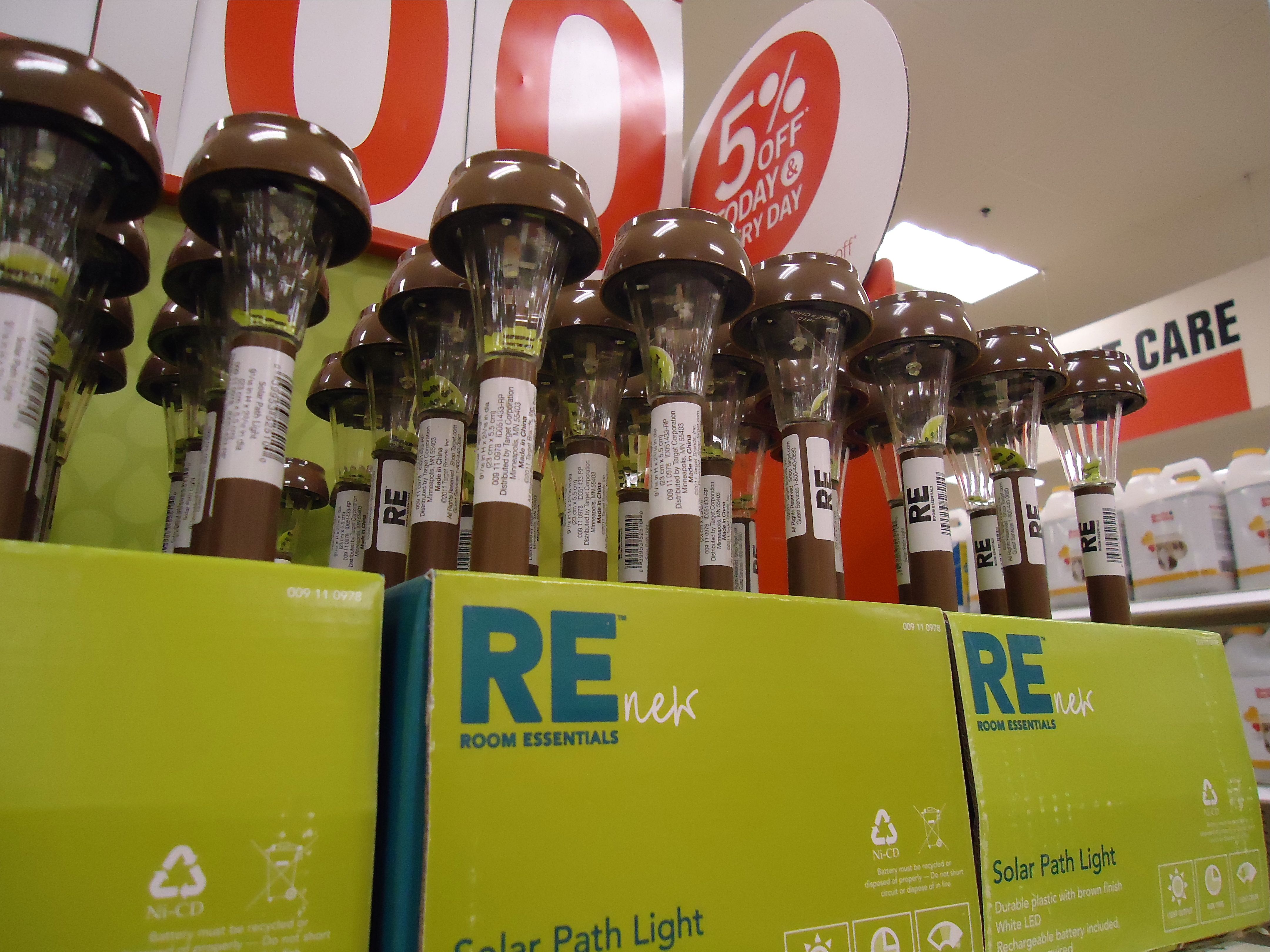 Or black (I promise they are black – The lighting is throwing the color off):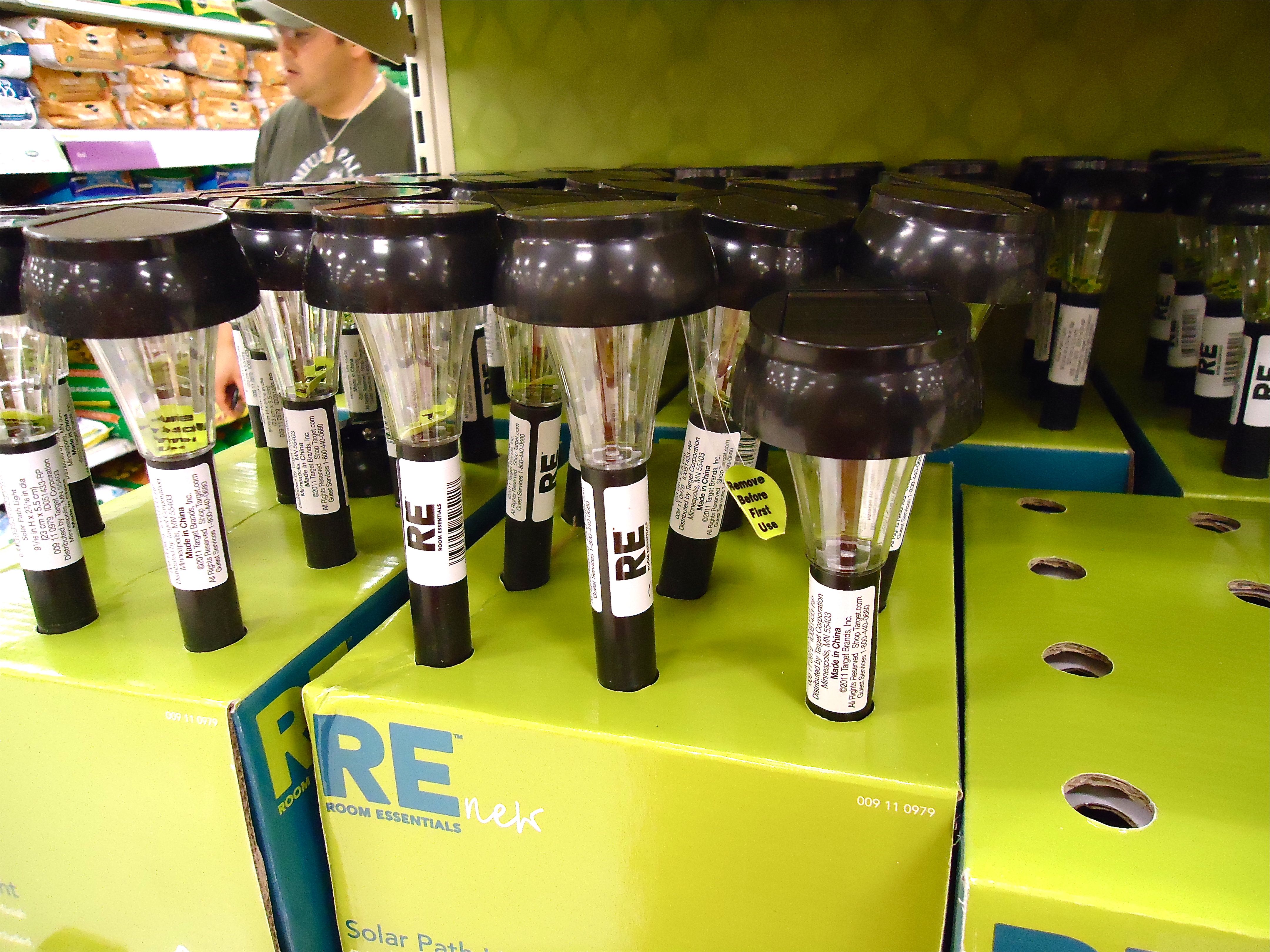 We decided on the black ones since they would blend into the dark mulch at night – As cute as these little lights are, I wasn't too keen on the idea of them being SUPER obvious.
When we tried out the light system (which turns on when night falls) by putting a hand over the solar panel, our decision was complete. Look how cool the light is! It's kind of star-like: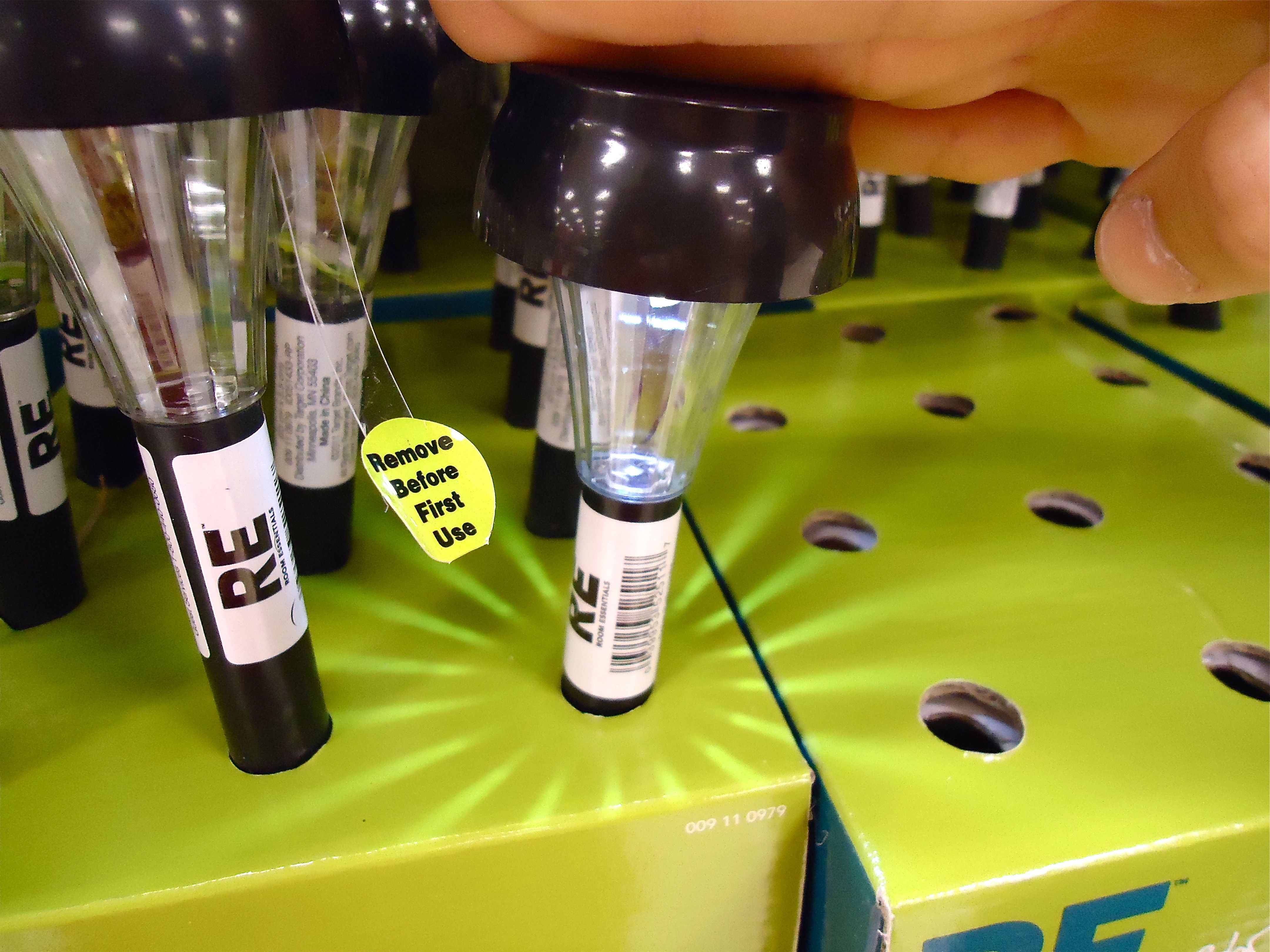 So we took home a little box-worth of our eight lights and got to work peeling off the stickers and "Remove Before First Use" tab to activate the light bulb.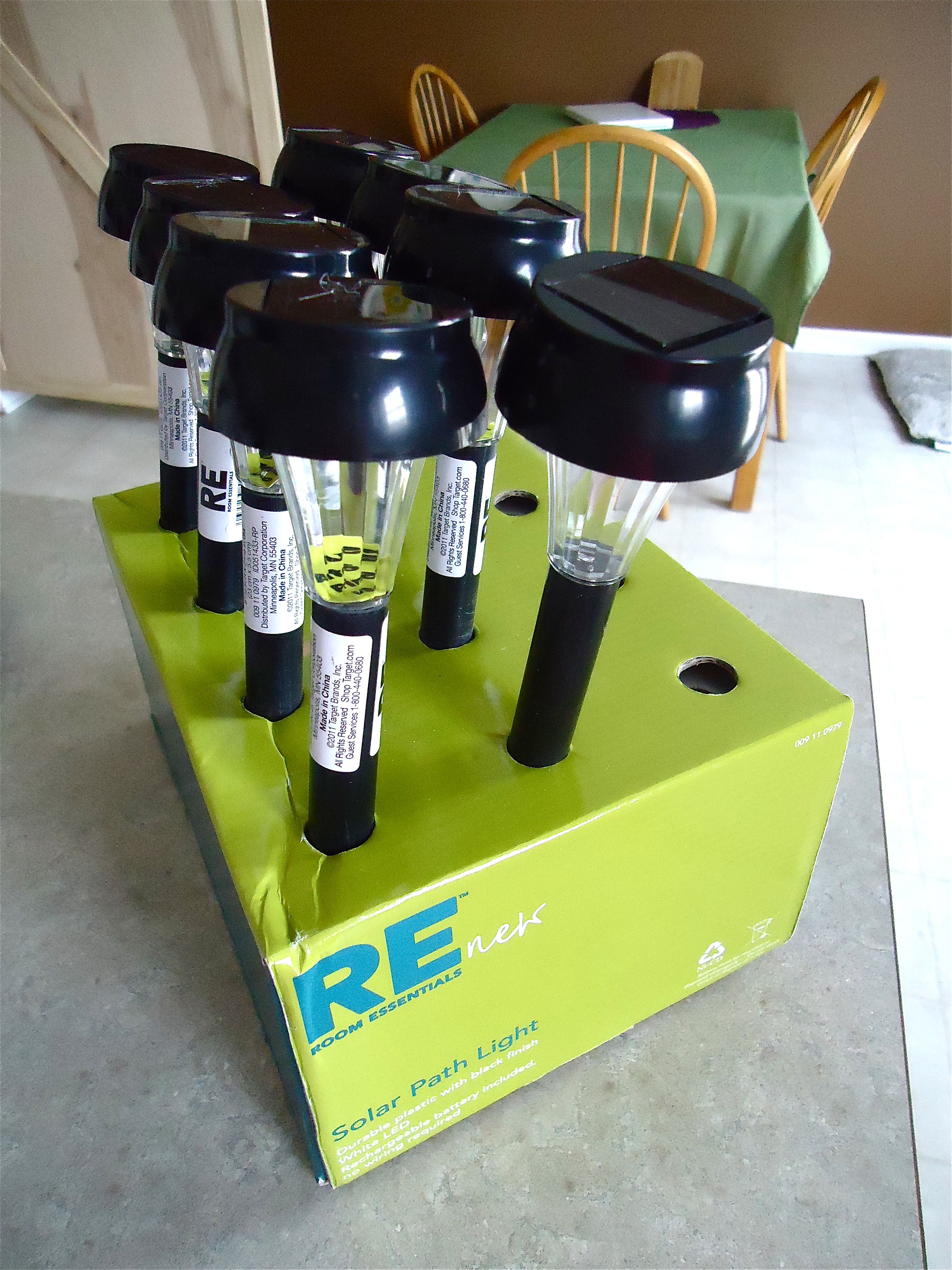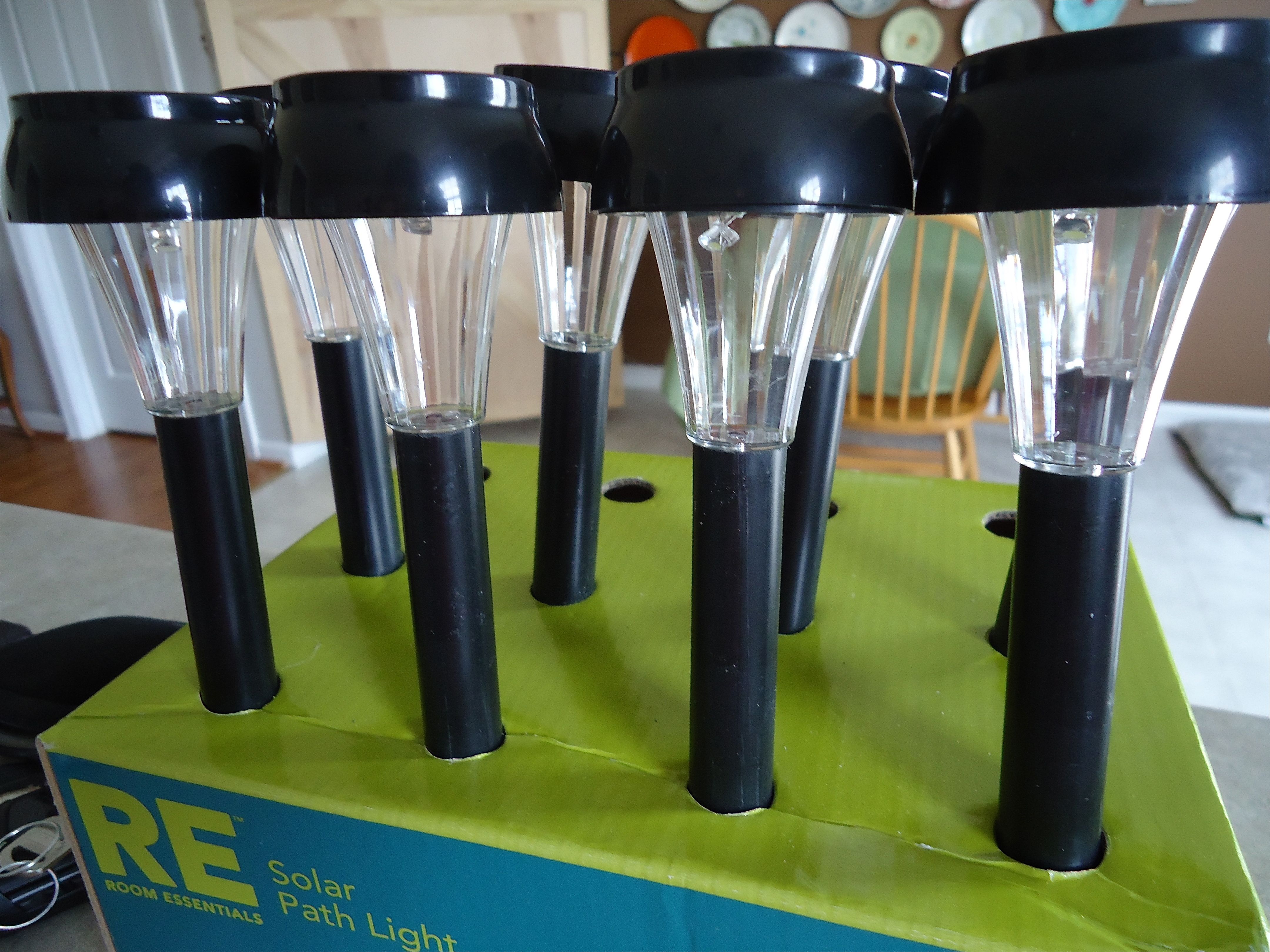 All done! Time to happily trot outside and stick them in the ground!!! I put four on each side of our front path – Luckily, they were equipped with a sharp prong on the tips so that they were pretty easy to wiggle down into the mulch/dirt.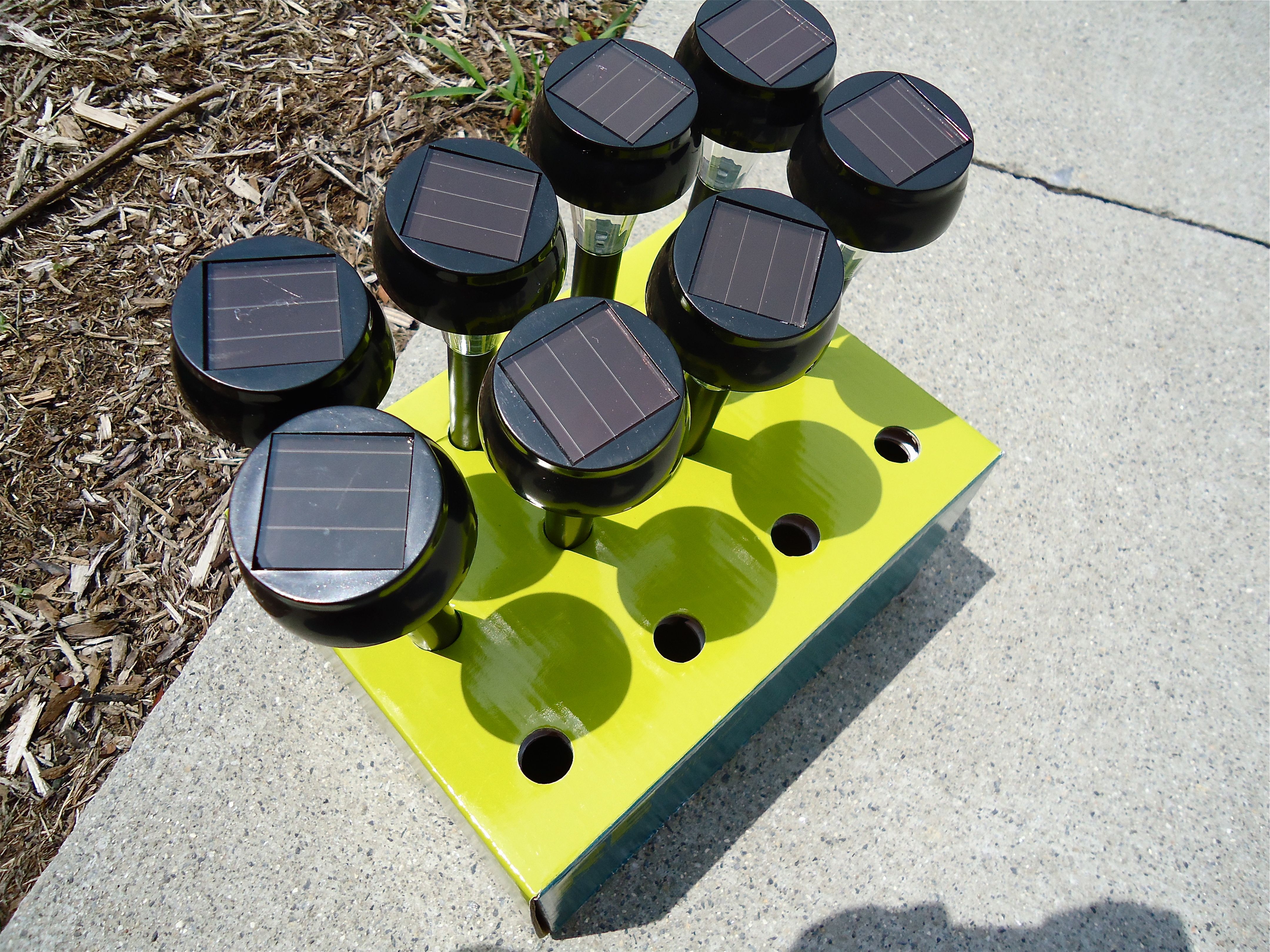 Here's the path before: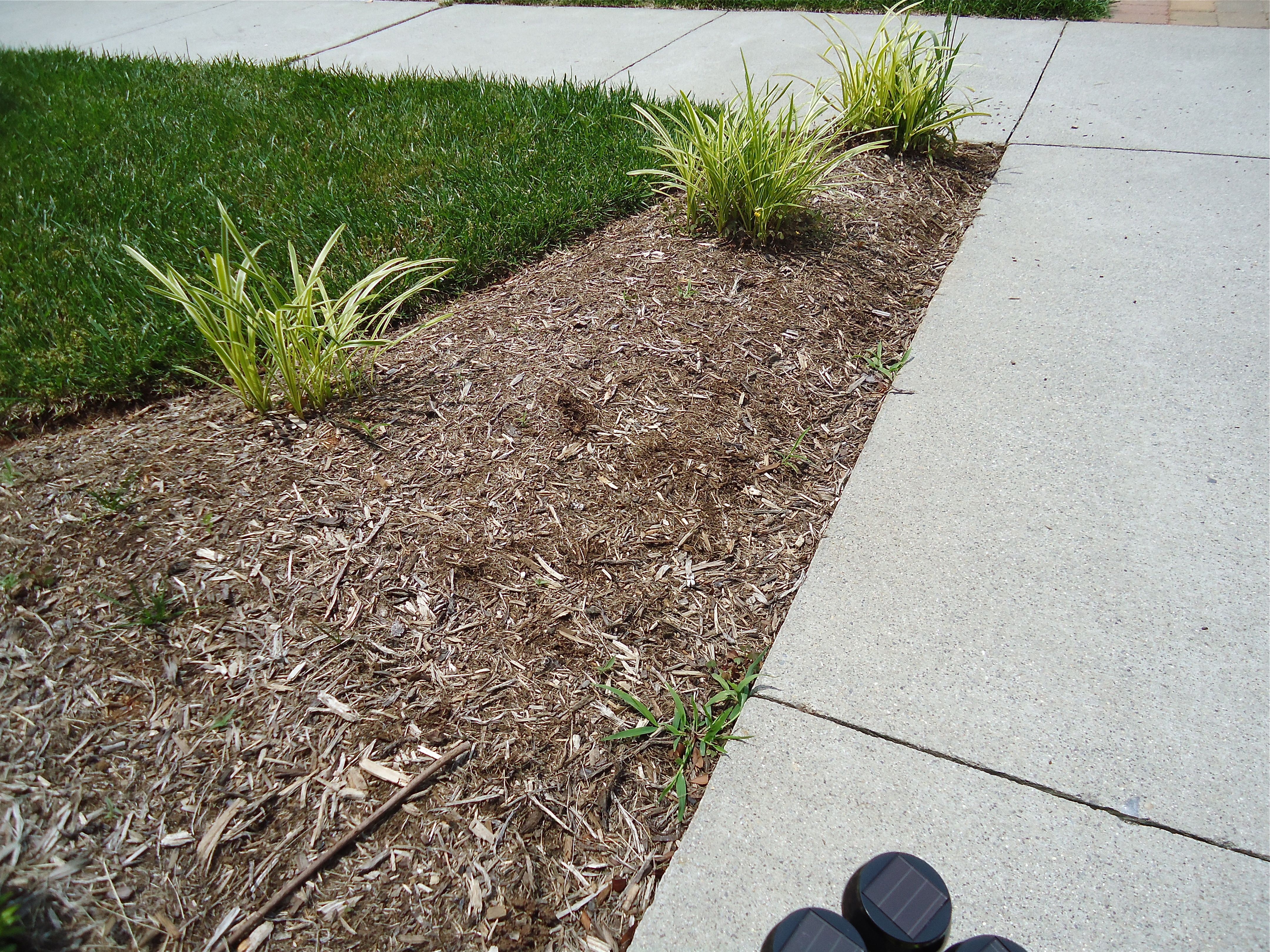 And then after!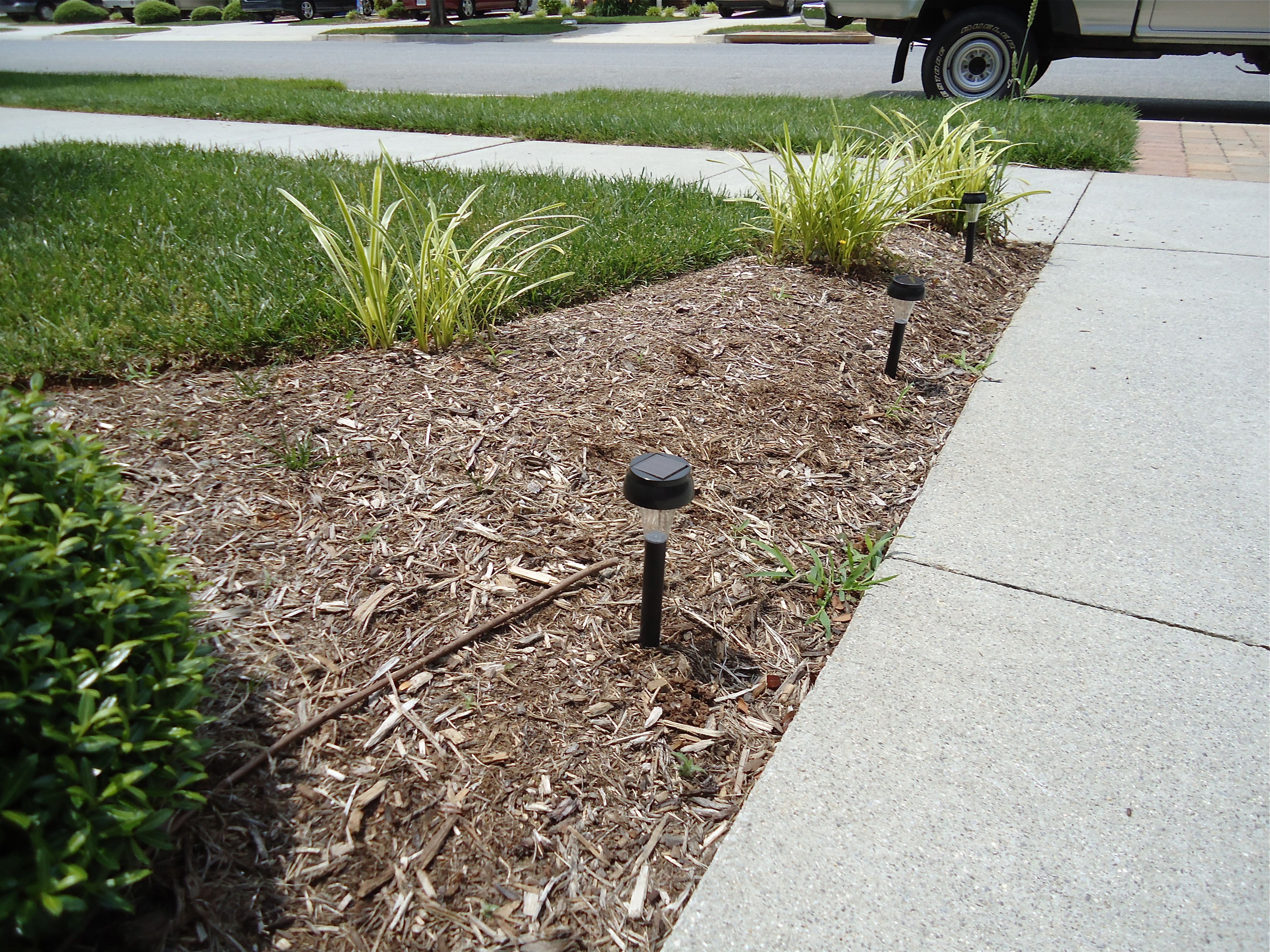 And the other side – Before: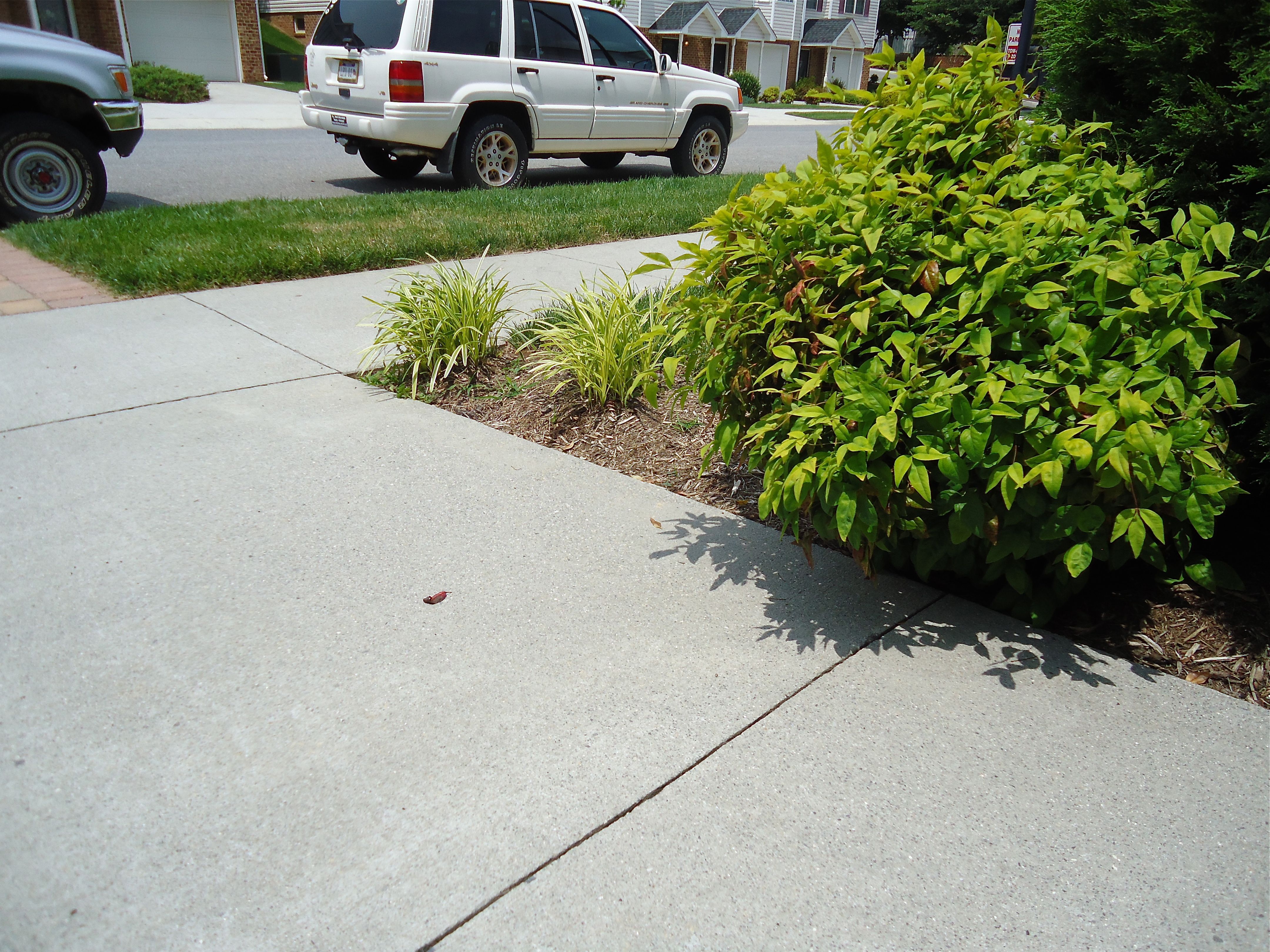 And after!
The ones on that side are a little more hidden…Here's a close up 🙂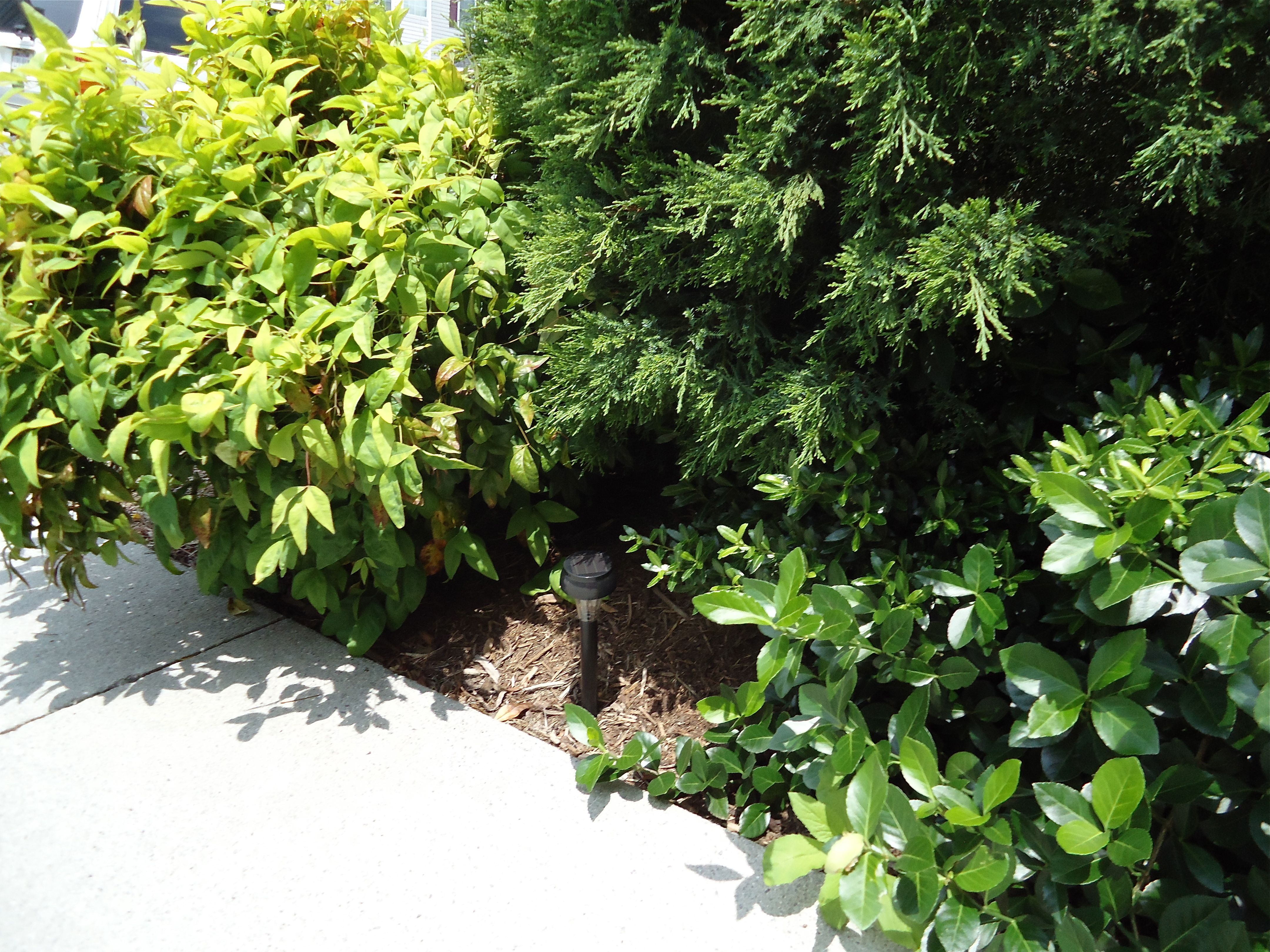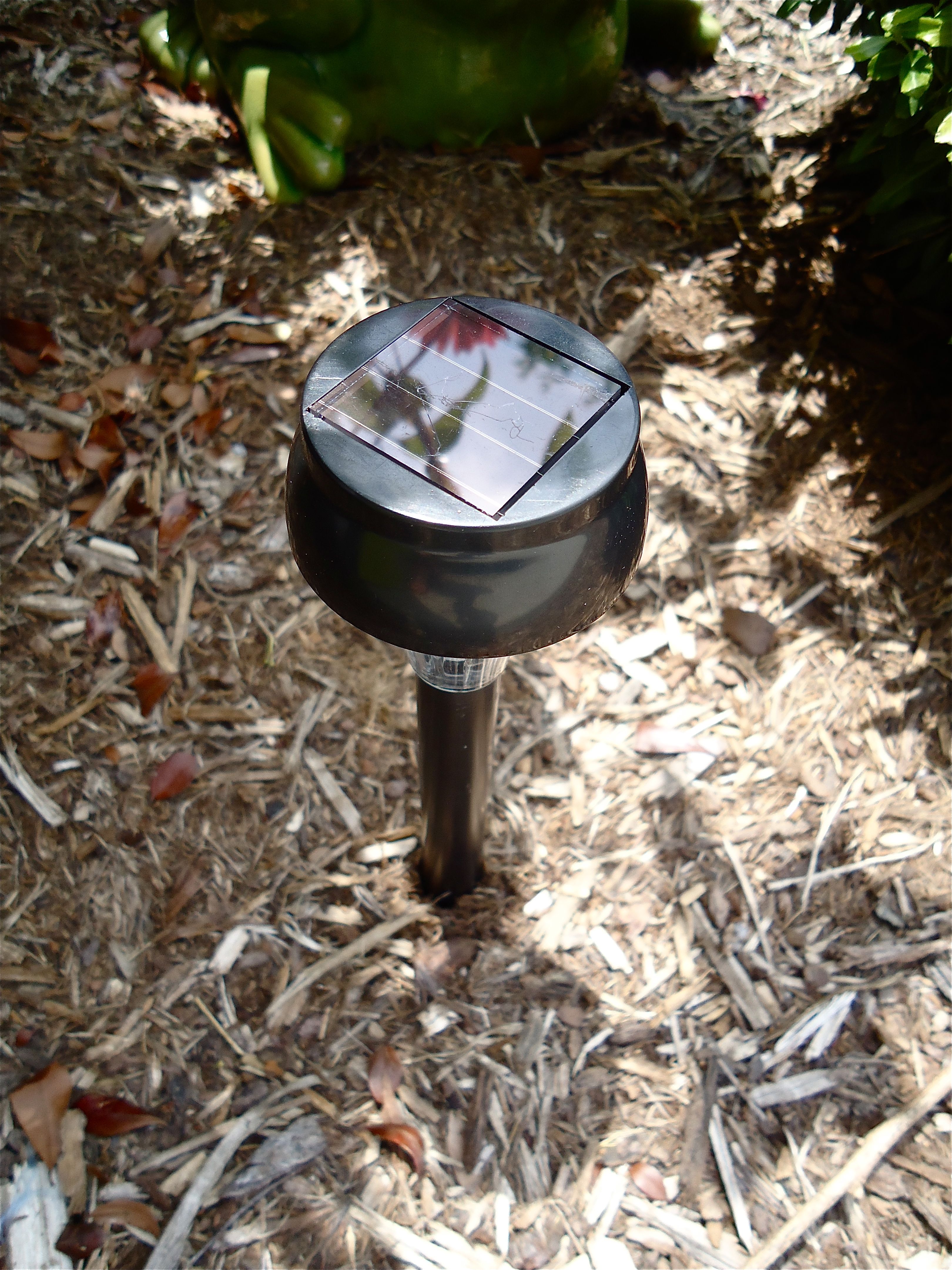 While I was outside, I also took a picture of our pretty Spring flowers – I love being welcomed home by happy blooms 🙂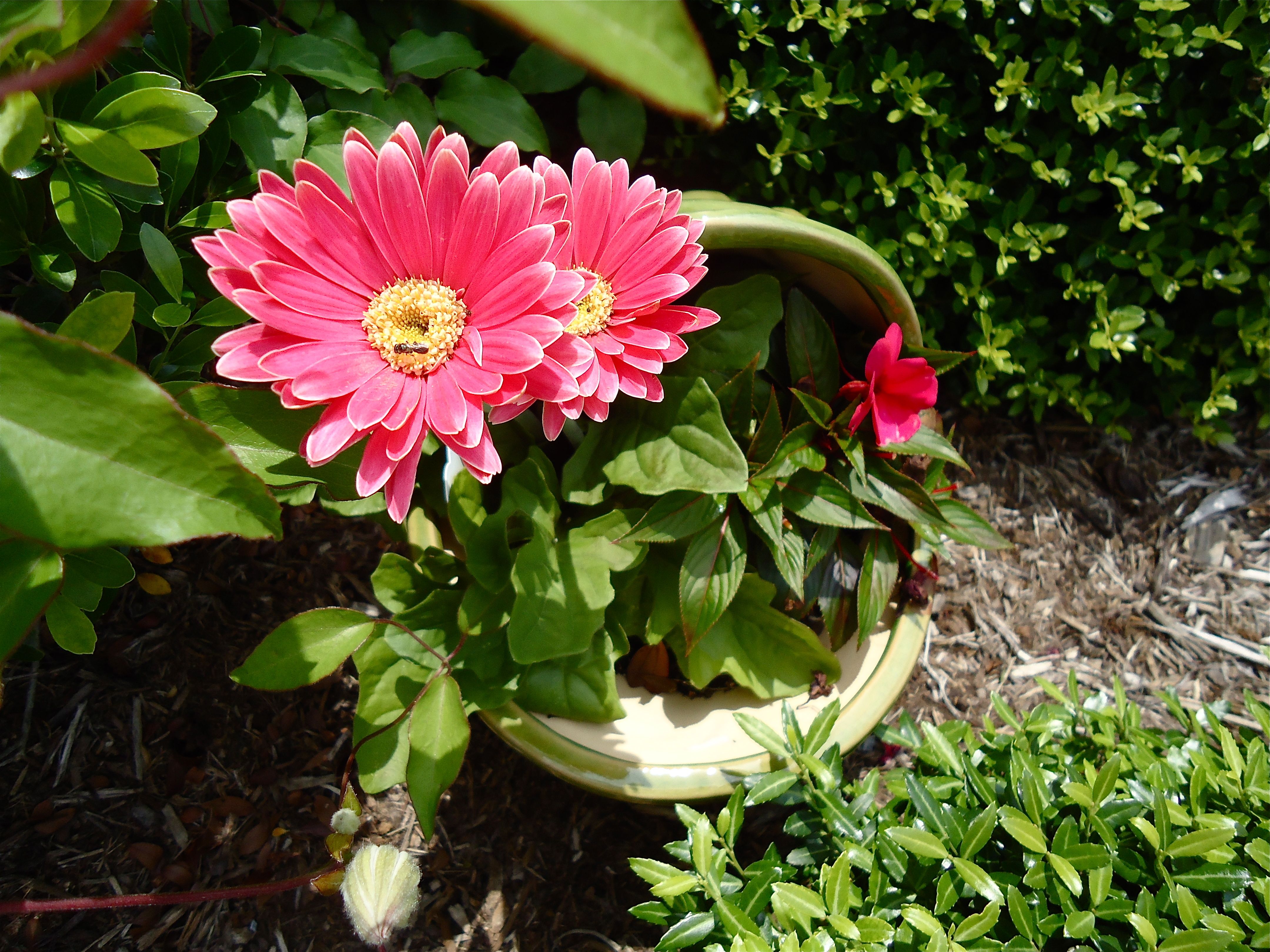 Obviously, I was anxious to see the lights in action after night fell but that evening I ended up leaving fairly early so I missed the FINAL final result. But John sent me an excited text later telling me that all was well and in working order! I planned to bring a camera over some night soon to take a picture of all the lights up and running, giving off their sweet little homey glow, but took my time not thinking it was pressing.
Boy was I wrong.
Not even two weeks after buying and installing our cute lighting system, every last one of them was ripped from the ground and stolen. That's right. STOLEN!!!!!!!!!
It happened over the weekend and I remember John and I getting ready to go out on the town – We were just walking out the door when I happened to glance around proudly at the new lights. But they weren't there…
"John…? Did you take the solar lights out?"
"No. Why?"
"They're gone."
"…"
I'm not sure why I was so confused – There wasn't much denying what had happened. But I just can't comprehend that something like this would happen to us! The culprits even left some of the little stakes in the ground, not bothering to take everything. It kills me to think of the fate of my little lights 🙁 I only hope that the JERK who took them at least put them in the ground at their house instead of just trashing them for fun.
I'm still holding out a sliver of hope that one of John's friends is just playing a trick on him/us, but unfortunately they all have out-of-town alibis…
I didn't even take a picture of their sad remaining stakes because it depresses me too much. Is it sad that I still have my fingers crossed that it's a joke and they come back someday…?
P.S. Depressing stories aside, this weekend is the OFFICIAL final move! Stay tuned next week for the "After" pictures of our crazy months-long move.