Good morning!!! It's good to be back in the blogging seat again…The break was definitely a necessity though – Last week was nuts to say the least. Between my second week at the new job (which is going well by the way!) and housesitting, my routine has been so off the tracks that my blog entries would have looked like this had I attempted to keep up with it:
"We wiped down the counters today. They look less dirty. See you tomorrow…"
Needless to say, I don't think many of you would have gotten much out of them. But on a positive note, I had a LOT of time to mull over the little ole' blog and dream up some exciting things for our to-do/to-share list in the near future! I also devised a few tweaks for the blog features too, the first of which you'll see today!
But before I get to that, I just want to extend a heartfelt "THANK YOU!!!" to the handful of readers who left replies to last Monday's reader survey!!! The tips, feedback and suggested direction I received were invaluable and I'm definitely going to take it into consideration. However, I KNOW there are more of you out there…According to my calculations and daily WordPress read stats, I'm pretty sure that these 4 faithful followers aren't refreshing the DreamGreenDIY page 75 times each…But that's okay – I'll let the rest of you off the hook for now 😉 While our home and projects are the stars of this site, we are sharing things just as much for your benefit. So please feel free to drop us a line anytime with suggestions or comments! As always, the email is DreamGreenDIY@gmail.com.
So back to my first feature update – I decided that my "Monday Inspiration" posts need a new title…The original title is pretty mundane and, while I really enjoy spouting off about my latest design trend obsession each week, I think we could do better on the direction. So starting today, Monday's will be all about my "Weekly Pinspiration"!
Does everyone know about "Pinterest" yet? I hope so, because this is easily one of the best suggestions I can make to anyone who scours the internet for inspiration. It's also a FABULOUS way to organize your ideas (a lot of the feedback from Monday was about organization – I'm definitely going to ramp up my suggestions in that area, starting with this!). I know that I've talked it before, but maybe not in huge detail?? Well we will today 🙂
Meet the bliss that is Pinterest…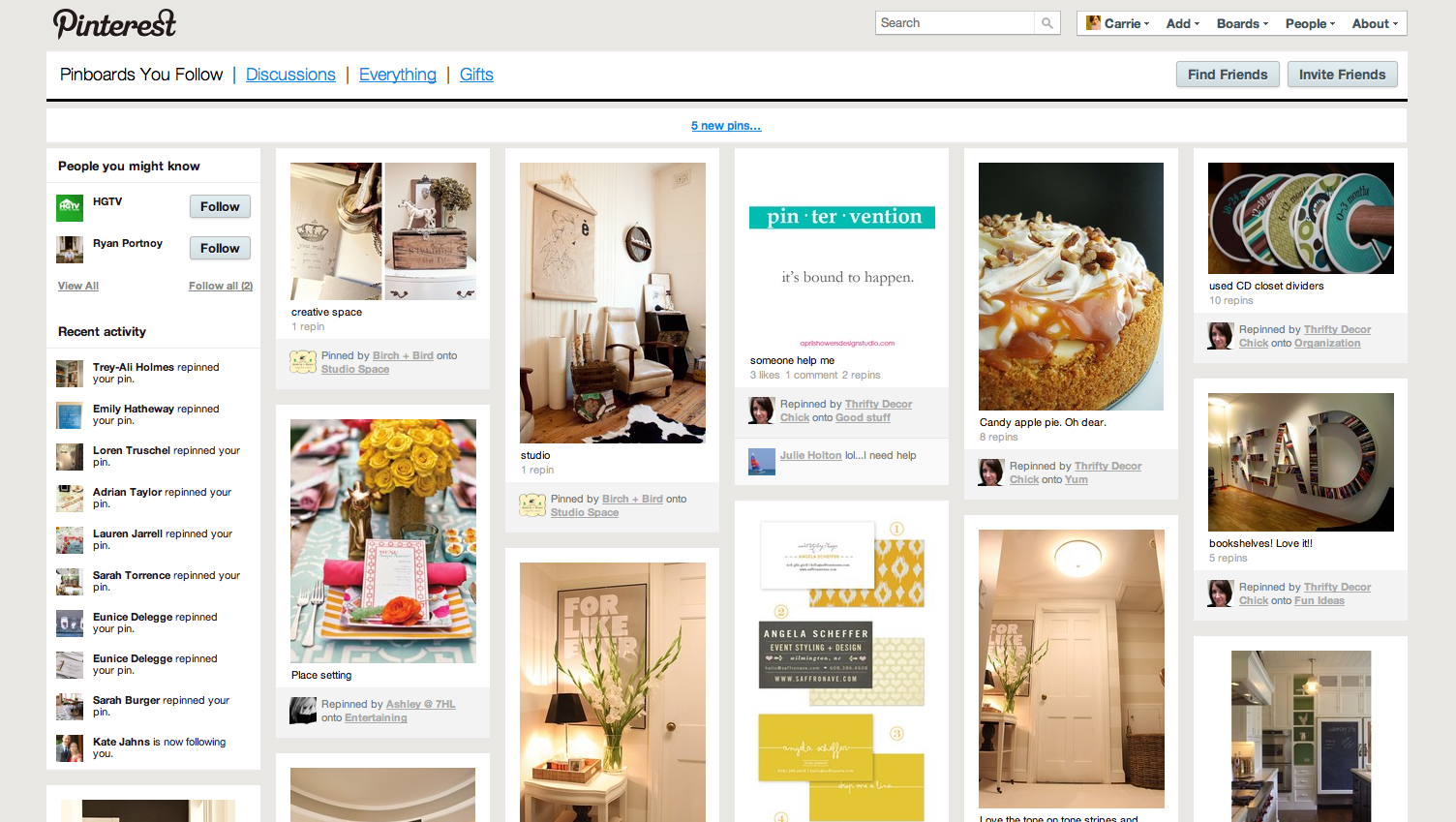 Here's a scenario: You're reading a blog or browsing a major website like Real Simple or Better Homes & Gardens, and come across a room that you just ADORE! The colors are right, the accessories just speak to you and the couch in the photo looks a heck of a lot like the one you already own…Instead of printing it out and putting it in a folder (although, as you may remember, I'm not totally against this idea as seen here), why not "Pin it"!?
Once you get signed up with the website (you actually have to go on a bit of a waiting list but it usually takes only a week or two) you can download the "Pin it" application to your browser. This will enable you to essentially grab any photo you'd like off of the internet. You click the button and the website you're looking at suddenly turns into a big list of pictures. For example, here's the CraftGawker website before clicking my "Pin it" application: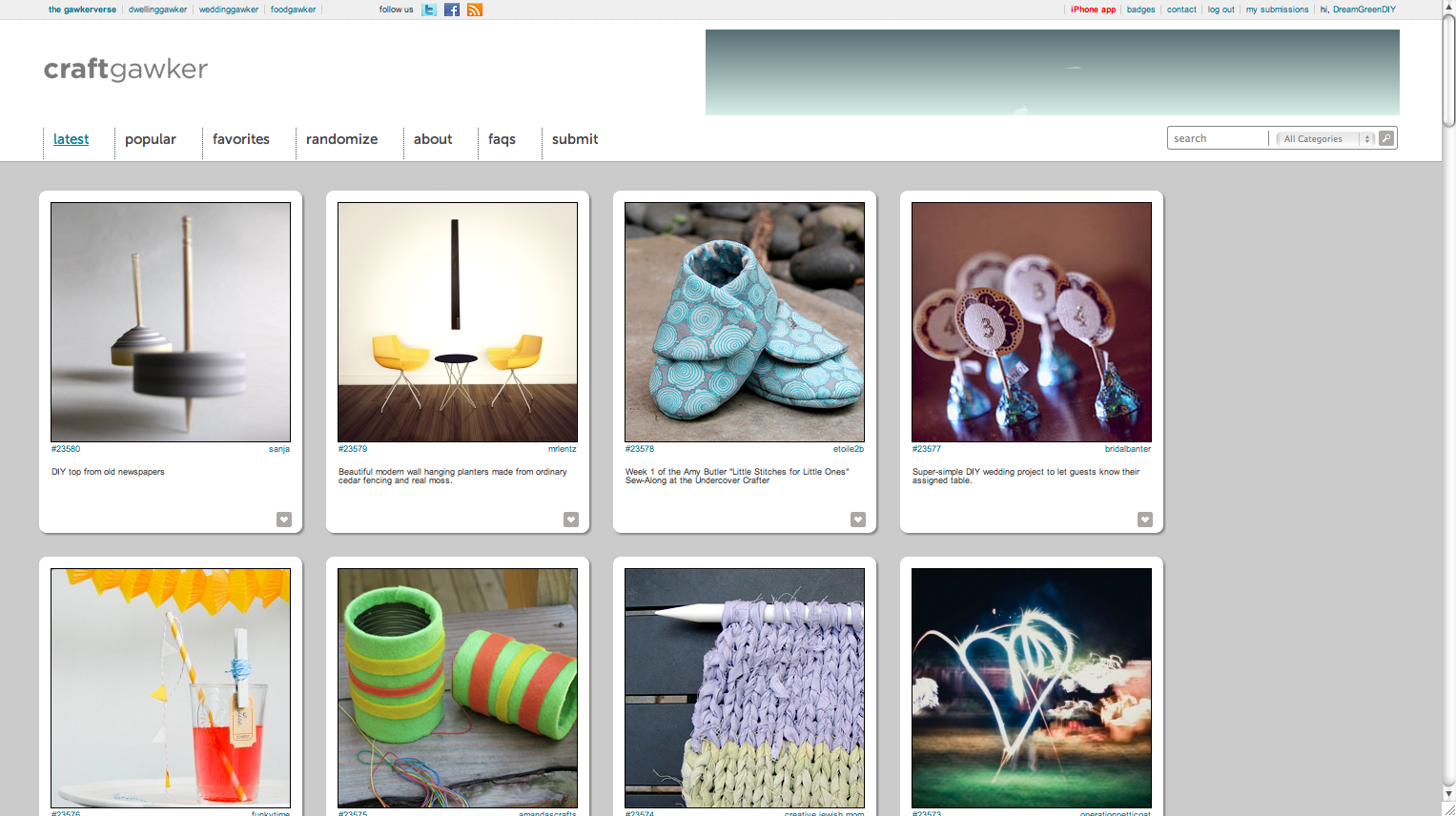 And now after! See how the photos are now lined up and ready for easy "grabbing"??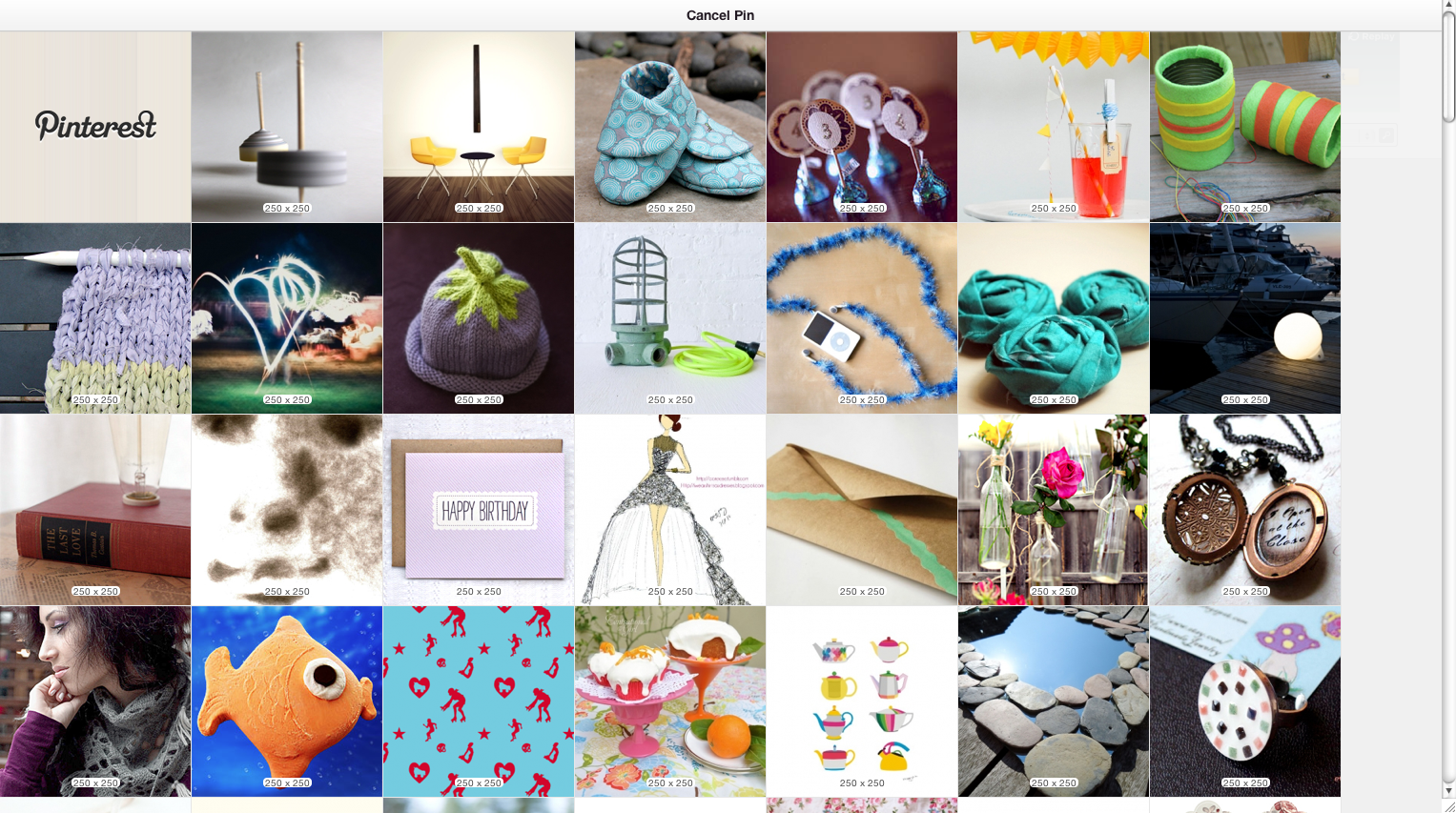 Once you find and click on the one you want to "Pin", another window pops up. You sign in to Pinterest and write a little note/caption for the photo – Something like "Love this color" or "Clipboard as wall memo art – Gotta try this!" to remind yourself of what inspired you. Then you can go to your Pinterest site for inspiration when you've got the time to work on a project!
It's so simple and so much fun…Plus, you can "follow" other people with similar taste and "Repin" their ideas to your "Board" – It's a global mecca for A-Type design hounds looking for ideas and projects! Can you tell I'm excited? I have a Pinterest board for DreamGreenDIY, wedding ideas, outfits and random "Just For Fun" things.
So anyway, that's where I got the idea for my "Weekly Pinspiration" posts – I have soooooo many happy little pins living on my Pinterest boards (which can be found here if you're already a member and feel like following my design whims. There's also a button you can click on the right side of our blog to find my boards). Lately though I've noticed that I haven't done much with my pins. So this new weekly feature will give me a little push to tackle a couple of pin projects a week. Or I'll at least be able to focus my daydreaming a little bit more!
This past weekend, I found a little extra time to work on one such pin project – Here are two quick clues from past additions to my virtual inspiration board:
That's right – This week's "Pinspiration" is none other then silhouettes! I'm not going to share the final product of my own silhouette project today, but stay tuned tomorrow for the big reveal. I was AMAZED at how easy this art project was!
See you tomorrow and thanks again for being patient while I took a little vacation from the blog – Hope you'll stick around to see what's next 🙂