I recently received a reader question that I just had to share – As you can probably tell from the title of this post, it involves dorm room decor! Given the time of year (back to school!), I figured it was the perfect thing to chat about today.
Read on:
"Hi, I remember reading something you wrote a while back about how you have always been very decorative even back when you had to decorate your dorm room. Well, I'm entering my second year of college and I really want to spruce up my dorm and make it feel more like home. I want to start searching thrift stores for some more affordable things to decorate my room but I don't know exactly where to start. Do you have any key tips that I could use to help decorate my small space? Thank you!"
I was always REALLY excited about decorating my dorm rooms in college. I went through three different colleges before I finally settled on the last one as the "right" college for me – So as you can imagine, I had my fair share of dorm rooms.
The first one I inhabited was with my best friend and we had a BLAST being out of our parent's houses for the first time. We ended up pushing ours beds together so that we had this gigantic double bed, and we put black light tubes up in the florescent ceiling fixtures. We thought it was the coolest thing when, from the ground looking up, you could tell which room was ours because of the purple glow. We covered the walls with music posters and glow-in-the-dark stars and moons, and brought in handpainted cabinets for storage.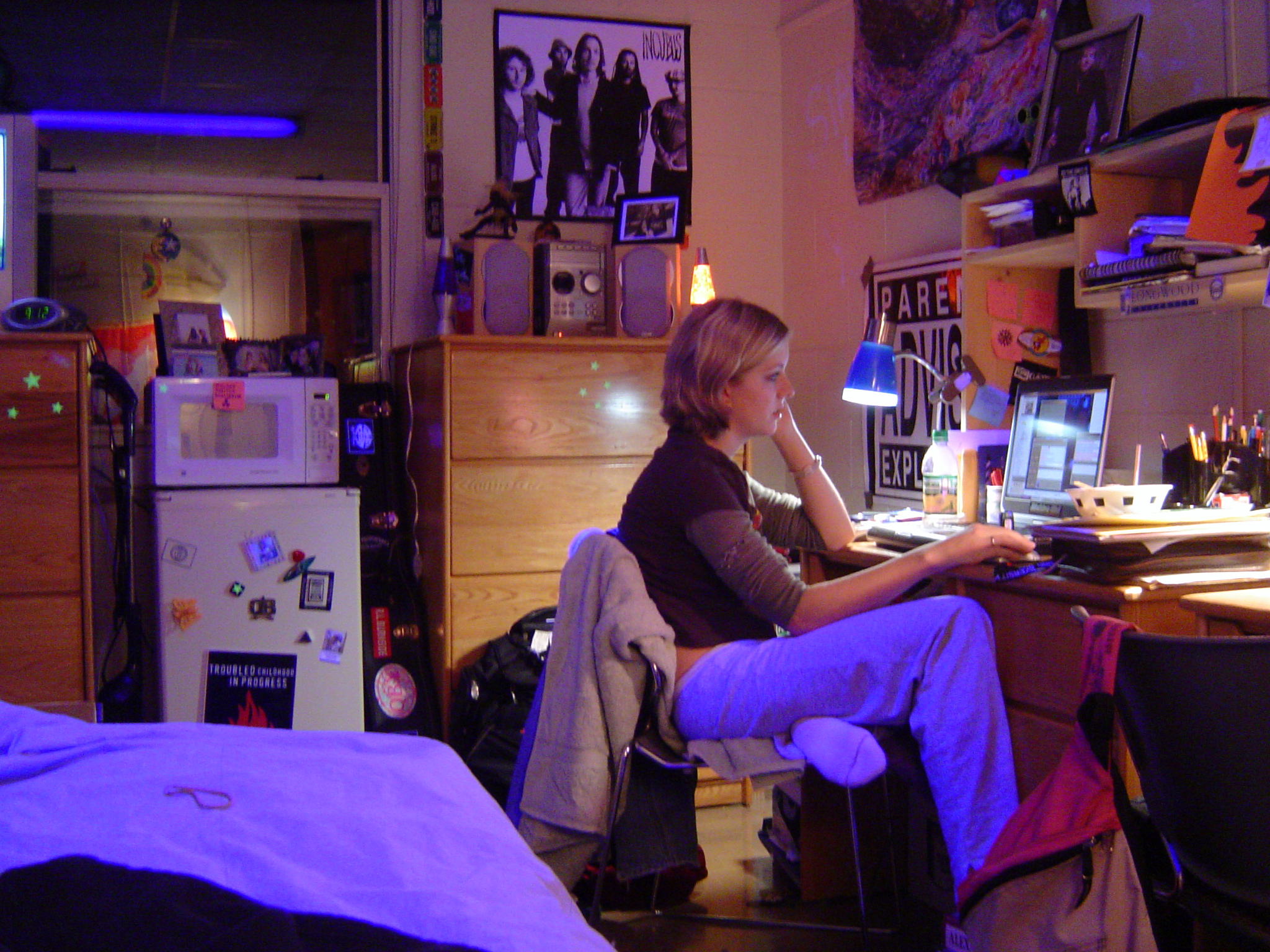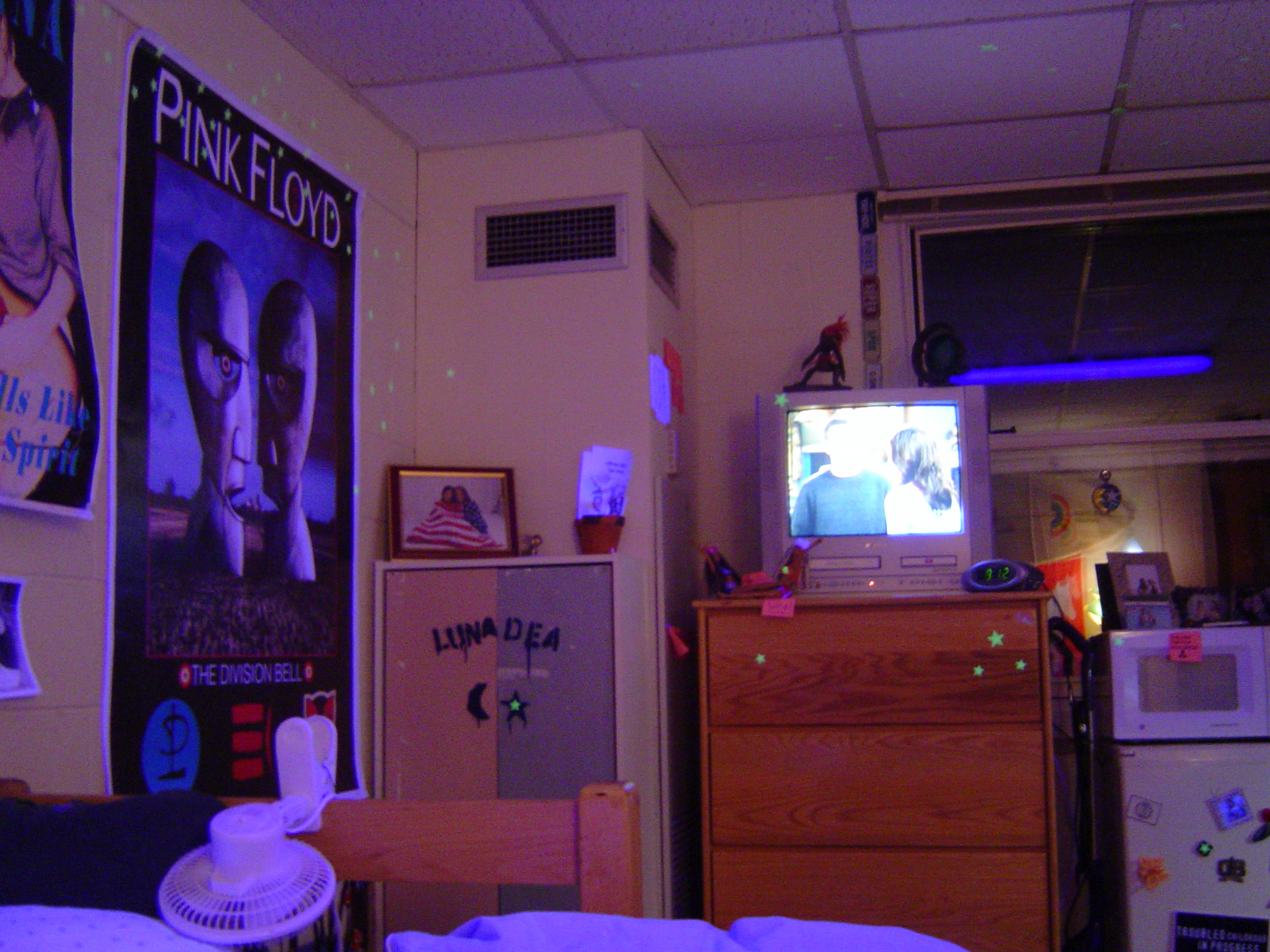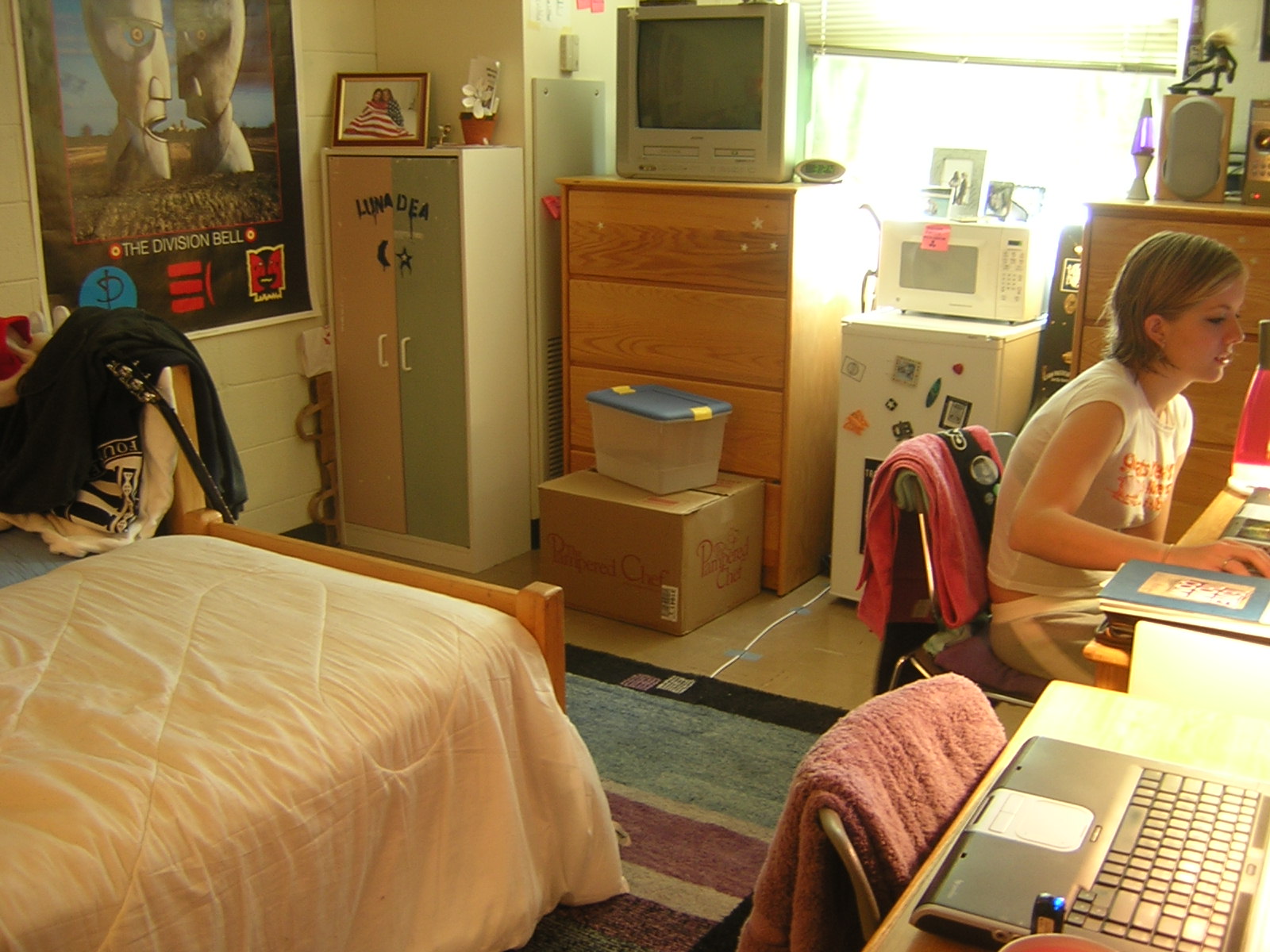 Pretty chaotic right? It was definitely a little manic in there and I wouldn't exactly recommend this type of design (if you can call it "design") to a stylish college student. I think Beth and I were just so excited to be on our own that we went a little crazy.
When I moved on to my next college, things honestly didn't get much better. My first dorm room was actually a converted Econo Lodge Motel…The kind where the the sink area of the bathroom is inside the room (not behind a door) and the front of the room opened onto a metal exterior walkway. I hear they've since demolished the building and built something new and fancy, but I actually enjoyed that little room!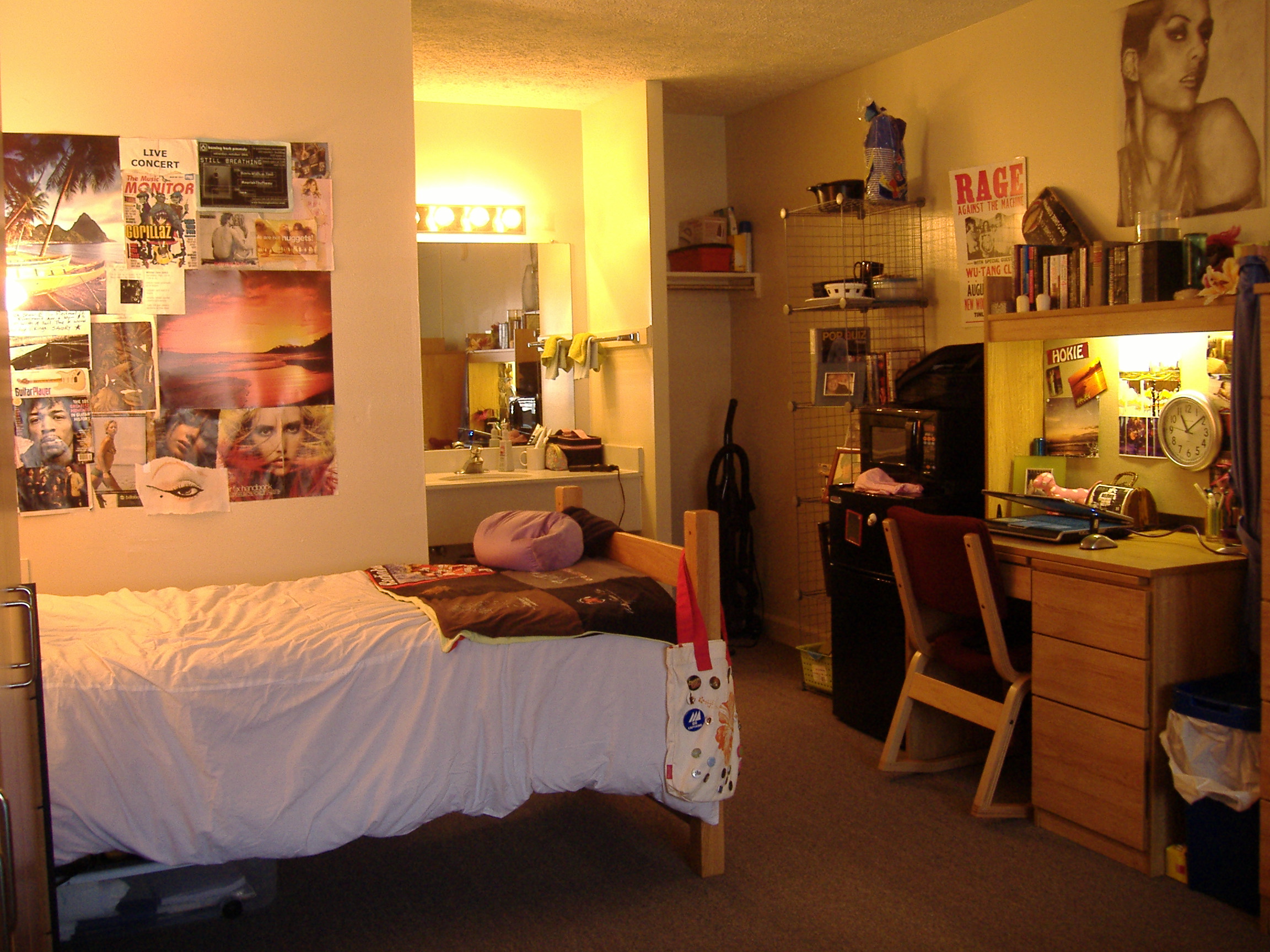 My roommate only lasted about two weeks before she high tailed it to a room on campus – I don't think many students wanted to live in the college dump, as it was known. So I had the place to myself 🙂 The university left all of the extra furniture (we had two twin beds, two armoires, two desks and two chairs between us) thinking I'd get a replacement, but that never happened.
So industrious younger Carrie took it upon herself to make do! I took the bed frames apart, hid the metal and wood pieces behind the desks and stacked the mattresses on top of one another for a platform look. I then went home one weekend and stapled some fabric to a piece of plywood to create an upholstered head board and tucked that behind the head area of the two mattresses. It looked MUCH less "dormy" that way. Of course a photo of this (my first ever DIY project) is nowhere to be found…But I'm sure you guys are imaginative enough to picture it…
For the rest of the extra furniture, I just did the best I could. The extra desk became my entertainment center, holding my television and stereo, and the extra bed (before I transformed it into an extra cushy twin bed by stacking the mattresses) was used as a couch of sorts or just a second place for me to collapse on after a grueling hours-long session in the art studios.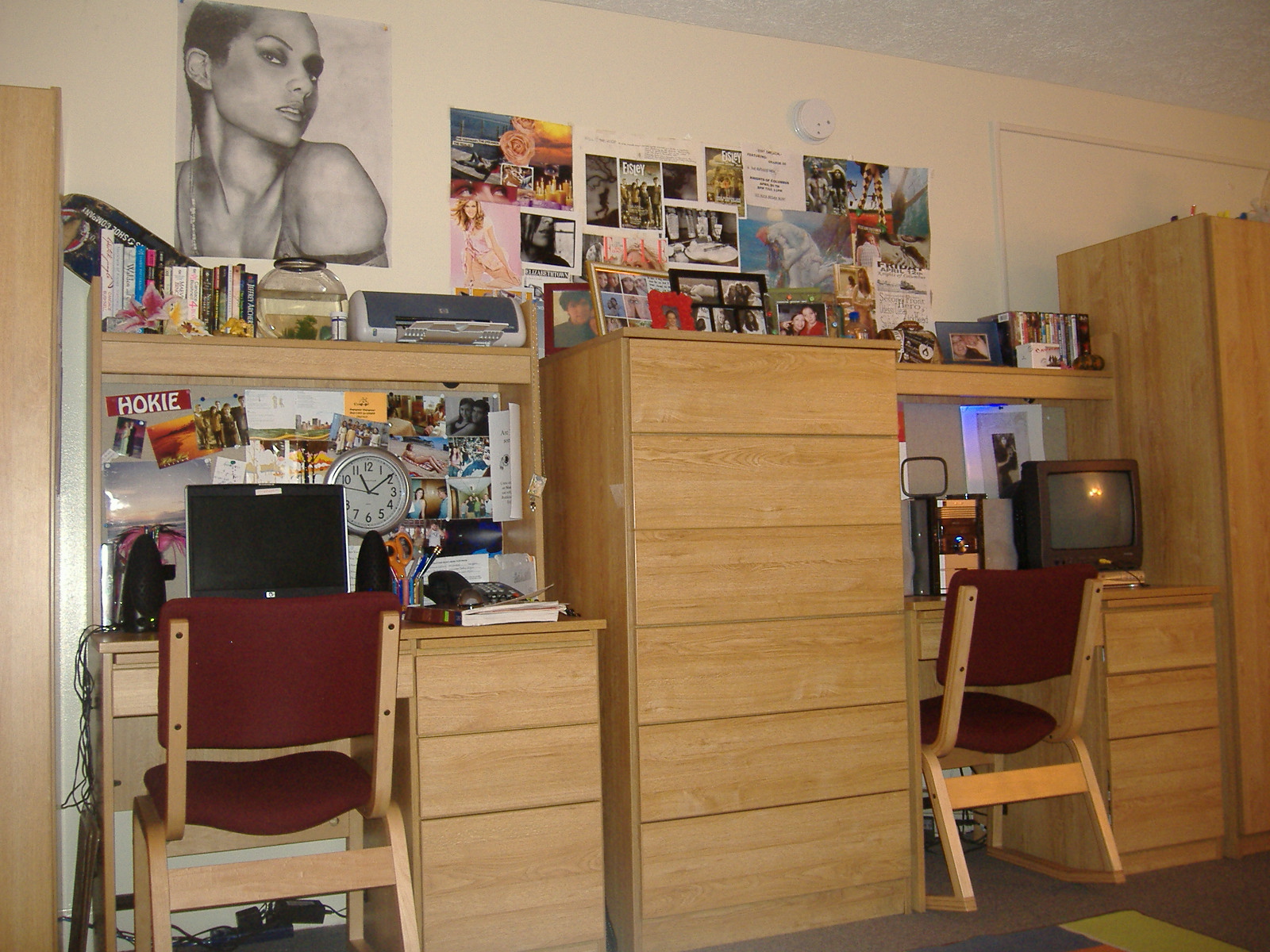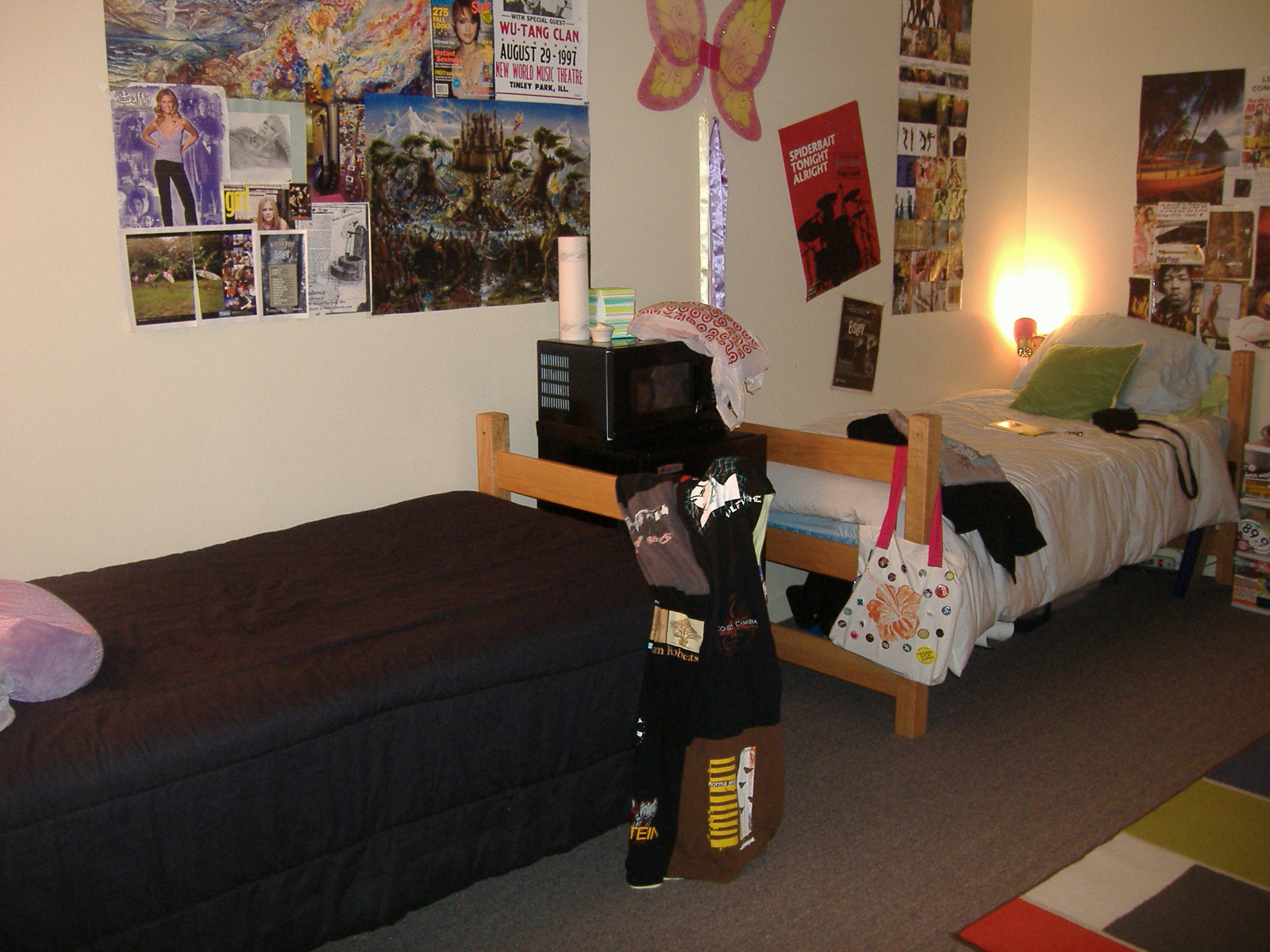 As you can see, I was still following the same punk-inspired crazy wall art, but I tried to group them into graphic squares on the wall thinking they looked a little less chaotic. Of course now looking at these photos six years later, I'm about to have a corinary – Wayyyyyyyyyyy too much going on. But boy-oh-boy did I think it was "cool" back then…
Anyway, when I moved into an apartment my Junior year, I finally started to calm down with the posters and random colors…I was so happy to finally have real furniture and a space that looked unique – Not filled with old ratty furniture totally cookie-cutter-similar to my neighbor's or roommate's. The townhome that I moved into with two friends was definitely a step up from dorm living with a kitchen, dining area, living room and a bedroom on each floor with a private bathroom each.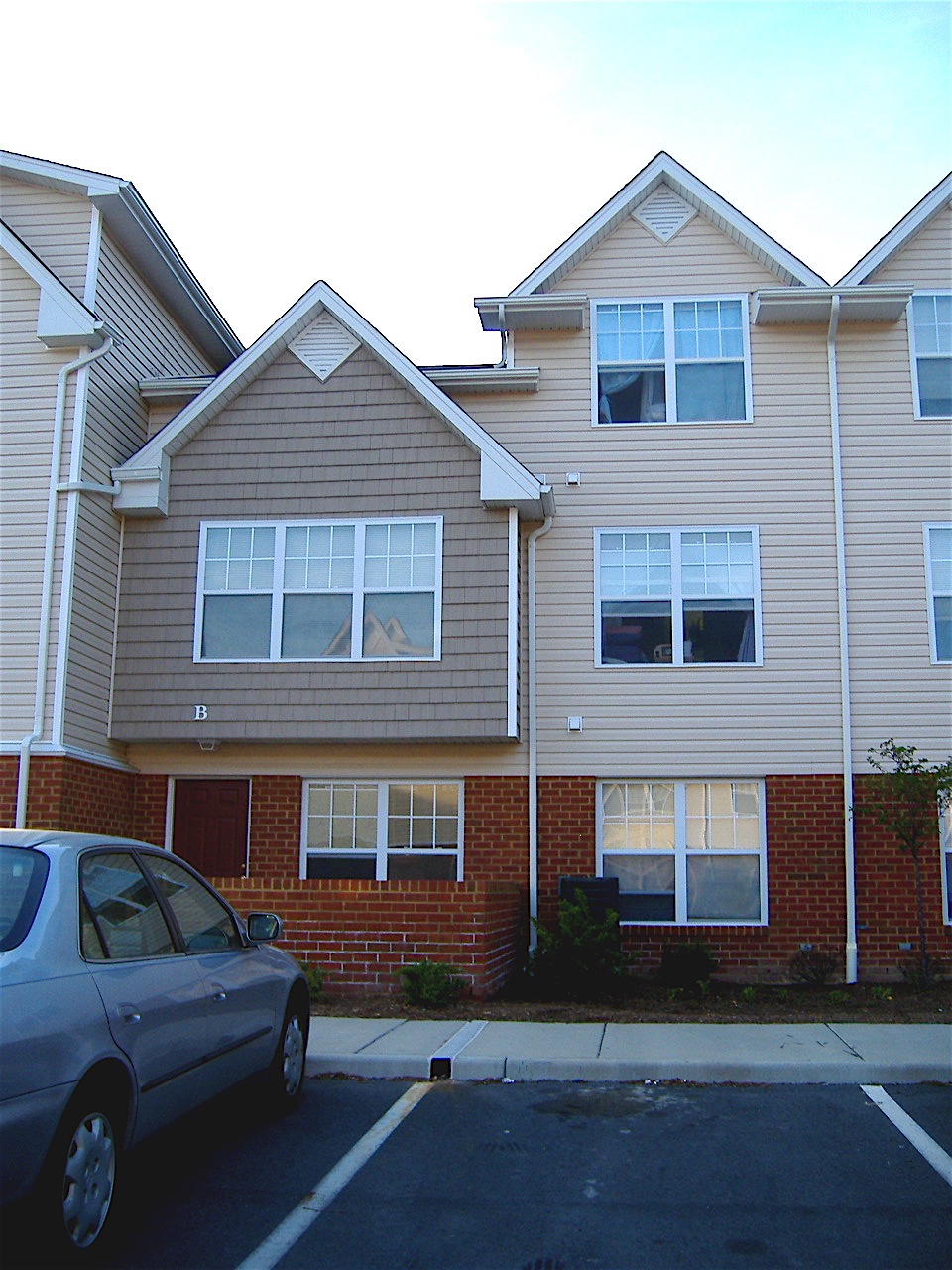 I used fresh, clean white double bed linens in my new space and hung an old shelf that I painted white in the bathroom for my toiletries. I was REALLY into my art history studies at this point, so for the walls, I bought a few clearance art prints from Michael's and put them in inexpensive black mats for a clean framed look without the high cost of wood and glass. I used an old thrifted white night stand by my bed and topped it with a modern lamp I found in the clearance section at Lowe's.
As you can see in some of the few good photos I found of the room below, at one point I also used framed scrapbook paper as wall art and a little white shelf as a nightstand of sorts. I also brought a glass lamp from my parent's house that seemed a little more grown up then the plastic bendable desk lamp I used in my other dorm rooms.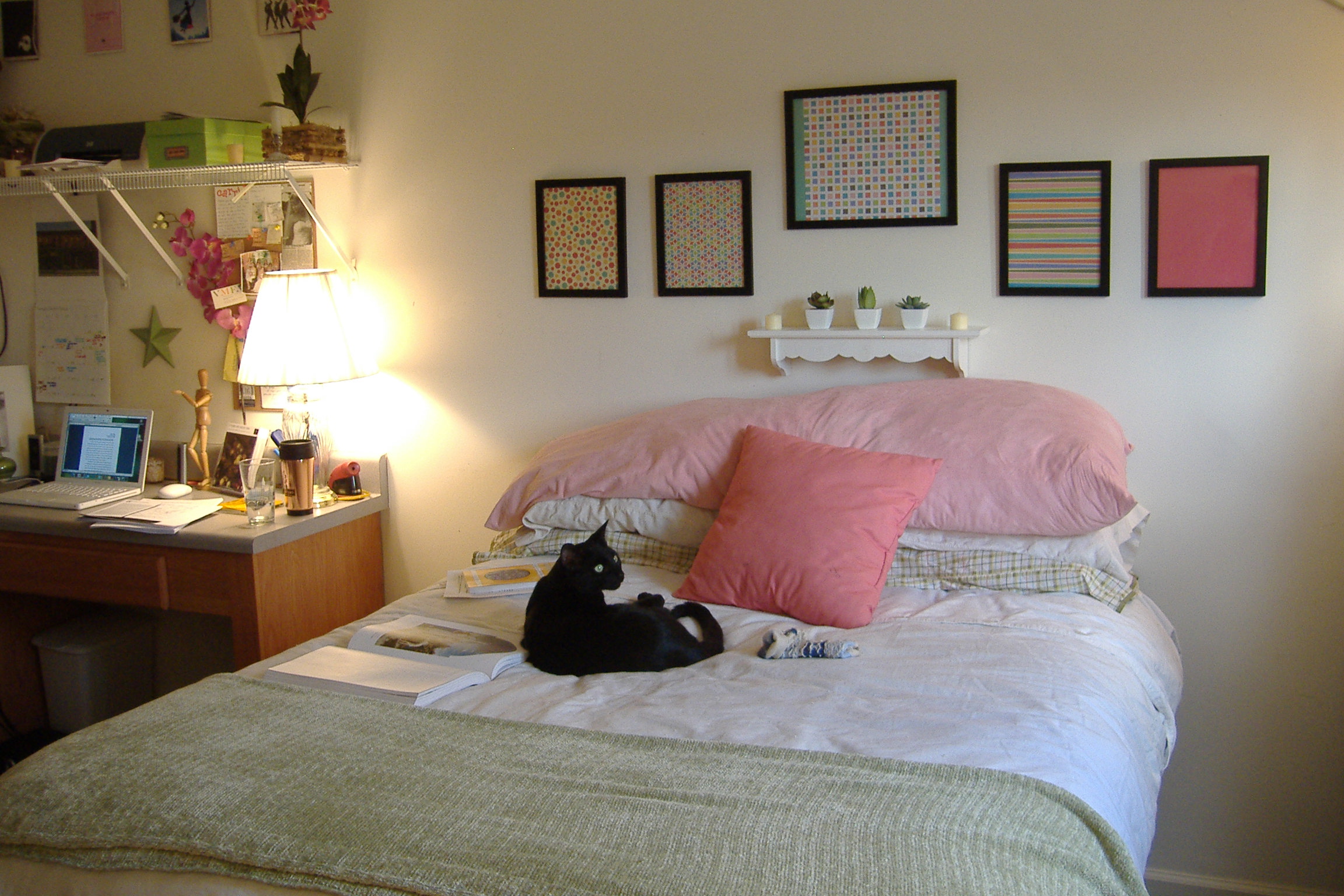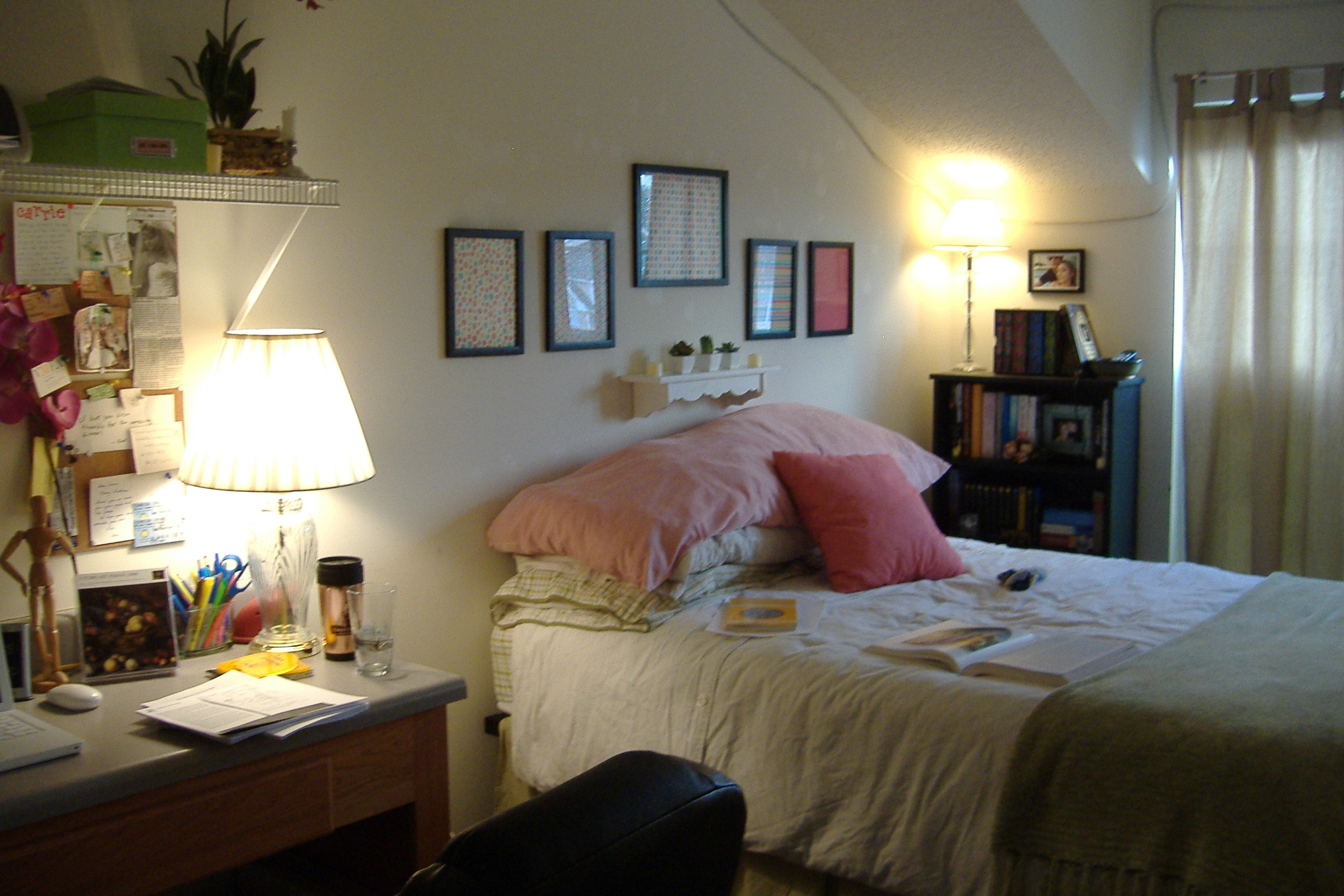 Sorry I can't help it…Look at how adorable my baby kitty was back then!!! This was four years ago, right after I adopted Luna – She loved my socks.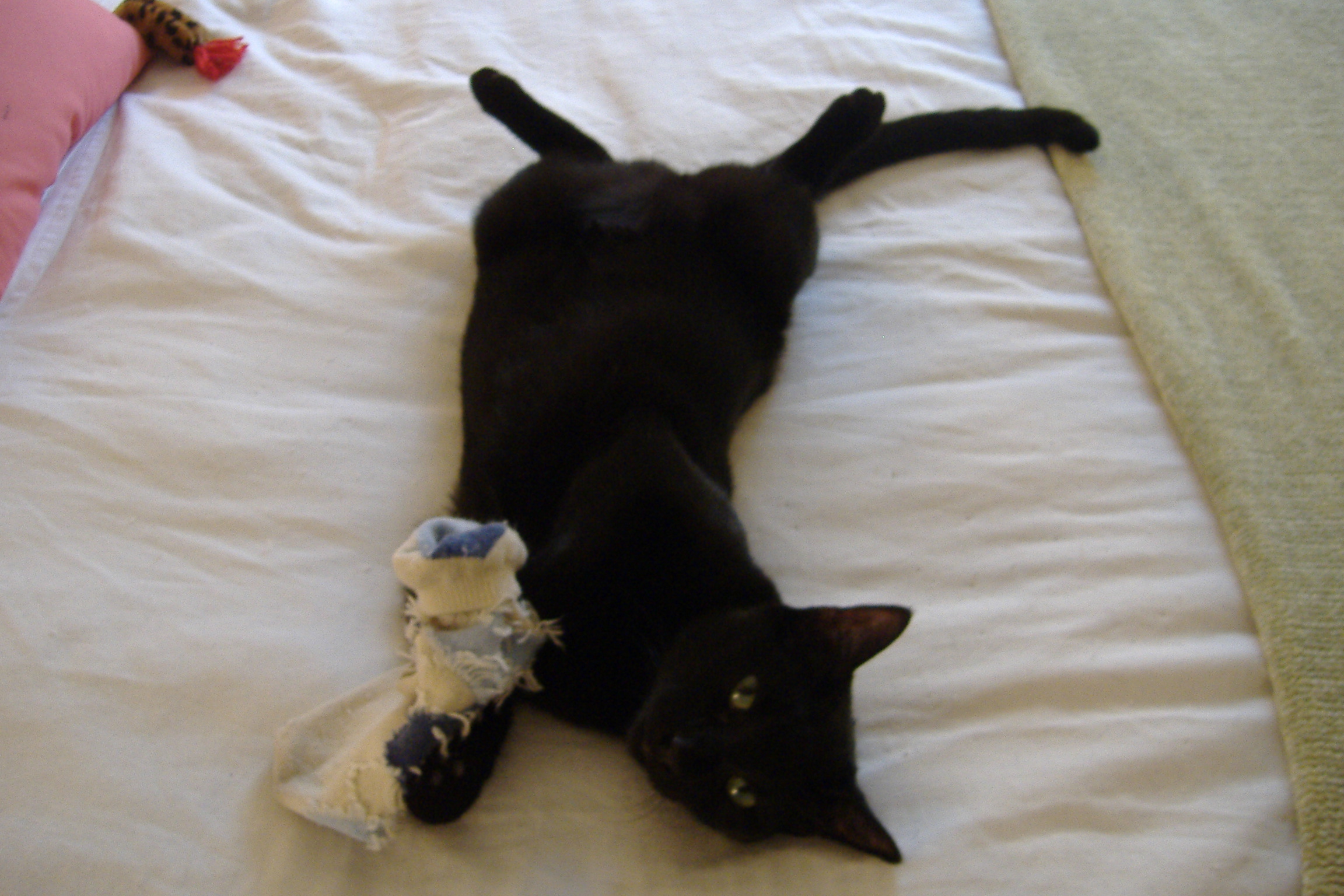 In short (or rather "long" since this post is now over 1,500 words) how you decorate your dorm room is COMPETELY up to you, but my advice for someone looking to infuse their dorm room with a feeling of "home" is to avoid the made-for-dorm accessories that stock pile places like Bed Bath & Beyond or Target every summer. I can't deny that there are some SUPER cute thing in those collections (I definitely went hog-wild with them in my first couple of years as a college student), but re-read the words "stock pile" in the previous sentence…Do you really want to follow the trend and buy things you know millions of other girls (or guys!) are snatching up? Maybe pick out a couple of things and then fill in with your own! Pieces like art, lamps and storage shelves can easily be found in places other then big box stores. If you like a lamp from home, ask your parents – Maybe you can bring it with you! Or you can always comb through your local thrift store for special finds uniquely "you".
Here are a couple of awesome looks I discovered while trolling the internet…
See how using a subdued color palate makes your dorm room a little more sophisticated? By going with earthy colors the dorm room below looks like a cozy room in any house – Yet, if you look closely, you'll see the white -painted cinderblock walls, bad 70's tile floor and the window air unit. You probably won't be able to fit two arm chairs in your real-life dorm room, but you could definitely find a similar floor lamp and style your bookshelves and bedding with this image as inspiration!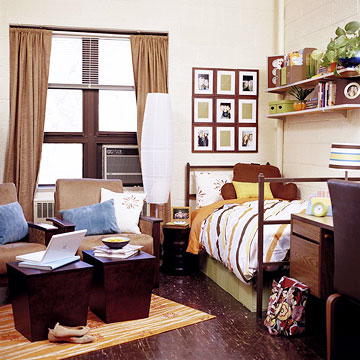 I pulled this one because, if you luck out with a room in an older building, you might be able to play up the architecture – Like these AMAZING wood floors.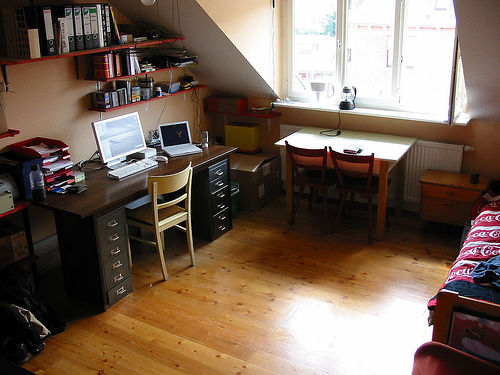 I know I keep saying that subdued colors are the way to go, but that doesn't mean you have to cut out color if you're all for it! The vibrant colors in this room give it TONS of life and personality – But by using patterns and fabrics with a more mature edge, you bring your dorm room from "college student" to "young adult". LOVE that old redone desk chair by the way…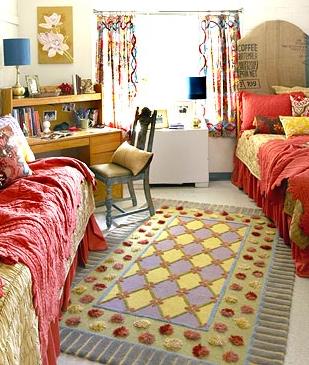 This one is my all time favorite…The desk chair? The simple, geographic wall art? Refurbished mirror? Yes, PLEASE! The lighting is beautiful (and totally attainable if you can make it to your nearest Ikea) and the bedding is neutral and clean. Adore that leaning, fabric-covered board for jewelry storage too…If you can't tell from the horrific photos of my rooms as a freshman and sophomore (yes, I now think they are "horrific" after doing my research on today's dorm room styles) I had an issue with storage – I think we ALL do when trying to live in a small space. Major props to the stylish girls who put this together…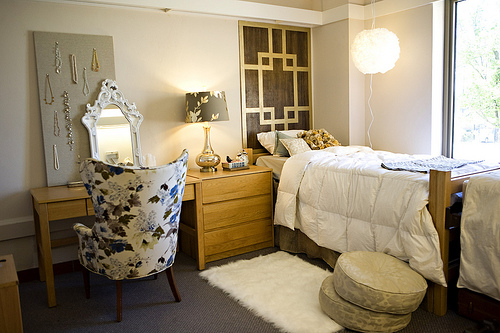 The truth and point is, for someone creative and unique, dorm life is one of the most fabulous times of your youth – You have control over your own space out from under the watchful eye of your parents. Take advantage of this time and infuse your OWN style into the space. You like bright orange? Pick up a retro orange lamp from a thrift store! You want to DIY some wall art? Throw some paint at a canvas and hang it on the wall for next to NOTHING in terms of cost. This is your time to make mistakes (in life and in decorating) so enjoy it and learn learn learn…Your next home will thank you for it 🙂
(Photo credit for dorm room image #1: here; image #2: here; #3: here; #4: here)