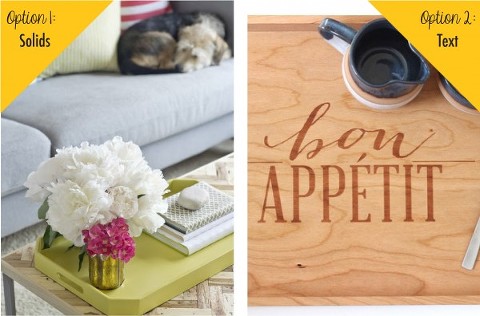 If you ask me, trays are one of the biggest accessory trends to emerge this year. They are super simple to find and can be customized to suit just about any style, from modern to traditional. The other weekend I spotted a gaudy floral tray at one of our local thrift shops and, although I didn't have a spot for it, I couldn't help but imagine giving it a fresh new life with a coat of clean white paint and a gold accent or two. But that's only one of the possibilities.
Option 1: When you think about decorative trays, do you prefer the look of a solid color? Something soft, like a pastel coral? Or maybe something a little more bold, like the avocado green seen in today's inspiration image? Either way, a solid colored tray is a fabulously inexpensive way to infuse a room with a little pop of color and personality.
Option 2: But what if you envision your tray acting as even more of a centerpiece? Take things a step further and customize this organizing accessory with your favorite phrase, word or even a monogram. The options are (literally) endless. I can totally picture this "bon appetit" tray decked out with tasty toast and cheeses…
Cast your vote!
[poll id="4″]