I'm always eager to find fresh new ways to store my jewelry and other vanity baubles, and luckily thanks to Pinterest and a few light bulb moments of my own I've been able to put several ideas to the test with a pretty decent success rate. From frames to vintage plates and acrylic boxes, I feel like I've just about tried them all. But there was one trick that I had yet to attempt: a porcelain egg crate.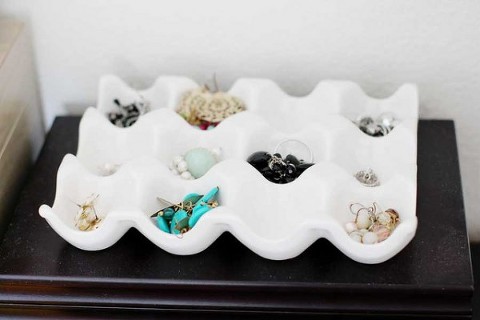 Source: Simplyvonne
Although made (obviously) to house eggs, someone had the brilliant idea to set one on a dresser and fill it with rings, earrings and bracelets – all of the dainty pieces that tend to get lost in the shuffle. I remember being tempted to pick one up for myself several years ago, but the price (a number that I now, of course, can't remember) seemed a bit absurd for such a small dish. So I passed. Fast forward to this past weekend though, and I stumbled quite randomly on the perfect one.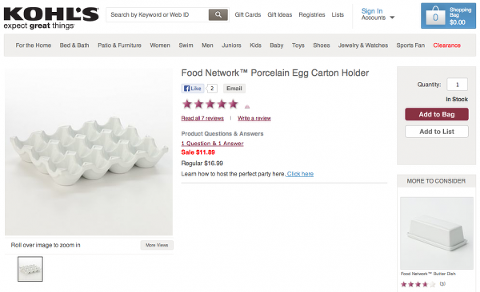 To set the scene, my mom and I were out on the town together running a few errands and happened to make a stop at our local Kohl's. While perusing the kitchen utensils and dishes, I spotted a pretty white egg crate out of the corner of my eye. After making a bee line to the display and grabbing one from the shelf, I read the price tag and knew that it was fate. As you can see from the online listing, the piece was on sale for just $11.89 – Now that I could do.
(P.S. Although I went with the white, the in-store display boasted COLORED egg crates too – blue, red and yellow, if my memory serves me – just in case you want to grab one for yourself)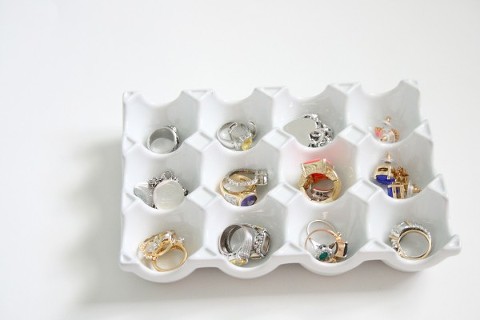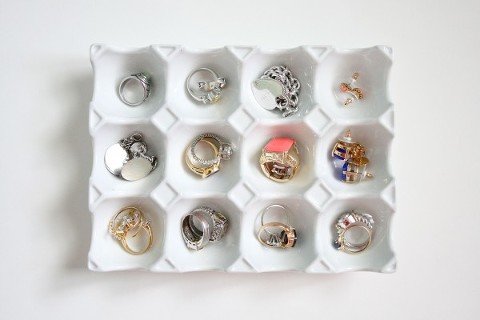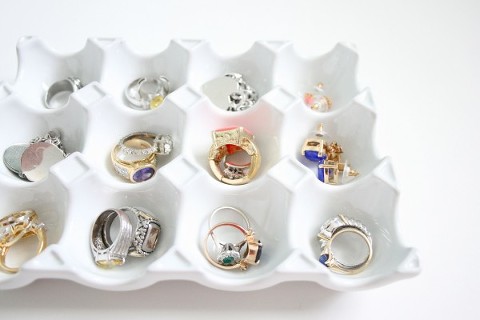 Not even ten minutes after getting home, I had my new dish filled with all of the loose rings and post earrings that had originally sat jumbled in a large bowl. I can finally see each of the pieces in the morning when I'm getting ready, and can even organize things by color or occasion if my OCD-afflicted mind wanted to do so.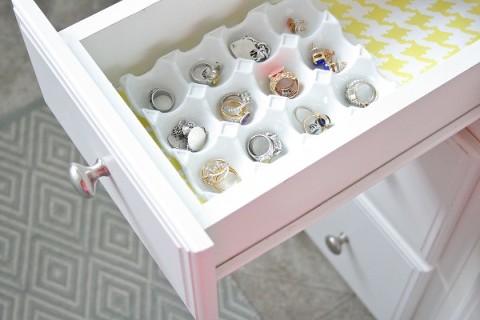 And into my (newly lined) vanity drawer it went. It miraculously fit perfectly too, solidifying my hunch that it was meant to be all along. Even though it's really just a bunch of plastic costume jewelry, it suddenly feels like a collection fit for an adult – And all it took was a $12 dish.
Have any of you guys tried this trick?