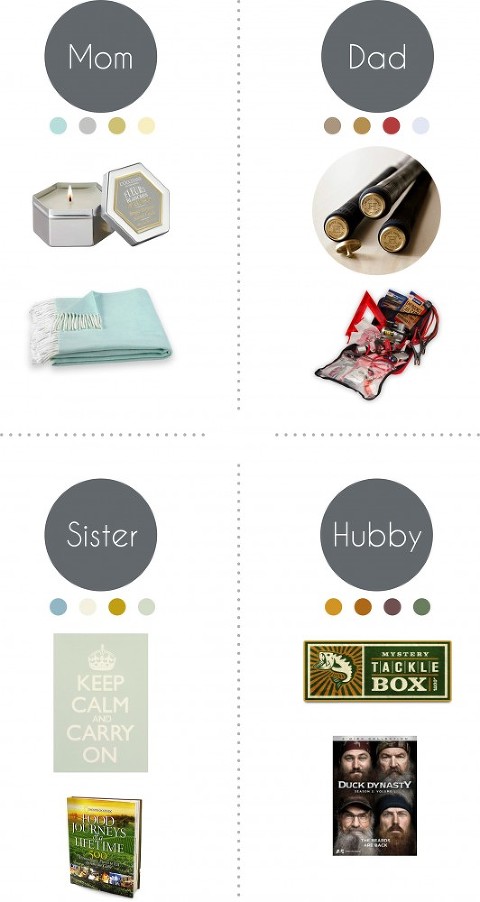 Every summer my husband and I enter into what we lovingly call "Birthday Palooza" season. Why? As fate would have it, the majority of our immediate family members were born within close proximity to one another – not in geography, but in time. Starting July 17th and ending September 3rd, we celebrate not 2, not 3, not 5, but 6 birthdays. My sister, my dad, John's mom, dad and sister, and finally John himself all hold major stake in this summery string of months. To prepare myself mentally for what feels like a pre-Christmas gift buying binge, I'm rounding up a couple of thoughts for these special ladies and gents in my life.
Mom:
White Flowers Scented Candle: Candles just naturally seem like the perfect excuse to relax and unwind – funny how a tiny jar of wax has that effect.
Assiro Herringbone Throw: The same goes for a nice soft throw – whenever I unwrap one, I immediately want to cuddle up on the sofa with a book. I hope my mother-in-law would feel the same way.
Dad: 
Monogrammed Golf Club Links: My dad is only mildly obsessed with his time out on the golf range, going at least 3 times a week. To make his hours out on the green even sweeter, I'd love to get him some personalized tags for his clubs.
73 Piece Roadside Safety Emergency Kit: John's dad feels about cars the way my dad feels about golfing. To make sure his joy rides stay joyous, I'm seriously considering this emergency kit as a birthday gift.
Sister: 
Keep Calm & Carry On Sea Green Poster: My sister-in-law is currently holding down the fort on the west coast in Vancouver, so this iconic poster seems like a no-brainer (I love the color of this particular edition too).
Food Journeys of a Lifetime: 500 Extraordinary Places to Eat Around the Globe: Both of my sisters (biological and in law) are world travelers at heart. They also appreciate a good recipe, so I think they'd each get a kick out of this book.
Hubby: 
Mystery Tackle Box Subscription: John is "head of hooks" in love with fly fishing these days. So when I heard about a monthly subscription service (ala Birchbox and OliveBox) that featured assorted flies, I was all ears. Definitely considering this one for the birthday boy.
Duck Dynasty Season 2 DVD Set: He's a guy. He loves wild shenanigans. And he's a bit of a redneck. Adding this DVD collection to the list just makes sense, no matter how embarrassed I am to include it.
Got any more ideas? I'm alllllllll ears.