Today, I'm excited to share the birthday party of a sweet little girl named Kailyn. Her dad just so happens to be a former boss of mine from my days working at the newspaper and, whether or not he considers it so, I'm lucky to say that his wife and I click on 3,000 levels and have stayed in touch despite moving on in my career. So when she asked if I would be willing to photograph some of the Pinterest-inspired projects she had prepared for their daughter's party, I gave an enthusiastic "Yes!" and packed my camera away for the day. Although the evening proved to be more than a little hot, humid and sticky, I'm so glad that I was there to document Kailyn's party…But enough of my words – Let's hear from Katie, the woman who made this fantasy DIY party a reality.
From Katie…My daughter is about to turn 8. How time flies. She is rapidly approaching a time in her life where things that once seemed magical turn silly and childish. Always a lover of all things unicorn, I wanted to create a party for her that really captured the spirit of an enchanted world. A Magical Unicorn Party was the theme.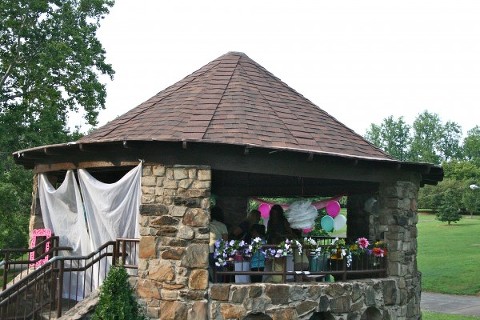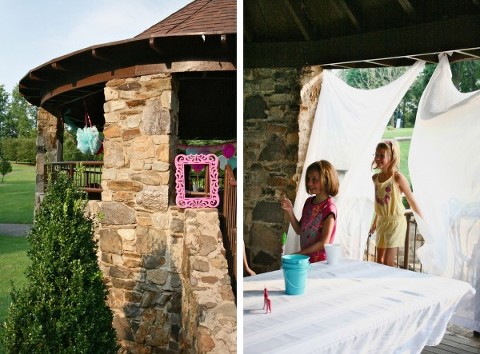 The gazebo where we held the party had several stone pillars that divided it into what looked like 5 large windows that looked out over the park. I wanted to decorate each section differently. My daughter had earlier chosen the colors robin's egg blue, bright pink and purple for the decorations, so I incorporated those colors into my planning. Large tissue paper flowers that a friend helped me make served as the centerpiece for three of the areas. Fuzzy pink pom-pom garland, tulle and silk flower garlands accented each tissue paper flower. Balloons, more tulle and the table setting served as the decoration for the largest, center area.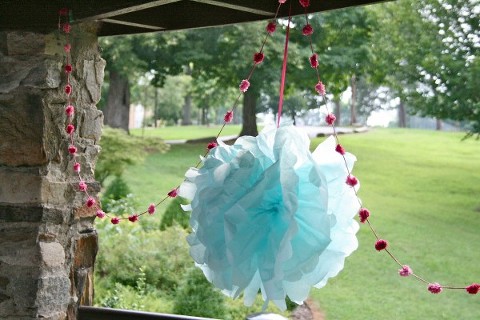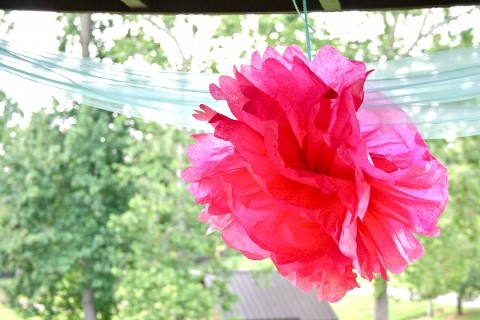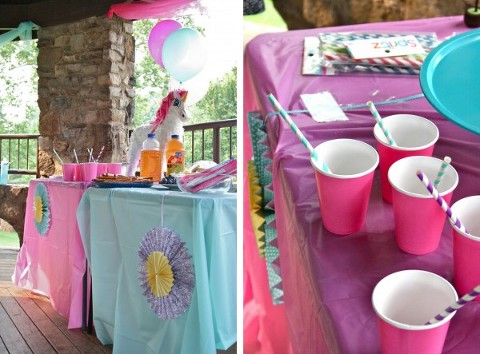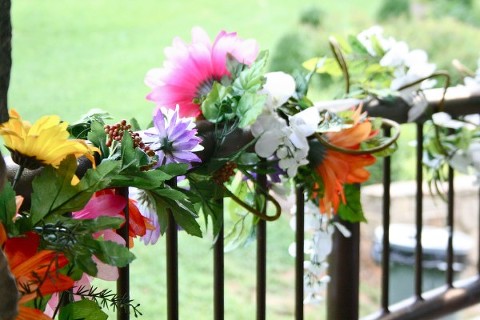 A few months ago I had seen this create your own cloud project and knew that I had to include it in the party. The concept seemed simple enough. Blow up balloons and tape them together in various shapes. Cover them in strips of newspaper that had been dipped in a flour/water mixture. After they dry, use spray adhesive to attach clumps of pillow filling (polyester fiber) little by little until you achieve a cloud silhouette. It was messy and sticky and the first night of prep left me covered in a cement like flour mixture while the next night left my hands glued together, but after they dried and were hung, they looked fantastic!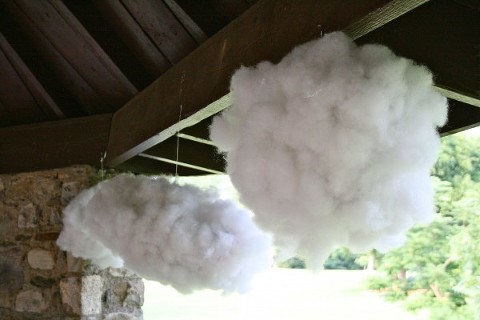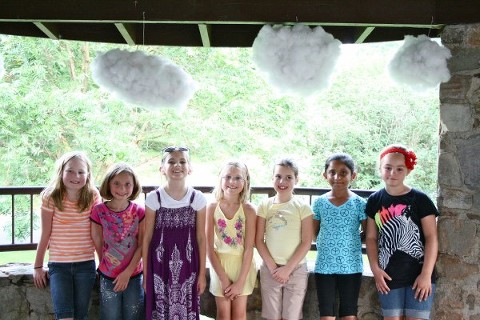 What is a magical unicorn party without some glittery unicorn horns for the girls? The first order of business was to decorate a horn to wear during the party. This tutorial for how to make a paper horn helped by providing a template to print out, but I had to master the rolling of the paper and making it stay on my own. With the help of a few friends and some experimenting, we discovered that it helps to run the paper along the edge of a counter to start the rolling process. After some frustrating attempts with double-sided tape and more spray adhesive, we finally found that a hot glue gun was the only thing that held the glitter paper in place. Some silk ribbon (one piece hot glued to the inside of each side) tied together either under the girls' chins or behind their necks held the horns to their heads.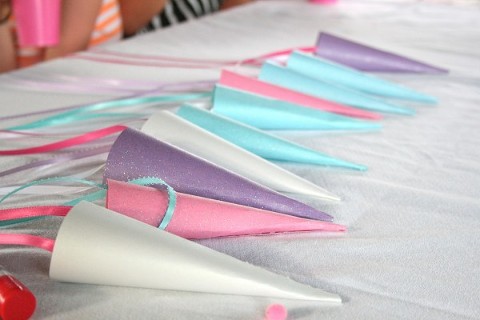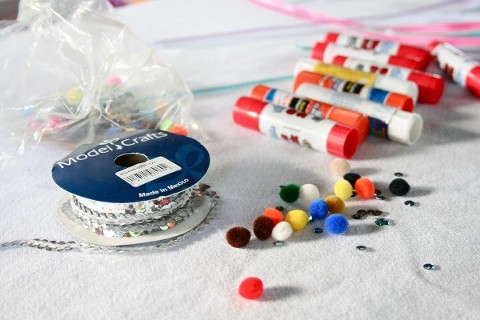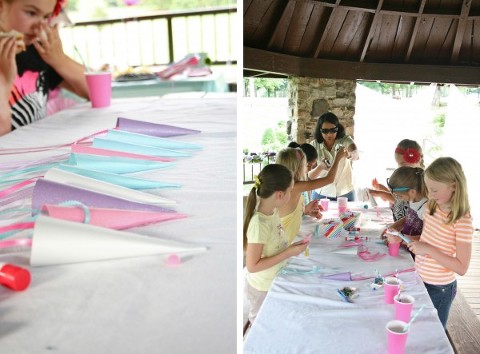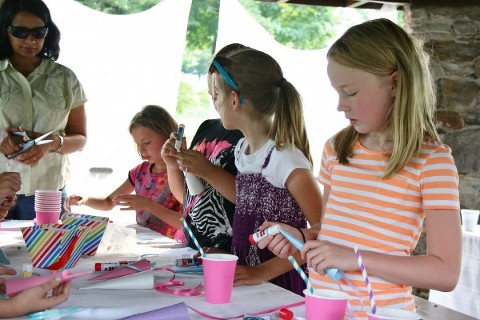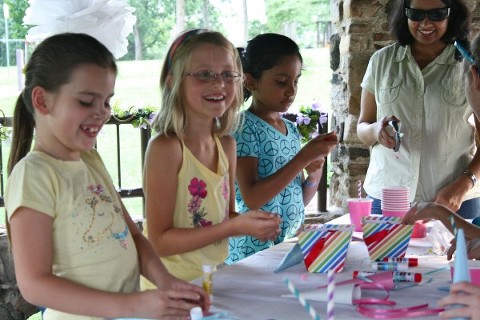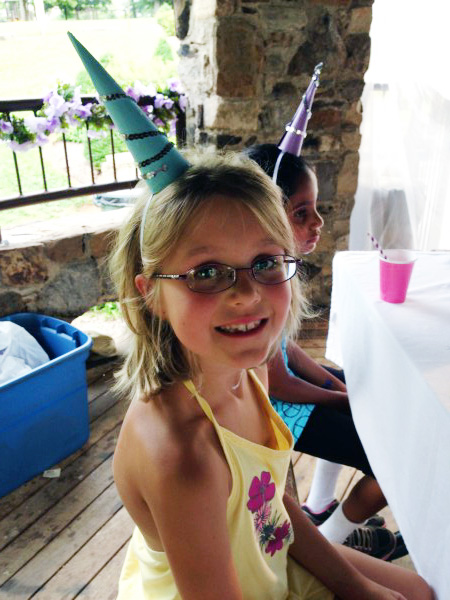 Photo courtesy of Katie Snyder
A scavenger hunt, several unicorn crafts and a unicorn piñata later, it was time for cake! I had made the cake myself and wanted to raise it to really showcase it on the food and beverage table. A unique cake stand was a must, but I didn't have one. A quick Pinterest search yielded this tutorial, and I was easily able to make it my own with a pizza pan from the dollar store, an old candle holder from an estate store, my trusty spray adhesive and spray paint. It took maybe 5 minutes, plus drying time.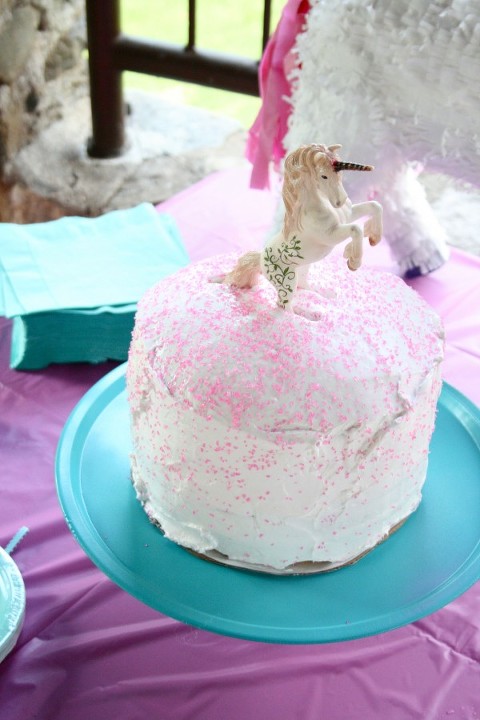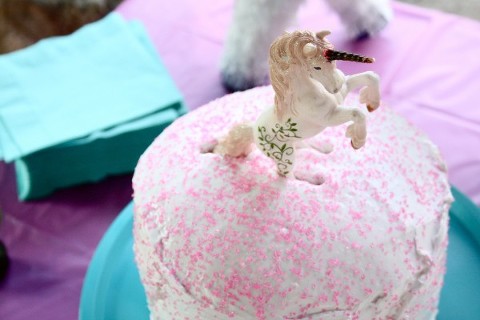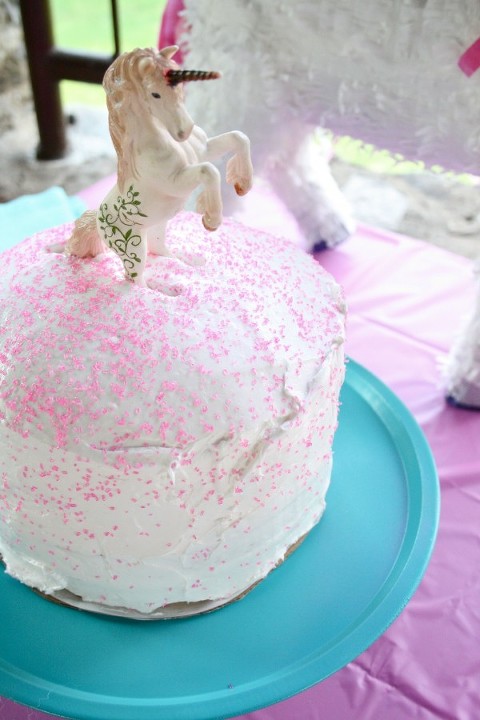 After a super fun two and a half hours of pure unicorn magic, it was time to say goodbye to our friends. On the way out I had the girls pose for pictures in some frames I had found at a local thrift store and spray painted in our official party colors. I had each girl take a picture in a frame with my daughter and I will have them printed out and will insert them into the thank you notes she sends.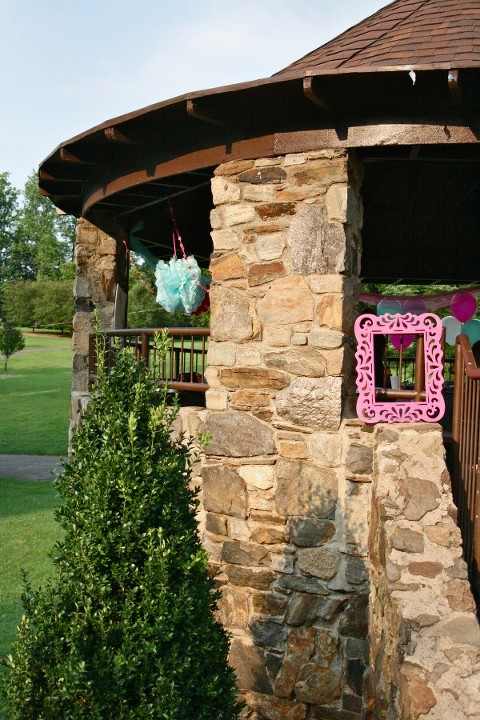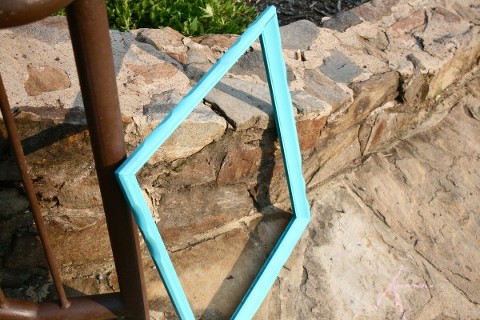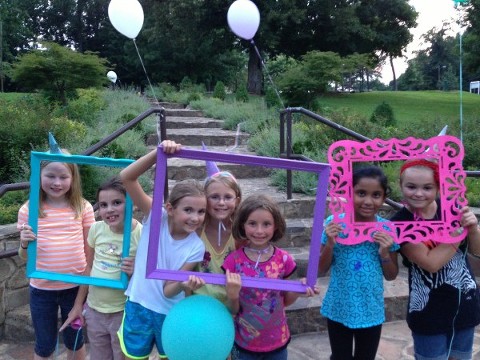 Photo courtesy of Katie Snyder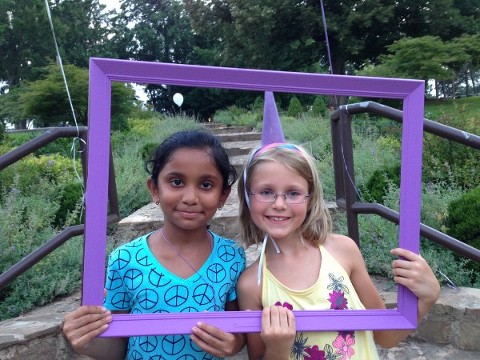 Photo courtesy of Katie Snyder
Days later, the kisses, hugs and thank yous are still coming from my daughter, so I know the Magical Unicorn party was a hit. I just feel blessed to be able to capture a moment in time where, in your mind, enchanted creatures still exist and a little girl can feel like a real-life princess up in the turret of her castle, waiting for that white unicorn to stroll under her window.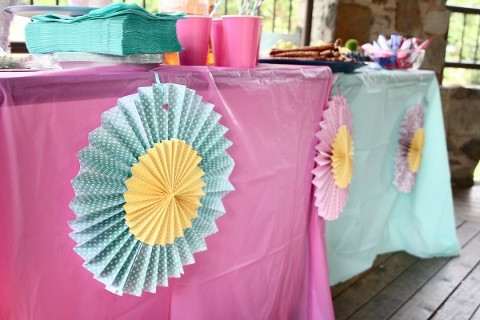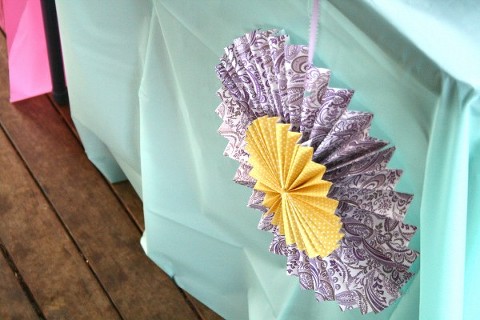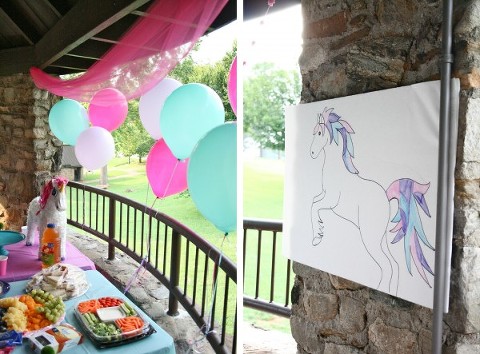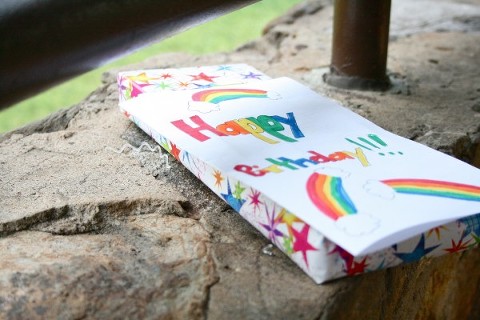 Thanks, Katie, for inviting me to be part of this fun event, and a very special happy birthday to Kailyn!!