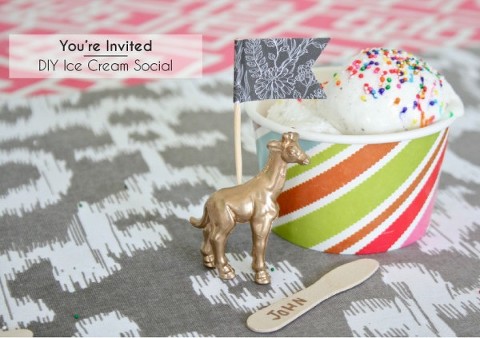 With the creation of my little golden menagerie of placeholders over the weekend, I decided that it warranted a mini celebration. And what better way to celebrate than with ice cream? I knew you'd agree…Luckily, I had recently been outfitting with quite possibly the best ice cream social accessory of all time – single serve, striped paper cups and mini wooden spoons, from Meri Meri (via my OliveBox subscription). Arriving in the little windowed truck pictured below, it was perfect in every way.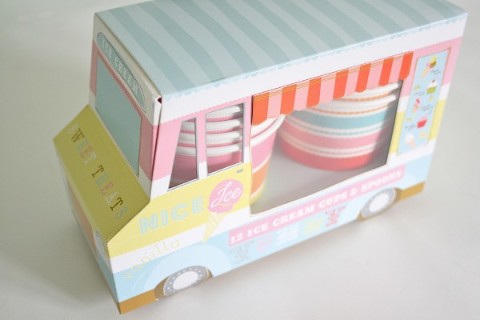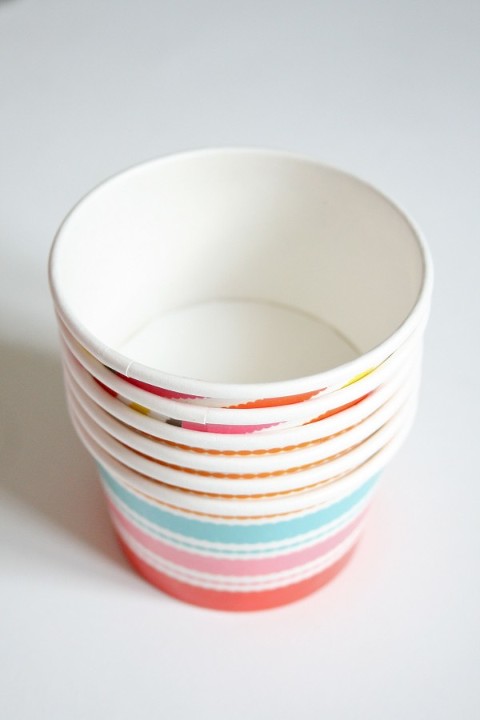 So I grabbed a carton of lactose free ice cream (as we do) from the freezer, plopped some hefty scoops in three cups – one for me, one for my sister who was in town and another for my hubby – added some flowers, arranged our new placeholders and it was officially time to toast to sugar, to crafting and to the wonders of metallic paint.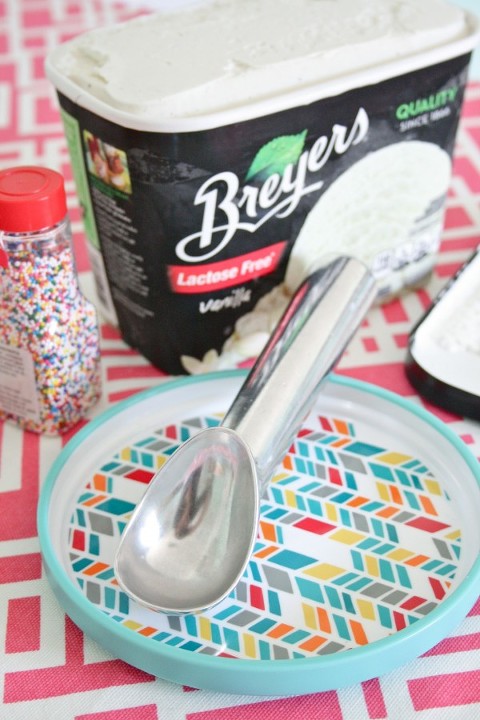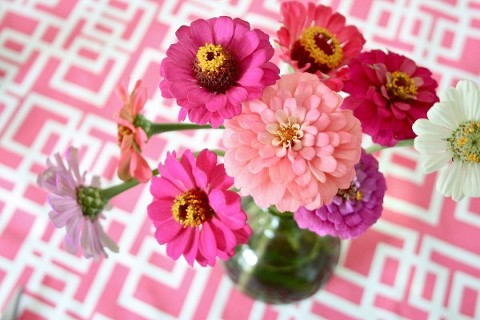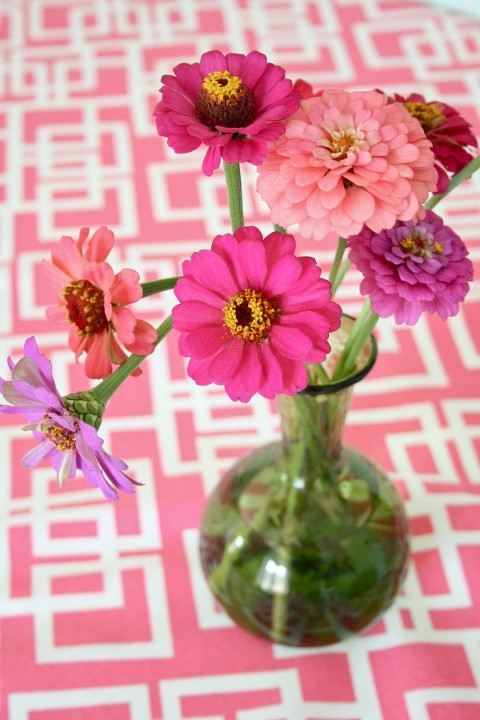 To really get us in the 1950's ice cream social mood, I draped the table with a couple yards of hot pink geometric fabric that I grabbed at a yard sale last month for only $10. No cutting was involved in the making of this party since I plan on turning the 6 yards into curtains soon, but no one knew the difference once I discreetly tucked the spool beneath the billowing fabric. This is the perfect example of (A) me being lazy, and (B) me using what we've got.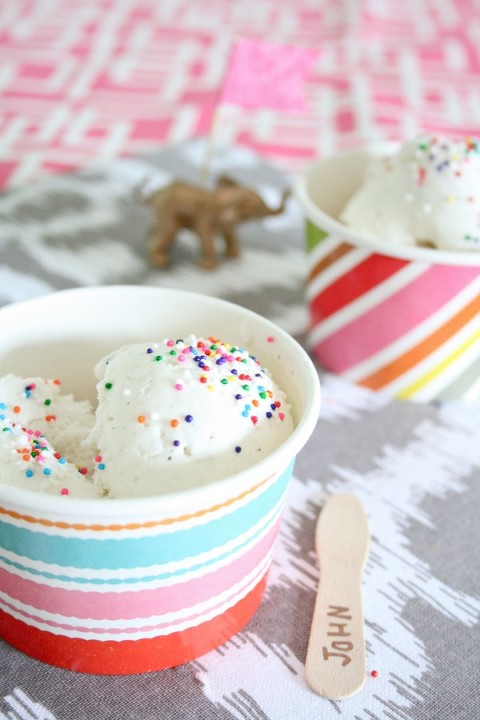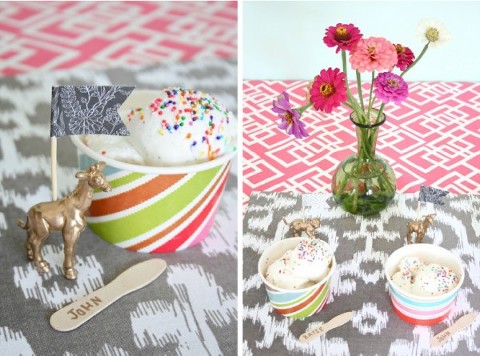 The ikat placemat was a lucky find at Curtains, Blinds and Bath locally, and the lovely flowers were a gift from a family friend – I housesat for them during their vacation and was told to snip to my heart's desire from their Zinnia patch. You don't have to tell me twice! I've been gazing googly eyed at my brightly colored blooms for over a week now, and can safely say that these are my favorite flower of all time. Aren't they just beautiful??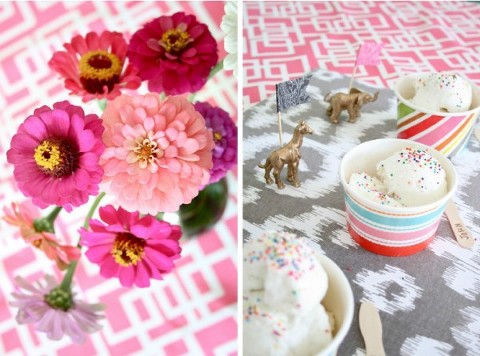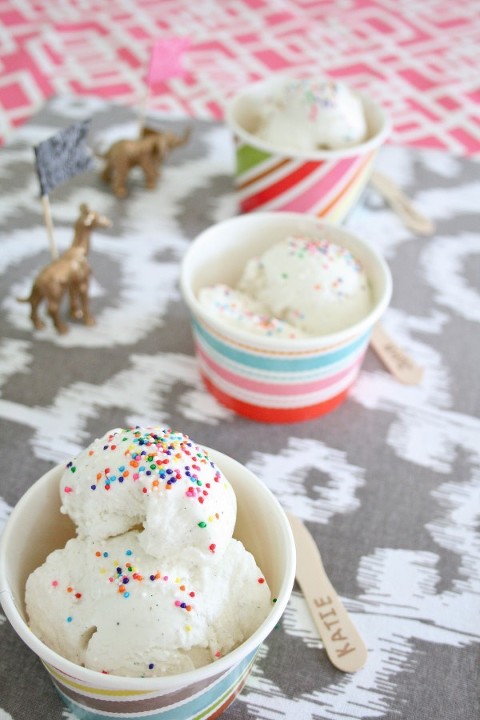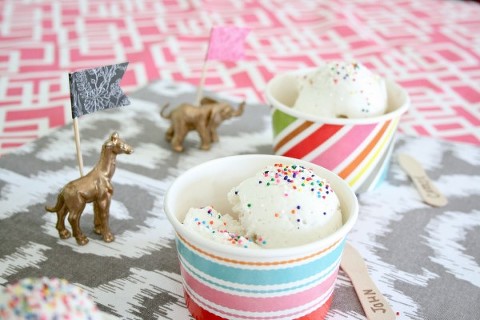 I was actually a little blown away by how easily this little family-attended party came together. I simply grabbed anything that I had on hand and made it work – Even the DIY name cards were a last minute addition after taking a bronze Sharpie to the wooden spoons. I'm starting to realize that spontaneity and a laid back attitude do wonders for stress free party planning. Any other tips? Feel free to share in the comments.
P.S. There are still two days to enter to win the 3MDIY.com prize pack – If you haven't already shared your summertime woodworking plans, click through here and you could be my big winner.