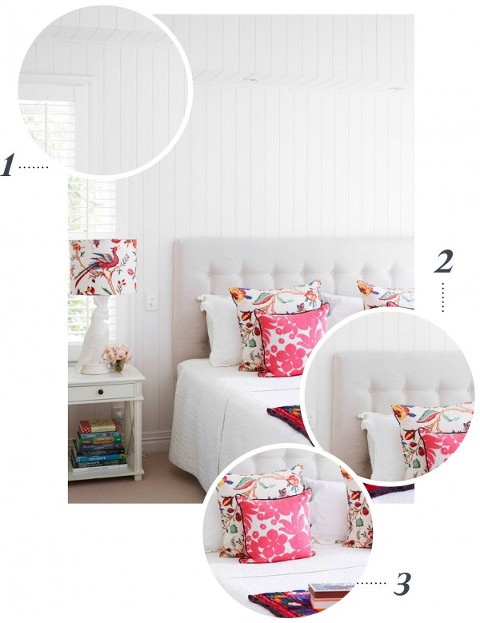 Source: Pinterest
Here's a curve ball for you – I'm officially a full-time freelancer! That's right, despite a go-get-em attitude once I was hired full time back in April after my bout with unemployment earlier this year, my mind was (loudly) communicating that I needed to give freelancing another go. And this time, I don't mind going on the record that it officially feels right. I'm starting out slowly, but the client interest is there and I've got the support of our city's small business center at my back – I'm not going to give up lightly this time around.
What made me spill those beans is this space actually. I'm working with a client right now on a special interiors project, helping to pick colors, finishes and accessories, and this room made me think of this family's particular desire for a light and airy space. "Light and airy" is the perfect description of this room and I can't wait to dive into the details…
1…I've been drawn more and more this year to the idea of a colorfully WHITE room, and this one solidifies the fact that white can really be a powerful color. It's soft, it's neutral, but when done in a pretty bead board finish, it's also really dimensional. Who knew??
2…I'm head over heels for this headboard. It's just a touch darker than the walls giving it some presence, but  doesn't weigh the space down with unnecessary embellishment. If I could afford a custom headboard, this would be the inspiration photo I took to the upholsterer.
3…Oh, that color…A friend of mine recently stretched her own DIY muscles with euro shams made from a shower curtain bought at Target – The look she put together layering three other patterns on top left me itching to play with contrasting fabrics, and this arrangement solidifies that desire. I adore the avante guard mix here.
What are your favorite details?
For past "All in the Details" features, click here.
P.S. Today's the last day to enter your name in the 3MDIY.com giveaway!! Details here.