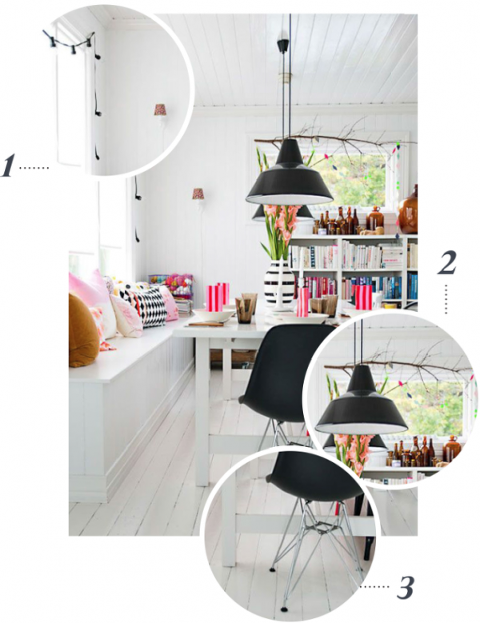 Almost every surface in this space is coated in white, but I definitely don't consider it bland! Let's take a look at some of the fun details that make this room a place where I'd love to kick back and relax.
1…Who says cafe lights are strictly outdoor? I love that the homeowner here threw convention out the window – or in this case, up ON the window. I can just imagine how cozy these big round bulbs are lit up at night.
2…Again! Who says tree branches are strictly outdoor? Probably the guy who only keeps his cafe lights outside…I say "why not!?" and would happily try this trick at home. For high windows that don't necessarily need curtains, something decorative, sculptural and found (like this branch) is the perfect solution.
3…I absolutely love the look of painted wood floors. The crisp white here gives the space a touch of rustic charm, which is then balanced out by the mod chairs set at the table. The symmetry is perfect, and just goes to show that you definitely don't have to side with just one look.
What are your favorite details?
For past "All in the Details" features, click here.