THIS GIVEAWAY IS OFFICIALLY CLOSED.
KEEP SCROLLING TO SEE IF YOU'RE THE WINNER!!

No, that's not a typo…If you aren't familiar with FLOR (although I'm fairly certain that the majority of you are) I'd love nothing more than to go on and on about the brand, but I don't want to hear infomercial-like banter anymore than you do. Besides, the proof is in the pudding, as they say, and I've got quite the batch for you to drool over.
Let me first take you back to the "Before." Our dining room has gone through many a rug in its short 3 year relationship with us, but I never really felt like I had nailed it. The one that we had nestled under the table was actually a prize from a drawing and, although very nice and certainly more than I could have afforded back when I was living as a bachelorette, it wasn't exactly my taste. It was time to upgrade.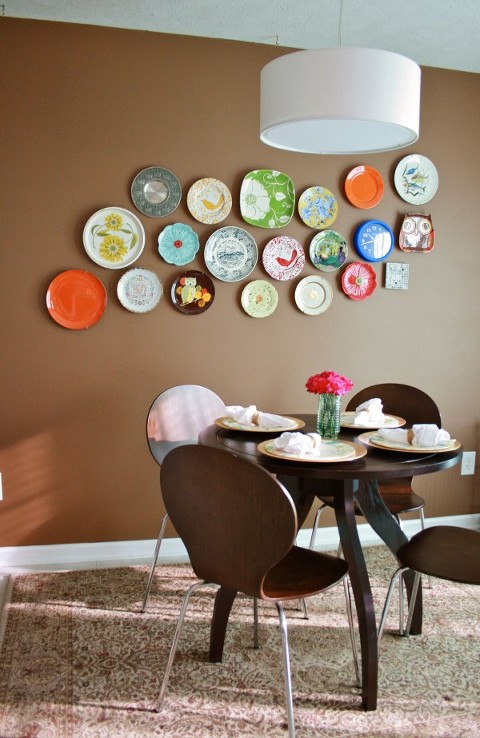 Thankfully, FLOR came on board just in the nick of time to help us through this transition. The first step? Get set up with a FLOR Possibility Studio designer who walked  with me every step of the way to come up with the absolute P-E-R-F-E-C-T design for us. Michelle was a dream to work with and, after completing my Design Assistance Form, which asked questions about foot traffic, special concerns (ex. pets) and color palette, she designed a custom scheme that fit both our needs and our style.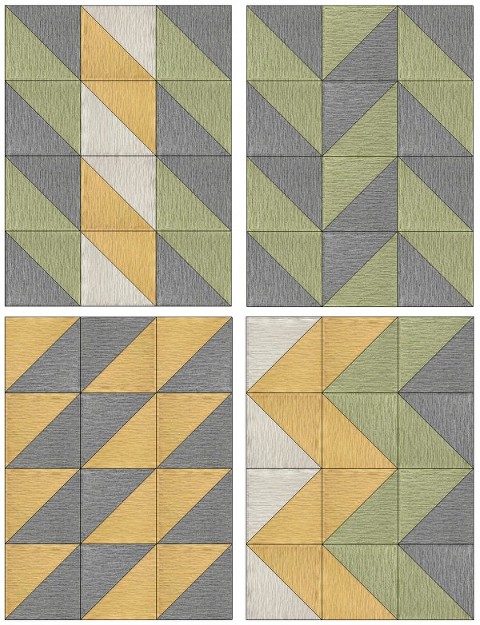 The first four options that Michelle sent over were the perfect look in terms of design, but the green wasn't quite right. But one hesitation from me on color sent Michelle on an immediate hunt, and within the hour she had sent over a revised color scheme on our top picks. Ultimately, John and I both agreed that the first of the two seen below was just the ticket.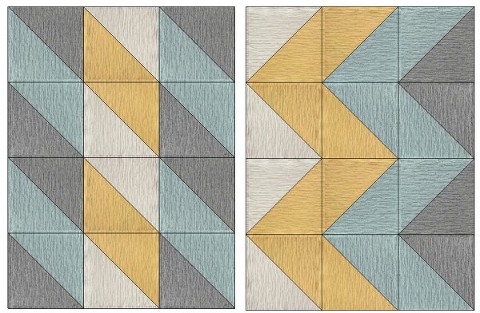 And then this lovely box landed at our doorstep. I was able to wait all of 40 minutes before I tore into that bad boy, and was happy to discover that the installation process was going to be a breeze. The detailed instructions plus a print out of our final design allowed us to get our new rug put together and put in place in under 30 minutes flat.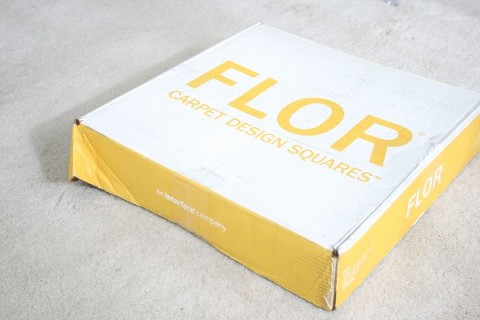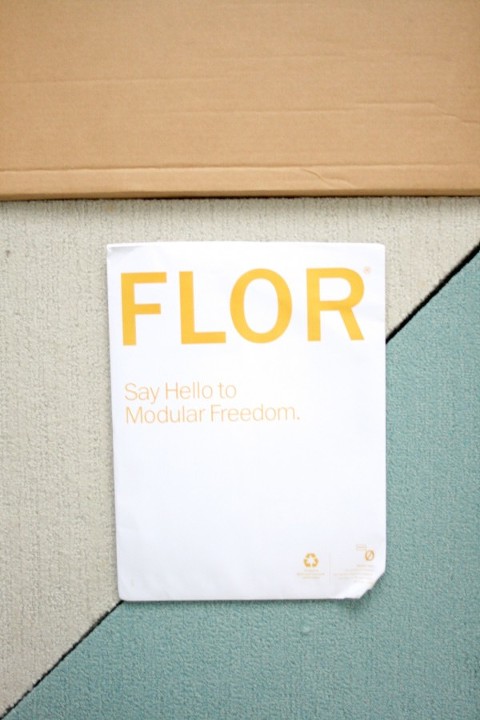 After moving the table and chairs from the old rug, rolling it up and carefully laying out our precut FLOR squares in our custom pattern, it was simply a matter of connecting the corners using the FLOR dots that came in the box. Now, whenever we have an irreparable spill, all we have to do is carefully peal the tile in question off the dot and order a replacement. We'll spend a measly $20 for one tile instead of another $150 to replace the entire rug. Can you tell I'm excited by this concept, especially since we have three pets in the house?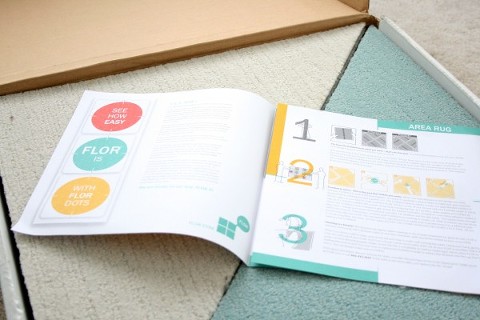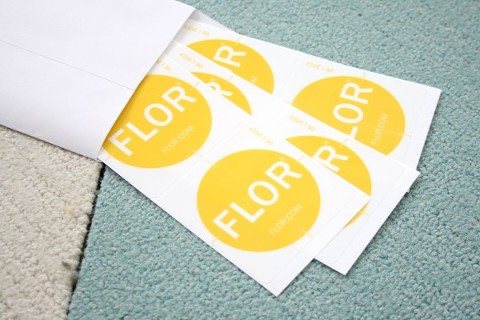 Now here are the lovely "After" shots of the space with its new rug, plus a new collection of color coded plates to match. We are in love with the fresh modern look and can't thank FLOR and Michelle enough for making this upgrade such a manageable transition. It finally feels like "us."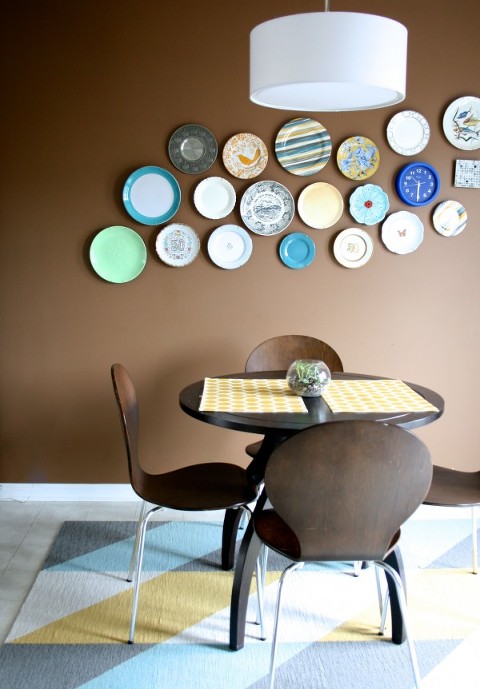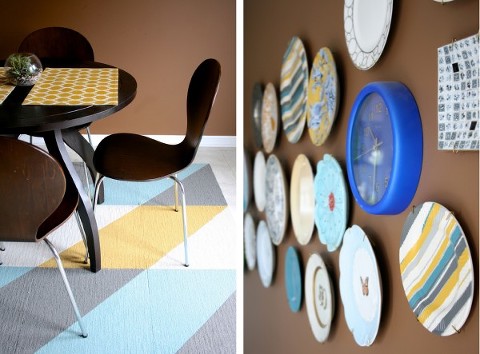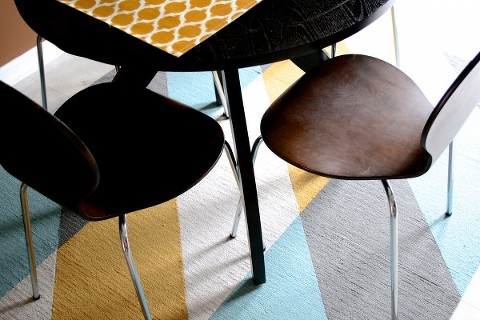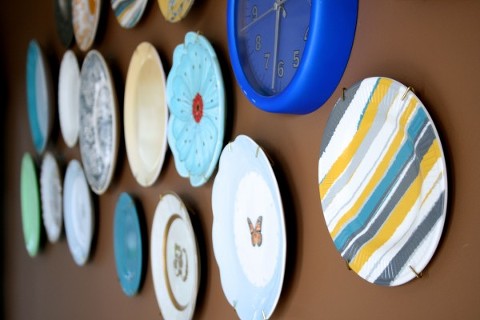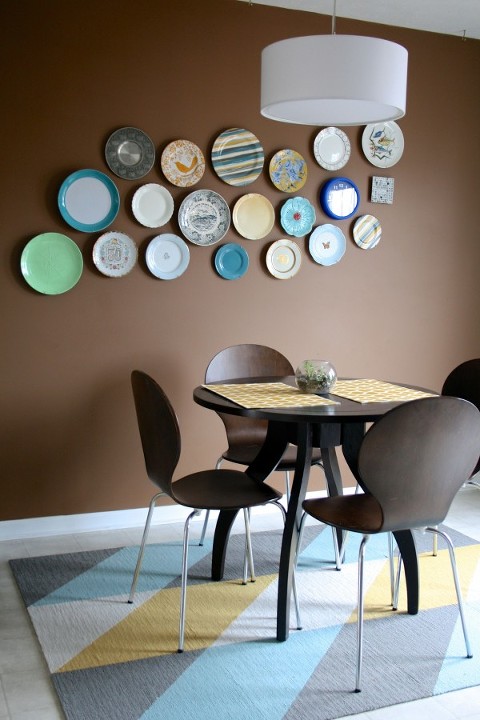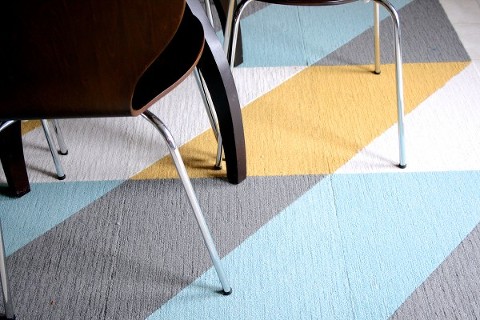 So. How about we get to the REALLY good part? Continuing my "Summer of Giveaways," I'm excited to share that FLOR has generously agreed to offer up 6 extra tiles to one of my fabulous readers! Here are the details:
The prize:
One reader will receive 6 FLOR tiles of their choice.
To enter:
Head over to the FLOR website, and then come back and leave a comment on this post telling me your favorite style tile. While you're there, be sure to sign up for their email newsletter – This isn't a contest requirement, but I signed up and have LOVED all of the fabulous inspiration they send over each week.
Bonus entries:
For extra chances to win a prize, follow Dream Green DIY on Facebook and/or Twitter and leave a comment for each here letting me know that you did. (it's a win-win since you'll be able to keep up with my daily updates once you're a follower – But of course, there's NO pressure to do so. You don't need to do this in order to win the prize).
Deadline:
You have until Wednesday, September 11th at 11:59 p.m. to enter. The winner will be announced here on Thursday, September 12th – Don't forget to check back to see if you've won.
Nitty gritty:
Contest is limited to the continental U.S. and Canada (excludes Alaska & Hawaii). The winner will be selected using random.org.
***************************************************************************************
GIVEAWAY UPDATE: Congratulations to Mary B.!!
Mary, I will be emailing you shortly with details on your FLOR tile prize pack.
Thanks to everyone for participating!!