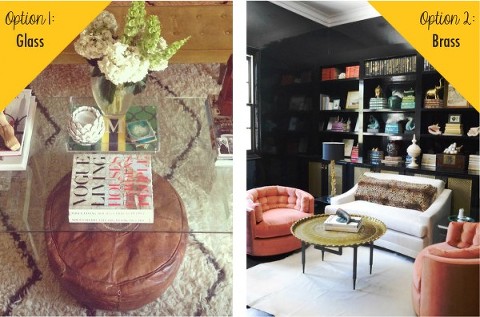 The standard wooden coffee table is great, but I've recently been keen on departing from the norm. Because these particular pieces tend to be front and center in a living space, I'm of the mind to break away from convention and try one of the more unique options – things like marble, tile, slate or even leather. But there are two more options I've seriously been considering…
Option 1: It's a no brainer that glass surfaces work well in small spaces. I'm sure you've heard the rumor, but this see-through material doesn't take up any visual weight at all, giving the illusion of wide open space. My personal favorite feature of a glass coffee table though is that it allows your fabulous rug to be the star.
Option 2: But brass, on the other hand, steals the show. There's no way for your eyes to avoid that big, round ornate beauty above, but frankly why would you want to? Brass is such a simple way of achieving the "lived in" and "worldly" look, all while sticking to a budget.
[poll id="9″]
P.S. Only 9 hours left to enter my Pretty Smitten "Hello Darling" giveaway! Don't miss out.
P.P.S. HAPPY BIRTHDAY to my handsome, generous, thoughtful, hilarious husband. Love him to the moon and back…