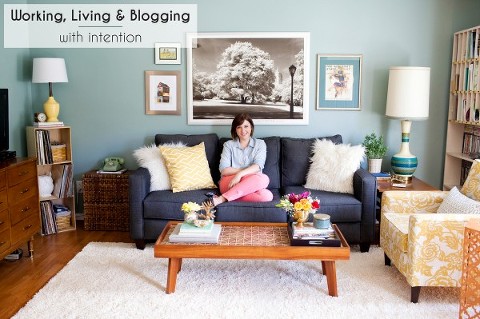 Photo: Mallory Benedict
So something kind of big has been going on behind the scenes…I've mentioned briefly in passing that I'm now working for myself as a freelancer, but I think this momentous change deserves a little more than just a quick aside. This is huge people. This is the biggest of the big deals, and I can't help but want to scream it from the rooftops.
It's time for me to take charge.
Moving forward, I'll be focusing on working and living with intention. If that 9 letter word sounds familiar, it's probably because, like me, you're a fan and follower of the one and only Jess Lively. When I quit my full time job to focus on freelancing full-time, my first reaction was to call Jess. But given that I was suddenly and unceremoniously left without a steady income I couldn't quite afford her rate (justified though it may be). I wanted to give my situation a little more time to make sure it was REALLY what I was meant to do. A few weeks later and I intuitively knew that I was on the right track (was that how it felt for you other freelancers too?). With that gut feeling, it was time to quite literally call in the big guns.
It was time to invest in myself and my business. 
This past Tuesday, I set myself up in a corner of my studio with a pad of paper, my favorite pen, my phone and a charger and waited anxiously for our 10 am Office Hours conference call. An hour and 17 minutes later, I was left with more answers than questions and enough energy to overcome what I needed to in order to be successful on my own. Suffice it to say, I couldn't recommend Jess more as a life and business coach.
I feel focused, balanced, empowered and intentional about where I'm headed.
Although I'm leaving out a TON of details because you guys aren't anymore used to wordy posts here on DGD than I am, I wanted to address a few changes that Jess helped implement here on the blog:
More white space – I'm so thankful for Jess's unbiased eye and as soon as she suggested changing the background from dark gray to white, I knew she was right. Hopefully now the content is what draws your eye rather than that bold background.
Even MORE white space – Another thing she suggested was to make the font bigger and the text area match the width of my photos. Done and done.
Be my content – This is the biggie. In order for me to post every day, I implemented two weekly features that allowed me to chat about interior design without having to  do original projects, quite simply because I just didn't have the time. But now I am beginning to understand that it's about quality, not quantity, and I've decided to do away with "All in the details…" entirely and will move "The Options" to Fridays as a light and fluffy end to the week. If I don't post every day, I hope that you will understand that it's because of my new dedication to being intentional about my time and how I balance things now that I'm working for myself.
Be original – Finally, I'm putting my "Weekly Pinterest Challenge" on hiatus. This one is a little sad for me because this feature has been one of the defining features of my blog since the beginning, but I have heard far too many horror stories about copyright infringement and so I'm dedicating my time to creating the most authentic and original content that I can. To say that I'm excited for this new challenge is a gross understatement.
It's a lot to take in and I'm getting used to it right there with you, but I truly believe that this is the start of something fresh and new for me, both in my personal life AND as a blogger. I want to take this venture to the next phase and now feels like the right time.
I'm so glad (and lucky!) that you guys are along for the ride.
P.S. If you want the details on my new freelance services, stay tuned – The goods (pun intended) will be unveiled in the coming weeks! Here's a quick hint though…
P.P.S. Click here to enter your name in a drawing for 6 free FLOR tiles! Giveaway ends next Wednesday.