Did you hear? I'm thrilled to announce that I will be partnering with The Home Depot this season for their Holiday Style Challenge! Myself and 22 other (far more) fabulous bloggers are each going to take a stab at transforming our spaces into wintery wonderlands of Christmas goodness, all with the help of our favorite home improvement store – my words, not theirs. Click through to see the full list of links for those involved in the Style Challenge. I'm particularly excited to have the chance to post alongside Kristin, Julia and Whitney.

I couldn't be more honored to participate in this year's challenge, and have been hard at work making sure I live up to the team's expectations. Want a few sneak peeks? Well, I'll tell you that my particular projects revolve around styling a Christmas tree. Some folks were assigned mantels, while others were asked to focus on an outdoor scene. I've loved pouring my energy into a festive tree though, and am beyond thankful to have the opportunity to really go all out. We're talking ribbon, we're talking hundreds of shatter-proof ornaments, chalkboard projects, washi tape, craft paper and spray paint.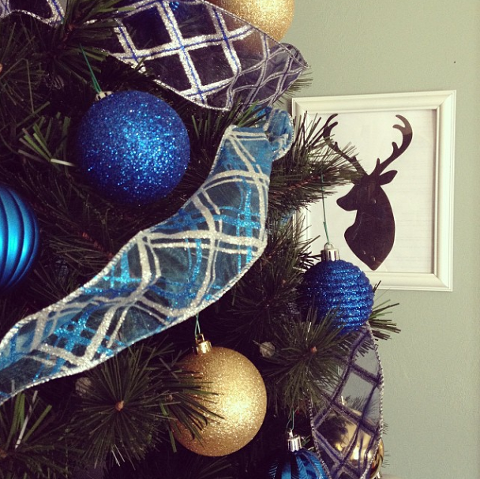 via Instagram
I am actually about to trot down the stairs this morning to shoot the entire scene for THD and know that it will take an army's worth of restraint not to post the final look within the hour. Alas, you and I will both have to wait…The good news is that all shall be revealed next month! You can bet I'll be keeping you posted every step of the way…
Thanks Home Depot! It's been a pleasure.
P.S. Have you entered to win a Khristian A. Howell 2014 calendar yet?? Get your name in the drawing here before the contest closes tomorrow!