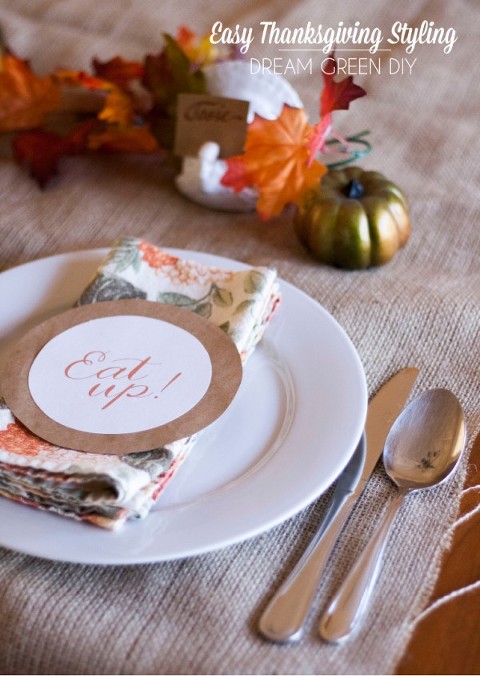 It all started with three little turkeys – the glass variety, that is. I happened to be perusing the most recently acquired goodies at our local estate shop, and noticed a table filled to the brim with Thanksgiving decor. While we don't usually host the big family dinner at our house (read: never), I've been itching to try my hand at styling a holiday tabletop spread. So when I saw this set of glazed and painted turkey-shaped napkin rings (marked for just $1 each!), I couldn't help but snatch them up knowing that they would inspire something super special.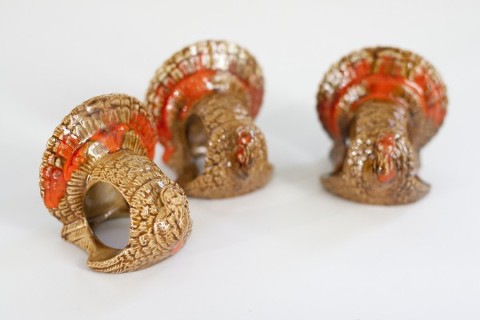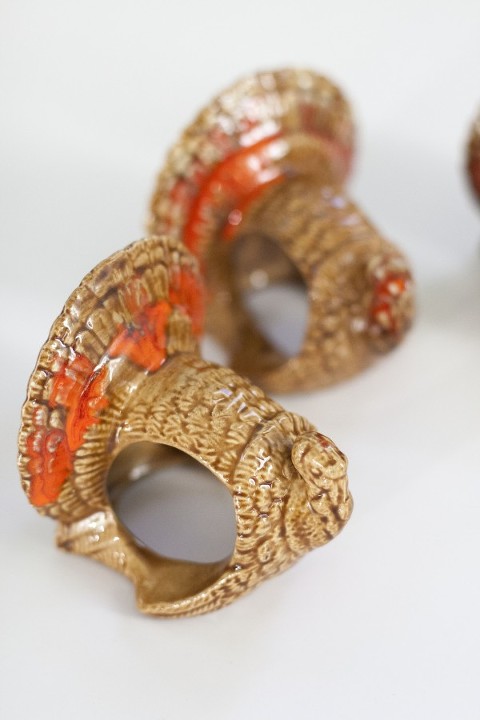 Of course, I couldn't just leave them as-is. While I know a lot of you would have left them in their nicely colored "before" stage, they weren't exactly my cup of tea. I wanted to modernize them a bi – make them a little more "Crate & Barrel" than "Pottery Barn." So out came by trusty can of white spray paint. A few thin and even coats later, and they were definitely feeling more contemporary.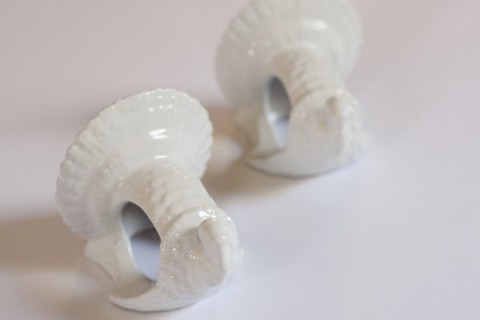 There was one other DIY I wanted to try for this holiday table set up – plate tags. I've actually had these on the back burner for a while now, always envisioning little round tags with a printed menu to sit nicely within the round center of my guests' dinner plates. The thing is, though, that Thanksgiving is pretty informal in our family, so a menu seemed like overkill. Instead, I typed up a quick and quirky "Eat up!" and cut them into circles. Mounted on slightly larger circles of craft paper, they were just the pop of character each place setting needed.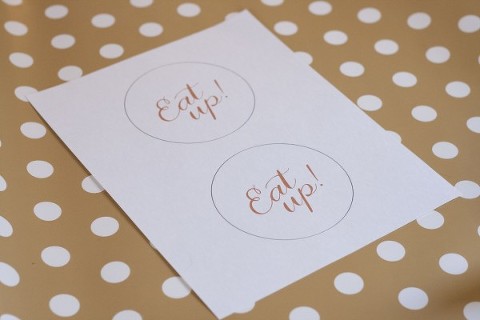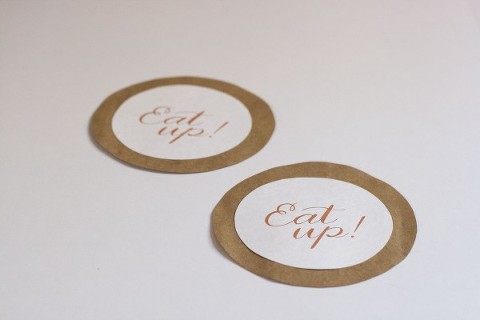 For the tabletop styling itself we went with white plates plus pretty printed linen napkins. For a little rustic texture, we brought in a piece of cut burlap and draped it over the center of the table. As for the white turkeys, we strung a festive, harvest colored garland through the centers, and slipped a piece of craft paper behind the tiny heads with guests' names written in brown ink, turning them into place cards.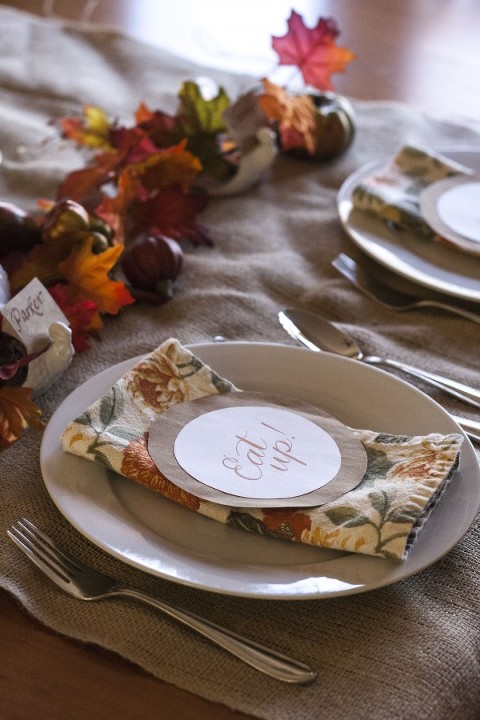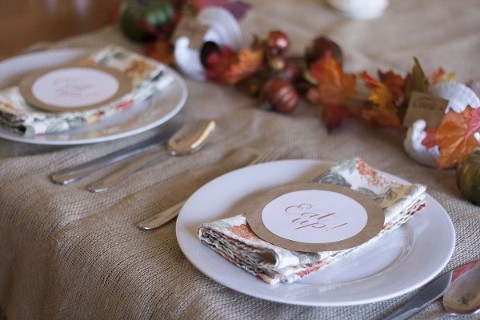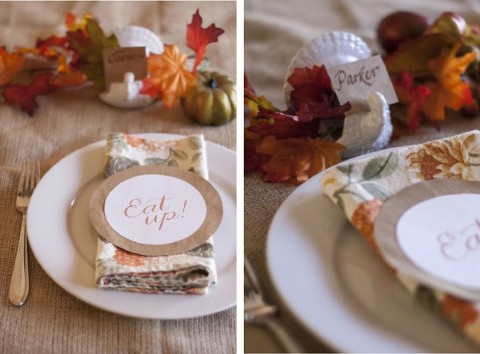 The "Eat up!" tags, I think, made the whole scene come to life. That little bit of script text took the entire thing from "everyday" to "something special" in no time flat. And in all actuality, they only took about ten minutes to throw together. In fact, if you want to make your own, click here for the free printable!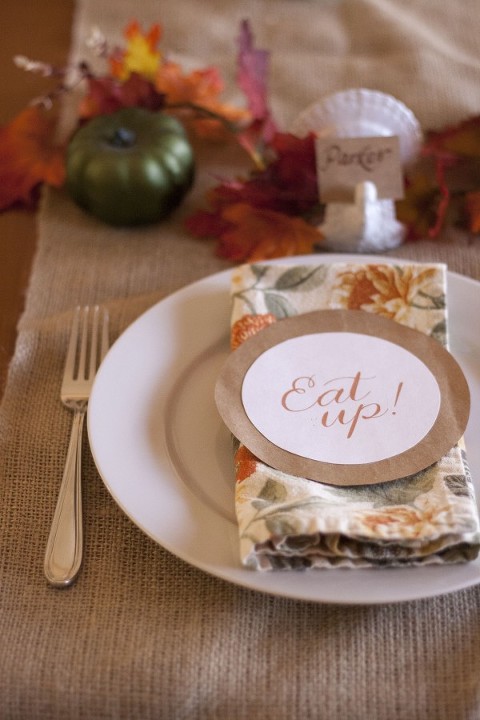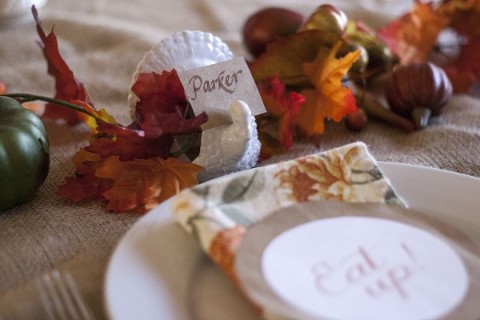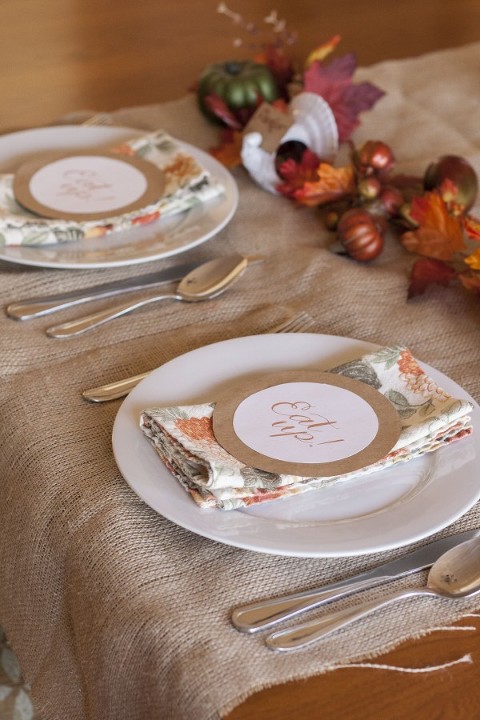 If I don't get to tell you later, I wish you and your family a very happy Thanksgiving filled with good food, good company and – of course – GREAT pie!