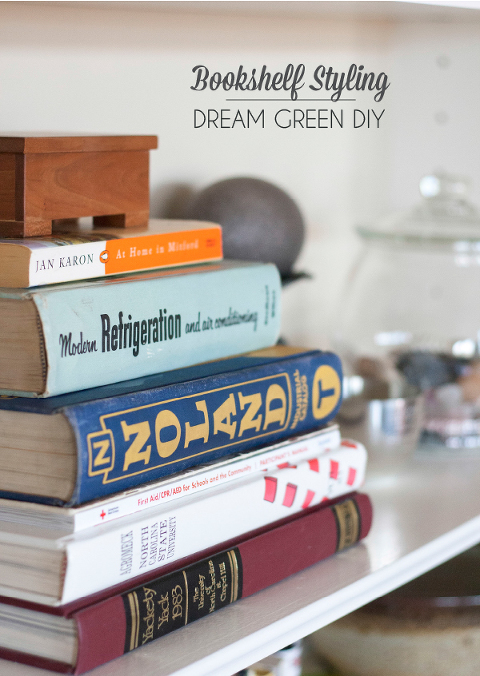 A couple of weeks ago, I was asked (by one of my favorite families in the world) to help with a little bit of bookshelf styling. I use the phrase "a little bit" loosely in this case, however, because the bookshelf in question happened to be quite large…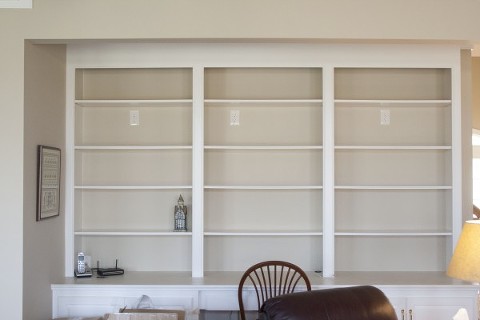 The family had just recently moved into their new home and were having trouble knowing what to use and how to fill the expansive living room built ins. The first thing we did before placing anything, though, was bring the color of the rest of the room into the back of the unit itself. Although subtle, taking the shelves' backdrop from white to that soft, homey cream made a world of difference. This is a trick that you can easily use in your own homes. For a little more drama, try going a couple shades darker on the same color chip – or use a complimentary color for a really bold change.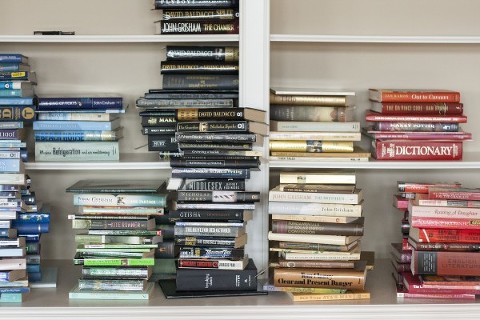 With the painting phase of this project completed, it was time to bring in the accessories. One thing the homeowner and I agreed on was the need for books, and lots of them. Luckily, she had boxes upon boxes of novels, textbooks and photo albums for me to use.
Because this trio of shelves is such a commanding presence in the space, I wanted to consciously think about the colors I used in terms of book spines and covers. The rest of the room is filled with rich earth tones, so after separating the books by color, I moved the cool tones to the side (blues, purples, lime greens) and only used them sparingly. Red books, yellow books, white ones, black and orange made up the majority of our selected pieces.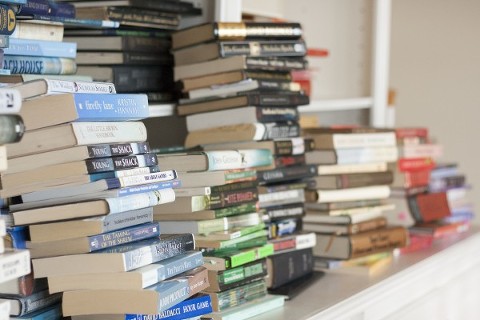 With the books in place – some minimally stacked, and some filling entire shelves – I began the process of layering in display pieces. I tend to stick to a rule of three when I can, placing a group of items together (a piece of pottery, a silver cup and an animal figurine, for example) that differ in height as well. This ultimately creates a naturally collected feel.
If you want to try this at home, I have the utmost faith in you! Just be sure to set aside a good chunk of time and know that rearranging things dozens of times is both natural and good. The more you play, in this case, the better it will look in the long run.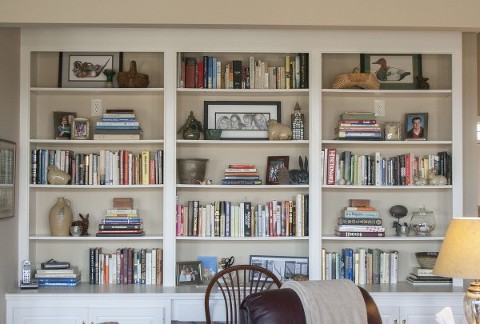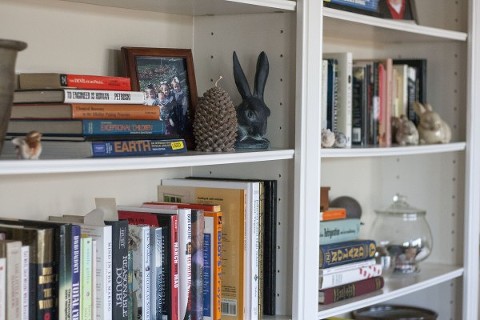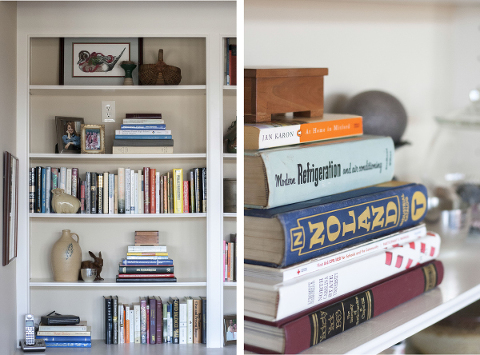 On the adjacent side of the room, I also was asked to tackle the smaller shelves alongside the television. This look needed books, but in a much lighter way than the bigger built ins. So I chose just two shelves, and filled them halfway, leaving room for a wicker basket book-end, if you will, to finish them off. The other shelves were given the same "rule of three" formula, layered with sculptures, vessels and tiny, delicate heirlooms. A uniform color scheme of earth tones and repeating shapes (baskets, birds and rounded pottery) brought it all home – pun intended.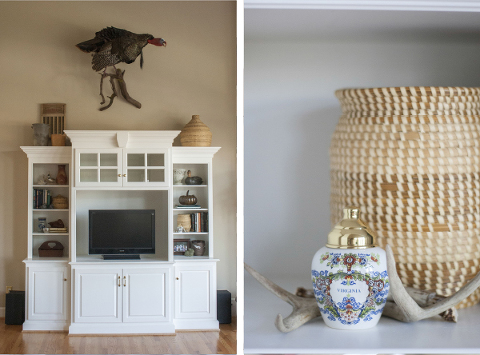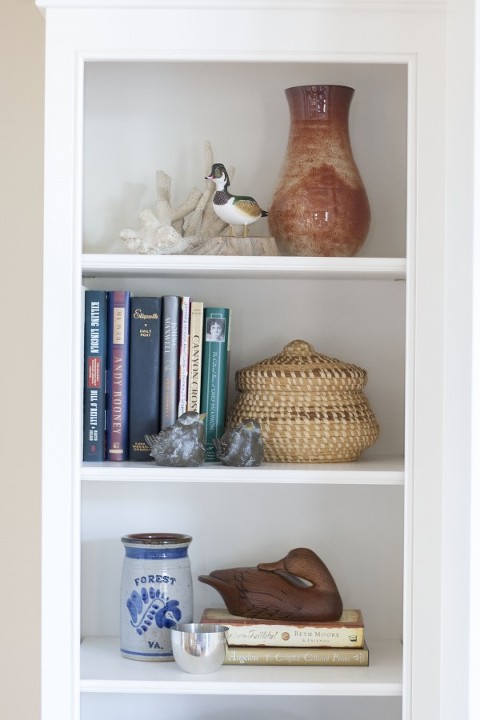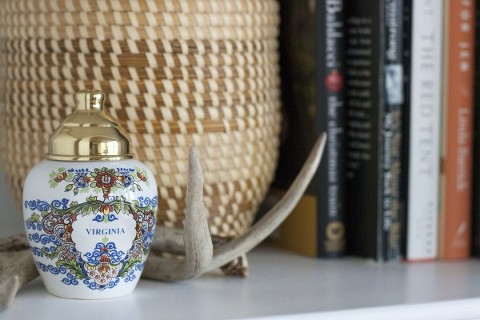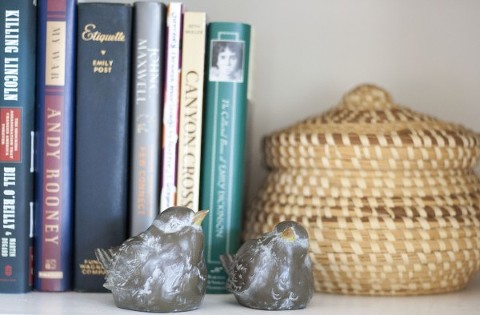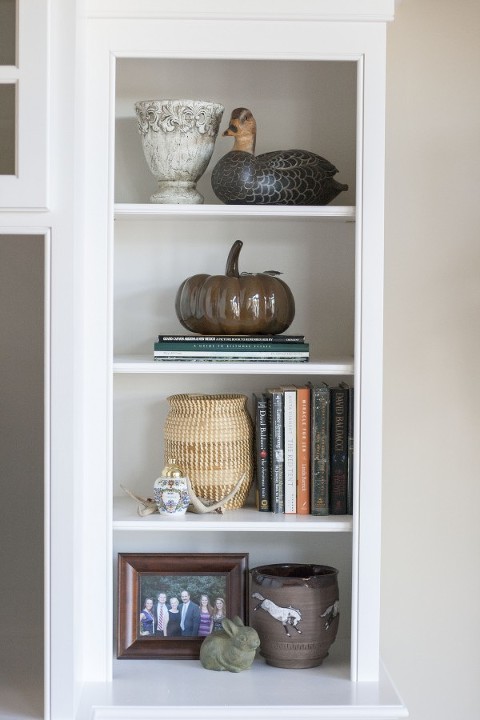 Another trick I use a lot in my own home as well as clients' is to snap a picture with my phone. For whatever reason, it can be easier to spot an oddity or imbalanced section through a photo than in person. I won't even attempt to understand that, but it definitely works.
We managed to whip this major project out in just two days, right on time for the big family Thanksgiving dinner. I'm so thankful to be doing what I love, and am especially thankful for wonderful clients who are so appreciative and encouraging.