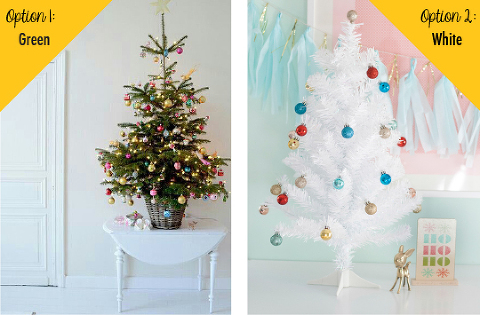 My side of the family is super heavy into tradition. We always put up and decorate the tree the day after Thanksgiving. We always wait to listen to Christmas music until Black Friday, too. We always watch the same rotation of holiday movies every year (Elf, The Holiday, Love Actually, Family Stone, Shop Around the Corner, Holiday, etc.). We always wait at the top of the stairs on Christmas morning. The list could go on and on, and I love it. But this year, I'm considering a shift from tradition. Specifically? The tree…
OPTION 1:
First, let's talk about evergreens. The advantage of a green tree (obviously) is that it can be of the natural variety, straight from the earth. It smells worlds and away better than plastic (again, obviously), and brings a lot of traditional character and color into our decked out halls.
OPTION 2:
But what if you aren't interested in traditional character? The white tree feels both modern and retro this season, making it the perfect synthesis of styles. It's also a great solution for the purist. As our styles have evolved, the color green has made a bit of a departure, so I almost resented all of that earth tone suddenly infiltrating my living room. A pure white tree is my breath of fresh air.
I've started the debate. So cast your vote! And, as always, feel free to shout out your opinions in the comments. This one could get heated…
[poll id="23″]
P.S. There's still time to enter to win a pack of holiday cards from The Green Daisy! Click here for details.