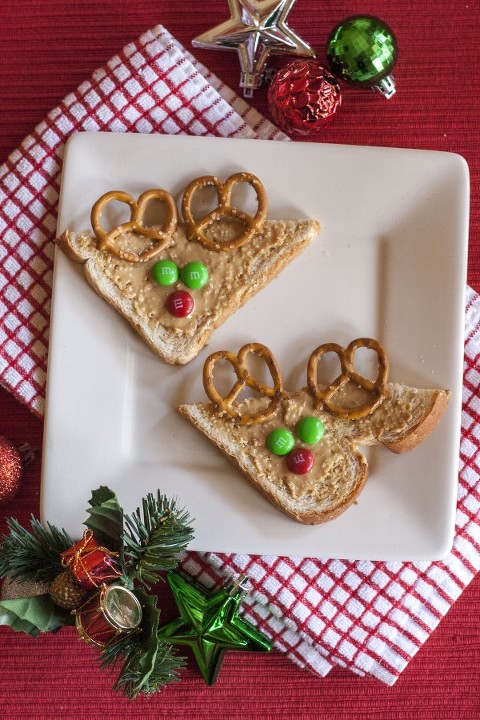 Every year at Christmas time my sister and I dive headfirst into traditions. From decorating and a (growing) lineup of must-watch holiday movies, to special shopping trips and meals, we are sticklers for routine. One of our longest standing traditions, though, is the Rudolph sandwich. I imagine that it all started during my mom's career as a preschool teacher, but this little peanut butter treat has been part of our Christmas for as long as we can remember.
Rudolph Sandwiches
Ingredients:
1 slice of bread
Peanut butter
3 M&Ms (preferably 2 green and 1 red)
2 standard shaped mini pretzels
.
Directions:
Spread the slice of bread with peanut butter (our new favorite is the natural stuff from Fresh Market that you grind yourself!) and then cut the bread down the middle, creating 2 triangles. Place the 2 pretzels at either end of the long edge to stand in for antlers. Finally, plop the 2 green M&Ms down for eyes, and the 1 red M&M in the middle for the nose.
And with that I wish you the very BEST of holidays…Thanks for making this Christmas season one of the very best – and most inspiring – yet!