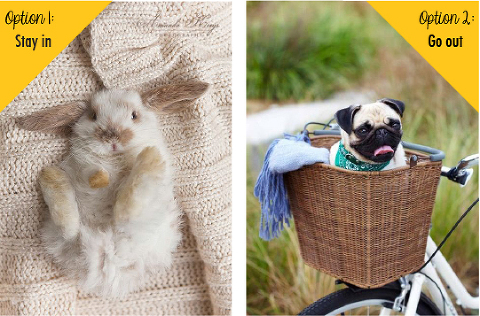 Because all things should be demonstrated by animals, I've called in two adorable species for today's "Options." Now that Christmas is sadly over, it's time to quickly turn our attention to New Year's. The question is…Do you stay indoors cuddled in your favorite cable knit throw, or do you hop on your go-to mode of transportation and hit the streets for the celebration?
OPTION 1:
I've always likened NYE to prom. I tend to build up the event to this magical, life changing experience, only to get let down by this or that. I've finally succumbed to the fact that I need to listen to my intuition and enjoy it quietly at home in my pjs, with my hubby and our little troop of fuzzy critters. I can't wait to do it "right" this year.
OPTION 2:
That said, I KNOW that a bunch of you can't wait to get gussied up and join in the party circuit – And I can't wait to scroll through Instagram to see all of the pretty sequined numbers everyone dons. Nothing says "New Years" like heels, red lips, glitter – oh my!
[poll id="26″]