THIS GIVEAWAY IS OFFICIALLY CLOSED.
KEEP SCROLLING TO SEE IF YOU'RE THE WINNER!!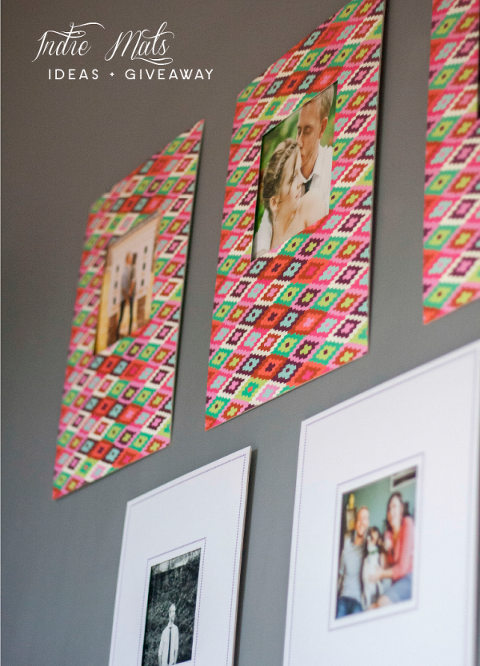 This story begins at the BHG conference I attended last fall, when I was first introduced to Indie Mats. A couple of samples were included in our swag bags and they immediately caught my eye as I was riffling through all of the goodies. Bright colors, sturdy construction—oh, and they serve as snazzy, light-weight frames for our favorite photos and prints.
It was enough for me to hop right onto Gmail and propose a collaboration, and low and behold, the founder (Emma Hand) turned out to be one of the sweetest creatives I've ever worked with! Her enthusiasm has been infectious and so is the concept behind her brand.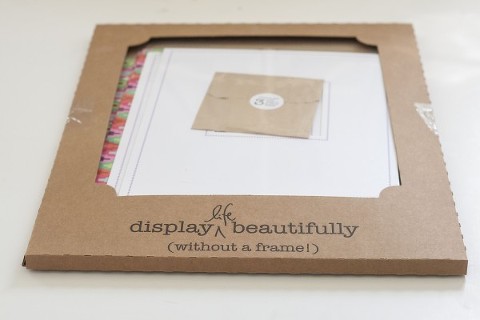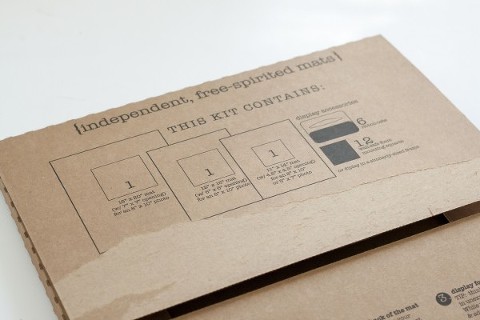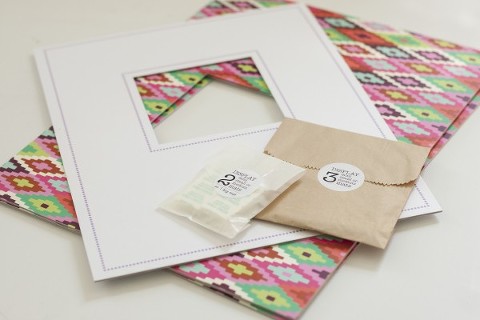 Just as the samples suggested, the final Indie Mats that I chose turned out to be super high quality, not to mention just lovely to behold. I ultimately went with a set of three from the Amy Butler Designer Series and two from the "Dot to Dot" series in Lilac. My mats came with numbered packages, plus instructions printed right on the back of the mats themselves. Couldn't be easier. There were two options for hanging the mats, either by removable, two-sided sticky squares or plastic tabs—I ultimately went with the tabs.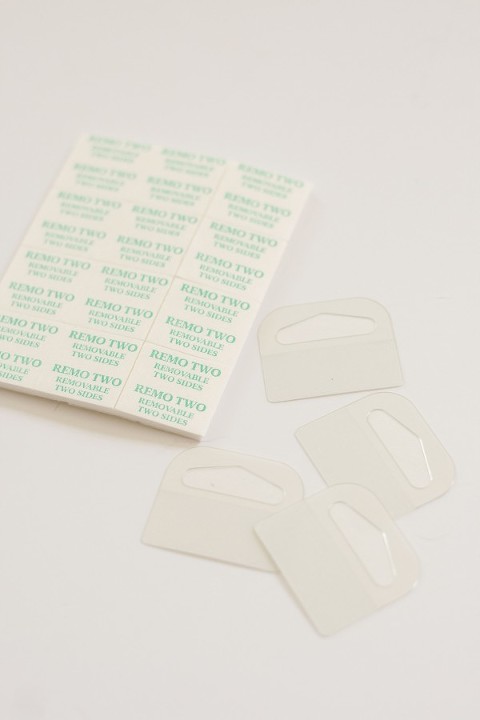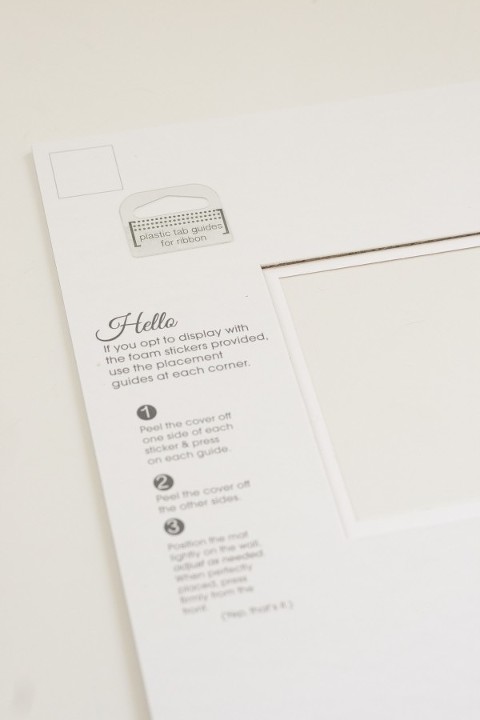 As for hanging them, you can get the full tutorial (in case you missed it yesterday) over on eHow. I tried a new method this time around, using kraft paper templates instead of my normal eye-ball routine. As you can imagine, there was a lot less rearranging and things turned out far more symmetrical thanks to my pre-measuring.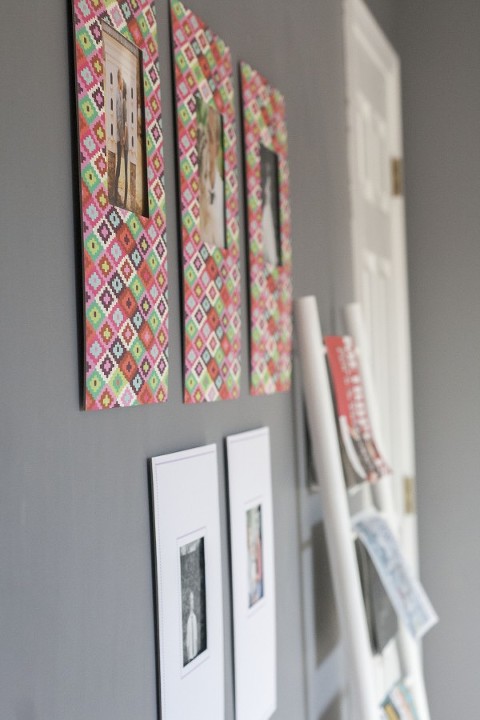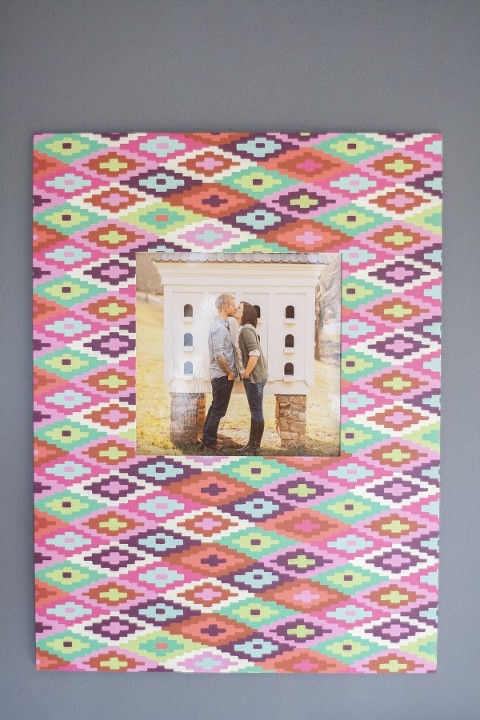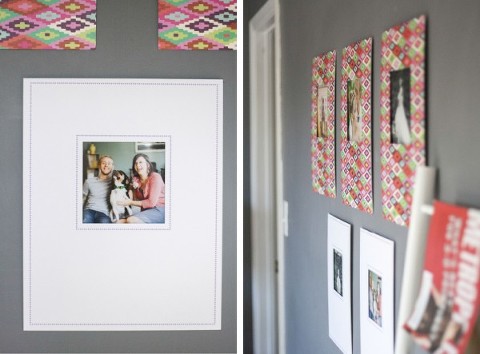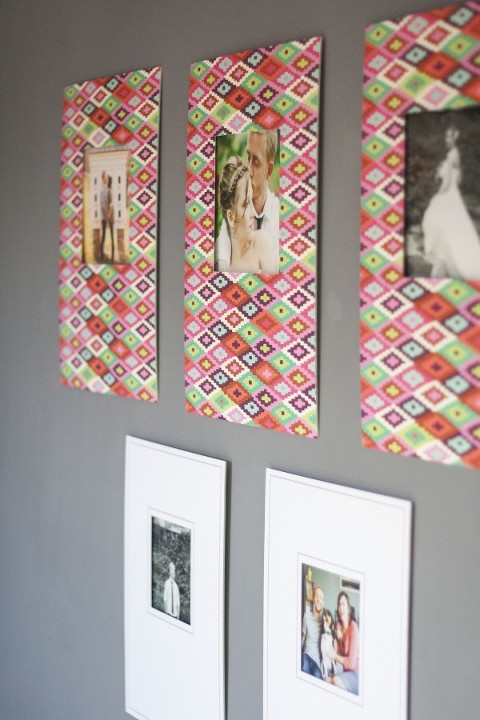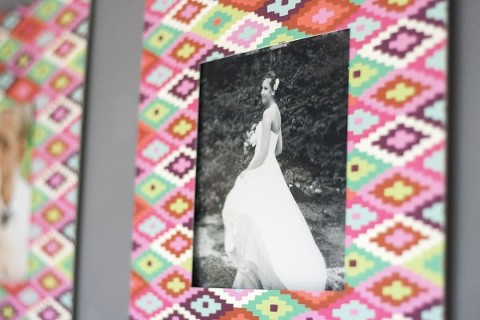 I just adore the bold pop of retro-inspired color and it was so, so easy to tape some of our favorite engagement and wedding photos (shot by Katie Stoops) inside the mats. And if you're just as obsessed as I am, you're in luck! Emma is offering one of you a set of any two Indie Mats from the site. Just use the Rafflecopter widget below to enter. Contest ends next Tuesday at midnight and the winner will be announced here—good luck!
**********************************************************
GIVEAWAY UPDATE: CONGRATULATIONS TO MELISSA H.!!
MELISSA H., I WILL BE EMAILING YOU SHORTLY WITH DETAILS ON YOUR INDIE MATS PRIZE PACK. THANKS TO EVERYONE FOR PARTICIPATING!!