THIS GIVEAWAY IS OFFICIALLY CLOSED.
KEEP SCROLLING TO SEE IF YOU'RE THE WINNER!!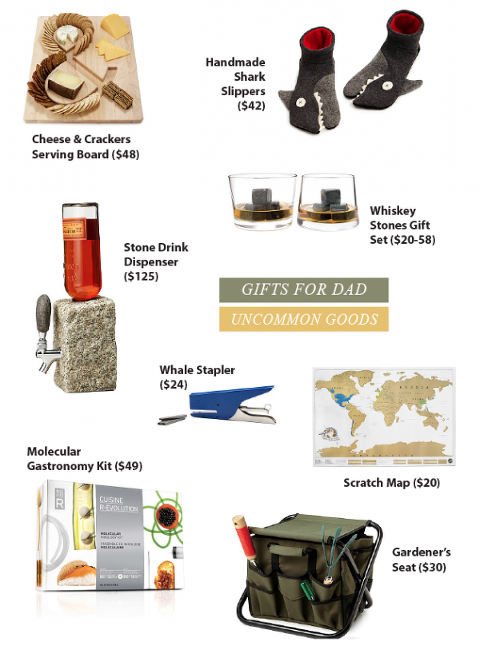 Cheese & Crackers Serving Board | Handmade Shark Slippers | Whiskey Stones Gift Set
Stone Drink Dispenser | Whale Stapler | Scratch Map
Molecular Gastronomy Kit | Gardener's Seat
Who knows really why, but men are seemingly built to withstand the brute force of our creative gifting with nothing more than a crooked smile in thanks. At least this is true for the dudes in my own life—from my hubby to my pops, that cutesy halfhearted reaction feels like it's meant more for my benefit than real, organic excitement over what's to be found within the gift box.
Happily, places like UncommonGoods make the gift giving process worlds and away easier. A stapler shaped like a whale? A collection of his very own whiskey stones? A MOLECULAR GASTRONOMY KIT??! Yeah, I'd say he's more than set this year. But these are just a few of my favorites snagged from the Uncommon Goods website—there are even more ideas for the once-ungiftable guys in your life on this page.
In case you weren't privvy to the fact, Father's Day is coming right up on Sunday, June 15th. And to kick off the next couple of weeks of shopping, Uncommon Goods is giving away a $50 credit to one lucky DGD reader—enter using the Rafflecopter widget below, now through next Thursday the 5th at midnight. Good luck!
**********************************************************
GIVEAWAY UPDATE: CONGRATULATIONS TO ALEXIS R.!!
ALEXIS, I WILL BE EMAILING YOU SHORTLY WITH DETAILS ON YOUR UNCOMMON GOODS PRIZE. 
THANKS TO EVERYONE FOR PARTICIPATING!!