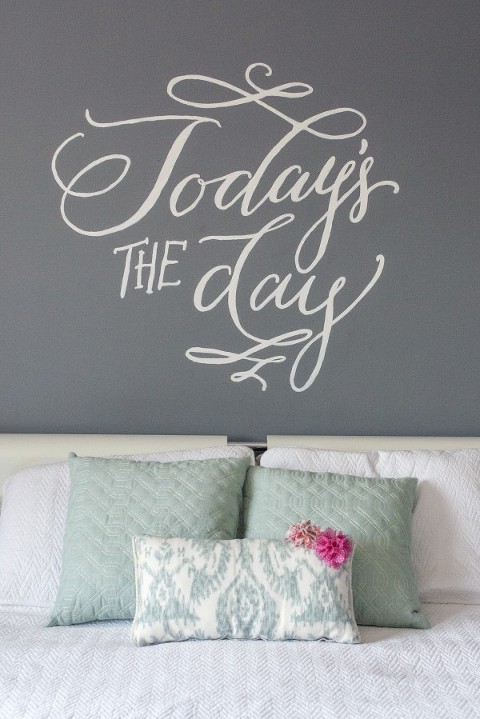 As an artist and a self-professed crafting junkie, I (not surprisingly) tend to lean towards the more creative side of the spectrum. In other words, technology evades my everyday skill level. That's what I used to think anyway. All of that changed back in April when I met a piece of technology that I could really wrap my head around.
Enter: our new Epson PowerLite Home Cinema 2000. Of course, this puppy has quite a bit of kick to it when it comes to watching our favorite action flicks (him) and rom coms (her), but when the Epson brand asked me, as part of their Technology of Together campaign, to stretch my creativity and come up with a way to make the projector really work for my DIY lifestyle, I was only too happy to oblige. In the end, I was thrilled to discover that our projector went far beyond the stigma slapped onto most techie gadgets. Believe it or not, this piece of equipment has quickly become my new favorite DIY tool.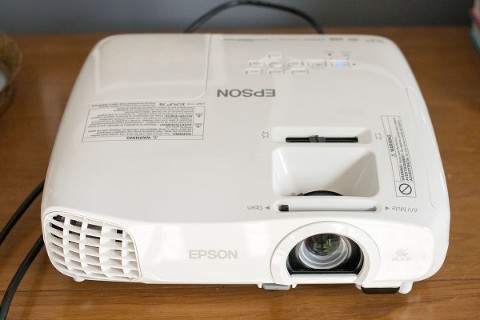 Allow me to explain. With the challenge in place and the projector in hand, my initial thought was to project a wallpaper pattern onto the wall, which could then be traced and then painted on by hand. While I still love this idea, it doesn't quite make sense for our current home—it's still on the market after all, and needs to remain fairly toned down in terms of personality for the benefit of potential buyers. Instead, I decided that a beautiful calligraphy quote on our wall using the same method would be more universal and also would add a dose of sweetness to our space.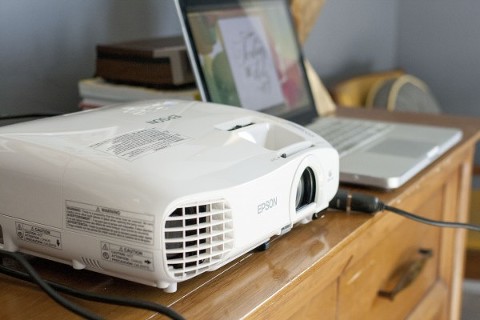 To help me with my vision, I called in my go-to hand-lettering gal, Kathleen of Leen Jean Studios. Kathleen is a whiz with a calligraphy pen and really seems to "get" my love for a particular style of script—a little bit formal but a little bit casual, too. If you remember, Kathleen totally nailed the look on my holiday coffee party invites, so I knew that she would knock this second collaboration out of the park, and I was proven right!
Kathleen quickly worked her magic and put together four "Today's the day" quote options, which you can see and download here. Some were a little swoopy (not a technical term, by the way), whereas others were a little more boxy and doodled. I loved them all, and it was so hard to choose, but I ultimately landed somewhere in the middle.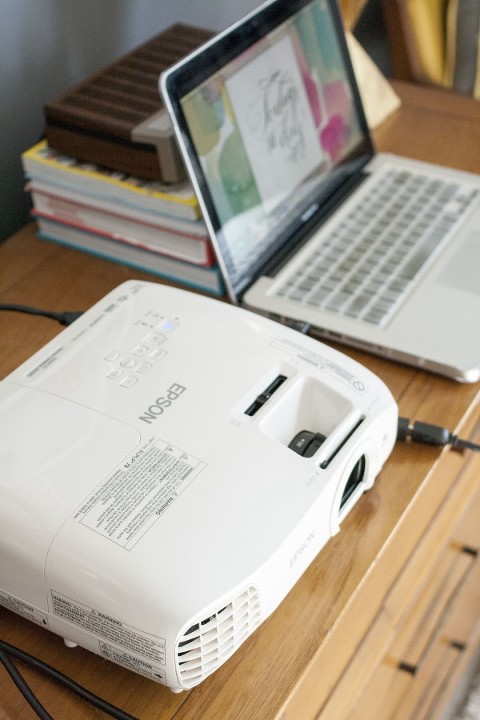 After settling on my quote style and whisking a heartfelt thank you off to Kathleen, I fired up my projector, plugged in my computer, brought up the art and adjusted it to fit the size and space of our focal wall in the master bedroom. That's really all it took. Didn't even have to break out the owner's manual!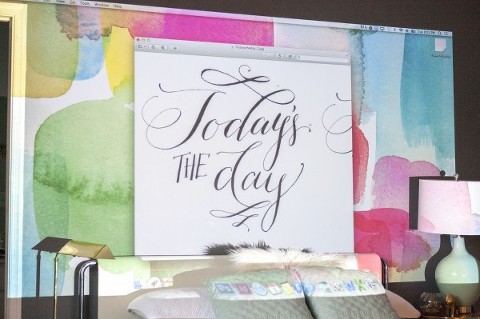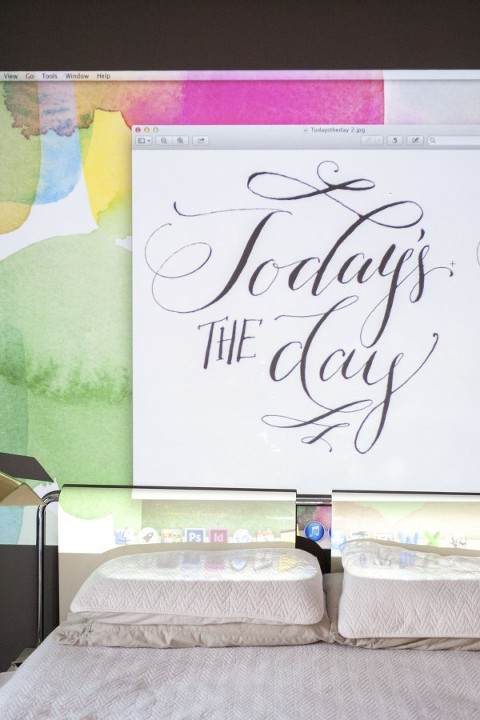 Next, I grabbed a pencil and climbed up onto the bed, where I worked my way over the entire projected image, tracing it right onto the drywall. Then it was just a matter of choosing my paint. I settled on a crisp, classic white to make sure that Kathleen's design got the spotlight and not a loud color.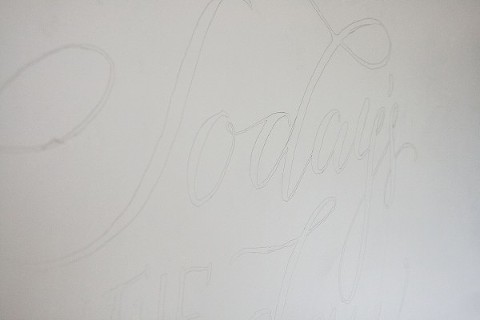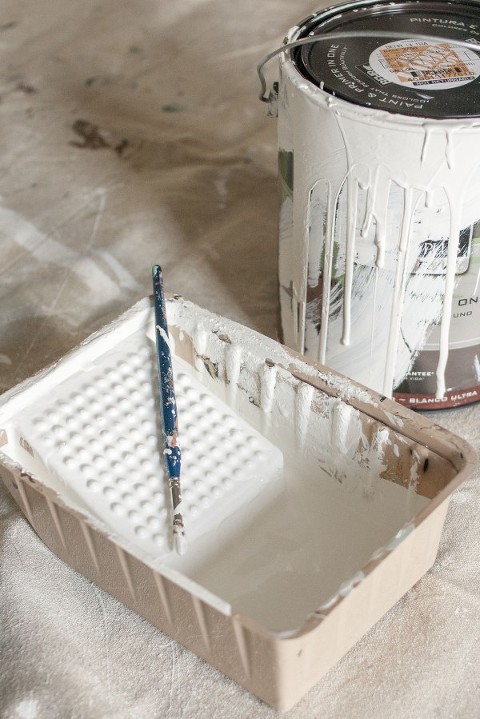 I poured a small amount of paint into a mini paint tray and, using a small bristle paintbrush, got down to filling in those lines. Although I thought this final phase would end up taking hours, it only required about an hour and a half of hands on time to complete.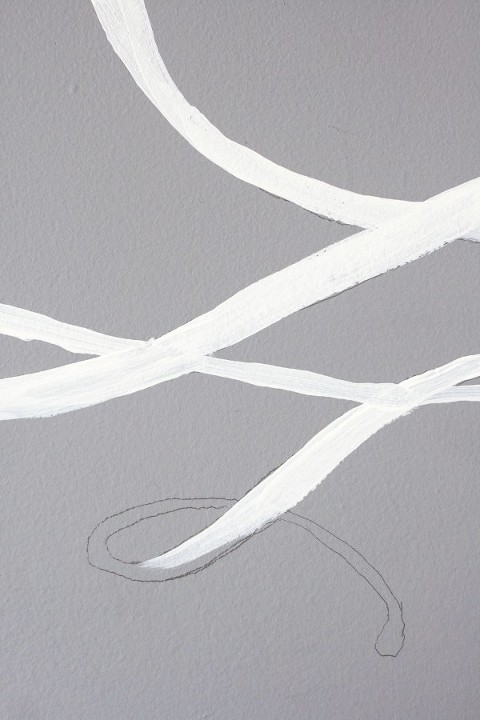 Two coats later, and I was done! For whatever reason, I've always struggled with finding just the right piece of art for over our bed. The newly painted DIY quote feels perfectly balanced now though, plus it has been truly motivating to have that trio of words greet me in the morning.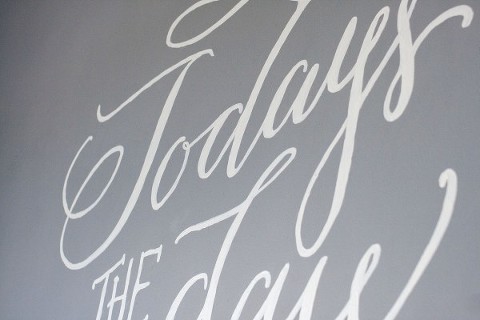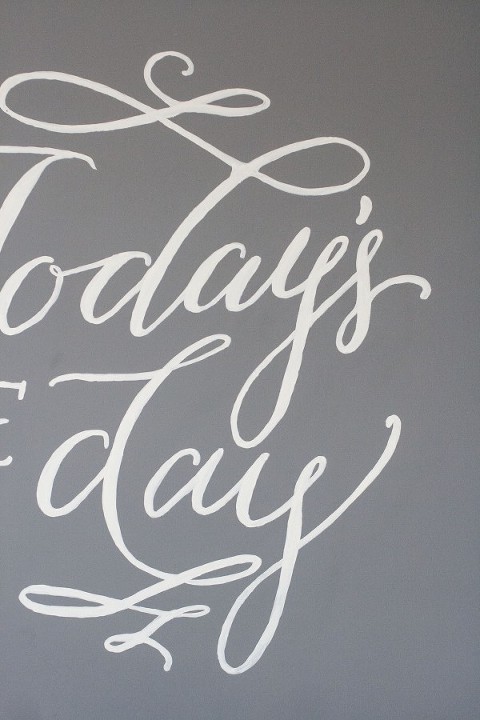 Today's the day that I put my fear of technology to rest and, at the risk of sounding incredibly cheesy, today's the day that I finally embrace big changes in the crafting world as technology crosses the line into some seriously creative territory!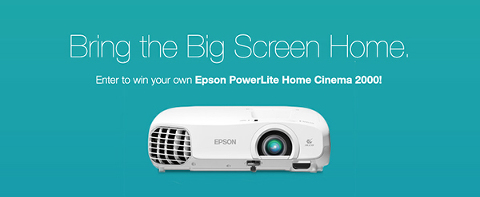 And now for the exciting part…You know that I couldn't go on and on about how cool our projector is without offering you guys the chance to nab your own, too!! Click through to Epson's sweepstakes page to enter for your chance to bring the big screen home to your house. Be sure to tell 'em Carrie sent ya!