THIS GIVEAWAY IS OFFICIALLY CLOSED.
KEEP SCROLLING TO SEE IF YOU'RE THE WINNER!!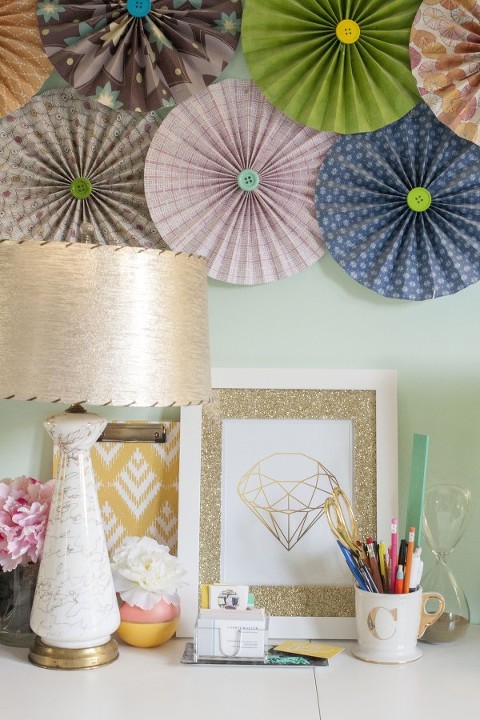 While admittedly I wish that I could put a glittered "something" on every single surface and wall in our home, I can certainly respect the fact that a little goes a long way. So I tend to attempt a general form of restraint, only breaking the supply out in my studio when it's absolutely necessary. Well, for my latest project, it was absolutely necessary.
I was inspired by my friend and fellow blogger Linda, of Burlap+Blue, who just so happens to also be the creative brains behind the Etsy shop paper + palette. She kindly gifted my favorite print to me from her collection—the Diamond Gem Print—and I immediately started dreaming up big glittery plans for it in the form of a DIY glitter mat. Read on to see how you can make your own!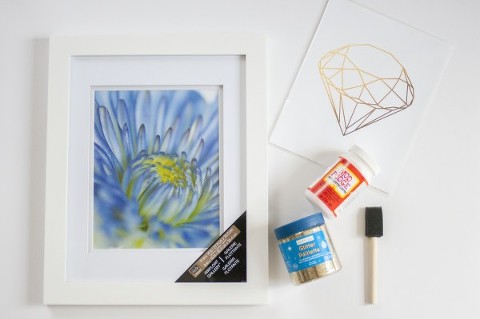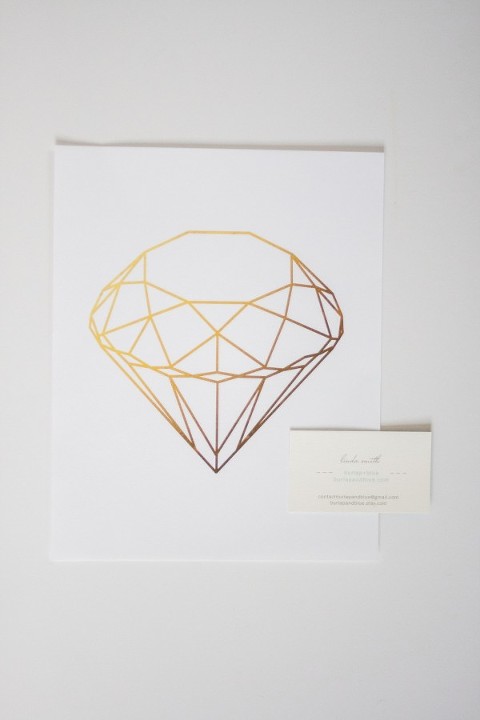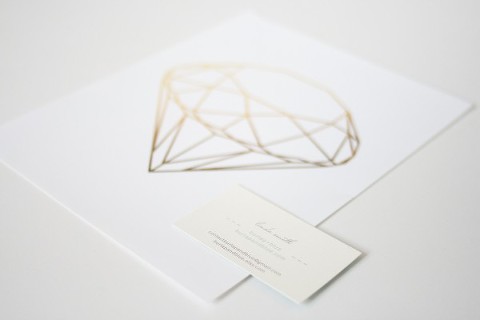 Start by removing the frame from all of the packaging. Next, open the Mod Podge and dip your foam paint brush right into the jar, scooping a hefty amount of the liquid onto the brush. Then, carefully coat the entire surface of your mat with the Mod Podge. You definitely don't want to go too light with the application of the Mod Podge since the glitter will need all the sticky surface it can get in order to stay put.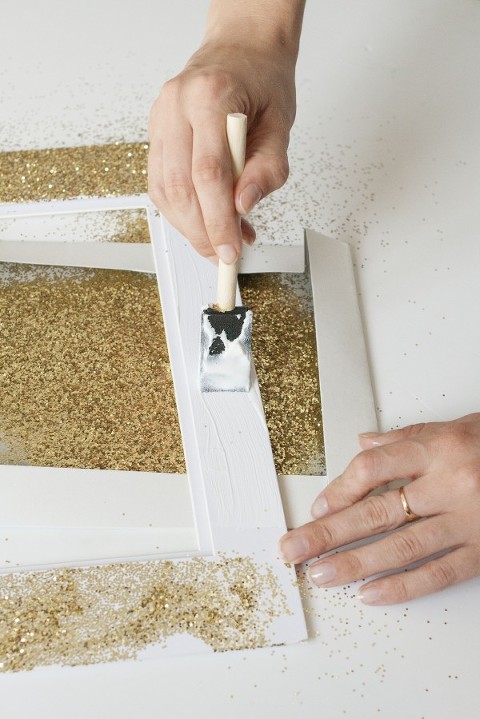 With the Mod Podge in place and still tacky (I actually did one side at a time so that the adhesive didn't dry too much), I liberally dumped gold glitter all over the surface of the mat. In order to contain the mess as much as I could, I slipped a gift box under the mat, but I would warn you that glitter isn't the most controllable material. Be prepared for a mess—but at least it's a festive mess!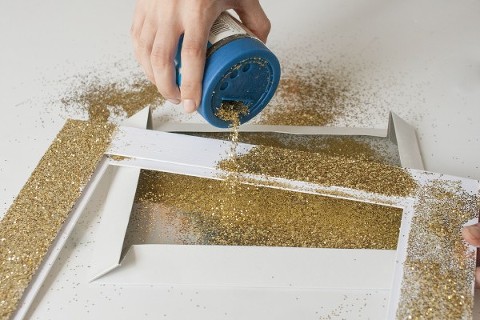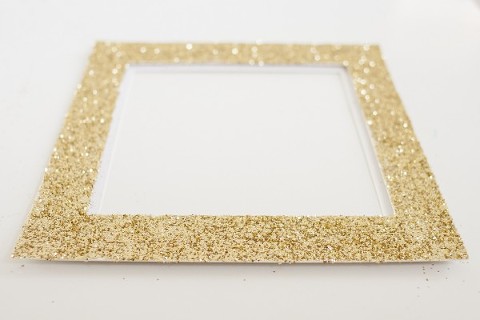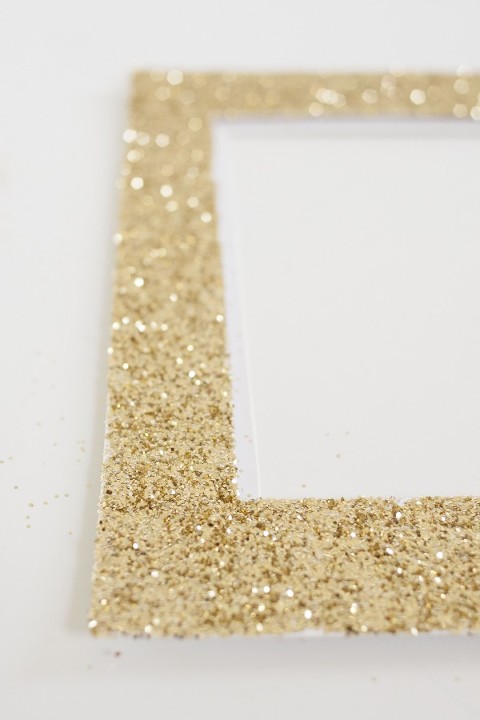 After shaking off the excess glitter into the box and then continuing the steps all the way across the four sides of the mat, I called phase one done and set the mat aside to dry for two hours. Next, I put the mat back down on my drafting table and grabbed my Mod Podge jar and clean foam paint brush again.
The amazing thing about Mod Podge if you haven't worked with it before is that it acts as both an adhesive and a sealant. So I painted on another liberal amount of Mod Podge right on top of the glitter. Once dry, the tiny pieces of glitter won't shake right off because of the thick top layer of sealant.
NOTE: Although it looks almost purely white below, the Mod Podge will dry clear.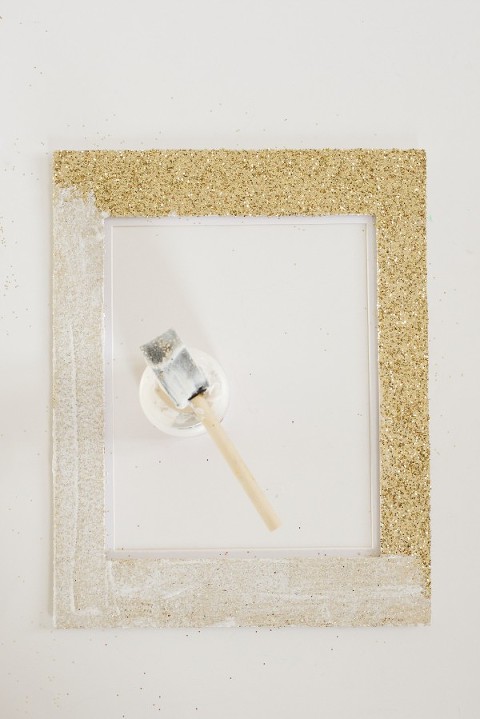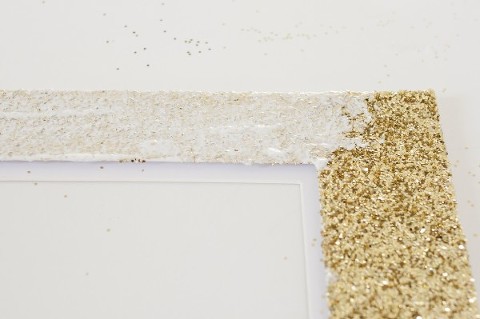 After another two hours of dry time, I was able to tape my Diamond Gem print inside the mat and popped the whole thing inside my white frame. I set it up on my desktop so that the pretty gold finish and art can add a little extra happy to my day.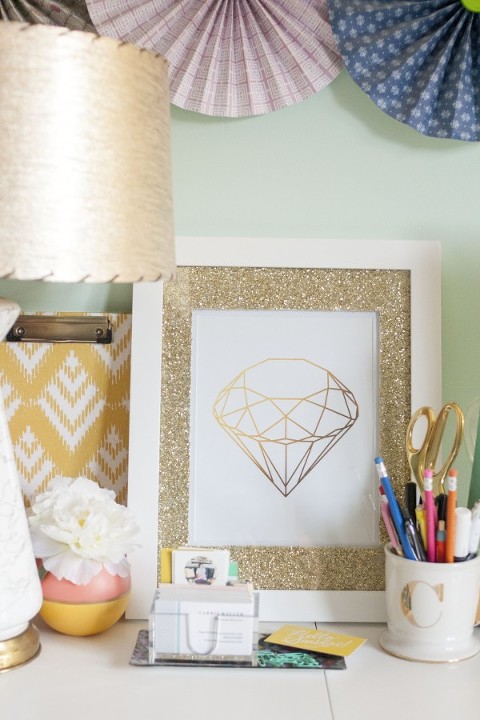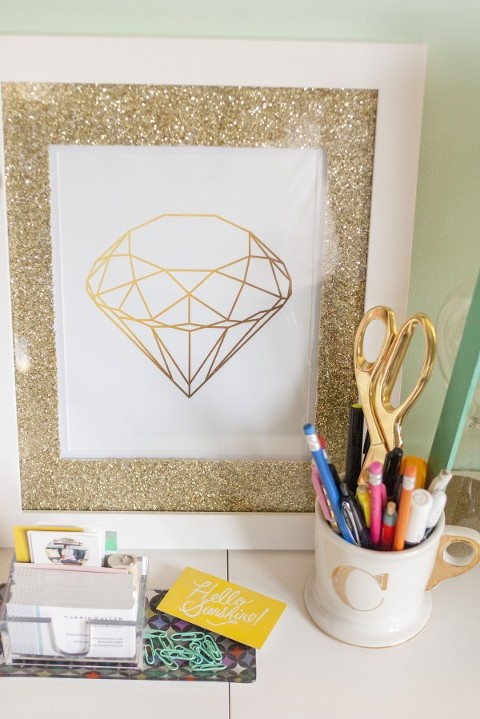 And, as the title of this post suggests, I have a little happy to offer two of you! Linda is graciously giving away TWO $25 paper + palette shop credits—simply enter using the Rafflecopter widget below. I've given you four chances to win, and contest ends next Wednesday at midnight.

P.S. Speaking of giveaways…The winner of my Tiffany Chou Bermuda Necklace contest has been announced! Click through to see if it was you.
**********************************************************
GIVEAWAY UPDATE: CONGRATULATIONS TO TRACI T. & CANDACE K.!!
TRACI & CANDACE, I WILL BE EMAILING YOU SHORTLY WITH DETAILS ON YOUR PAPER + PALETTE SHOP CREDITS. THANKS TO EVERYONE FOR PARTICIPATING!!