THIS GIVEAWAY IS OFFICIALLY CLOSED.
KEEP SCROLLING TO SEE IF YOU'RE THE WINNER!!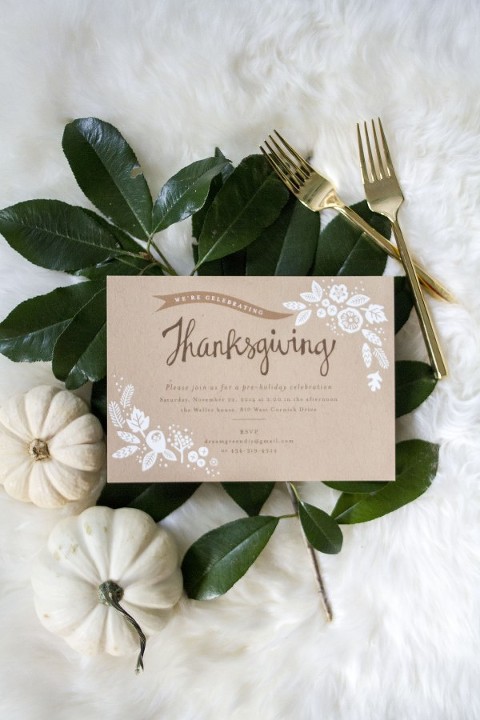 I have to admit that I often vacillate back and forth when choosing my favorite holiday. Christmas is undeniably the very best time of the year, but come December 25th, the rush is over, the gifts are soon to be (if they haven't already been) unwrapped and there's the sad truth that holiday tunes soon will be banished until next year. So I think Thanksgiving may just steal the spotlight in my mind—sure there's the requisite giant feast to enjoy, but come black Friday, the Christmas season is officially ON.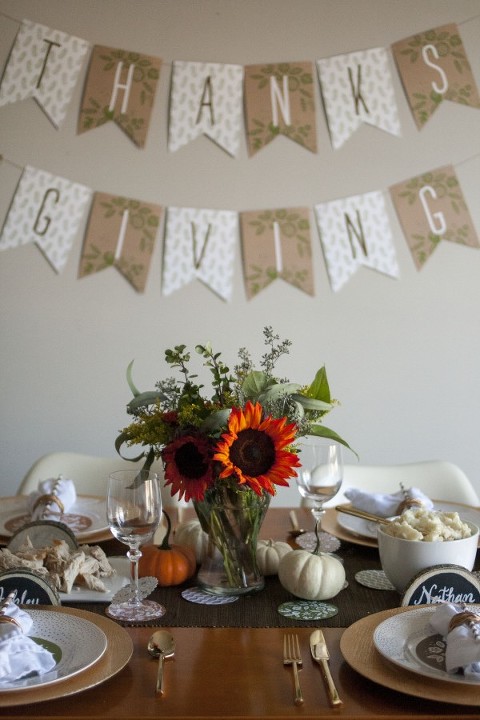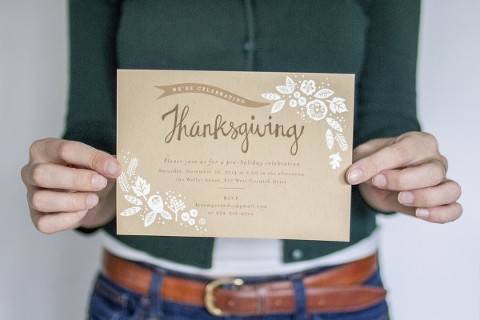 So to properly celebrate this magnificent occasion, I decided to throw a mini pre-Thanksgiving fête—an event often lovingly dubbed "friends-giving"—for our pals. Happily, one of our "friends" just so happens to be Minted, so I was blessed with the opportunity to deck our dining room out in all of the best that this premier paper goods brand has to offer.
As a jumping off point, I first chose my invites—specifically a pretty kraft paper and floral-festuned Rustic Harvest design. And then the entire tablescape snowballed from there—rich earth tones throughout, all kinds of pretty exposed wood grains and, of course, a fluffy harvest-colored floral arrangement to center the decor.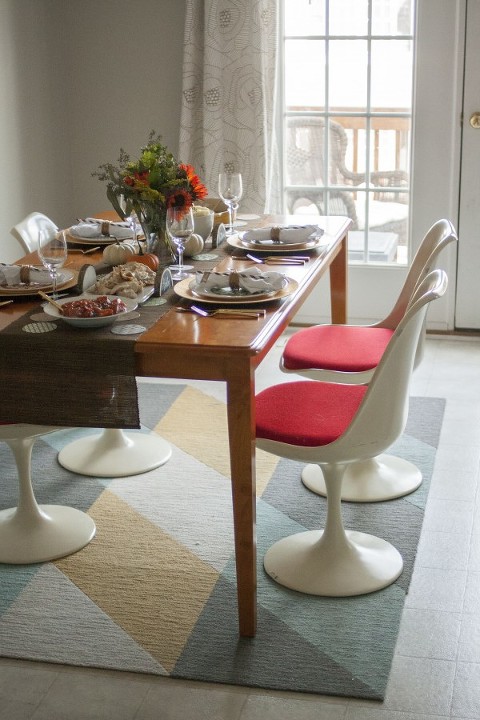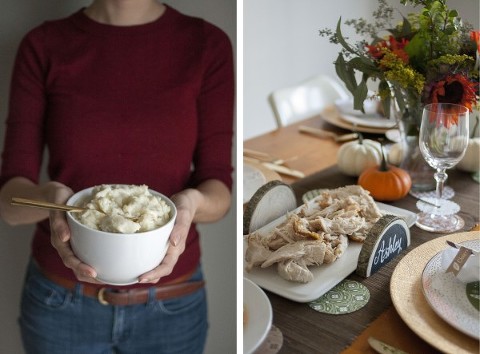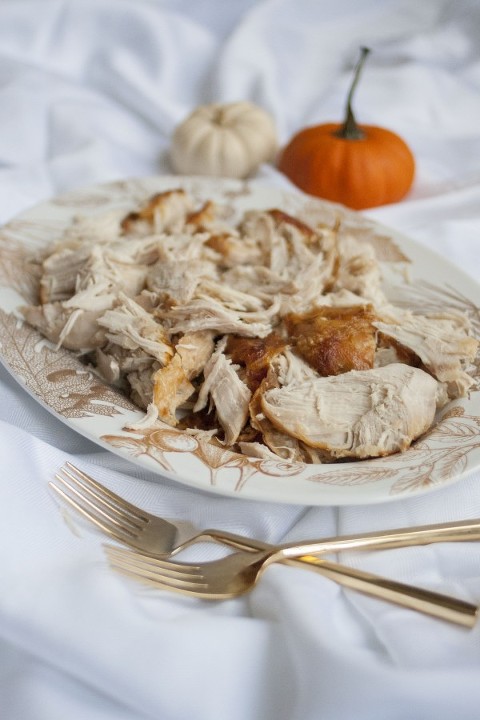 For the foundation of the table, I laid down a simple chocolate-colored runner and then tossed Rustic Harvest Table Confetti across the surface of the runner. Then I placed my arrangement, a bouquet that I picked up at the last minute from the market, in the center. To finish, I hung a Rustic Harvest Bunting Banner up on the wall behind the table, and then arranged a few armloads of carefully plated, scrumptious Thanksgiving dishes in between the placesettings.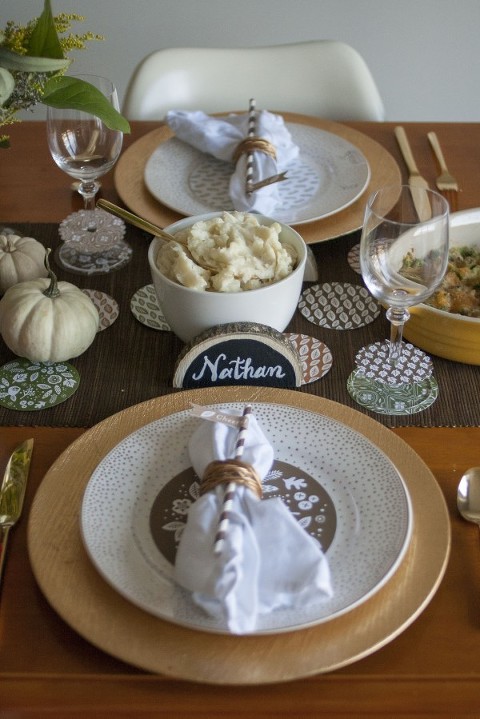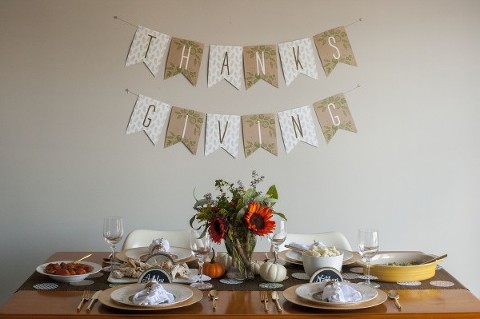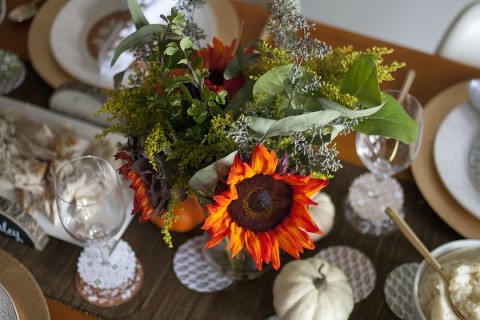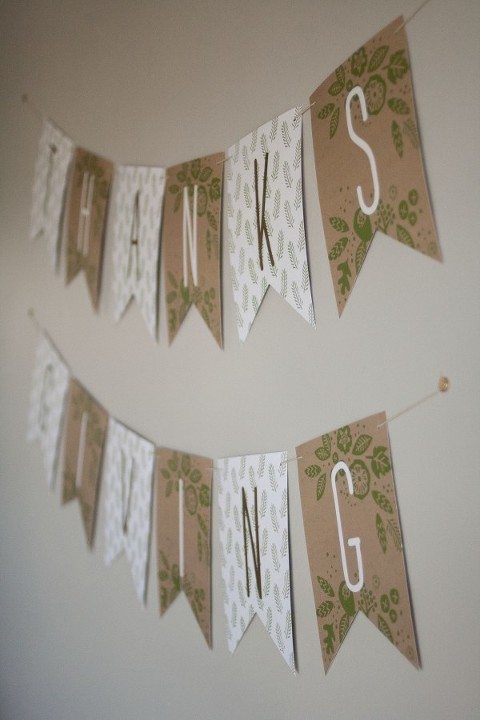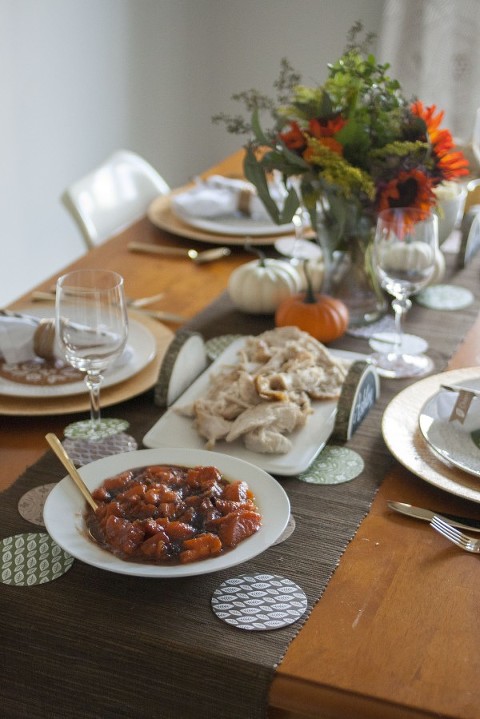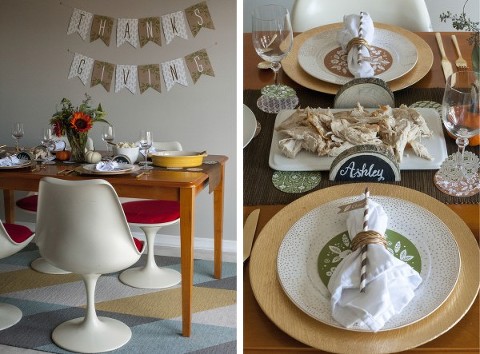 Speaking of placesettings, each got a DIY log slice placecard with one of our guest's names scrawled out in chalk pen. Next, I added a gold charger and gold polka dot plate, the necessary cutlery and, finally, one of the larger pieces of Table Confetti and a napkin. The napkin also got a bit of flair, thanks to a carefully tucked Chocolate Brown Paper Straw with a color-coordinated "Cheers" Flag Sticker wrapped around the top.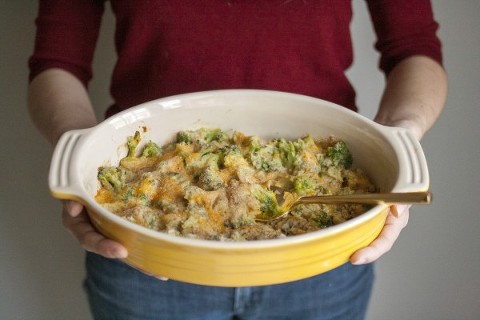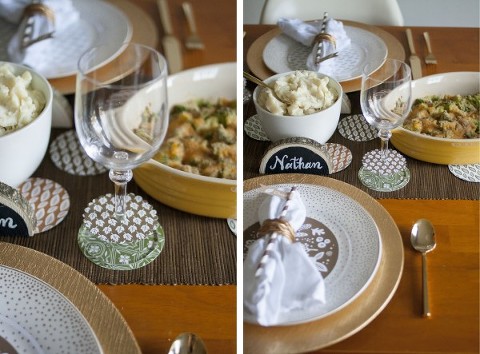 To prepare my B by Brandie Jackie stemware and have them looking just as festive as the rest of the table, I popped Rustic Harvest Wine Glass Tags onto each of the stems. All that was left after that? To dig right in! I'll be sharing all of the recipes for our mini feast next week, so be sure to check back in then for a lot more holiday-themed inspiration.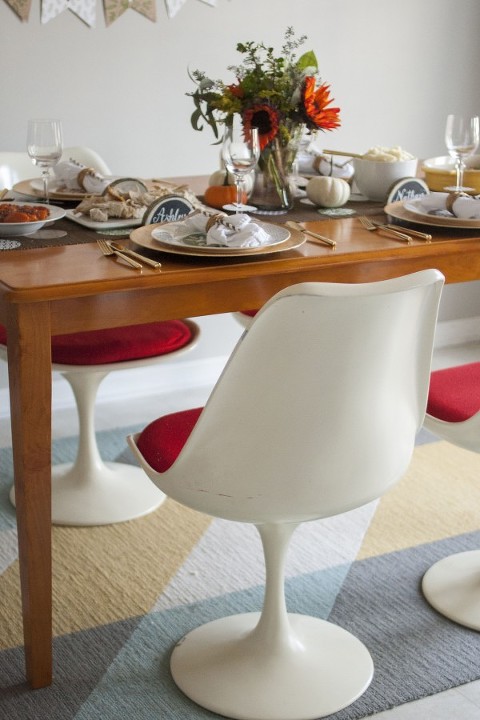 But that's not all! To really get you in the holiday spirit, Minted is offering a $200 credit to one DGD reader. Simply use the Rafflecopter widget below to enter. I've given you four chances to win and the contest ends next Friday at midnight. Good luck!

Get ahead and order your holiday cards now! Enjoy $25 off + free shipping on
all orders now through Monday with code: CHEER25FS.

**********************************************************
GIVEAWAY UPDATE: CONGRATULATIONS BRANDI!!
BRANDI, I WILL BE EMAILING YOU SHORTLY WITH DETAILS ON YOUR MINTED SHOP CREDIT. THANKS TO EVERYONE FOR PARTICIPATING!!