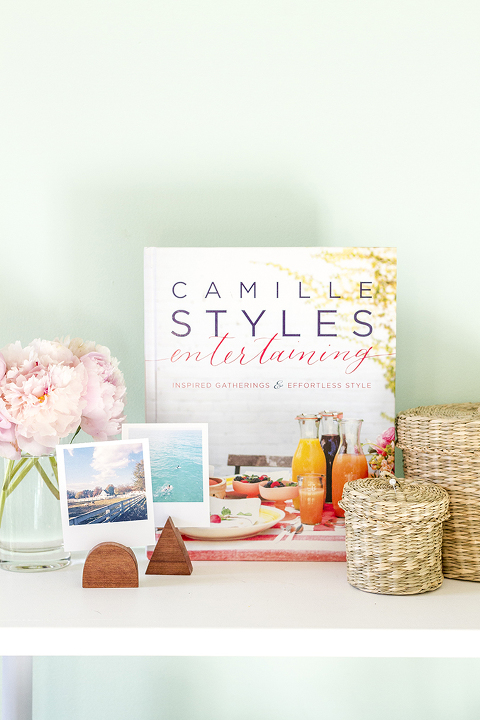 It's time for a spontaneous new series on the blog, and I've got just the thing! I'm calling it "On My Coffee Table," and through it, will be sharing my favorite design books all spring and summer long, plus, tips on how to make the most of these lovely resources. Stay tuned for reviews on books by your favorite designers and bloggers, including Joy Cho, Justina Blakeney, Erin Gates and more. Have a suggestion for something I should pick up? Leave it in the comments!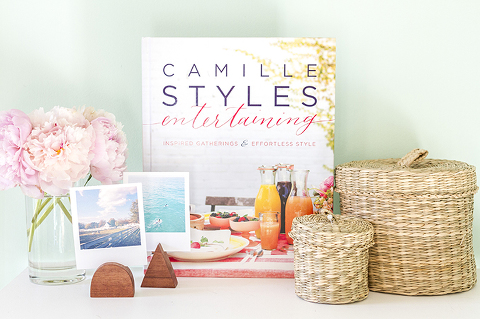 First up? Camille Styles Entertaining. As soon as I found out that Camille was releasing a book, I made a mental note to pre-order as soon as I was able to. And when the hardback version finally showed up at my door, I couldn't have been more excited to snuggle under my favorite throw to devour every page.
Reading this book was like meeting your best friend at your favorite coffee shop—with absolutely nothing on your schedule for the rest of the day! You banter back and forth for hours, breathlessly going over your latest idea for a family gathering or a new recipe you're dying to try. The point being that Camille, "The Author" is really no different than Camille, "The Blogger." Her tone is refreshingly relatable and conversational, and even if you're new to the entertaining scene, you'll finish each chapter feeling like you could take on an at-home soirée with confidence.
WHO SHOULD READ IT
Creatives everywhere will enjoy this book, from Introduction to Acknowledgements. If you swoon over pretty party spreads on Pinterest, than this book is for you. Truth be told, I'm not much of an entertainer, so I was a little worried that the content of the book would go over my head. But it really has succeeded in changing my tune and made me want to host friends and family more often.
THE TAKEAWAY
Whether you consider yourself a pro hostess or a hopeful wanna-be, I think it's safe to say that you'll love everything about Camille Styles Entertaining.
FAVORITE RECIPE
The Best Chocolate Chip Cookies Ever, page 113—need I say more?
Purchase the book here and leave your own review in the comments when you're finished! Be sure to tag us in your social shares and use the hashtag #DGDonmycoffeetable for a chance to be featured!