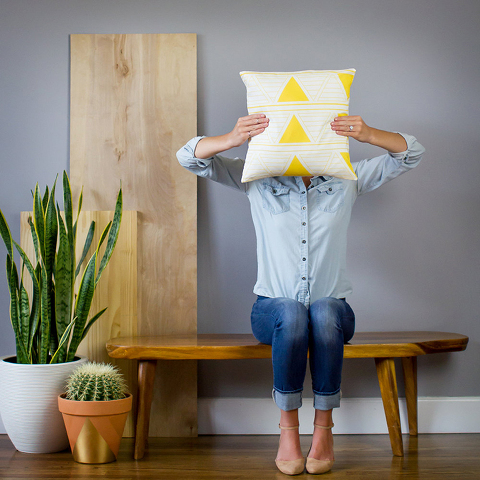 For my last day of vacation, I wanted to share a brand new Etsy Spotlight feature with you. I'm thrilled to welcome Brittany Castellano, of A Handcrafted Home, to the blog and could hardly wait to share her mini interview with you. This feature is a true testament to the power of social media—I found Brittany through a few chance Instagram interactions, and have been a big fan of her work ever since. I hope you enjoy learning a little more about this uber talented designer and successful Etsy seller.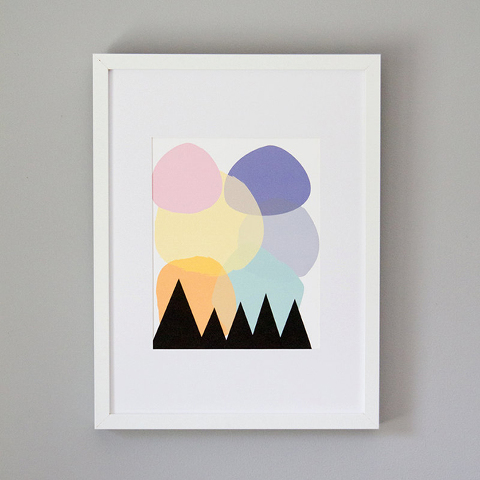 When did you open your Etsy shop? What lead you to start designing these types of graphic pieces? 
I opened my Etsy shop in 2011. My husband and I had just bought our first house. We couldn't really afford to buy a lot of new stuff, so I got busy working hard by refinishing and reupholstering furniture for our home. I loved the process of giving old items new life, so even after my home was fully furnished, I kept fixing up old pieces and eventually opened an Etsy shop to sell them. I made a couple of sales and I realized that shipping large pieces of furniture was more challenging than I anticipated. Have you ever tried to ship a giant wingback chair from LA to Boston? It's not as fun as it sounds. Anyway, after I sold a few pieces, moved furniture all around town to craft shows and filled my garage with more wingbacks than I'd care to admit, I decided that this type of business was not for me.
I eventually paused my furniture refinishing, but I still really loved being creative and I was always looking for new ideas for my shop. One day, I was looking for some new pillows and art prints for my home, when I decided to design some myself. I wanted my home to feel happy, which is why I focused on colorful hues and graphic patterns for the designs. I ended up listing some of the items in my Etsy shop and everything just grew from there. Now, everything I create for my shop has that same vision for my home in mind—they're designed to make your home happy.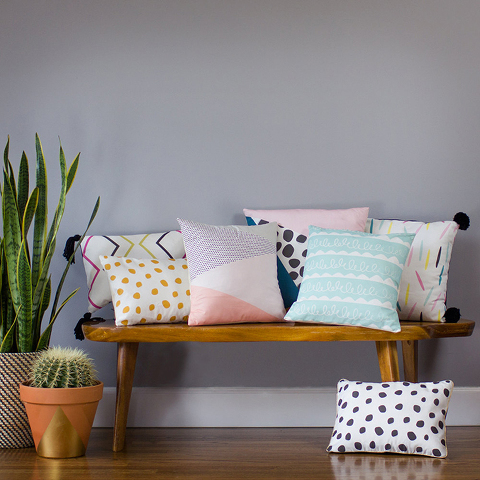 How would you describe your style? And how does that influence your work as an artist? Where do you find your inspiration?
I would describe my style as modern, colorful and feminine. I think that the different pieces I create fall within one or all of these three categories. I find inspiration everywhere. I know that is a cliché answer, but it is true. Inspiration can come just from going for a walk, watching a movie, reading a blog or even reading a book. Anything can spark creativity. Sometimes, taking a break can lead to even more creativity.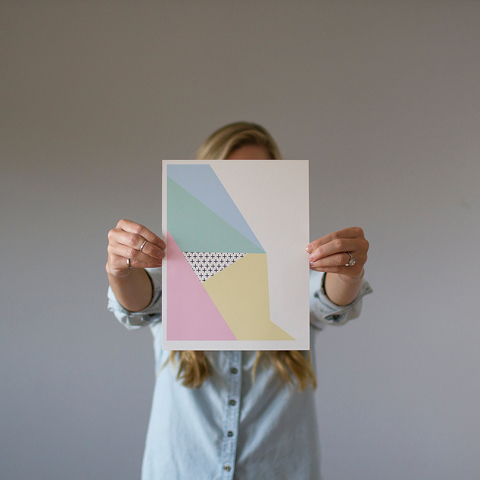 The photography on your site is gorgeous! What camera do you use? What are your top three tips for photographing sale items? Who is your model?
Thank you so much for the compliments on my photos. I've come to learn over the past couple of years how vital photography is for the success of any online business. Because the customers can't see the products in person, they rely on the photos to tell them everything they would otherwise be able to see in a store. However, photography is not easy for me. Thankfully, I have had a lot of help with my photos. My sister-in-law helps by taking my product photos for me, my friend Kelsey graciously gave up an afternoon to come over and model with my items and my friends Felishia and Natasha help with photo styling.
My top three photography tips would be:
Use natural light: This really makes your photos look the best.
Plan Ahead: Make a list of all of the shots you want to get and figure out what props you want to use. Maybe even do a few test shoots ahead of time to see if you like the lighting or if you want to use different props. There is nothing worse than having a big shoot and then afterwards wishing you would have gotten a certain shot or realizing that you didn't really like the styling. Also, keep adjusting as you go until you get the shots you want.
Educate yourself on the basics: If you're not confident about product photography or don't know where to begin, there are a lot of helpful courses through Creative Live and Skillshare that can really help your photography. Classes like these have been incredibly helpful for me to learn the basics since photography is not easy for me.
Who are some of your personal favorite Etsy sellers?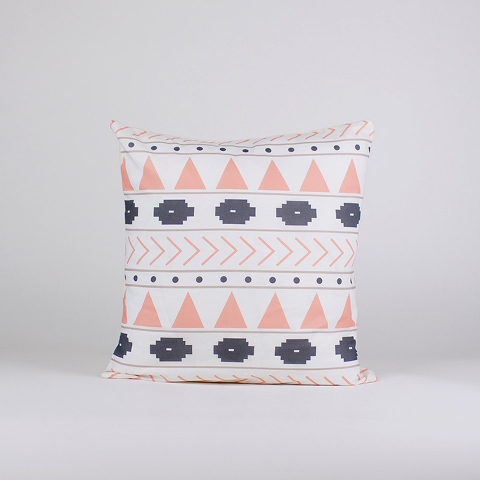 Living and working out of Southern California sounds just dreamy. How does LA influence your brand and designs? What are your top three places to shop (or eat!) in LA?
I absolutely love living in Southern California. I think living here definitely inspires a lot of the designs for my shop. LA is a very colorful, vibrant place and I think living here has had a tremendous influence on my designs. The creative community in LA is huge here, which I think has really given me a lot of opportunities that I wouldn't have had living somewhere else. There is so much support for makers here in LA, and there are creative events happening every weekend that give the LA creative community a chance to connect with one another.
Three of my favorite places to eat in LA are:
Republique: Really good for breakfast
Botegga Louie: Colorful macaron bar
Connie & Ted's: The best Lobster Rolls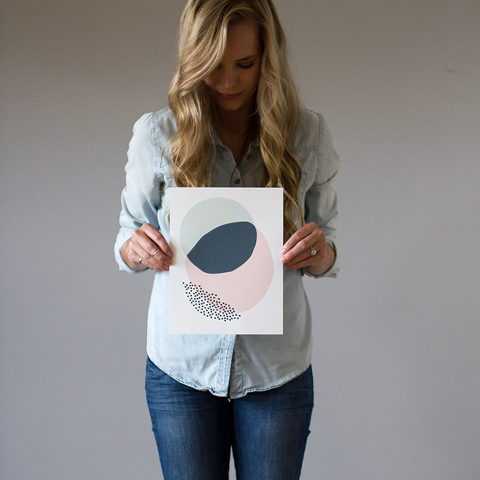 Tell us about your favorite piece in the A Handcrafted Home shop. What makes it so special to you?
This is a really tough question. All of my pieces are so special to me because I've spent so much time working on them. I think my favorite piece is the teal & red geometric print (pictured below). It was the first print I ever created when I re-launched my shop. I never, ever thought I was even capable of designing prints or textiles—it was just an idea that I had—so I started out with this one print. Eventually this print was featured on Refinery29, which opened a lot of doors for my business that I never even dreamed of. This print is my favorite because it is was the beginning of the change that shaped my business into what it is today.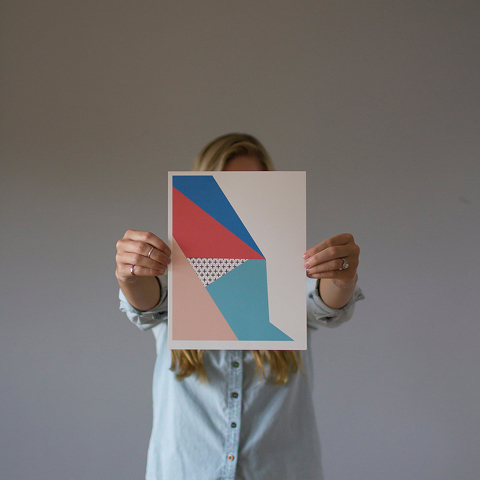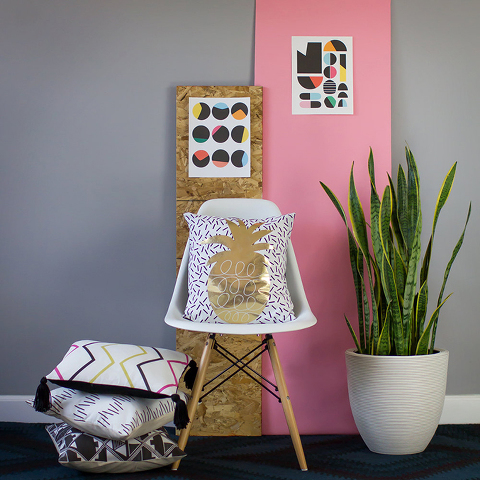 For more of Brittany's beautiful collection, click through to A Handcrafted Home on Etsy.