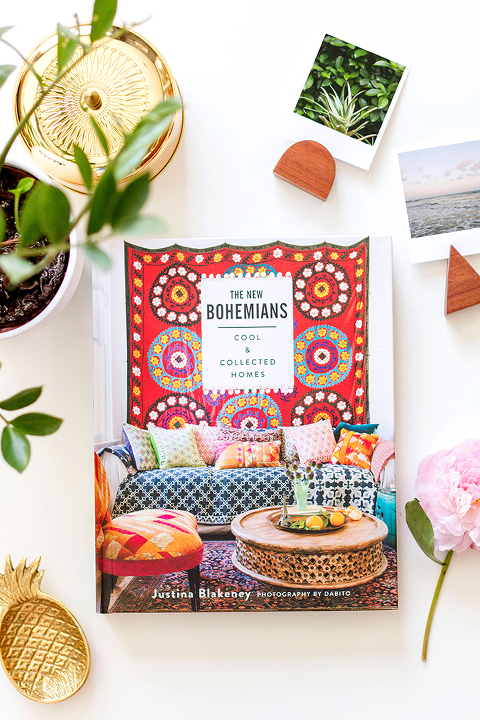 I'm back today with another entry in the "On My Coffee Table" series! In case you missed my review of Camille Styles Entertaining or Oh Joy!: 60 Ways to Create & Give Joy, click back here and then here. This time I'm sharing my thoughts on the new book by Justina Blakeney called, The New Bohemians: Cool and Collected Homes
.
Two days. That's how long it took me to absolutely DEVOUR this 304-page book. Before reading The New Bohemians, I would never have called my style "boho," yet now I see such a wildly direct correlation between my penchant for collections and layers of keepsakes and artwork.
I think there's this misconception that bohemian design is all about being a child of the hippie age, with crystal-lined windowsills and mismatched tapestries doubling as window treatments. Although this certainly is beautifully true in some cases, Justina shows us that there are a number of facets behind the term. Even modern, clean-lined homes like ours can be characterized as boho. Now I suddenly don't feel the guilty need to purge my collections, but instead to ADD to them. I'm not ashamed anymore, and that's sort of game-changing for me.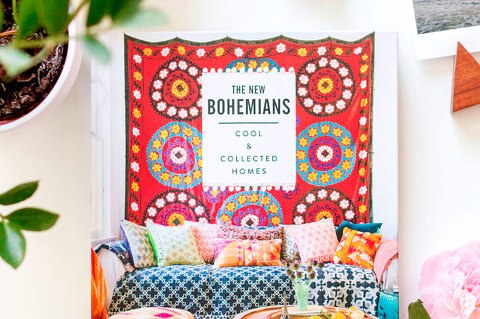 WHO SHOULD READ IT
I thought to illustrate this, I would pull one of my favorite excerpts from the book—this one, from the introduction:
"We bohemians chase free wi-fi, we blog from Brooklyn Laundromats, and we check our e-mail barefoot in Tulum. We arrive early to flea markets and late to farmers markets. We are vintage hounds. We are resourceful and profoundly creative. We are boutique owners and bloggers, mothers and makers, entrepreneurs and expats, chefs and consultants, fathers and urban farmers, doulas and dancers, collectors and curators, designers and dreamers. Our travels—whether in our own city or oceans away—inform our style. Our worldly collections are as eclectic as we are. The new bohemian is a master of layers."
If you in any way relate to or aspire to that mentality, than this book is for you.
THE TAKEAWAY
The photos and design are so seamlessly integrated into this collection, that it almost feels like the 20 homes featured were meant to live together in their own little page-by-page neighborhood. Another favorite aspect was Justina's way of pulling actionable ideas and projects from each of the homes at the end of each section. I can't wait to try some of them out in my studio.
FAVORITE PROJECT
Faux Stained Glass Window: pages 240-241.
Purchase the book here and leave your own review in the comments when you're finished! Be sure to tag us in your social shares and use the hashtag #DGDonmycoffeetable for a chance to be featured! Up next? Erin Gates' Elements of Style.