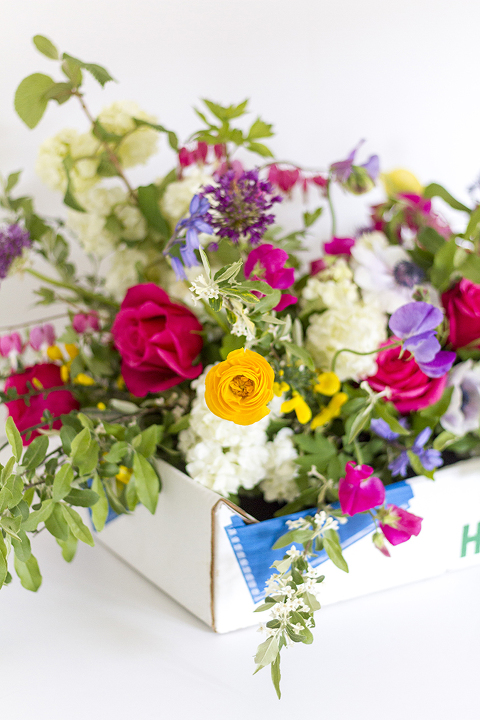 Earlier this month, I carved out a bit of time to bring my vision for a small-scale styled birthday party to life. I'm prepping all of the feature details behind the scenes, so keep an eye out for the full reveal in the next week or so (with photos by Liz Cook!), but essentially it centered on the idea of an outdoor tablescape under a grove of trees strung with café lights, white linens, gold flatware, bright pops of color and touches of pattern. The pièce de résistance? A massive flower arrangement lovingly crafted by freelance florist, Elisha Dudley.
After working with Elisha to safely transport the flowers from her home studio to the shoot location about 20 minutes away using a box and towels (as pictured), I just had to ask her onto the blog today to pass along her tips to you all as well. Even if photoshoots and faux parties aren't in your everyday repertoire, real birthday celebrations, DIY weddings, baby showers, and open houses probably are. So read on for Elisha's suggestions for guaranteeing the safe arrival of your delicate floral centerpieces and bouquets.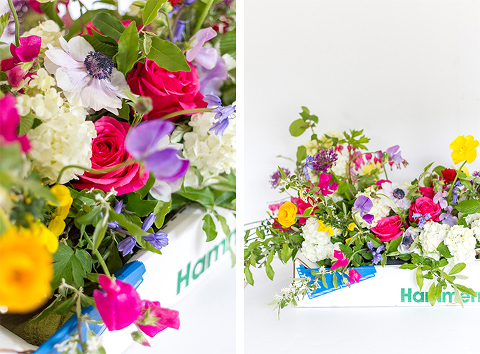 How To Safely Transport Flowers
1. Always keep them on the floor of your car. This helps to keep the center of gravity low, making it less likely that your flowers will topple over.
2. If you know you're getting a bouquet of flowers, bring a bucket with a few inches of water in it so you can drop them in it and keep them hydrated on the ride home.
3. If you're transporting an arrangement that's tall and thin, put it in an empty bucket with a couple of towels around it on the inside to hold in it place. If it's extra top heavy, you may even think about buckling the bucket into a seatbelt or surrounding the outside of the bucket with other large or heavy objects to prevent it from shifting while you drive.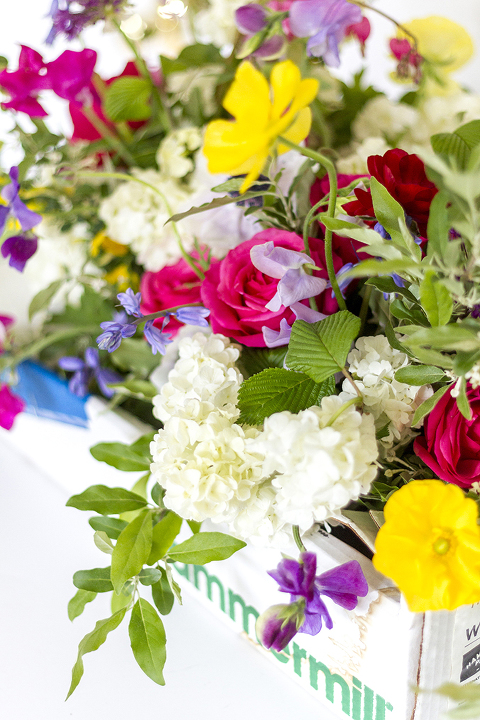 4. When transporting other arrangements that have a wide base, place them in a cardboard box (with the sides cut or folded low enough for the flowers to have room to spread out over the top), and place a towel or balled up newspaper around the vase inside the box to keep it from sliding around.
5. Avoid making pit stops in the summer time—flowers don't like heat, so leaving them in a hot car is not a good idea. Do your best to keep them out of direct sunlight, too!
6. Turn wide and brake slowly, and always bring an extra towel to put down to keep your car dry.
Hopefully, I'll be able to share details and photos of the party by next week. Until then, I'm sending big thanks Elisha's way for sharing her genius ideas, tips and tricks—and her stunning flowers, too!