Canon EOS 7D // Artista Cinta Camera Strap
50mm f/1.8 Lens // 35mm f/2 Wide Angle Lens
14mm F2.8 Ultra Wide Angle Lens  // Aluminum Lateral Tripod
Wireless Remote Control // Collapsible Multi-Disc Light Reflector
Reflector Holder Arm Support
Although I never set out to become a photographer, this blog of mine has turned me into somewhat of a wannabe novice, and our second bedroom has become a veritable photo studio. Every nook and cranny in the space is bursting with light reflectors, tripods and a pile of lens. Some things I've grown out of and are laying dormant, whereas a few new tools are in heavy rotation. Below, I share my most-loved pieces of camera equipment and accessories in case you're looking to add to your own collection.
1.  I upgraded to a used Canon EOS 7D a little over a year ago and will never be able to go back to my old Rebel…It's a great step up, although part of me wishes I had saved up for the 5D instead. Lesson learned!
2.  I'm such a big fan of the Cinta brand and can't recommend their amazing camera straps more. They are such high quality (I'm obsessed with the soft leather and faux suede finishes), and I never have to worry about my camera tumbling down from around my neck. My Artista camera strap is in the "Goldie" pattern, but I also love the "Ikat" pattern pictured above.
3.  I use my 50mm f/1.8 Lens all the time. It allows me to really fine tune the focus that I want and gives me that beautiful soft edge. I feel like the lens could even make a carrot look pretty in a photograph!
4.  My 35mm f/2 Wide Angle Lens is great when I can't get far enough away from my subject, rendering the 50mm useless. It's a great all-purpose lens that gets used almost daily.
5.  I just recently bought my 14mm F2.8 Ultra Wide Angle Lens to shoot whole room makeovers.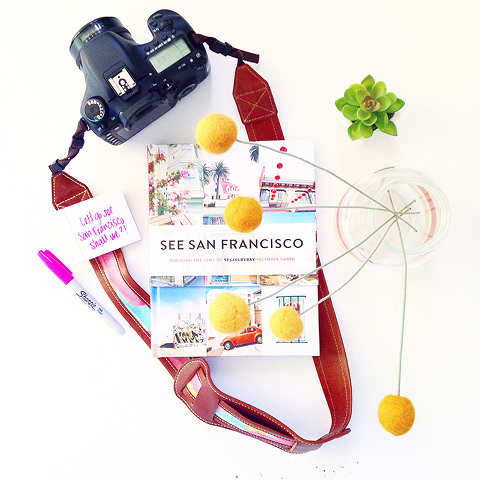 6.  Another recently splurge was a brand new Aluminum Lateral Tripod, which I can now use to document overhead craft tutorials.
7.  My Wireless Remote Control allows me to get my hands in those lateral overhead shots, too. I can't believe I lived without one for so long.
8.  One of the first things I purchased after getting into blogging and craft photography was my Collapsible Multi-Disc Light Reflector. I use it for e-v-e-r-y-t-h-i-n-g I shoot to distribute natural light evenly over my subject. I even use it for Instagram photos!
9.  Having a Reflector Holder Arm Support on hand allows me to really customize the position and angle of my reflector.
My friend Sarah posted a fabulous round up of camera equipment on her own blog, too—be sure to check it out here for another perspective. Her blog photos always turn out so beautifully, so I definitely took her suggestions to heart. In case you have some suggestions of your own, feel free to leave 'em in the comments!
P.S. Did you hear? I'm celebrating 1,000 blog posts with a fun spa giveaway in partnership with She Only Lives Once! Enter here.