Send your San Franciscan pals an, "I'm headed your way!" postcard, and then grab your favorite coastal lounge and party accessories—because you're headed to California! Okay, so even if it's all really only in your wildest dreams, Victoria Smith (commonly known as the celebrated blogger behind SFGirlByBay) has created a way to take you there through her new book, See San Francisco. This is another one of those dreamy coffee table books that I was able to devour in a single sitting, and if you've been considering diving into the pages yourself, then I'm here to tell you it's worth the 1-2 hour sacrifice.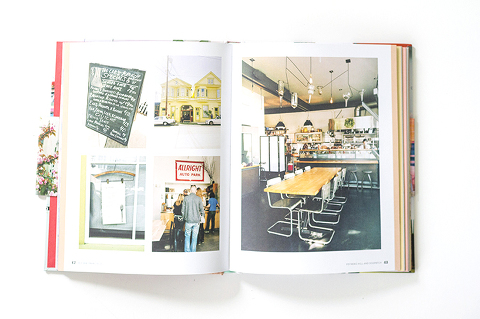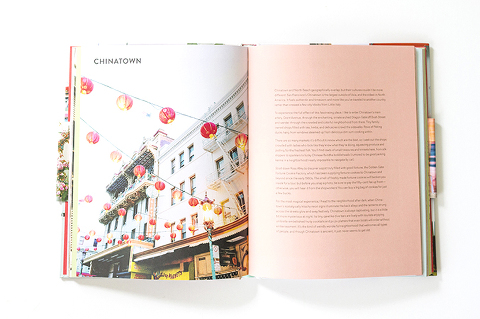 WHO SHOULD READ IT
If you have ever (in your entire life!) felt the urge to give in to your need for wanderlust, or if you crave a sense of adventure, or if thoughtful photography gets your heart racing, than this book is for you. Wether you live in San Francisco or just have distant dreams of going someday (I'm guilty of the latter), I think you'll find something special to smile over in See San Francisco.
THE TAKEAWAY
Although each new section (separated by neighborhood) greets you with a brief story or explanation from Victoria, the majority of the book is filled with photo after charismatic photo, and you'll not be able to turn the page without reacting to some small detail—may that be a bit of graffiti on a concrete wall, a graphic storefront or the prettiest little alley you ever did see. This book is as charming as they come, and I am dying to visit the scenery in person someday.
FAVORITE PHOTO
The series of five photos between pages 104 and 105 made me stop and stare (those pinky hues!). But the one photo that really caught my eye, oddly enough, was the little honey bear painting on a concrete wall found on page 13. It was the one image that made me stop and smile to myself. As a quick FYI/aside, today's the last day to snap up two of Victoria's photos as art prints, care of 20×200. Order Chinatown here (it's actually the photo pictured above in the peach colored Chinatown spread), or Potrero Hill here!
If you've read (or plan to read) the book, be sure to leave your own review in the comments when you're finished! And don't forget to tag us in your social shares and use the hashtag #DGDonmycoffeetable for a chance to be featured. Up next? The book I can't stop telling people to buy: The Life-Changing Magic of Tidying Up, by Marie Kondo. I can't wait to tell you all about it!
P.S. Have you entered my spa gift package giveaway in partnership with She Only Lives Once? It's my way of celebrating 1,000 blog posts with you, and you can enter right here.